In brief, this piece will explore some of the 2016 NFL Draft's most interesting selections and explore how they will perform (or in some cases not) in their rookie campaigns. All the tables used are to show comparative talents and how they performed at college: thus showing a template for how the rookie will fare in the NFL.
Defence
Defensive Draft Busts
DE Joey Bosa –San Diego Chargers Pick 3
Heath Evans, the current NFL Network analyst, summed up the Bosa pick best when, he unequivocally stated, that Joey 'was an average talent, who does nothing exceptionally'. If this is true, and many in the NFL community believe it is, then why did the Chargers take him at three, when they could have drafted one of the three offensive line prospects (Laremy Tunsil, Ronnie Stanley and Jack Conklin) to protect the irreplaceable Phillip Rivers?
Perhaps it can be explained by the Chargers seeking to address the fact they don't have the pass-rushing talents of their divisional rivals in the AFC West (Khlalil Mack, Von Miller, Justin Houston and DeMarcus Ware). Or maybe, it's because they have a woeful General Manager in Tom Telesco, who during his three years in charge hasn't drafted one All-Pro player (Jason Verrett was only Revis's replacement in 2015) and yet has missed many including: Sheldon Richardson, Eric Reid, Kyle Long, DeAndre Hopkins, Travis Frederick and Marcus Peters. Either way, the Chargers have made a bad choice in Bosa and in doing so missed out on even more Pro-Bowlers (Ramsey and Tunsil).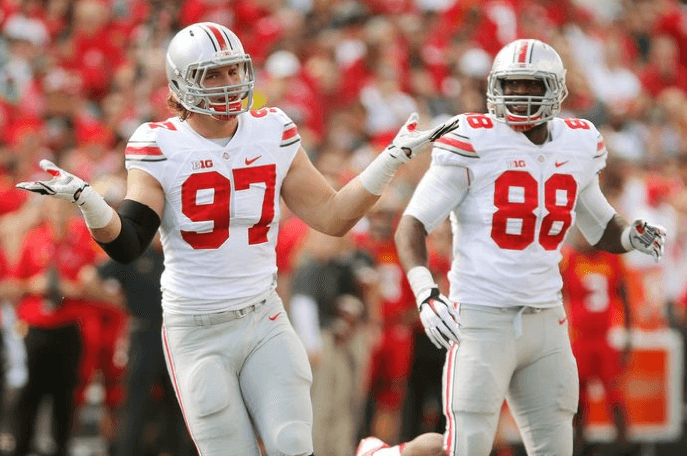 That said, at Ohio State, Bosa posted massive numbers: as a freshman he registered 7.5 sacks and 13.5 tackles for a loss; then as a sophomore he improved to 13.5 sacks and 21.5 tackles for a loss; then as a junior his numbers fell to 5 sacks and 16 tackles for a loss: last season aside, these are still impressive college numbers, as shown by the many awards and accolades thrown his way.
Though in the NFL, awards and numbers count for little, all that matters is talent and Bosa just hasn't the requisite tools to translate his college numbers into NFL production. He is is just a versatile player (who can alternate between a 5 technique in the 4-3 or a 3 technique in a 3-4) with good hands, long arms and respectable college speed: but without a close target (QB or RB) he often loses his purpose and detaches from plays. Outside against tackles, if he starts fast he can turn the corner and sack the QB: though in the NFL, the faster tackles will match his burst and negate this technique. More concern arises due to Bosa's over-reliance on power moves at the college level: these again won't translate in the NFL because he isn't naturally strong or well balanced, as shown by the amount of time he spends getting knocked over by Guards.
Offsides are another regular feature of Bosa game-tape, hinting at issues adjusting to centres and QBs drawing him offside: in the NFL this could get ugly fast as routinely fake snap counts are used to milk easy penalties from over anxious rushers. Lastly, Bosa often cuts a disengaged and detached figure who appears at best cocky and at worst arrogant. Such an attitude will not cut it in the professional game, where respect has to be earned by rookies.
In sum, Bosa isn't a bad player, but neither is he a Top 3 pick, rather he is someone who has reached his peak at College and out of his depth as a starter in the NFL .Therefore, he will no doubt be seen as a 'bust' this time next year, when he produces very average season, causing the organisation to admit they should have picked Tunsil at no.3.
Predictions - 2 Sacks, 15 tackles, removed from starting rotation after 7 games.

CB Eli Apple- New York Giants Pick 10
To have a top 10 pick is rare and so cannot be wasted on developmental players (unless they are QBs): usually this means teams pick immediate starters (that can have week 1 impacts) or trade their pick. However, Apple isn't a starter and so his selection is a great example of a wasted pick being spent on developmental prospects at the expense of practicality. Many scouts consider him a raw talent with a high ceiling (due to his lengthy frame, good speed, long arms and good college production), potentially leading to him becoming a lockdown corner, but none see him as a polished top 10 talent that can immediately contribute to the Giants in the 'Big Apple'.
It appears therefore that the Giants - who already have two starting corners in Janoris Jenkins (acquired in free agency via a five year $62 million contact) and Dominique Rodgers-Cromartie- view Apple as a future starter with prototypical Richard Shermanesque intangibles (6'1'', 199lbs and 31" inch arms). Yet seen as he is only three years removed from high school (with little elite experience and an undeveloped technique), these intangibles will count for little when he faces routinely the aerial prowess of the Redskins and Cowboys. Of course, Apple in time may become a great player, but rarely in recent history do developmental corners succeed in their rookie years, instead it is the experienced polished rookies that do, such as Patrick Peterson (college stats- three seasons of SEC, 135 tackles, 7 interceptions, 22 passes defended) and Marcus Peters (three seasons at Pac 12 (129 tackles, 11 interceptions, 16 passes defended). Therefore, it would have been more prudent for the Giants to draft a pass rusher, after they managed only 23 team sacks all year in 2015 (30th worst sack total in league, which is terrible when you consider Justin Houston recorded 22 solo sacks in 2014).
Predictions - 0 interceptions, 20 tackles, and doesn't realise talent until 2018 season.
Defensive Rookie of the Year Candidate
CB Jalen Ramsey- Jacksonville Jaguars Pick 5
Some believed Ramsey to be the next Deion Sanders (Prime Time) after he became the first true freshmen cornerback (CB) to start for Florida State since 'Prime'. In reality, Ramsey may never be able to compare to Sanders- who was one of the most talented athletes to ever play in the NFL - but he is still going to be a star of the revamped Jaguars defence. Pre-draft, there was a huge amount of buzz about Ramsey, and perhaps if the league wasn't so QB biased perhaps he would have gone number one in the draft. Ramsey has a rare combination of size, length, skills and track star speed (relay sprinter and long jumper) and so he is a potential superstar shut down press cover CB.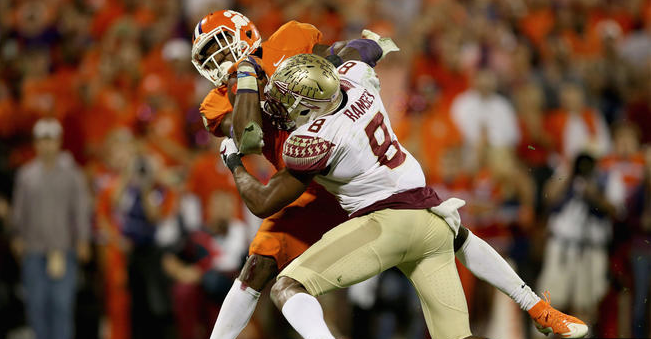 Ramsey's college stats don't exactly portray him as a star: 122 tackles, 5 sacks, 3 interceptions, 4 forced fumbles and 31 games played. That said, his game tape tells a different story: it shows a polished starter, who is adept at playing press coverage as forcefully and immaculately as can be done. Consistently, he gets his hands on receivers, forcefully delaying their routes and potentially rendering them useless. Rarely does he get beat deep as he can keep up with anyone and is able to transition easily from pressing to route pursuit.
Once the ball is in the air, Jalen's length, jump and positioning, make him a daunting prospect to throw at iand a threat in contested situations. If any balls do get to the receivers, he tends to stop them dead. In fact, it can appear Jalen is 20lbs heavier than he really is, such is the power and strength he brings to bear on receivers and backs alike. Versatility exudes from Ramsey's play; in his first year he played as the STAR hybrid (which means he played in a multi purpose Safety/Slot/ Line-backer), but by 2015 he became a true boundary cornerback making his draft stock soar rapidly.
The negatives associated with Ramsey mostly regard his hot temperament (though I would call it competitive): famously he was ejected from an FSU practice for being in a temper and knocking over Jameis Winston. Though, I am sure the Jaguar coaches are unbothered by Jalen's temper, as they will see it as 'spirit' and 'competiveness' that can, become the heartbeat of new Jaguar secondary. The other worry in Jalen's game is the lack of interceptions he generates, however this is more to do with the lack of balls thrown his way by QBs, who recognise his threat. In sum, he is a rare gem of a player and true CB talent, who as a Jaguar CB, should be able to replicate Marcus Peters and become the Defensive Rookie of the Year.
Predictions - 4 interceptions, 50 tackles, 26 passes defended, 1 TD return.
DE Shaq Lawson- Buffalo Bills Pick 19
Clemson has a history of producing pass rushers and this year is no different, with both Kevin Dodd and Shaq Lawson coming out. Lawson, a single season starter, is regarded the most versatile of the two as he is productive in both a 3-4 or 4-3 set. Furthermore, during his brief Clemson career, he amassed a total of 20 sacks,127 total tackles (67 solo tackles and 45.5 tackles for a loss) and one forced fumble: these numbers suggest a ruthlessness and relentlessness not all rookie DEs possess (Robert Nkemdiche). Another point of difference between Lawson and other D/E rookies, regard his intangible qualities of leadership and high game IQ: both should make him a valuable asset to the Bills as they seek to rejuvenate a detached and low energy unit from last year.
It's not Shaq's impressive size that stands out on tape (6'3'' 270lbs) but his production and destruction. His high motor and pass rush ability combine to wreak havoc in opposing O-Lines, consistently allowing him to break into the backfield and stuff the run or sack the QB. Such destruction comes from both his explosive thick levers pushing and ripping blockers out the way; and his speed burst, that shocks O-lineman off-balance. In this draft class, Lawson is without doubt the best run stopper, but it's his versatility that makes him special: he will seamlessly fit between 4-3 and 3-4 defensive bases, allowing the Bills to keep him permanently on the field
Lawson's flexibility in the hips, or lack thereof, is the biggest concern to his transition (and future) into the NFL. His large physique, appears inflexible when it bends towards the QB, such lack of smoothness will effect Shaq's closing speed towards the sack. If he is unable to remedy the stiffness, then Lawson will never reach the heights expected of him and nor will he become the pass-rusher that the Bills require.
Predictions - 16 games played, 50 tackles, 7 sacks.
DT Robert Nkemdiche- Arizona Cardinals Pick 29
Robert's surname is pronounced with a silent N, Kim-Deeee-Chee, but that's about the only thing quiet about this polarizing figure. The three year Ole Miss starter, is blessed with the physique of a demigod and talents of an NFL star, but it appears that he has become more notorious for his off field problems.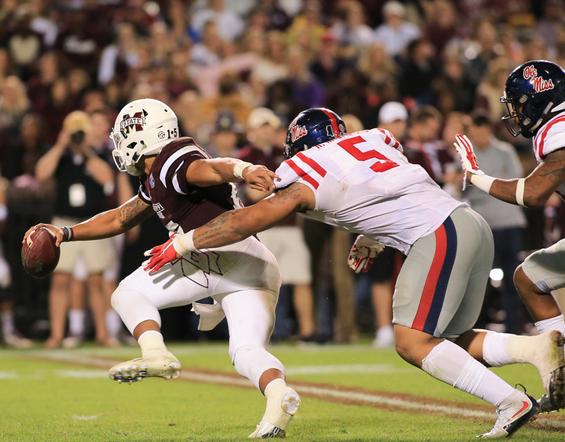 During college games, Nkemdiche can flash off the screen: his dynamism and tree trunk levers allow him to abuse O-line man: by either ripping through them or 'bull-rushing 'them back into the lap of the QB. Such exploits make him look like a natural pass rusher, who can easily shoot gaps and stack blockers, thus a natural NFL 3 technique. Worryingly, with Nkemdiche he appears to tailor his effort according to the opposition's ability: For example, against Alabama or Florida, he exudes top 5 potential (draft), but in other games he just looks a somewhat lazy and average 3rd round talent.
During his three years at Ole Miss, Nkemdiche has only managed 81 tackles (16 for a loss) and 6 sacks: when compared to other first round 'pass rushers', these figures just don't 'stack up to a hill a beans' (just look at Shaq Lawson's figures). Such statistic mediocrity is only half the story when it comes to Robert, for it his off the field antics (many suspensions and an arrest) that made him the polarizing figure and 'villain of the draft'. Alas, the Cardinals and HC Bruce Arians (famous for his man management and disciplinarian skills) have elected to ignore these 'red flags' and draft Nkemdiche in the prestigious first round. Eyebrows were raised throughout the league, but Arians will ignore them knowing he has drafted the most physically gifted player in the draft.
Predictions - 16 games player, 60 tackles and 5 sacks.
Value Picks
ILB (Inside line backer) Reggie Ragland -Buffalo Bills Pick 41
'Roleeeeeeeeeee Tide': the infamous Alabama and its infamous chant, have become an NFL production line: year on year manufacturing NFL ready talents, who more often than not thrive in the NFL. Ragland is one of the latest harvest, and was seen as a pivotal cog and leader, cementing the Bama defence on its march to the 2015 National Championship. Unfortunately for him, during NFL medicals he was found to have an enlarged aorta and as a result his draft stock fell rapidly (largely due to fears it may shorten his career to only a few years). Aorta aside, Ragland is a throwback smash–mouth inside line-backer, who at a muscular 6'1'' 247lbs, can regularly rush the passer, stuff the run and drop into zonal coverage. His one obvious weakness is his top-speed deficiency; this hurts him badly if he is forced into man coverage situations against tight ends: though he has dropped about 15 pounds to improve this flaw.
Ragland is set apart from his rookie competition (ILB) by the levels of leadership and game awareness that he routinely exhibited as the unquestioned leader and heartbeat of the indomitable 'Bama' defence. In all, these skills have allowed him to dominate in the SEC for three seasons and more recently be compared with the likes of Ray Lewis and Patrick Willis. Hence, it is no surprise that the Bills and Rex Ryan have already selected Ragland to be a week 1 starter: and thus no doubt a future leader of the side.
Predictions - 16 games played, 150 tackles, 2 sacks, 4 passes defended, 1 interception.

DE Noah Spence- Tampa Bay Buccaneers Pick 39
Eastern Kentucky's Noah Spence, was once a Buckeye (Ohio State), though bad behaviour and drug related issues caused him to be exiled to the lesser Eastern Kentucky. In the lead up to the draft, Spence pleaded 'reform', and with this promise, Tampa selected him in the second round of the draft. Perhaps, in a few years the Buccaneers gamble will be seen as the 'steal of the draft'. For Spence, in terms of talent, is the best of the rookie pass-rushing class.
Most notably both Shaq Lawson and Joey Bosa, were selected before Spence: but neither possess his all-round natural combination of: great technique, sneaky speed, smooth footwork, impressive flexibility and yoga like balance. Such a unique combination could turn Spence into the next great, natural 'sack artist' that could terrorize QBs for years to come.
However, some still worry about Noah's aptitude and point to his lacklustre combine and slow '40 yard dash' time as evidence of apathy. But, Spence is not the first to have an average combine and more importantly DEs just don't need to be fast over 40 yards to sack a QB. 10 yard split times are more crucial and Spence clocked an unofficial 1.62, beating Khalil Mack's 1.64 from 2014 and he is now a Pro-Bowler. Though in reality, Spence never relied exclusively on speed, instead he used a short burst to get blockers off balance and then hit them with his array of inside pass-rush moves to penetrate to the QB (remember no-one gets a sack for speeding round a tackle, they still have to get to QB). During his one season at Eastern Kentucky, he showed how effective these skills and talents made him, registering 22.5 tackles for a loss and 11.5 sacks.
At 6'2'' and 251lbs Spence cannot be regarded as a big man, like Lawson. This means he has to go to the right system, where he will be used as a pass Rusher, or outside line-backer (OLB): who can exclusively be charged with sacking QBs. Thankfully, Mike Smith (Buccaneers defensive coordinator), has already alluded to Tampa, deploying Spence (in a Von Miller like role) within hybrid systems. As a pure pass-rusher. Spence should flourish in such a role and now it is up to him to apply himself properly: though under the guidance of Smith and Gerald McCoy (Pro-Bowl Buccaneer who is both the leader of the team and model professional) it will be hard not to, and so he will surely prove a major weapon in the new Tampa Bay system.
Predictions - 16 games played, 65 tackles, 5 sacks.
OLB Myles Jack- Jacksonville Jaguars Pick 36
This year's draft involved some interesting and detrimental twists in its preamble, sadly for Jack his injured knee (possibility requiring micro fracture surgery in the coming months) was perhaps the most seismic of these twists. As the meniscus tear in the knee, caused Jack's draft stock to plummet, fast and low, leaving him to go unselected until the second round. However, injury free Myles Jack, would have been a franchise changing line-backer, in the ilk of the great Navarro Bowman: thus a 'top 3 draft' talent. Jack entered UCLA as a top recruit (with rare levels of athleticism) and in his freshmen season, he became an immediate superstar, notching up 75 tackles,11 passes broken up and 2 interceptions. As a sophomore, he continued his impressive form, racking up 87 tackles, 8 for a loss, 7 passes broken up, 1 interception and 1 forced fumble. Unfortunately, a few weeks into his junior campaign the training ground injury occurred, tearing his meniscus and his future has been in doubt ever since (some scouts doubt he will ever be able to play at the requisite NFL level).
His skillset, pre injury, was just immense: he was the perfect hybrid player; capable of, either; blitzing O-lines, marshalling the side-lines and dropping into coverage. Though usually an athlete, at only, 6'1'' and 235lbs, a regular linebacker wouldn't be able to combine such duties, but Jack is a unique specimen with; natural strength (which is so important to NFL inside line-backers) speed and agility: thus he can do things that line-backers just aren't meant to do. At UCLA he routinely covered (even nullified) tight ends and slot receivers and then in the next drive would blitz into the backfield, stopping the run or pressuring the QB. Jack's versatility came from his agile balance, hand eye coordination and flexibility: such attributes allowed his bulk to not count against him in coverage and so allowed him to flourish as a 'ball hawk', that could regularly intercept and break up key third downs .
In sum, Jack is a rare all-purpose, three down weak-side line-backer: who if fit, will be a perennial Pro-Bowl candidate and playmaking star for Gus Bradley's new and exciting Jaguar's defence.

Predictions - 14 games played, 80 tackles, 1 sack, 7 passes defended, 2 interceptions.
Offensive Choices
Offensive Draft Bust
QB Jared Goff- L.A Rams Pick 1
To be picked first overall is a great honour, but also carries the responsibility of great expectations. Quite literally you have be a generational talent, capable of immediately changing the fortunes of a franchise, from basement dwellers to post-season contenders. Goff just is isn't that 'elite': of course he wont be a David Carr or Jamarcus Russell (previous first pick flops), but neither will he become a rookie marvel (Jameis Winston or Andrew Luck) capable of one day reaching the Mt. Rushmore of QBs (Manning, Brady, Rodgers and Brees).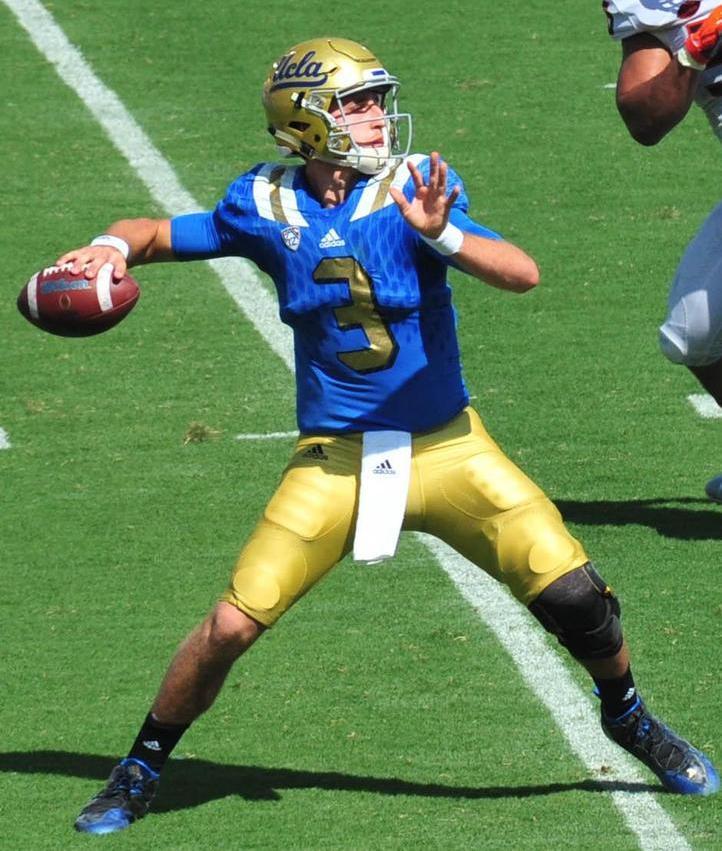 Since his freshman campaign, Jared Goff has started 37 games, passing for over 9700 yards (with a completion percentage of 62.3%), 96 touchdowns and 30 interceptions. On first glance, this is an impressive resume of production, regardless of Cal's losing record during Goff's tenure (of 14-23): but numbers aside Goff just stinks of a player who will be mediocre in the NFL. He is but an accomplished system player, a Californian Brian Hoyer if you will, who can only make the short to intermediary throws.
He just lacks the exceptional qualities needed to be an elite NFL talent and he is not a winner. Some players go through college rarely knowing what defeat tastes (W/L - Jameis Winston 27-1, Marcus Mariota 36-5, Andrew Luck 31-7); in contrast, Goff lost 9 more than he won: hence will not be able to bring a 'winning mentality' to the Rams' locker-room .
Arm strength wise, Goff is simply average: routinely he is unable to produce the requisite velocity and tight spiral effect, to pierce the small windows open in the NFL. Many of his passes just appear to tail off on long and medium throws: in the NFL this will be exploited. Of course, some QB's can make up for their lack of arm strength by outsmarting defences: but Goff appears to lack the instincts and mental agility to process the requisite materials to ad-lib to defensive systems on the fly. This may because of the offence he had to run at Cal, which was at best a simple one, and is known as the 'Bear Raid'.
Basically, the scheme uses a shotgun formation that frequently employs three/four wide receivers in a 'no-huddle', fast paced offence. Therefore players have to look to the side-line for instruction, where players and coaches signal each position group to notify them of their role in the next play. Specifically, in this scheme Goff is asked to concentrate on throwing short or flat passes; thus rarely being asked to make the hard throws, or use his game knowledge to engineer chances on the fly. Therefore, when Goff plays against better defences, who can limit his short field options, his numbers plummet. This is evident by his barren performances against; Washington, Oregon and Utah. In these games he threw 6 TDs and 7 interceptions, at a completion percentage rate of under 53%: hardly NFL worthy numbers.
Physically, more questions arise with Goff: at 6'4'' he is certainly tall enough to be an NFL QB, but at a mere 215lbs he just isn't stout enough to take the punishment sent his way (much like Sam Bradford). Obviously, this can be worked on by the Rams strength and conditioning department, but this will take time: so as a Rookie he will be an injury threat, I guess lucky for him the Rams proved pretty good at protecting QBs last year (gave up fewest sacks last year). Thus, the Rams decision to 'trade up' (in the draft and sacrificing their future) for Goff, and acquire a player with mediocre talent, no pro style offence experience and a fragile frame will be considered, by the end of the season, a pivotal 'draft bust'.
Predictions - 16 games under centre, pass completion of 56%, 2,000 passing yards, 14 TD's, 22 interceptions, sacked 15 times.

Offensive Rookie of Year Candidates
OT Laremy Tunsil – Miami Dolphins Pick 13
The Miami Dolphins have acquired an absolute steal in Laremy Tunsil. He was the best player in the draft and furthermore the best Left tackle prospect for about five years (even if there was a worrying video released on draft night of Tunsil using a bong). Adam Gase, the new Dolphins Head Coach, bravely ignored the red flags surrounding Tunsil and in doing so bolstered an impudent O-line that has allowed Ryan Tannehill to be sacked a whopping 184 times in four seasons. To put these figures in perspective, since Tannehill's rookie season in 2013 no other QB has been sacked more: but Tunsil will change this. During his 28 games at Ole Miss, he allowed only 2 sacks and 5 QB pressures according to Pro Football Focus. These stats are amazing, considering the strength of the SEC division: and thus show just how lucky the Dolphins were in Tunsil falling to them in the Draft.
The NFL is full of massive men but Tunsil truly is a colossus who stands at 6'5'' and 310lbs but it's his technique and movement that set him apart. As a blocker he can smoothly shuffle, with balance and power, covering even the fastest of edge rushers and then halt them with a burst of immense hand power and length. Such a skillset and physical stature has meant Tunsil is often compared to the best in the business and Cowboys current LT Tyron Smith (future Hall of Fame player). Positives and comparisons aside, Tunsil does have some concerning red flags to address. Firstly he has proved somewhat injury prone at college, and thus needs to be monitored by the Dolphins staff to prevent recurrences. Secondly, and more worryingly, he has had a few domestic problems with a father in Law and some drug related incidents. Though with context and Tunsil's explanation, you realise neither red flag is beyond repair and surely will be remedied once the Dolphins support staff intervene. It is also only fair to stress that Tunsil, unlike many other rookies at the Draft, never failed a drug test on campus and neither was he ever suspended for DUI charges. In time, Tunsil will prove his good character and make the 12 teams wish they hadn't missed the chance to draft a LT who could anchor their Offensive line for a decade.
Predictions - 16 games played, Pro Bowl appearance, 5 sacks allowed.
RB Ezekiel Elliott- Dallas Cowboys Pick 4
The Dallas Cowboys and Jerry Jones believe Ezekiel 'Zeek the Freak' Eliott to be the second coming of Emmet Smith and so the final piece to the 'new Triplets' (an homage to the famous and highly successful Cowboys trio of Troy Aikmen, Michael Irvin and Emmit Smith) of Tony Romo, Dez Bryant and Ezekiel Eliott. The pressure is therefore on the ex-Buckeye (Ohio State's nickname) to prove, like Todd Gurley last year, running backs are worthy first rounders.
Recent history supports the Elliott acquisition: as the Cowboys are at their best when they possess an elite running back – like Demarco Murray - to complement Romo's passing game. Elliott, who is both big bodied and fast (225lbs and ran a 4.47) is therefore perfect for Dallas. During his three years at Ohio State, he amassed 43 running TDs and 4000 rushing yards (at a crazy average of seven yards a carry).
Stylistically he is a patient runner capable of waiting for gaps to emerge then bursting through them with both speed and power. Due to his stout physique, arm tackles just won't stop him, so unless you get a good shot on him he is liable to turn up field and break for long runs with his explosive speed.
Alternatively, if there isn't a gap, he can use great footwork and balance to mould his own running lane, thus rarely stopped for negative yards. Furthermore, he is an accomplished 3rd down back, who can block, diagnosis blitzes and catch passes (he dropped only three passes as a Buckeye). It's as if Eliott just doesn't need to come off the field. Lastly, and figuratively speaking he 'hasn't too much tread on the tires' (didn't play much as freshman): this is key to his longevity, as famously RBs don't last long in the NFL and so its always of benefit to them if they haven't been over used in college.
All this means the Cowboys have acquired a RB that can lead them back to the playoffs and in 2016 he will be behind the league's best Offensive-line (made up of the Pro-Bowl talents; Tyron Smith, Zach Martin, La'el Collins and Travis Frederick): for such reasons he is the odds on Rookie of the Year who will likely post monster numbers.
Predictions - 1,500 rushing yards, 10 TD's, 300 receiving yards and a Pro-Bowl appearance.

WR Laquon Treadwell- Minnesota Vikings Pick 23
Many believe the 40 yard dash to be a crucial factor in a rookie's draft potential: why then did the Vikings draft a WR, who ran a 4.70 (0.2 seconds slower than average)? Well, under the progressive stewardship of head coach Zimmer, the Vikings ignored the circus of the combine and instead prioritised Laquon's impressive game tape and college numbers, over pointless track events.
In doing so, the Vikings have found themselves a real steal at pick 23, and a dominant primary wide receiver: capable of manhandling opponents and making 50/50 catches with ease. In recent drafts, the Panthers also ignored the combine's numbers and drafted two big bodied slow receivers; Kelvin Benjamin (pick 28 in 2014, 40 time- 4.61, 6'5'', 235lbs, 34" inch arms) and Devin Funchiss (pick 41 in 2015, 40 time 4.7, 6'4'', 232lbs, 33" inch arms), and they have both proved that big bodies, with skill, trump slow track times in the NFL. Moreover, Treadwell is a more polished route runner and true wide receiver than both and so his future is surely just as bright.
At Ole Miss, Treadwell was a three-year starter, emerging as the centre piece of perhaps the country's most explosive offence. The receiver was practically indomitable and in his third year led the SEC in receiving yards (1153) and touchdown catches (11). Resultantly, award after award was thrown at him (Biletnikoff Award finalist, All-America second team, All-SEC first team), and like footballs, he swallowed them up and carried on performing right up to his final game- the Sugar Bowl - in which he scored three TDs . During this game, Treadwell showed what he lacks in track speed, he makes up for with game speed and a burst ability that allows him to subtly move away from coverage to make deep field catches. Though his real worth comes from his prowess in contested catches and the Red Zone. In these situations, Treadwell's 6'2'' 221lb body allows him to find the ball and make catches very few in the draft could dream of grasping. Largely this is due to his combination of; 33-inch arms, robust 9 and ½ inch hands, stunning concentration and adept body control. After making catches, Treadwell attempts to stay alive and run over small defensive backs to make those important extra positive yards.
Rarely can receivers combine to do the above and so for these reasons, the Vikings have found the ideal talent to upgrade their one dimensional, Adrian Peterson orientated offense. Thus Teddy Bridgewater, the conservative third year QB, will have a much more balanced and multi-pronged offence to utilise, consisting of; Stefon Diggs, (who was a fifth round steal in the 2015 draft and a great second receiver), Kyle Rudolph, Matt Asiata, and Adrian Peterson.
Predictions - 70 receptions, 1000 yards, 7 TD's, 1st year Pro-Bowler.

Offensive Draft Steal
Derrick Henry – Tennessee Titans Pick 45
The Beast from Bama, or the next Eddie George (the ex-Titans running back legend), either way he was a steal in the second round. Many have criticised the move due to the acquisition of Demarco Murray, but Murray is a player on decline and so not the workhouse that both the Titans and Marcus Mariota need to fulfil their game-plan. Furthermore, Henry is a Heisman winner, who during his college career amassed 3,591 yards, at a crazy average of six yards a carry. In the 2015 season alone he was able to average 147.9 yards a game, and 28 touchdowns: which is a crazy amount for an SEC conference running back.
Physically, he stands at 6'3'' and weighs a colossal 247lbs, such size in no way slows the man down- as shown by his 4.5 40 yard time- rather he has an enough speed to still make serious yards once he breaks through to the secondary. In fact, if his game tape holds true to the NFL then he will be a regular home run hitter (name given to RBs who can convert long runs into TDs) and fantasy star .
Though of course Tennessee didn't draft him for his high end speed, instead they will look for his short burst and power game, to cement Mariota's ability to exploit a play action game-plan. Unlike Ezekiel Eliot, Henry is not considered a true 3 down back, at least not yet, rather he is seen as a two-down bulldozer. Though he will still have a very productive rookie season, and by the end of it become Titans number one running back.
Predictions - 800 rushing yards, 5 TDs.