It's that time of year again in the sporting calendar, with the most eagerly awaited golfing event of the season and the first major of the year approaching - the Masters Tournament. TSZ predicted last year's champion Danny Willett, who became the first Englishman to triumph in 20 years and the first European player to win since 1999 as a result of a Jordan Spieth back-nine collapse.
94 players make their way to the famous Augusta National layout representing 22 different countries, of which England boast the second highest number of qualifiers (11) behind America. There are 18 Masters champions competing this week, possessing a total of 23 Green Jackets. Here at TSZ, we assess the key statistics which have led to Masters glory in the past, and assess the form of those heading to Augusta this time around.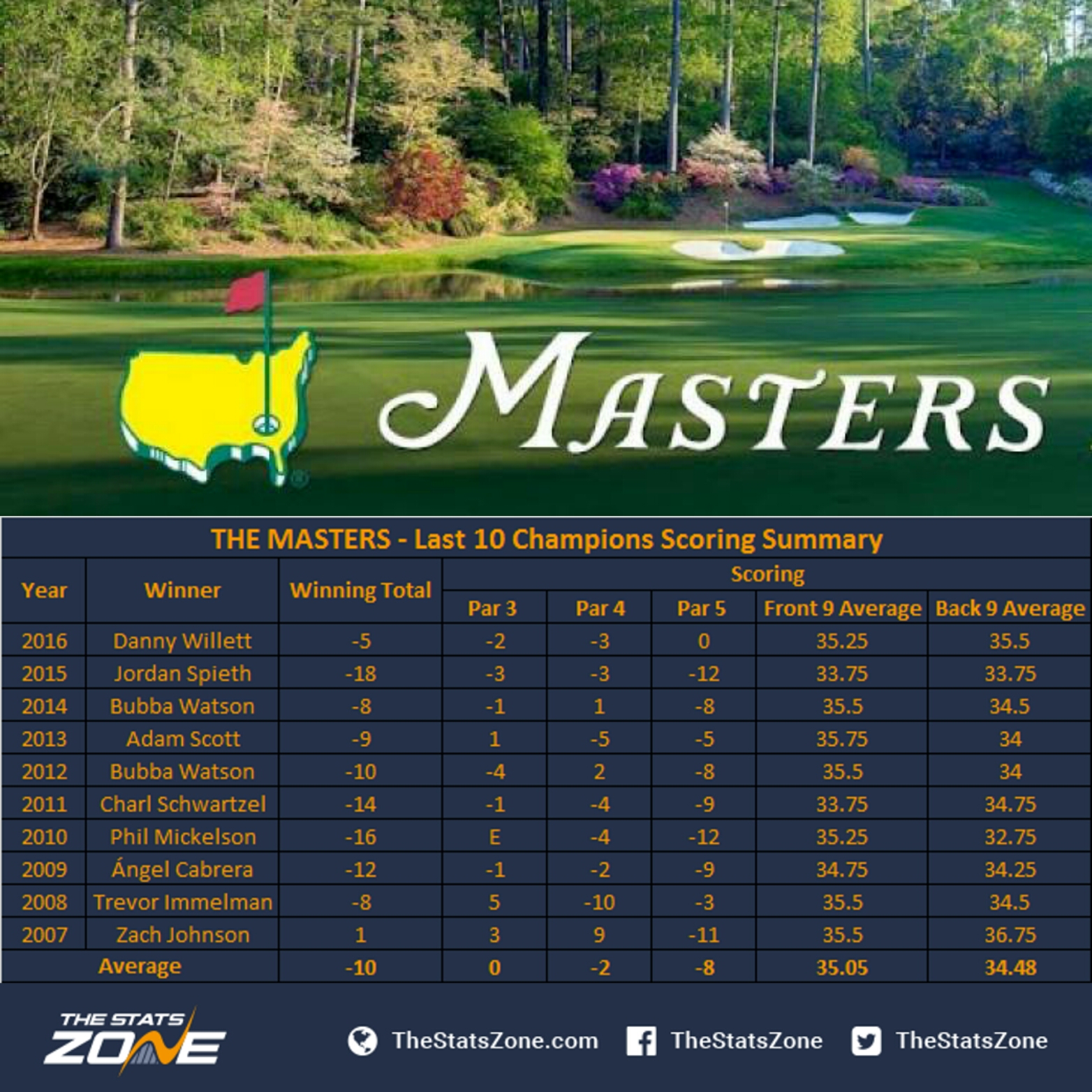 Since 2007, the average winning total has been 10 under par, with Jordan Spieth equalling the lowest tournament score (-18) in 2015 and Zac Johnson equalling the highest tournament score (+1) during a cold and windy spring in 2007.
On average, Augusta's par 3s have been the most difficult set of holes, averaging level par with a high for the week of +5 and a low of -3.
The par 5s have been where the winners make their scores, averaging -8 for the week with three players scoring into double figures under par. Notably though, 2016 winner Willett was level par for the par 5s, the weakest score in our sample.
Augusta's back-nine is famed for its amphitheatre and drama on Sundays due to the numerous birdie opportunities. This is shown in its scoring average (34.48) which plays 0.57 strokes easier than the front-nine. Nevertheless, the last 10 years have produced four champions who have scored the same as or better on the front-nine, which could be a significant stat to look for over the first three days.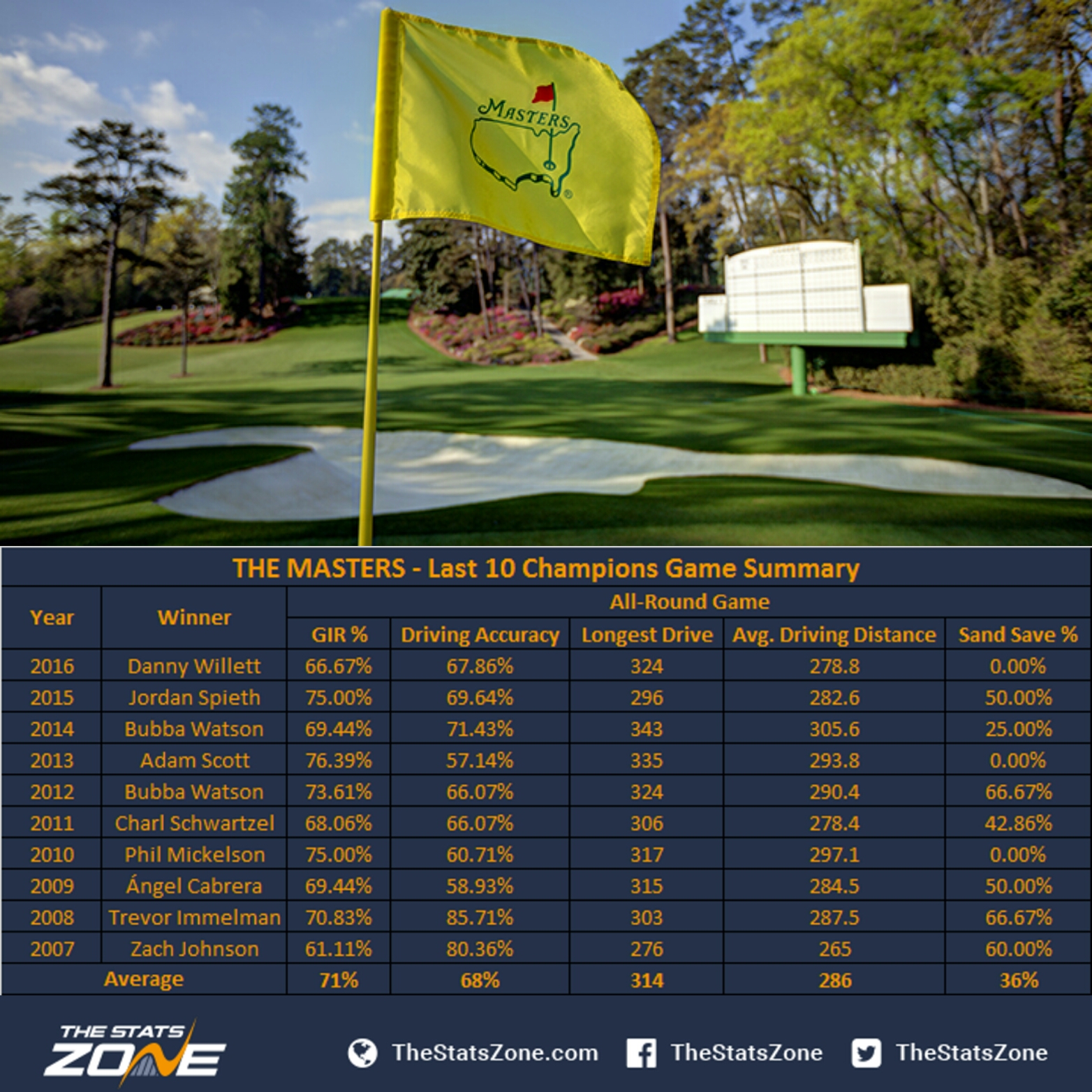 Past champions have excelled in 'Greens-in-Regulation' (GIR) and 'Driving Accuracy' – averaging 71% and 68% respectively. With similar percentages throughout the last 10 years, it is clearly of great importance at Augusta, however Adam Scott during 2013 is the one exception to the rule, recording the lowest percentage of fairways (57.14%) and the highest number of greens (76.39%), suggesting strategy with the driver was key to his victory.
Winners have averaged 286 yards from the tee, with Bubba Watson leading the way with 305.6 yards during the 2014 tournament. Although distance is always an advantage with Augusta measuring 7,435 yards, it is not vital to be a 'bomber' like many courses.
On average, winners have gotten the ball up and down from the sand just 36% of the time, suggesting the bunkers are a must to avoid, hence the importance of hitting the greens.
In order to determine genuine favourites based on current form against the skill areas required to compete around Augusta, players ranked on the PGA Tour and European Tour were ranked below in accordance to past winners. A baseline is applied to 'Greens-in-Regulation', 'Driving Accuracy' and 'Average Driving Distance' by looking at the lowest score amongst recent Masters champions in each of these categories (for the purposes of this analysis, Zach Johnson's 2007 figures were ignored due to the troublesome weather conditions that year). The baselines are GIR 66.67% in relation to Danny Willett's 2016 numbers, 'Driving Accuracy Percentage' 57.14% in relation to Adam Scott's 2013 numbers and 'Average Driving Distance' 278.4 yards in relation to Charl Schwartzel's 2011 numbers.
As a result, 45 players from the 94 field make our cut.
Due to the emphasis on putting performance on the notoriously slopping, firm and fast greens at Augusta, this season's putting strokes-gained were included (SG: Putting). An average ranking was calculated for the four different statistics assessed and the Top 15 ranked players are deemed the ones to watch: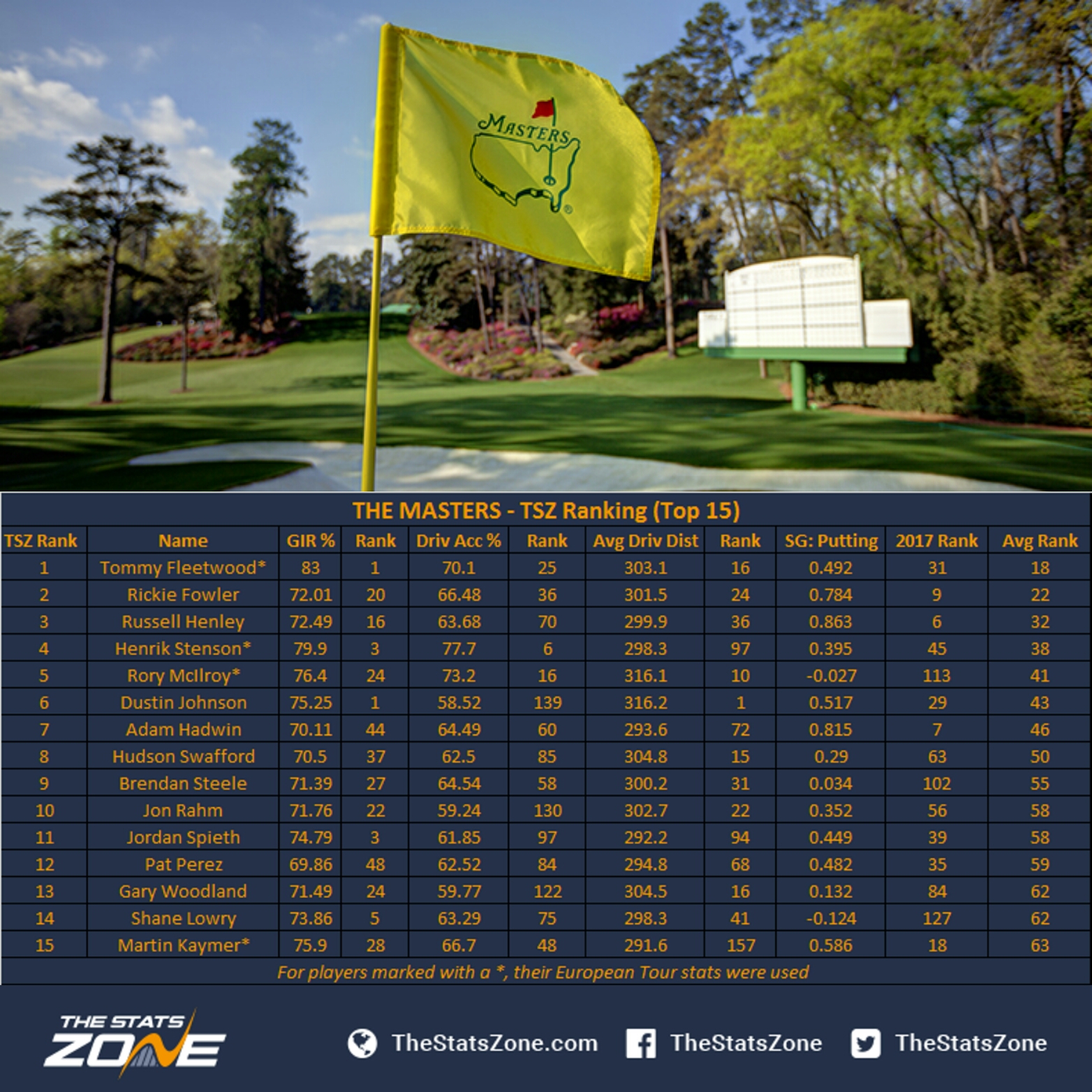 Tommy Fleetwood leads the way due to his impressive start to the 2017 season and is showing no signs of weaknesses.
Three of our top 15 ranked players finished inside the top 10 at the Shell Houston Open last week; Rickie Fowler, Hudson Swafford, Jon Rahm and champion Russell Henley.
Henrik Stenson (4) and Jordan Spieth (11) both ranked inside our top 15 players but missed the half-way cut at The Shell Houston Open. Although not the ideal preparation for Augusta, past results have shown that the two tournaments have little correlation in performance.
Rory McIlroy's injury this season hasn't appeared to hinder his game; he boasts highly impressive stats as always from tee-to-green. There isn't a golf course he cannot win, which is the same story for world number one, Dustin Johnson.
Let's take a look at some of the players in our ranking and their odds in various betting markets: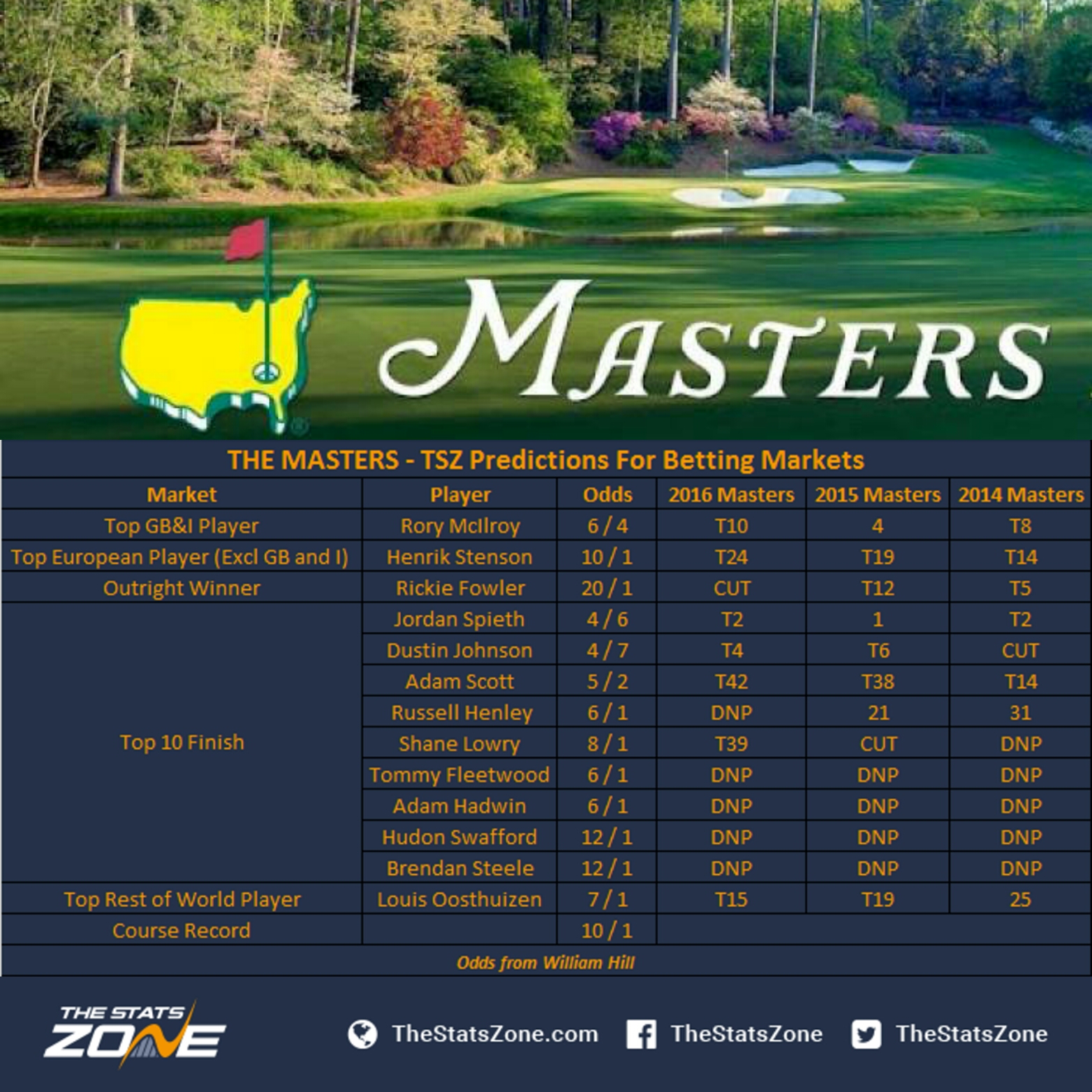 The Masters rookies Tommy Fleetwood, Adam Hadwin, Hudson Swafford and Brendan Steele have all produced consistent and high-finishes this season. They all have the games to creep into the top 10 this week but a lack of course experience could well be their downfall like so many rookies before them.
Rory McIlroy has not finished outside the top 10 in his past three visits here and has come so close to victory before. His game is ideal for Augusta, providing he continues his good putting of recent months. He has not finished outside the top 10 this season, with two top-five finishes from just four starts on the PGA Tour this season, and can become just the sixth golfer in history to win the career grand slam.
Open Champion Henrik Stenson is performing as good as ever tee-to-green and is backing up his consistent play with strong putting. Winning his first major last season will have provided him with that extra belief and much like McIlroy, an early season injury may have left him fresher than others in the field.
Jordan Spieth can never be discarded around Augusta, having not finished outside the top two in his previous three starts here. However, that course form, with last year's collapse in his mind, will be extremely difficult to continue. Expect a top-10 placing nevertheless.
World number one Dustin Johnson of course cannot be overlooked either and he has gotten better and better around Augusta in his previous three starts. Nevertheless, he has already won three times this season (last three starts) and a fourth in a row seems unlikely…but do not rule out.
Adam Scott (2013 champion) has a great record around Augusta due to his superior ball-striking skills. A top-10 placing is probable but the putting could once again be the missing link.
Russell Henley appeared calm after holing the winning putt on the 18th green at The Shell Houston Open last week, suggesting this could be another big week for him. Two solid finishes here in 2015 and 2014 shows he has the game for at least a top-10 finish.
Shane Lowry could be a surprise contender this week. His ball-striking skills get better and better each year, which coupled with his driving and ball-shaping ability, will prosper well around Augusta. Being in contention at last year's U.S. Open could serve him well this week, so expect a strong finish.
Louis Oosthuizen hasn't finished outside the top 25 at Augusta in the previous three editions and lost in a play-off in 2012, demonstrating his eye fits the course. He knows how to contend on the biggest stage and expect him to be the leading rest of world player.
TSZ's outright favourite is Rickie Fowler. The world number eight's form, with a win and four top 10s already this season, is as strong as anyone's in the game right now. A T3 finish last week at The Shell Houston was ideal preparation for Augusta, where he has contended in the past and has a proven game plan. Ranked second in TSZ's all-round ranking, he gets the nod over Fleetwood due to his greater experience at the top level. His impressive iron-play will provide him with plenty of birdie chances and with his red hot putter – we're backing the American to claim his first major.