Love Island 2019 is underway with 12 hopeful singletons safely installed within the confines of the world's most famous villa, apart from maybe Aston. The first episode was relatively light on drama, other than Anton's self-confessed WES (Wandering Eye Syndrome) and subsequent cringe-tacular by the fire-pit. Does it ever rain on Love Island? It has just struck me that I have never seen it rain. Do they turn the fire off at night? Do they cover the outside furniture? Or do the islanders have to brush off pools of rainwater and dead insects in the morning, like in real life gardens everywhere else? All these are questions I'd like the answer to. Instead however, here are some answers for you.
In the interest of drawing parallels between Love Island and a football match - not that anyone has ever called for such a thing - we have come up with a set of collectable stats to mark this summer's contest. This can be seen as both an effort not to completely alienate our devoted sports-based audience, and also make it a little more tolerable for us to devote time to it.
There is a great deal of ambiguity involved of course with monitoring the successes of a large group of people seeking 'Love', an abstract noun, so here are some definitions we will be rigorously sticking to. They are as follows:

THE SPORTING PARALLELS
Top scorer
The first and successful attempt made in seeking an intimate act with an islander. This could be anywhere from a kiss to a fumble to a (please don't make me say it). I emphasise that this is the first successful intimacy between a specific pair, as none of us have the time, patience or willpower to count every kiss between a 'Jack and Dani' for example. We're on the lookout for the Harry Kane of Love Island.
Top assister
Achieved by playing an integral role in the scoring of a fellow islander. This can be in the form of advice, egging-on, or direct involvement such as playing the messenger. Think Mesut Ozil, when he can be bothered.
Attempts on (and off) target
An attempt on-target is a successful courtship act such as flirtation, and an attempt off-target is the explicit rejection of said acts. The viability of some islanders' attempts can be called into question at the Court for Arbitration for Cracking On. Coupling-up with an islander is also an attempt on target.

Substitutions
Being swapped out for another islander in the recoupling. For example, Michael and Sherif were both subbed out by Lucie and Amber respectively on last night's episode.

At the end of each week we will sum up the contestants' performances in a series of tables and graphs, which is truly ridiculous isn't it? We will provide daily (yes daily) match reports and announce our Star Player of the Week in our weekly round-up come the close of play on Sunday, so at least you have something to read on your Monday commutes.
MATCH REPORT: EPISODE 1
Lucie is a surfer. At least this much is clear from our first bumper edition of Love Island 2019 – 90 minutes of adverts and a few choice shots of people on holiday. I can neither confirm nor deny that Rob has ordered us all a Love Island branded plastic flask, but if you're reading, Rob, orange is my colour.
The official couples are: Amy and Anton, who spent most of last night making off-target attempts at Lucie, who is with Joe, while Amber is with Callum for approximately 24 hours, Anna is with Sherif and Michael is with Yewande.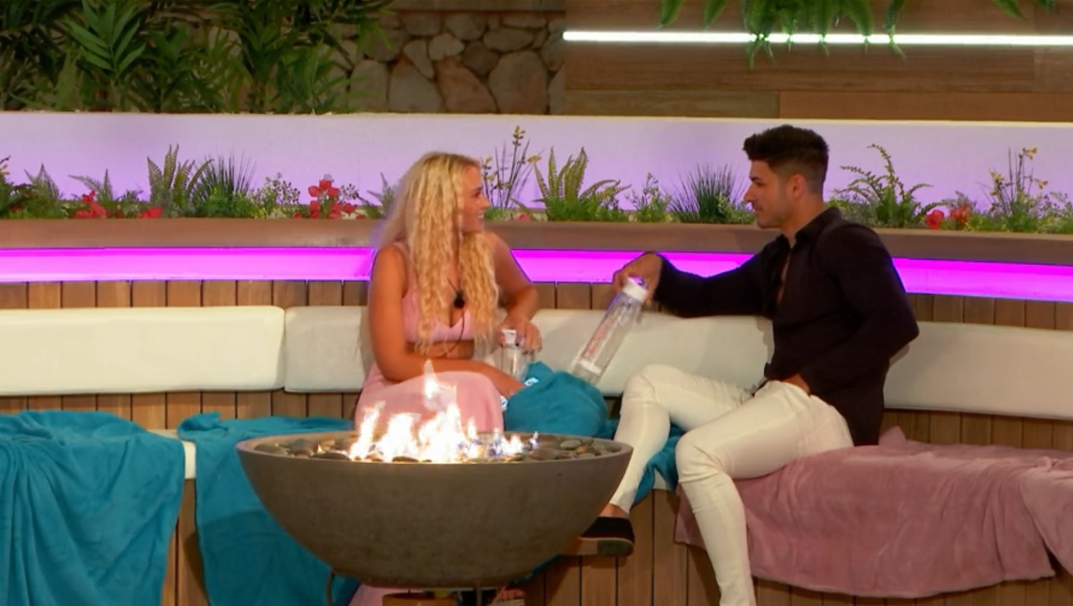 It appears it is Anton who cannot understand Lucie's accent after she repeatedly said he's not her type
After a semi-awkward settling for each other, Michael and Yewande appear to have more in common than they realised, which calls into question the entire police line-up procedure Love Island forces contestants into upon their first ever meeting. I'd like to see a speed-dating arena and then a private ballot, but perhaps this is less engaging TV.

Anton could barely hide his surprise when only one girl stepped forward, causing him to become Day 1's most decorated meme. He spent the rest of the episode trying to convince Lucie, who didn't like his accent and goes for messy-haired surfer-types (because Lucie is a Surfer don't you know) that his well-kempt looks and lack of a surfboard were actually right up her street. Or wavelength, if you will. Because Lucie is a surfer.
Elsewhere, Amber explained that Callum's gentlemanly approach to Caroline Flack was what swung it for him in her subbing of Michael, and then immediately decided that he was in fact too gentlemanly. At least she is forthright. Callum looks to be this year's Dr. Alex, and not just because he is Welsh. Also, Lucie is a surfer.

Finally, the two contestants with famous siblings entered the villa to cause a very predictable stir. Tommy and Curtis, of Fury and Pritchard fame, will have the chance to 'steal' a girl each in tonight's show. They slow-motion waltzed in, fist-bumping each other far too much for anyone's liking.
(As an aside, I am aware that these contestants are fully grown men and women, but the show dictates we refer to them as boys and girls).
'Steal' is a strong word however, as it looks as if several girls would be very willing transfer targets indeed. Callum and Sherif look to be the first victims of this structured imbalance, in a heteronormative odd number of seven boys to five girls, but we shall see.