It has been a difficult season on the pitch, and a tumultuous few months off the pitch for Louis van Gaal. Amid rumours of Jose Mourinho being lined up to replace him in the summer, he has remained defiant and – publically at least – continues to declare his faith that his philosophy will win through at Manchester United. But does the evidence back this faith up? What impact has Van Gaal had at his previous clubs and were these clubs better or worse off with Van Gaal at the helm? To attempt to answer these questions, we decided to look at the average points per league game achieved by the clubs that Van Gaal has managed in the two seasons before he joined them, during his time at the helm, and the two years after he left. There are so many factors affecting such totals and it may not always be the fairest way to measure a manager's impact, but it can serve as a guide, especially at the top clubs, to gauge general performance under the coach.
It should be noted that where applicable, we have adjusted the figures to represent three points for a win and the points gained under Van Gaal only equate to the games he was actually in charge rather than the full season's results in instances where he either joined, or left a club during the season.

How much difference does Van Gaal make when he joins a club?
Looking through the statistics, it is interesting to note that in 4 out of the 6 club jobs Van Gaal has had, the team has actually fared worse with him in charge than during the preceding two seasons. Indeed, in both his second spell at Barcelona and now at Manchester United, both clubs collected considerably less points, with Barcelona collecting a startling 27.54% less points and Manchester United thus far achieving 12.94% less. His two successes in terms of points gained have both occurred in the Eredivisie, at Ajax, where he made his name, and then in his later spell at the rather more unfashionable AZ Alkmaar. Is this a sign that Van Gaal can only thrive in a lesser league or are the statistics hiding the true Van Gaal effect?
Firstly, it should be noted that by joining European powerhouses such as Barcelona, Bayern Munich, and Manchester United, the standards were already bound to be high and therefore the points per game ratio in the preceding seasons was always going to a higher bar to attempt to better. In this sense, his average of 1.9 points per game in his first spell at Barcelona and 1.94 at Bayern Munich is certainly a good return even if it doesn't match the even better returns prior to his arrival. Furthermore the two League titles he won in his first spell at Barcelona and the league title he won (as well as reaching the Champions League final) at Bayern attest that as far as the trophy count goes, these periods were successful. However, the stature and previous success of the clubs Van Gaal joined could also give rise to an argument that winning trophies would be the expectation on any reasonably competent – rather than "special" – manager. Indeed, Ajax, Bayern, Barcelona, and Manchester United had all won titles no more than three years before he arrived. Of course, this doesn't factor in the fact that expectations bring pressures of their own.
To conclude, it is clear that points wise, Van Gaal's most successful periods of management have been his spells at Ajax and AZ Alkmaar where he supervised a significant uplift in average points per game. It may be fair to suggest that this idea is also supported by a less data driven approach in that, it is strongly arguable that Van Gaal's two biggest achievements would be considered to have taken place at Ajax and AZ. The European Cup win with Ajax in 1995 with a young vibrant team made Van Gaal's name. Similarly his title triumph with AZ in 2009 (coming out on top of the traditional Dutch powerhouses) helped rehabilitate Van Gaal's reputation after his disastrous second spell at Barcelona.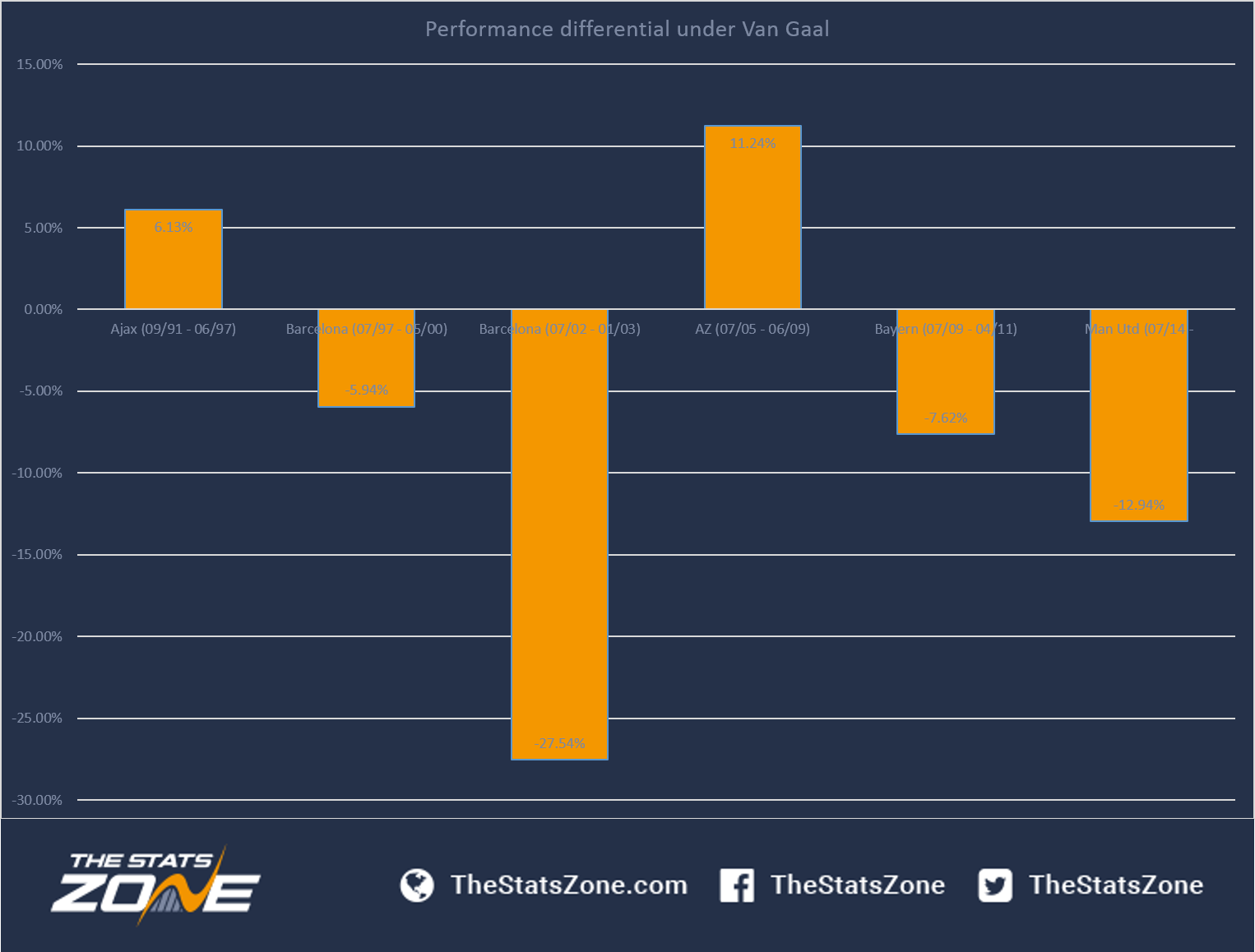 What happens in the post Van Gaal era when he leaves a club?
Having looked at the effect Van Gaal has on the fortunes of clubs compared to before he joined, the next thing to examine is Van Gaal's legacy. In this sense, we looked at the points per game of each of Van Gaal's clubs in the two full seasons after he left. What is immediately apparent is that Bayern Munich and Barcelona after his second spell, fared considerably better without Van Gaal. Indeed, Barcelona accrued a staggering 69.42% more points in 2003/2004 and 2004/2005 than during Van Gaal's aborted 2002/2003 season. Similarly, Bayern Munich gained 24.23% more points after Van Gaal had departed the Allianz arena than during his two seasons in charge. However, the news is isn't all bad for Van Gaal, with Ajax, AZ Alkmaar, and Barcelona after his first spell, all performing worse after his exit. The biggest decreases are seen at AZ Alkmaar and Barcelona with both gaining more than 10% less points.
Of course, the statistics in this regard can be seen as a double edged sword. Indeed, it is arguable that if a team performs well after a manager departs this could be seen a sign that the manager has left solid foundations, a legacy which the new manager has built upon. Certainly this argument may hold some credence with respect to Bayern Munich who built upon an already impressive 1.94 points per game to a gain a staggering 2.41 points per game in the 2011/2012 and 2012/2013 seasons. Similarly, if a club's performance drops off significantly after a manager leaves is this a sign that the manager has taken a short term approach rather than leaving a good base for his successor? It may not be that the statistics show this to be the case with Van Gaal, as the drop offs at Ajax and AZ can perhaps be explained by the fact that they were overachieving under Van Gaal and that therefore in effect they were merely returning to their more "expected" level after he departed.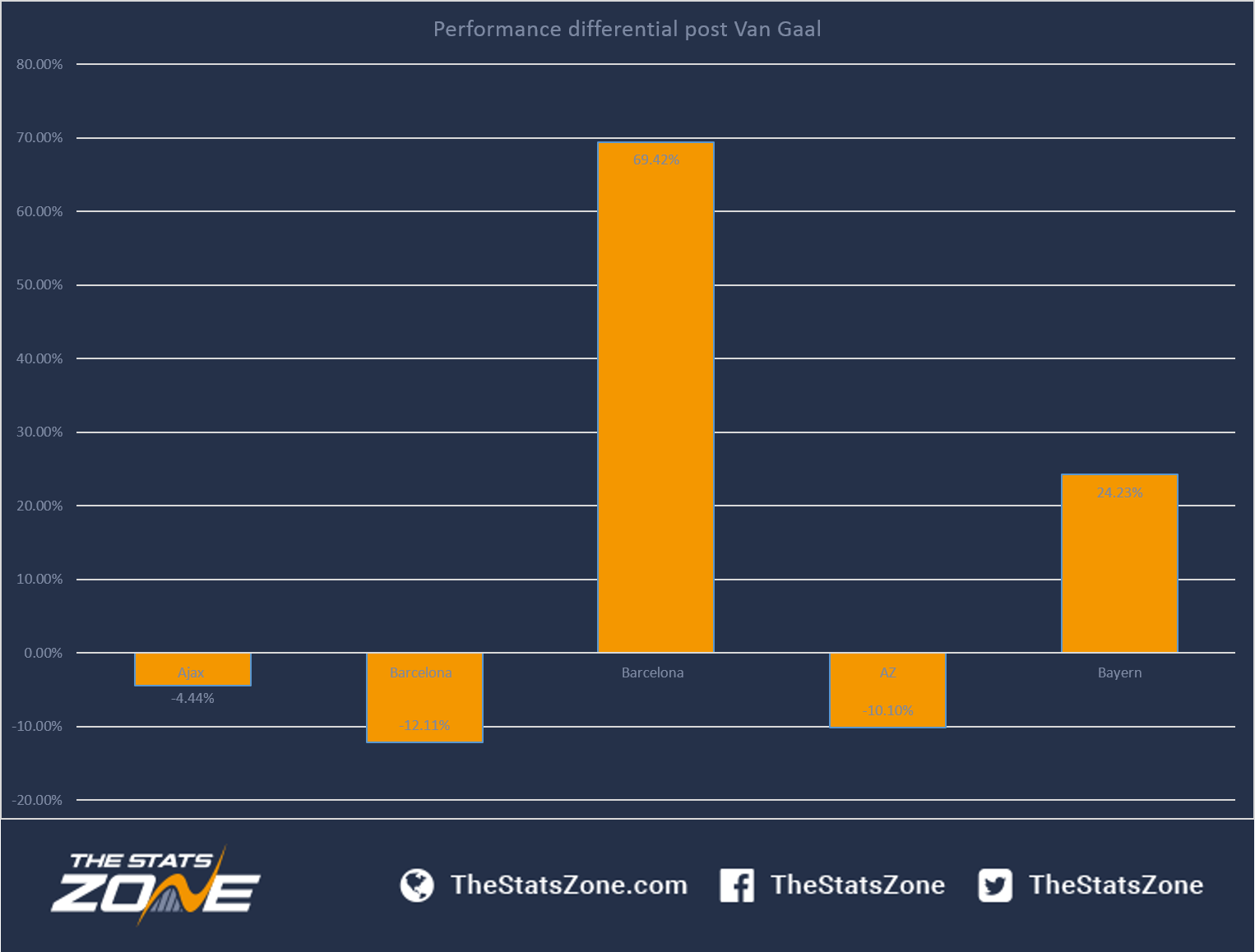 Legacy is perhaps harder to quantify using a purely data driven approach than the managerial impact that we applied above in which the points gained per game can give a good indication of a managers effect on a club's performance. This is because a club may build upon a successful foundation built by a good manager and in the opposite vein, a club may fall away without a good manager's guiding and powerful influence. Therefore, it is not always possible to make a definitive judgment on a manager's performance based on the results of a club after he has left. Indeed, this phenomenon can be seen by the way that whilst the majority of commentators have seen Manchester United's fall from grace after the departure of Sir Alex Ferguson to be a sign of his messianic qualities, others have suggested their decline may have been linked to a failure from Ferguson to adequately plan for the future as he had done so successfully in the past. If we again take a more holistic rather than stats driven approach to Van Gaal's legacy, then certainly his supporters would point to his development of numerous youngsters who have since gone on to be world class stars. His young team at Ajax was legendary with players such as Clarence Seedorf, Edgar Davids, Edwin van der Sar, and Patrick Kluivert having stellar careers after having been developed by Van Gaal. Similarly, his disastrous second spell at Barcelona saw him introduce future stars such as Xavi, Iniesta, and Victor Valdes and at Bayern Munich, Thomas Muller and Holger Badstuber were two future German internationals given their chance under Van Gaal. Perhaps, as he continues to struggle at Manchester United, this again will be his biggest impact and it may be that it years to come, Cameron Borthwick-Jackson and Jesse Lingard in particular, look back on Van Gaal as the man who gave them the chance to become stars.
TSZ will be publishing a series of guest blogs by candidates for our recent vacancy for a Junior Sports Research & Data Analyst. The quality of articles submitted was excellent with a wide range of fascinating topics explored. We will post a number of them over the next week, and we would also like to take the opportunity to thank and praise all candidates for their excellent work.