With the 2016 European Championships now heading into the knockout stage, some key players have already made their mark on the tournament with others struggling to hit the heights of qualifying or indeed, their careers as a whole. Do any of the last 16 rely on certain players? Could an injury or suspension to a key man see a team struggle or would they have enough to cope without their talisman? TSZ investigates: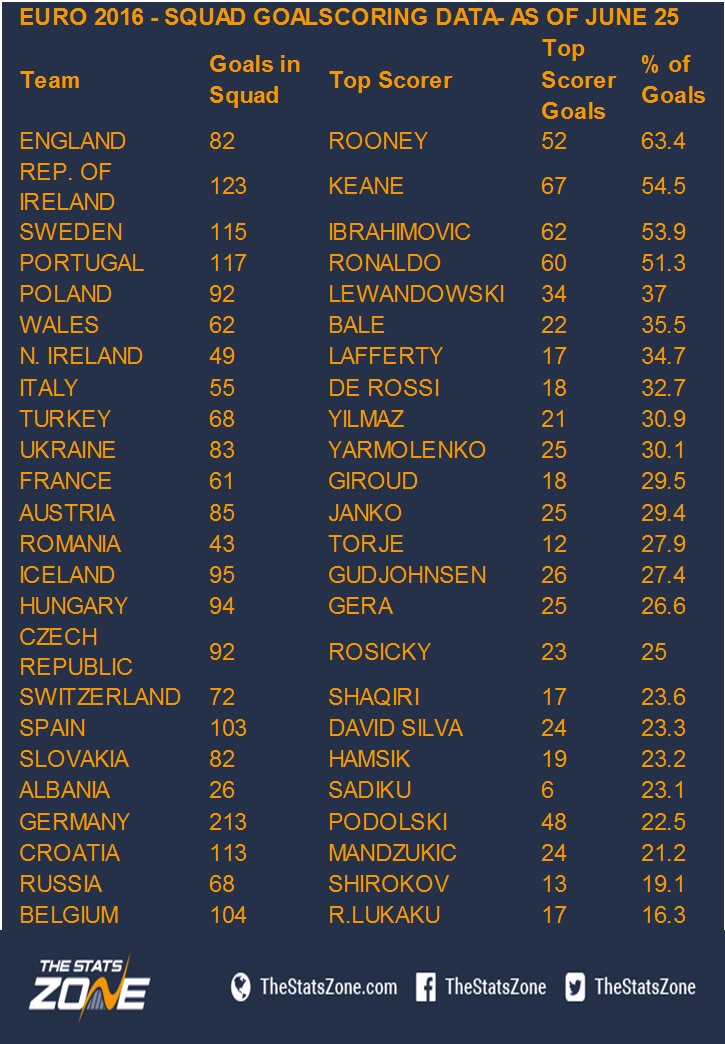 The above table of international goals scored by each squad raises some interesting points:
The most valuable player to their team is Wayne Rooney with him responsible for 63.4% of the goals in England's squad.
Belgium have goals throughout their squad with them not needing to rely on top scorer Romelu Lukaku (17) for goals.
Germany have the most number of goals in their squad (213) by some distance, with Republic of Ireland the closest to them (123).
Albania's 23-man squad have only scored 26 goals between them, the lowest in the tournament.
Italy only have 55 international goals amongst their squad with Daniele de Rossi the top scorer with 18 (32.7%). This serves to potentially highlight the lack of goals in Italy's squad with De Rossi not really perceived as a 'goalscorer'.
It is important to note that this data could be skewed by the age of some players with Rooney the prime example of this. He has almost two and a half times as many caps for England (114) than the four other players listed as strikers in the squad combined (Kane, Vardy, Sturridge and Rashford have 47 combined).
This is a young England squad with players who are just starting out in their international careers. Rooney has played in a new midfield so far in this tournament with Kane, Sturridge and Vardy all starting up front at various points with England seemingly moving on to the next generation. This is also true of Robbie Keane for the Republic of Ireland, with Shane Long leading the Irish line in their three group games and Keane reduced to a limited substitute's role.
To get a more clear idea of the importance to each team, we can look back at the qualifying campaign for this tournament to see if this produces any big changes/similarities: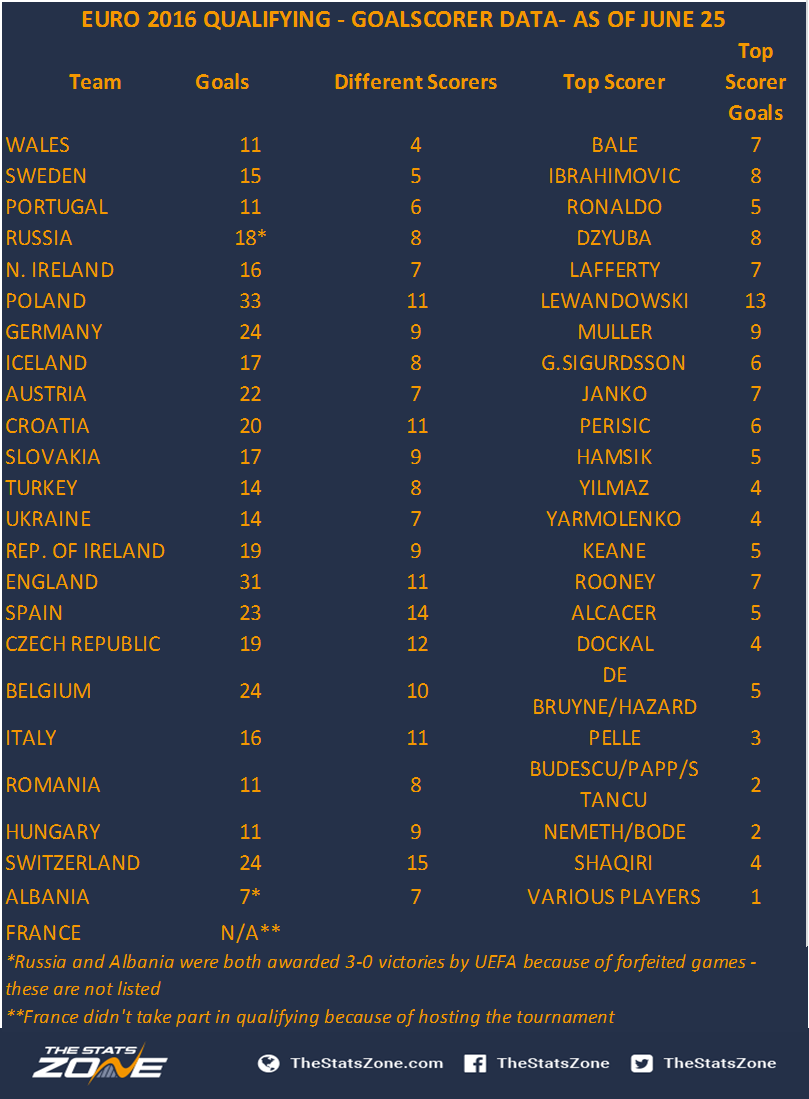 Bale was the most important player to his team in qualifying, scoring seven out of Wales' 11 goals (63.6%). His crucial role has also continued into the actual tournament which we will look at in more detail later on.
Zlatan Ibrahimovic's role didn't alter much as he highlighted his importance to his country in qualifying. His 62 goals for Sweden represents 53.9% of the 23-man squad with this a very accurate reflection of his recent form too, scoring 53.3% goals in qualifying with the talismanic striker scoring eight out of 15 goals. With Zlatan failing to find the back of the net in the tournament proper, it should come as little surprise that Sweden were eliminated.
Cristiano Ronaldo's importance to his country mimics that of Ibrahimovic's. He, like the Swede, has scored more goals than the rest of the squad combined. 58 goals for his nation (51.3%) compared to the 55 for the rest of the squad shows how key he is with him also scoring five of their 11 during qualifying (45.5%). After failing to find the back of the net in the first two group games, Ronaldo chipped in with 50% of his side's total goals in the tournament so far with two efforts against Hungary in the final group game.
Switzerland scored 24 goals in qualifying but impressively, those goals were shared between 15 different scorers. Xherdan Shaqiri was their top scorer with four goals which made up just 16.7% of their total goals. This ability to share goals around has worked well for them and has seen them progress to the next round with two different scorers of two goals scored so far.
All of Albania's seven goals were scored by different players with not one player managing to find the back of the net more than once. In the actual tournament, Sadiku scored their only goal which wasn't enough to see them go through as one of the best third place finishers.
Spain's top scorer in qualifying was Paco Alcacer with five goals but such is the depth in their squad, he was deemed surplus to requirements and didn't make the final cut. The back-to-back European Champions had 14 different scorers in qualifying who combined for 23 goals. With Alvaro Morata currently leading the race for the Golden Boot, the decision to leave Alcacer at home doesn't look as controversial.
The Bale and Ramsey Effect
With Gareth Bale scoring seven goals for Wales as well as scoring the highest percentage of any team's goals in qualifying, it's obvious to see how important he is for his side. However, Aaron Ramsey also plays a significant role for his side too with this duo arguably the most vital to any side in the competition.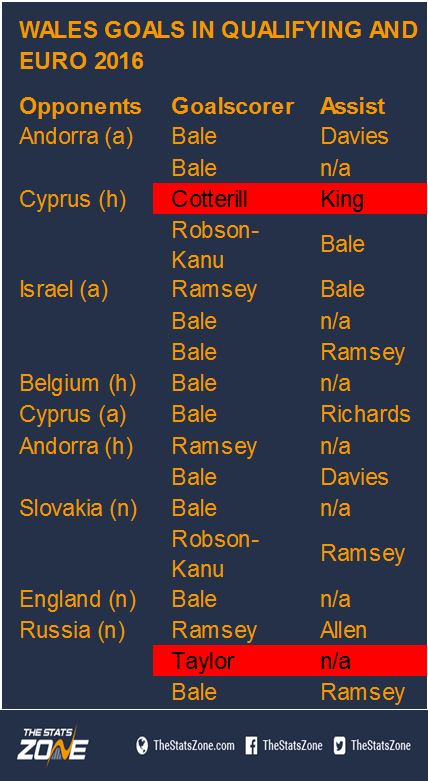 The above table shows the 17 goals scored and assists provided in Wales' qualifying and tournament games. Just two of those goals (Cyprus at home in qualifying and the second goal against Russia in the tournament) didn't officially involve either Ramsey or Bale, even though the latter played a significant role in Taylor's goal against Russia. That means Bale and Ramsey have contributed with a goal or assist in a staggering 88% of Wales' 17 goals in qualifying and the actual tournament.
Without these two pulling the strings and providing crucial contributions, Wales might well be struggling. In qualifying, Bale and Ramsey didn't contribute a goal or assist in four games and Wales didn't win a single one of them, drawing with Bosnia and Herzegovina (Ramsey didn't feature in this game), Belgium and Israel as well as losing to Bosnia. In every one of the games listed in the table above, Wales came away with the win apart from the tournament game against England. During this period – if Bale or Ramsey score or assist – Wales win 62% of games. In games that either of the pair do manage that feat, Wales win a mammoth 89% of games.
Bale got another assist in the round of 16 game against Northern Ireland, contributing to an own goal. If the duo continue their efforts, Wales could get far on the kinder side of the draw.