With the Football League's controversial proposals to overhaul the current league structure in English football recently falling through, TSZ decided to investigate how one aspect of the potential change could have been beneficial.
If the Football League had expanded into four divisions of 20, this would have resulted in a less congested fixture list which would have meant fewer midweek games. We hypothesise that when Football League games are played on the same night as Champions League games, attendances are down on the season average.
In order to explore this hypothesis, we've gone back to the start of the 2011/2012 season and looked at each division to check how average attendances compare on Champions League nights to the season average.
Championship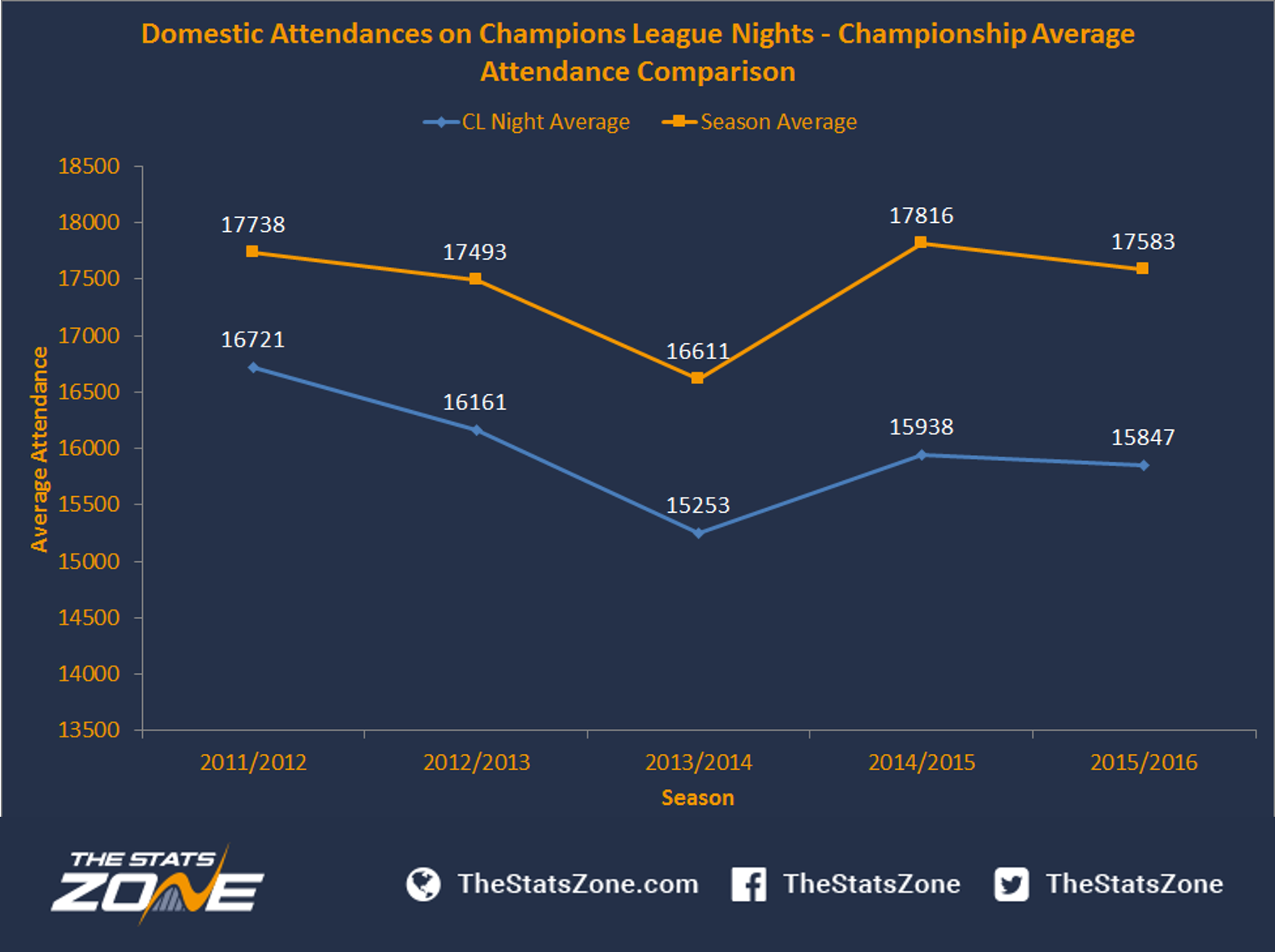 As we can see from the above, in the past five seasons (2011/2012 through until 2015/2016), Championship games have seen lower attendances when they are played on the same night that Champions League games take place, compared with the overall season average of the relevant teams.
From the 2011/2012 to the 2014/2015 seasons, there was a steady decline each season on the previous season's figures but it picked up again slightly in 2015/2016. The 2014/2015 season saw the highest season average over this period, with 17816 fans on average attending Championship fixtures but with 15938 attending on Champions League nights; this was the largest percentage difference with a decrease of 10.54%.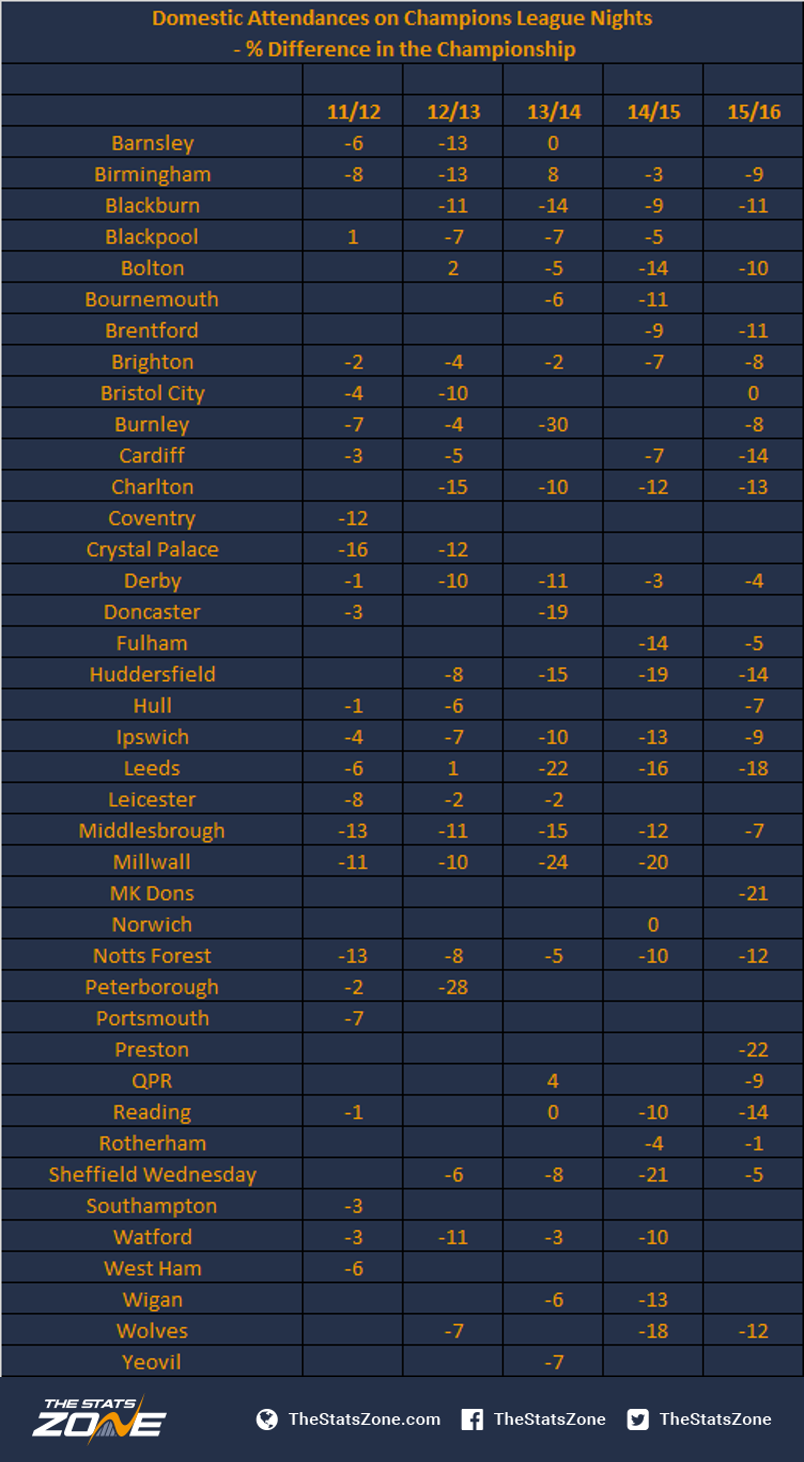 League One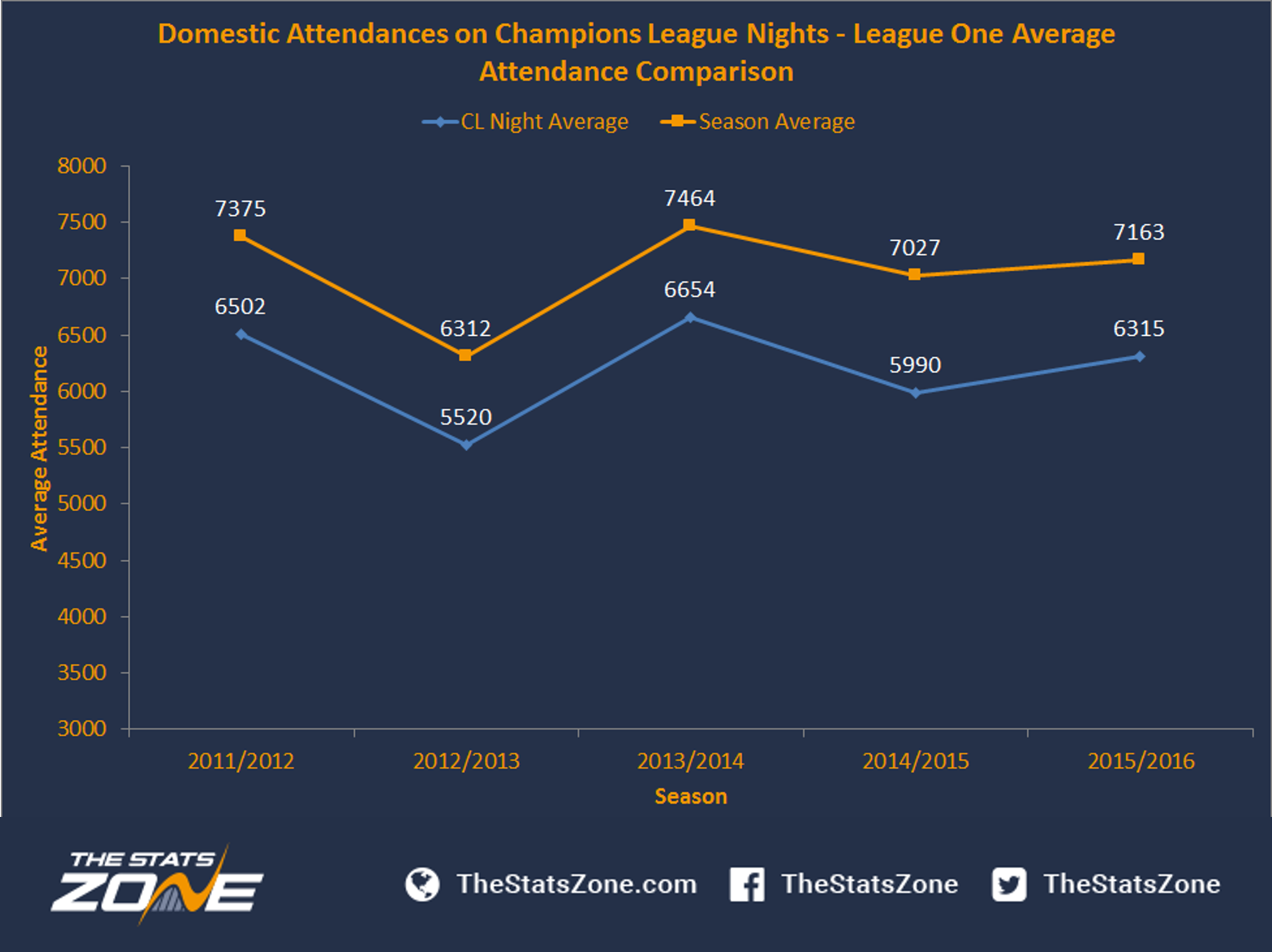 The numbers for League One make for even worse reading. The league's lowest percentage difference came in 2013/2014 when their season average was 7464 compared to 6654 on Champions League nights, a difference of 10.85%; that figure is higher than anything seen in the Championship over the last five years.
Their biggest drop in attendances came in the following season in 2014/2015, when the season average was 7027 compared to a Champions League night average of 5990, a difference of 14.76%.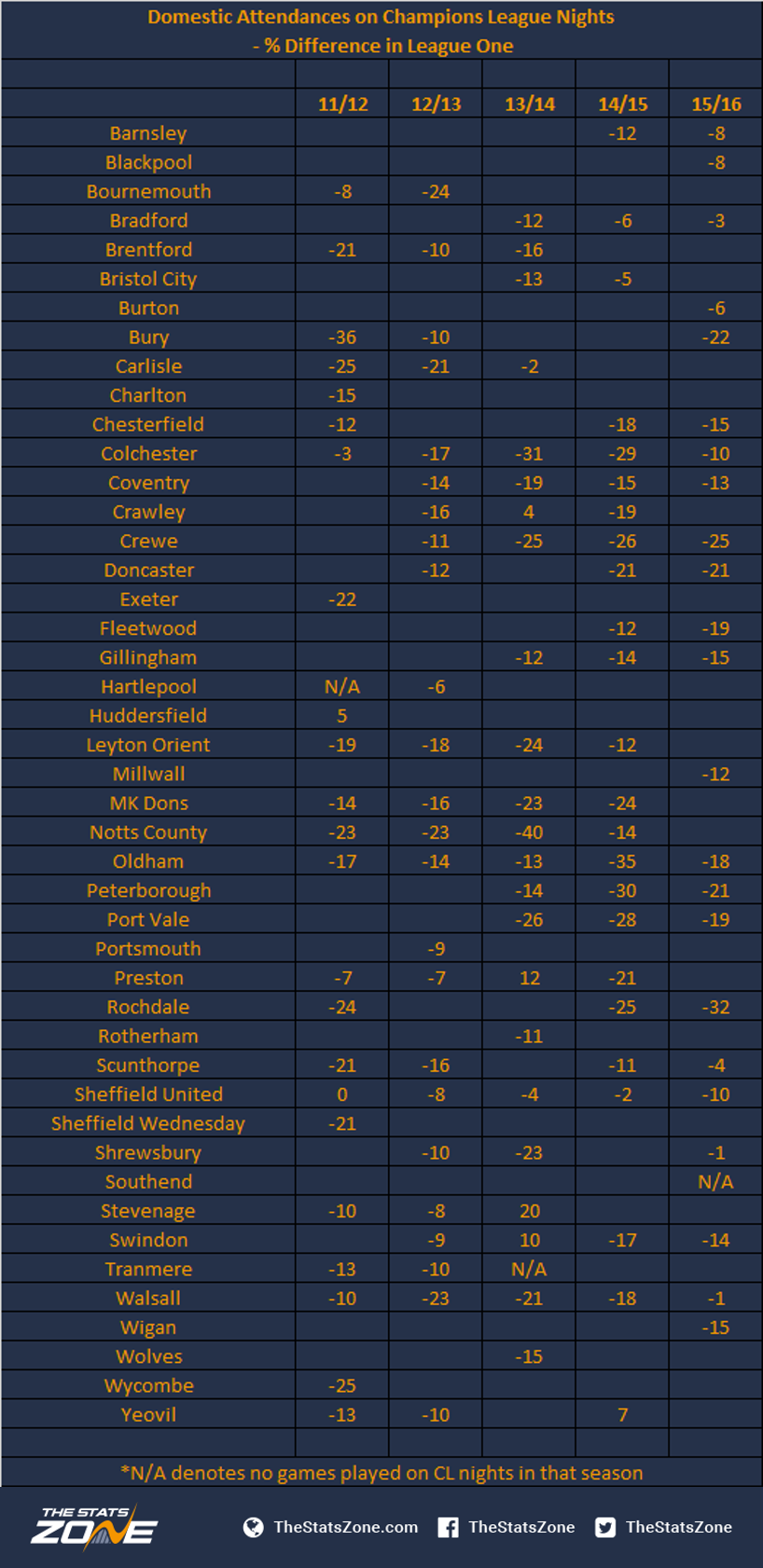 League Two

As can be expected following on from the League One figures, the League Two figures continue a trend of higher percentage differences. The highest in this division was in the 2011/2012 season, with almost a fifth less fans attending on Champions League nights compared to the season average. 17.43% was the overall difference that season, with only 3640 fans attending on average on Champions League nights compared to the season average of 4408.
This seems to highlight a problem that the lower down the pyramid, the more that games are impacted.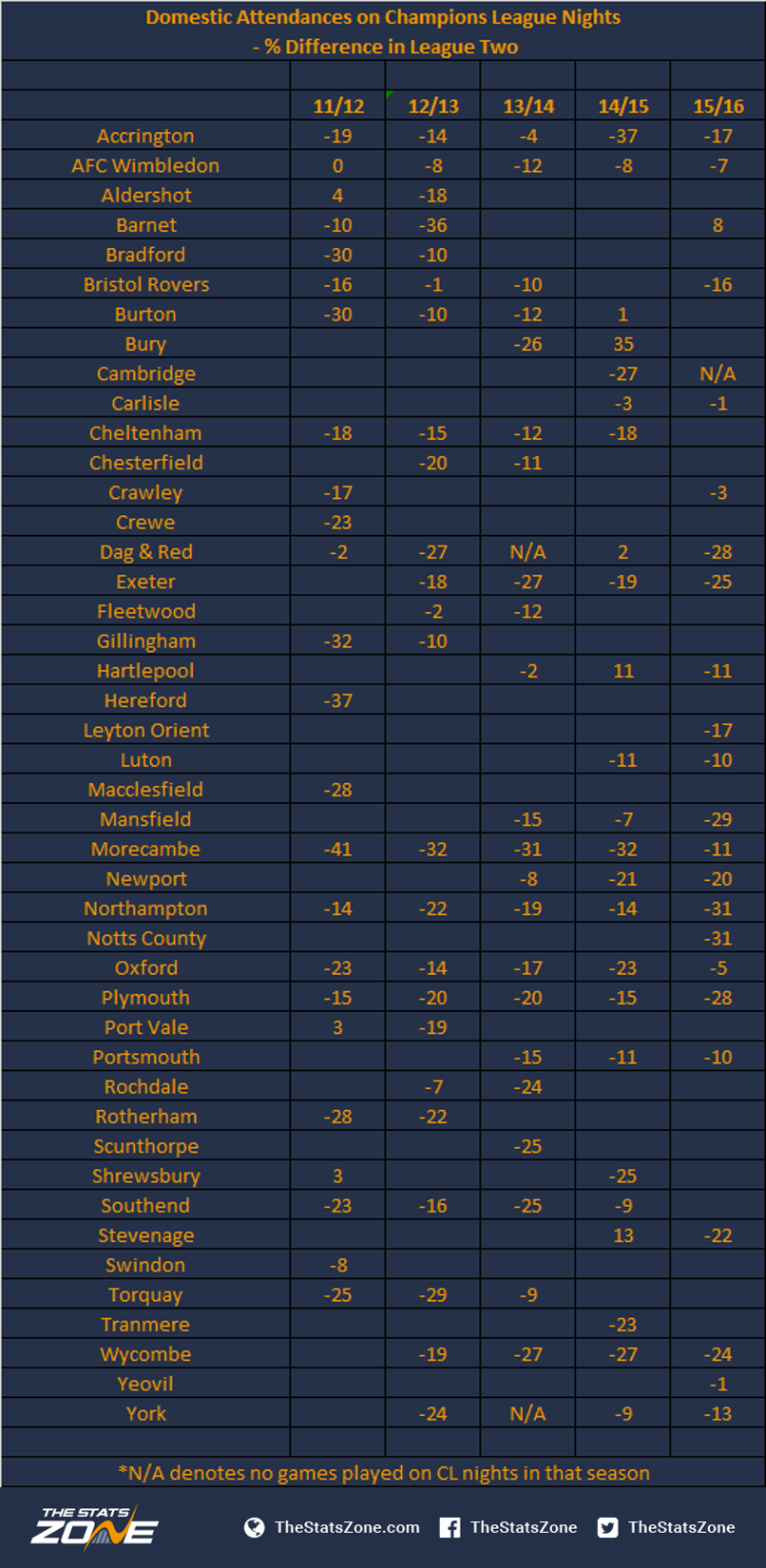 Current Season
One thing that has been noticeable this season is that there have been fewer games on Champions League nights. No Championship side has played more than two home games on nights when the Champions League is being played so far, which is a big difference to some previous years at the same stage of the season. The same applies to League Two and the most that any League One side has played at home stands at three. How does this compare to the previous data we've collected?
As it stands, the Championship is on course for its second lowest total since we started collecting the data in the 2011/2012 season, with 6.41% less fans attending on Champions League nights compared to their current season average.
League One would actually post its lowest total during the same period. So far, an average of 7928 fans have attended League One games with 7122 on Champions League nights, a difference of 10.17%.
However, the flip side to that comes in League Two, where the current total would be the second highest difference in attendance. The season average so far is 4057 but on Champions League nights, it is just 3392, a difference of 16.4%.
How has each club been impacted?
Some teams have had it worse than others as can be seen by the percentage differences shown. However, some teams have also seen an increase on Champions League nights compared to their season average.
Barnsley are one team to benefit this season. They have had 25% more people attend on average on Champions League nights compared to their season average. This was helped by a higher than usual attendance when they faced Newcastle on Tuesday 18th October, with the Toon swelling the attendance thanks to a large travelling following, said to be in the region of 6,000.
Bury show the volatility of League Two, with their figures from the two seasons they spent in that division. In 2013/2014, they were down 26% on their season average. However, the following season, they posted an increase in figures on Champions League nights with 35% more fans attending than their season average. A swing of 61% in just one season shows the lack of consistency with crowd numbers which cannot help clubs when trying to plan their yearly budgets.
A more consistent team in terms of numbers is Morecambe, who appear to be hugely impacted on Champions League nights. From 2011/2012 to 2014/2015, their crowds were down 41%, 32%, 31% and 32% respectively. Last season, it went down to 11% but that still means they have lost out on an average of 29% of gate fees on Champions League nights over the last five seasons, which could be crucial for a club of that size.
Conclusion
Having examined all of the numbers, it's clear that the hypothesis is correct - Football League attendances are affected on nights when there are games in the Champions League.

Whilst the fall in numbers cannot be solely attributed to the clash with Champions League games, the evidence over a decent sample size shows that it is having an impact on attendances. The Football League must address this as well as making it a fair process as touched upon earlier. A fair distribution of games must be achieved with them also needing to look at which fixtures are played on Champions League nights. Although the current proposals didn't make it too far, having a less congested fixture list and less clashes on Champions League nights might have helped out the Football League teams.
There are some factors to consider in this analyses. The sample size is relatively small per team, so the large swing in numbers is not surprising in this respect; the attractiveness of certain fixtures on the football calendar certainly makes a big difference to tickets sales, not to mention the fact that some teams have a much larger contingent of travelling fans. That said, the large numbers seen with teams such as Newcastle (as referenced above) are, to an extent, offset with some of the smaller clubs, particularly those who have risen from non-league football. Additionally, the travel distances involved in various fixtures can significantly impact upon numbers, with away fans perhaps more likely to embark upon these trips over the weekend, rather than during the week; a limitation of this study is that we did not have access to the home/away fan split per game.
Those who need helping the most are the teams lower down the pyramid in League Two. With these teams averaging lower crowds anyway, a drop of even 500 on their average gate could result in a big swing in percentage, and this is a significant revenue loss for such teams. Ultimately though, even though attendances noticeably drop during Champions League nights, the proposed restructure would have resulted in four fewer home games per season for Championship, League One and League Two teams, which would have a greater overall impact on season attendances than the reduction in numbers we have studied in this article. On the flip side of course, is the possibility that fewer teams in each league could result in greater attendances due the quality of fixtures being perceptibly higher. For the time being at least, we can only hypothesise over this.
Although these plans haven't materialised, if the Football League do decide to pursue further discussions on the subject of a restructure, they must consider the impact upon both clubs and fans – finding the balance is key.