Not many of us relish an international break, it seems. The 'Week of Football' (as no-one has ever called it) is largely greeted with a collective shrug by everyone from the sardonic podcast host to the lowly phone-in ranter.

For FPL managers though, the international breaks can nevertheless be a welcome respite from the demanding day-to-day maintenance of our needy squads and a chance to take stock of the season so far. Many a wildcard has been deployed ahead of GW8 – indeed, well over 100,000 managers have seen fit to activate this most prized of chips and channel their inner Redknapp, wheeling and dealing in order to overhaul their squads, catch the all-important price rises and find a credible alternative to Tom Carroll as a fifth midfielder.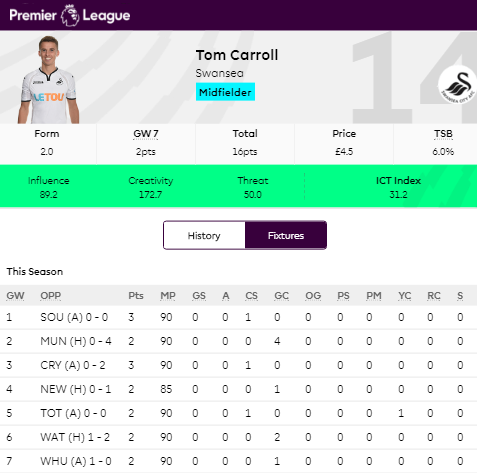 Wildcards active or not, all eyes will be on returning assets from afar after this most compelling round of World Cup qualifying games. Sadio Mané was the first high-profile casualty of the week, the Senegalese forward facing a six-week lay-off with a hamstring injury picked up in his country's 2-0 win over Cape Verde on Saturday. Generally speaking though, EPL and FPL managers alike will not be fretting too much over players involved in the CAF qualifying fixtures last weekend – most of whom will have played a maximum of one game. Indeed, the last of those matches – Egypt's 2-1 win over Congo, in which Liverpool's Mohamed Salah scored twice – was contested on Sunday, thus avoiding the need for the usual midweek dash back to England for Messrs Iwobi, Moses, Bailly et al.
Aside from the Syria-Australia double-header, all was quiet in Asia too. Only a smattering of intriguing-looking yet instantly forgettable Far Eastern friendlies (the hipster's choice: Japan 3-3 Haiti) affected FPL assets, all of whom have seemingly returned unscathed.

There are plenty of uncertainties following the European qualifiers of course, but the relatively short distances travelled by those players are unlikely to impact on availability this weekend, with most of the question marks revolving around injuries. Ben Dinnery is your friend there.
And so, to the Americas. Anyone daft enough to stay up till 3am on Wednesday morning and ruin their following day's plans was rewarded with a genuinely thrilling few hours of football as the CONCACAF and CONMEBOL qualifying came to a breathtaking climax. To reference Will Leitch's superb, much-shared piece for New York Magazine in July: "To love sports is to grit your teeth and wait for the transcendent moments that make all the ugliness worth it". And boy, was it worth it. "Were you up for Portillo?", they've asked ever since 1997. "Were you up for Panama?", they'll now be saying in years to come.
But onto more important matters and how these fixtures might potentially affect Geoff Cameron's game time this weekend. We'll start with a look at the minutes played this international break by all of the players involved in qualifying in North and South America, as well as the hours between the respective players' final international game and their forthcoming Premier League fixture.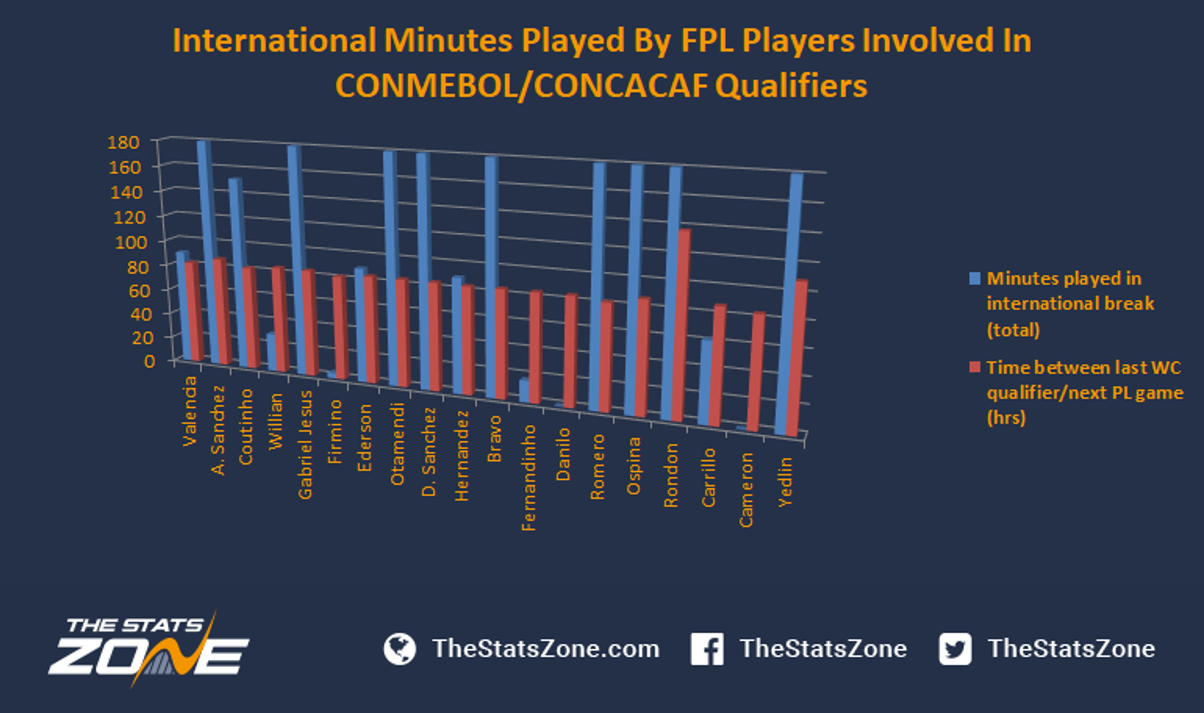 BENEATH THE NUMBERS
Aside from the curious observation that South American sides love a gaffe-prone, Premier League-based goalkeeper (see the minutes played by David Ospina, Sergio Romero and Claudio Bravo over the past week), what's perhaps most glaring is how sparingly EPL players were used by Brazil. Danilo, Fernandinho, Roberto Firmino and Willian saw no more than the odd cameo appearance, while Manchester City's Ederson played only one of Canarinho's two fixtures. However, Gabriel Jesus and Philippe Coutinho were more central to coach Tite's plans – both players starting the games against Bolivia and Chile, with Jesus completing the full 180 minutes. Davinson Sanchez, Alexis Sanchez and Nicolas Otamendi (along with Salomon Rondon, DeAndre Yedlin and the aforementioned bench-warming keepers) also featured in every minute of their respective countries' games.
With all of the 'big six' in action on Saturday – the early kick-off being Liverpool v Manchester United – concerns over pitch time must be heightened for several players in GW8.
So how likely is it that the highly owned big-hitters will have their pitch time restricted at the weekend? The table below reveals their average number of minutes played in the Premier League games immediately after previous international breaks – but only while playing for the current manager of their respective clubs.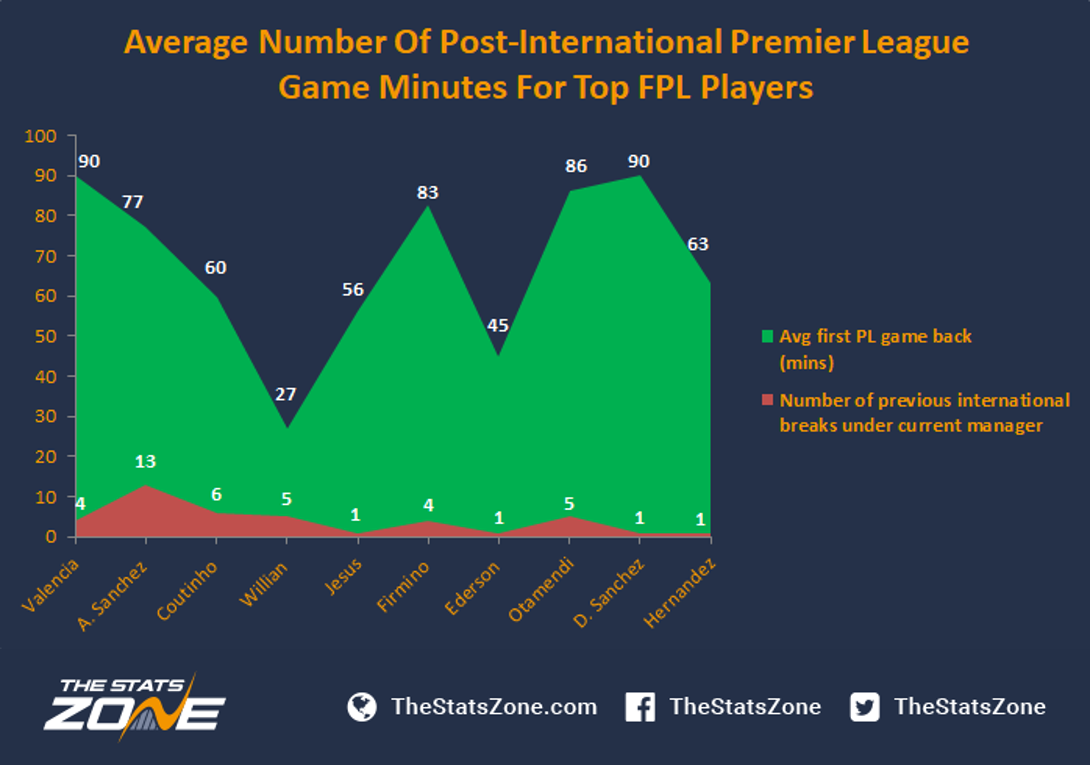 BENEATH THE NUMBERS
Little perhaps can be drawn from the figures of Ederson, Davinson Sanchez, Javier Hernandez and Gabriel Jesus, all of whom have taken part in just one international break while under the employment of their current coaches. It is worth noting though, that Jesus was subbed off after 56 minutes of City's 5-0 demolition of Liverpool (the first PL game back after the September international break), though only after the Brazilian forward had scored twice and bagged himself three bonus points. Then, Guardiola's decision was no doubt made with one eye on the following Wednesday's Champions League tie at Feyenoord, which Jesus played the whole 90 minutes of. City entertain Napoli next Tuesday and with Sergio Aguero's short-term availability uncertain, Guardiola may look to protect his one remaining forward if his side are cruising to victory in Saturday's home fixture against Stoke.
It is evident from the table above just how integral Antonio Valencia and Nicolas Otamendi have been to Jose Mourinho and Pep Guardiola's defences since the summer of 2016 – both players have started every Premier League fixture that followed international duty, with Valencia completing 90 minutes each time. Otamendi's only withdrawal came in the same game as Jesus', with the Argentine defender hooked after 71 minutes – though he had banked a clean sheet by that point.
Since joining Arsenal in 2014, Alexis Sanchez has featured in no less than 24 games for Chile during a Premier League season. This equates to 13 international breaks, after which he has started 11 domestic games and made substitute appearances in a further two. His average post-international duty pitch time is a healthy 77 minutes thus far, though this figure rises to over 82 when discounting September's cameo appearance at home to Bournemouth (the Chilean's mental state questionable after an aborted move to Manchester City just a fortnight earlier).
Following the aforementioned news of Sadio Mané's injury, the expectation is that both Roberto Firmino and an in-form Philippe Coutinho will feature in Liverpool's home game against Manchester United. Firmino has played an average of almost 83 minutes for the Reds under Jurgen Klopp following his return from international duty and despite his mixed performances this season, will surely get the nod again up front this weekend. Coutinho's figures are a little more worrying – the Brazilian midfielder's mean pitch time is just short of 60 minutes. Like Alexis Sanchez, Coutinho's head was turned by a possible big-money move in August and he didn't actually feature in September's 5-0 reverse at City. Discounting this anomaly, Coutinho's post-international game time rises to over 71 minutes.
For the 10+% of FPL managers who still own Willian, the Chelsea star's figures make for sorry reading. The Brazilian midfielder has missed two of his five previous post-international Premier League games altogether, with his three appearances restricted to an average of 45 minutes for Antonio Conte's side. With Eden Hazard now back to fitness, the prospect of Willian's chances of playing the full 90 away at Crystal Palace appear slim – though Alvaro Morata's hamstring injury and the fact that Willian only played a total of 30 minutes for Brazil this time may come into the reckoning.