The West course at The Wentworth Club, Surrey, plays host to the European Tour flagship event this week, The BMW PGA Championship. The championships hospitality, spectator viewing and insanely impressive mansions lining the fairways do not disappoint fans and players alike. It truly is the prize event in Europe. And yet, only one (Masters Champion Danny Willett) of the world's top 20 is in this year's field. Moreover, merely 11 of the top 50 are competing, signifying that the event is perhaps not as highly regarded to the elite players as much as the tournament deserves. With The 2016 Olympics reintroducing golf back as well as it being a Ryder Cup year, it is fair to propose many of the top players are having to restrain their usual playing schedule in order to not 'burn themselves out'.
The course
The West course endured architectural changes in time for the 2010 championship by course expert and local resident Ernie Els. After some initial complaints by star players (Paul Casey and Ian Poulter) the course was again altered and has since settled into what most viewers are now familiar with since the 2011 tournament. These changes reformed the course drastically, relaying all 18 greens, adding deeper bunkers and overall length to the course - to which many argue, has taken the true test and character away from The West course.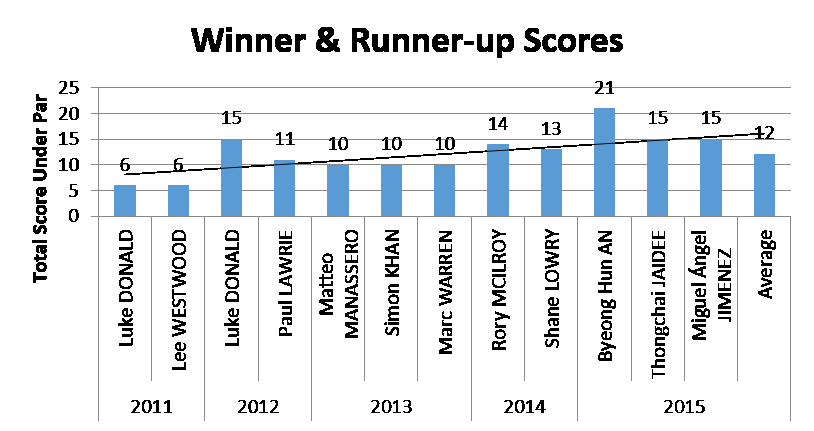 Winning and runner-up scores have steadily decreased since the main course changes' suggesting it has taken the player's time to adapt to the alterations. Furthermore, the course itself and those who set it up for championship week have also needed time to understand exactly what works best for playability and maintenance. Weather dependant, this year's event could be won around the 12-15 under mark.
Therefore, the past five championships will be studied, identifying which skill set and style of play has the best chance of winning around the 'new' West course. Of those currently in the top 15 Race to Dubai (R2D) standings, who has the best opportunity for success.
Further data highlights there is little correlation between current Race to Dubai ranking and the player's respective World ranking. With only 11 of the top 50 in the world entering, this perhaps demonstrates the reasons why; there are less world ranking points available on the European Tour, tournament purses are smaller and many of the bigger names play exclusively in America, making this 'flagship' event of less importance to the golfing world.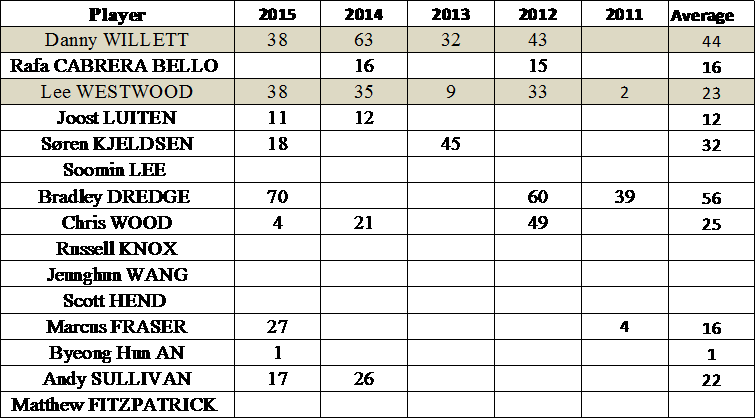 Current Top 15 R2D – Tournament Form at Wentworth since 2011
Since measuring course form, it is evident that many of the current top 15 R2D have missed the cut (MC), not entered or not qualified for the championship since 2011. The two notable players are Lee Westwood and Danny Willett with an average finishing position of 23rd and 44th
respectively. Many of the additional players are young, up and coming individuals (An, Sullivan, Fitzpatrick, Knox and Lee) meaning they have not regularly played in the event since 2011###>
Past Champions Tournament Analysis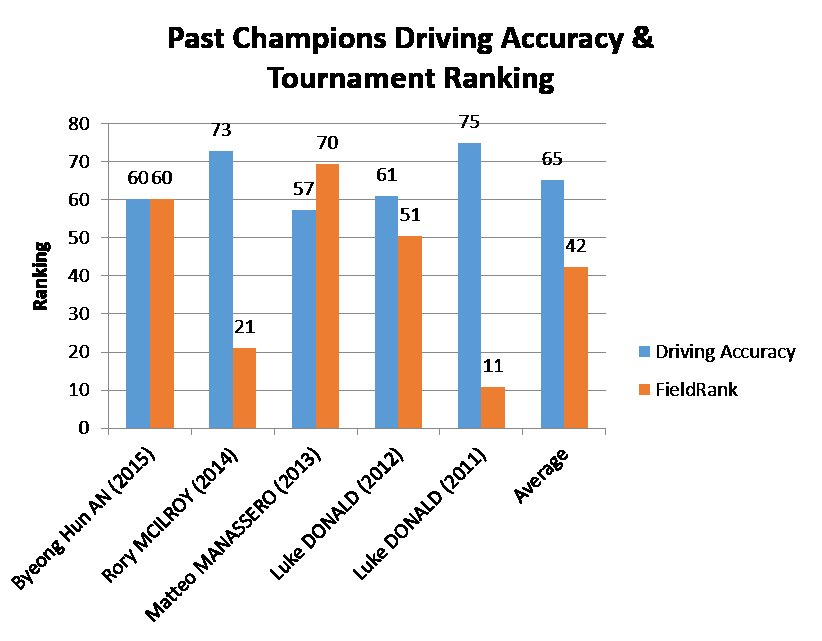 Both McIlroy (21st) and Donald (11th
) ranked highly in driving accuracy during their relevant tournaments hitting over 70% of fairways, yet no other winner ranked inside the top 40 - showing premium accuracy is not essential to success.###>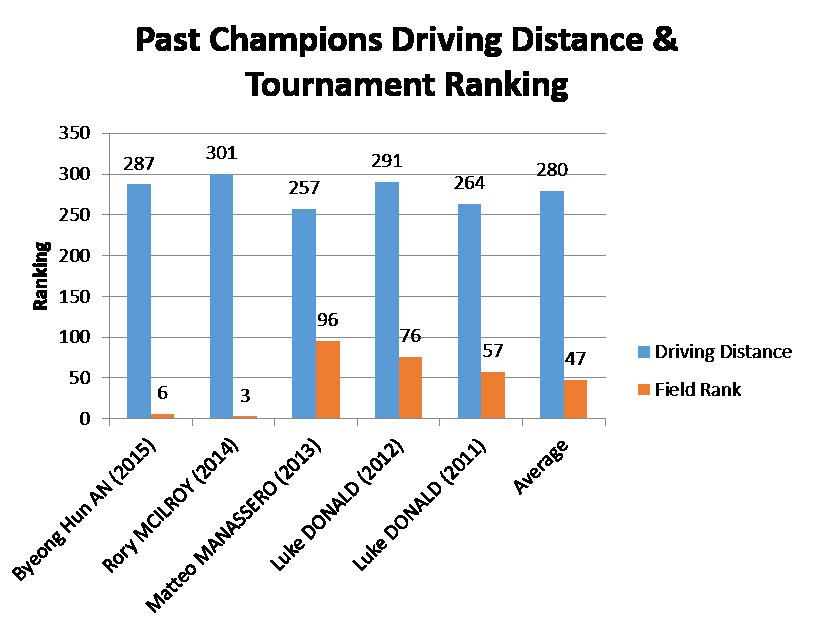 Hun An (6th
) and McIlroy (3rd) ranked highly in driving distance, yet again, no other player ranked inside the top 40. Notably 2013 winner, Manassero ranked 96th with an average distance of 257 yards, a significantly short distance in the modern game, proposing distance is not crucial to victory around Wentworth. ###>###>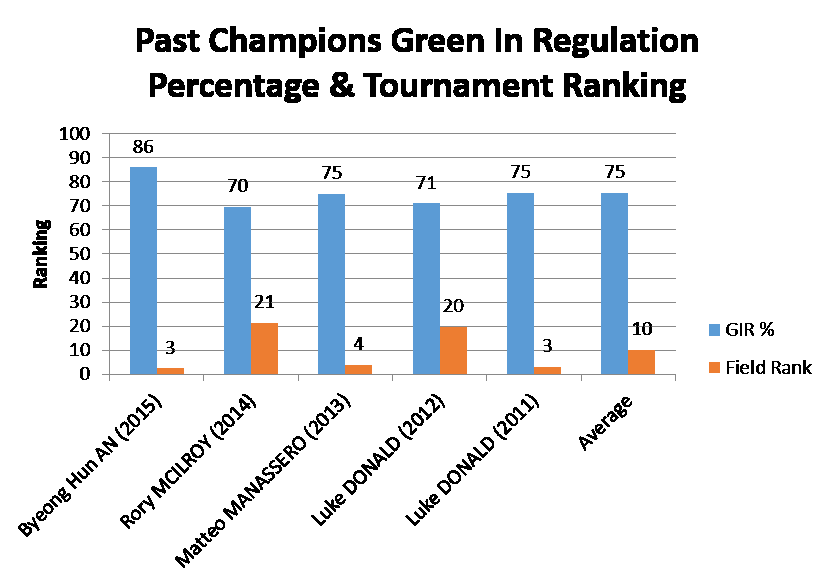 Interestedly, Luke Donald ranked 76th
in 2011 with an average distance of 291 yards, signifying that the course was firmer than normal to which accuracy from the tee will be of extra importance. Rory McIlroy on his way to victory was both long and accurate and was able to overpower the course from the tee, something he is renowned for. ###>
Most remarkable is the number of greens in regulations the tournament winners succeed in hitting. As a result, it is fair to suggest players need to be accurate and have strong ball striking skills in order to be successful during the week. A course that requires such a skill inevitably means that any shot missing the green will be very difficult to scramble (Up & Down/pitch/chip).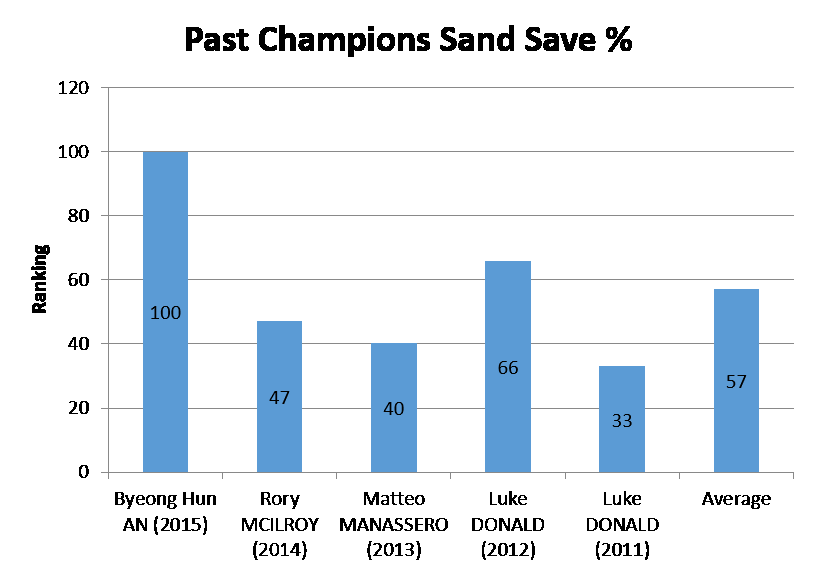 This is justified by the successful percentage of sand saves by past winners. As mentioned previously, The West course has notoriously deep and difficult bunkers which are further proven by the graph above. Luke Donald, renowned as one of the very best bunker players in the game managed to scramble 66% of the time during 2012, indicating how difficult these hazards are. Hun An had an impressive 100% conversion rate, yet this was mainly down to his supreme iron play where he virtually missed all the bunkers for the week, further vindicating the importance of approach play quality. Nevertheless, players must have a sharp short game around the greens in order to score well.

Current Top 15 R2D – 2016 Scrambling Statistics
Willett, Dredge, Knox and Hun An have the highest success percentage of scrambles when they miss a green, a significant skill area around Wentworth. Markedly, Kjeldsen has a lower percentage (62.5%) than Wang (64.6%), nonetheless the later, on average misses more greens per round, meaning the poor approach play accuracy could be asking too much around The West course.
The Contenders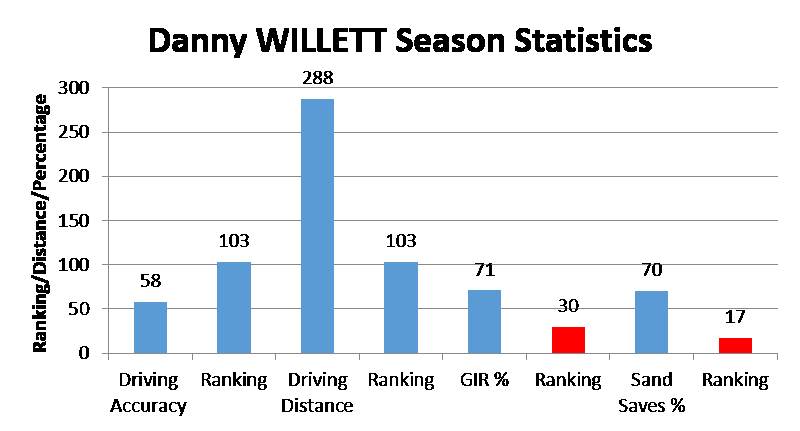 With the incredible Masters win last month, Danny Willett is arguably now a favourite for every tournament he enters. Presently ranked 9th
in the world, his game simply justifies those arguments. All the same, to be one of the worlds' best involves playing consistently in the big events, and this is as big as it gets in Europe outside the majors. Danny is not the longest or straightest, but these certainly are not weaknesses. Ranked 30th in GIR % shows his quality ball striking skills which were no more on show than at Augusta. Furthermore, his scrambling and bunker skills are some of the very best in the game, entailing him to attack the course from tee to green and make birdies. At last week's Irish Open he was in contention to win without his best on the greens – if he can get some putts to drop, along with his previous course form, he will be a very difficult man to beat.###>###>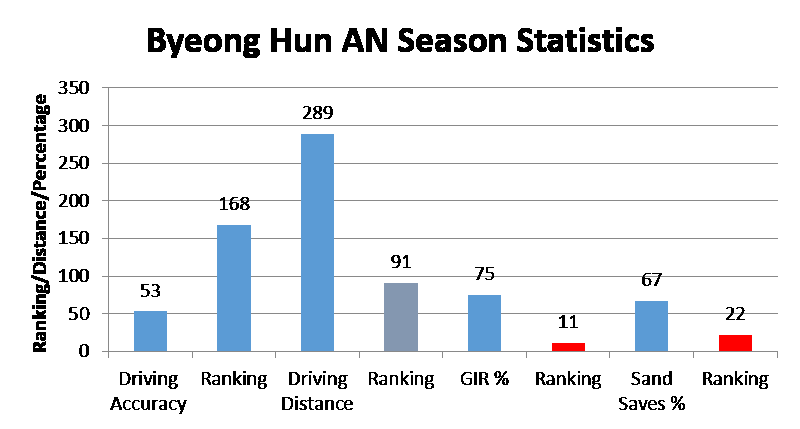 Byeong Hun An was a surprise winner to most on his way to a record setting lowest tournament score in 2015. Yet those who watched him throughout the week, especially on Sunday, were not surprised with how he achieved such a feat. However, this remains An's only victory to date on the European Tour which is perhaps a bigger surprise. His season so far has been strong, 2 top 5s and 2 top 10s in 6 starts suggests another win is only a matter of time. His superior ball striking skills (ranked 11th
) demonstrate why he was formidable around Wentworth in his rookie year, coupled with his excellent short game abilities make him a strong favourite. Luke Donald won back to back in 2011 and 2012 and there is no reason to suggest why Byeong Hun An cannot do the same.###>
What they need to do to win?
The champion golfer will need to have a supreme approach play and ball striking week along with a sharp touch around the greens. Course management will be essential in missing the traitorous bunkers. If the weather is colder and course conditions soft, expect a longer hitter to succeed, conversely if the conditions are firm and fast, a short and clinical hitter may be more favourable.