Top order shines on Australia as pink ball challenge looms in Adelaide
Since England's 10-wicket defeat in Brisbane, there has been more drama whirling around Australia than in a year's supply of Neighbours and Home & Away combined. Here at The Stats Zone, we're sticking to the numbers to assess what comes next. Far away from New Zealand flights and bar-butting-banter, we analyse the top fives in The Ashes to digest who can put runs on the board and change games for the remainder of the series.
Smith gets the nod in battle of the captains
It wasn't the only difference in Queensland but Steve Smith's ability to turn a start into a dogged and determined hundred helped to transform the contest once England had looked good for a first innings advantage. That the tourists seven times reached 38 but never surpassed 83 was a radical contrast.
Smith's Test Match average of 61.23 is sensational, especially when you consider that he has maintained that over 57 Tests after a less than convincing start to his international career. The difference in this series is likely to be in what Graham Gooch coined as 'daddy hundreds' and posting big, match-changing scores once well set. Smith has converted exactly 50% of his fifties into three-figure contributions, whilst Root's record is 28.26%, illustrated by his dismissal the ball after reaching a half-century at the Gabba. Root's batting average is 53.35, but being consistently promising without changing games is a worrying sign without experience among his top order colleagues.
Pacy scoring gives Warner the edge
When you consider the other senior batsman on each side, you can only deduce that David Warner has a statistical edge on Alastair Cook. His knowledge of the conditions is already a plus before an average of 48.48 comes in almost 2.5 above England's all-time leading run scorer. However, adding in his conversion rate of fifties to tons at 44.44% compared with Cook's 36.05% and the picture gets better for the hosts.
Furthermore, where Cook's role is often to stabilise and steadily accumulate, the brash Warner likes to throw the bowlers off-scent with an early pick-up of length and imaginative strokeplay that yields a quick accumulation of runs. Warner's career strike rate is an impressive 77.12 runs per 100 balls, some 31 runs higher than Cook, so it is possible to deduce here that the pace, as well as the direction of the game, changes when Warner is occupying the crease. Unlike the section that follows, the key here is longevity, with Warner's 67 matches enough to accept the statistical comparison, which isn't weakened even though Cook is in line for a 150th Test appearance at the third match of the series in Perth, fitness permitting.
Relative experience hard to overlook among newcomers
It's pretty hard to give a realistic assessment from the data of the remainder of the top order. Usman Khawaja, Peter Handscomb and Cameron Bancroft boast only 37 matches between them but that is more than double the aggregate shared by Mark Stoneman, James Vince and Dawid Malan; already a significant advantage.
Bancroft's polished, unbeaten 82 to seal the sizeable win in Brisbane was impressive but too small a sample to lend an entire analysis credibility. The 'not out' element was key though in seeing a job through, whilst his less green rookie colleagues average 44.58 (Khawaja) and 50.46 (Handscomb).
Stoneman and Vince didn't look out of place in Brisbane but their important inputs fell short of the match-changing bracket. Vince's classy 83 looked sublime, but he can look at an average south of 23 and know that must improve for Australia to be seriously troubled. Likewise, Stoneman's knocks only propelled him to 33 in his short career, whilst Malan again delivered promise, but only an average of just under 25.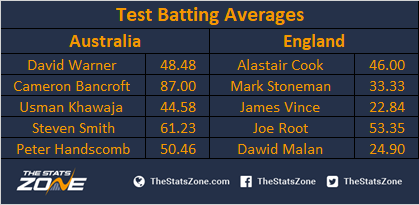 Here, the small sample sizes among three of each top five means that the results of this comparison are slightly distorted for England but still enough to make the point that whilst a lower order has bailed them out for a while with swashbuckling, vital runs, their Ashes retention can only be based on the batsmen taking charge of the batting. Man for man, Australia comfortably wins the comparison of averages 5-0 and if you add their averages together, the top five contribute just short of 292 runs per innings, compared with England's 180.
Those are the statistics that have to change for England to compete Down Under, starting on Saturday in Adelaide.