When Nathan Lyon spoke of ending some careers before Ashes hostilities commenced in Brisbane, it is doubtful he was talking about those whose livelihood depended on predicting what happens next in a Test Match. Whilst the First Test has been hard to second guess thus far, it is hard to argue that the start of England's second innings will go a long way towards deciding the series curtain-raiser in Queensland and the stats tell us that the tourists are struggling for form there.
Test cricket is at its best with a true bat-ball contest, and that's what we have here. Australia's attack chipped away at England and reduced promising positions of 127/1 and 246/4 to 302 all out, a total that both sides would deem creditable. In keeping with recent Gabba Tests, wickets tumbled on the second day and Australia found a similar range of contest against seam and off-break bowlers alike; due to start Day 3 on 165/4 - a deficit of 137 runs. James Vince and Mark Stoneman, Steve Smith and Shaun Marsh aside, batsmen have struggled to give the impression that their stay would be a long one, shown in the table of totals below from completed innings in the match so far.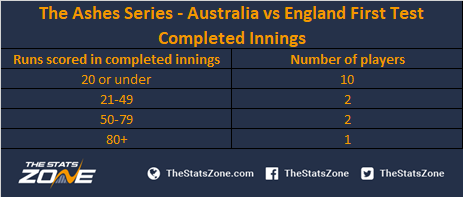 England's opening woes
You don't need to read this column to know that England have struggled for a solid opening partner for Alistair Cook since Andrew Strauss retired from the game, but the stats for first-wicket pairs make alarming reading nevertheless, especially in the context of this game.
Australia had the dependable alliance of Chris Rogers and David Warner for their 19 innings spread across the previous two series and that returned an admirable 984 runs at 51.79, laying solid foundations and often at a rapid rate to push the Australians onto the front foot with the bat. By contrast, England have cobbled together only 396 in the same time at 20.84, winning the Urn in 2015 off the back of only 146 runs for the first wicket in five Tests for Cook and Yorkshireman Adam Lyth.
The early fall of Cook – England's most prolific run-scorer in history – in the first innings, meant that the tourists boast seven single-figure opening stands in the last six Tests Down Under which will be at the back of Joe Root's mind as he looks to limit the damage from Australia's middle order in defence of 302.
The balance between the sides is admirable but in terms of getting the side off to a flyer, England have work to do and how quickly they set about that task may define how this Test Match shapes up on its critical third day.