When is the 118th U.S. Open? 14th - 17th June, 2018
Where is the 118th U.S. Open? Shinnecock, Southampton, New York, United States
What is the format of the 118th U.S. Open? 72-hole stroke play
What is the total prize fund of the 118th U.S. Open? $12,000,000
What is the course yardage and par at Shinnecock Hills? 7,440 yards, Par 70
What channel can I watch the 118th U.S. Open on in the UK? Sky Sports U.S. Open and Sky Sports Main Event
Where can I stream the 118th U.S. Open? Sky Sports subscribers can stream the tournament online via Sky Go.
Are tickets still available for the 118th U.S. Open? http://www.usga.org/us-open-golf-tickets.html
Golf's second major championship of the season, the United States Open (U.S. Open) has come under some scrutiny in recent years due to the USGA's decision to implement two new courses to the rota since 2015 in Erin Hills and Chambers Bay, which have both been somewhat unpopular due to their non-traditional U.S. Open layouts. Erin Hills saw fairways reaching up to 60 yards wide and Chambers Bay possesses greens not fit for an amateur event - the complete opposite of what the U.S. Opens has been renowned for.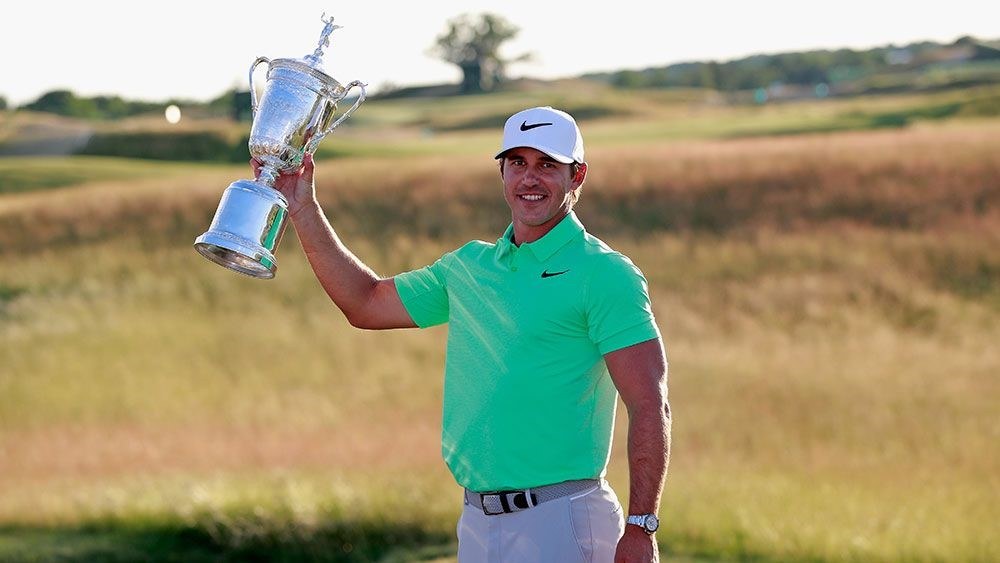 The 2018 edition sees a return to one of the world's oldest and most traditional courses at Shinnecock Hills – a venue fit for the United States Open which will see the traditional tight fairways and challenging firm, fast greens that all golf fans have become accustomed to over the years.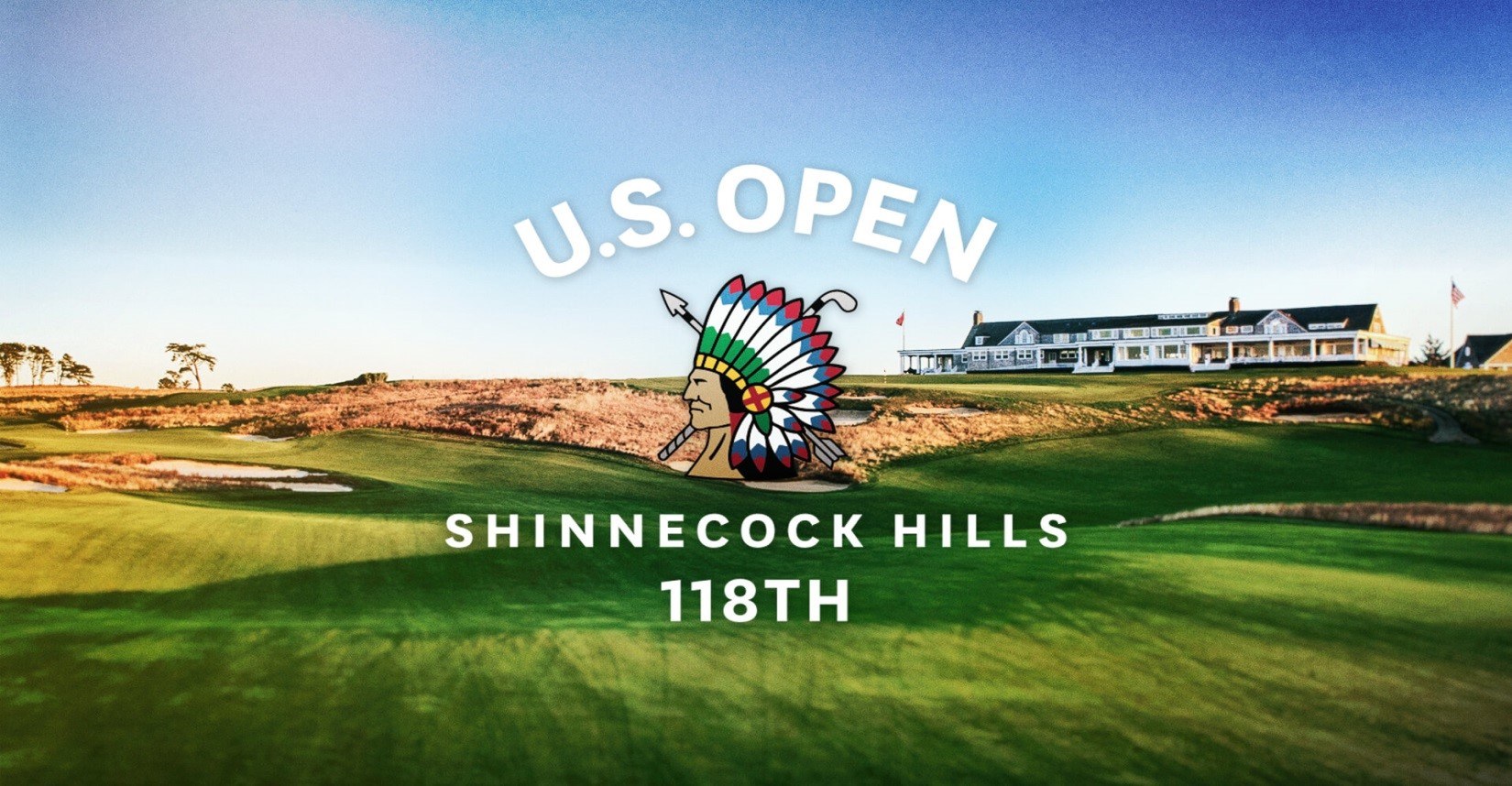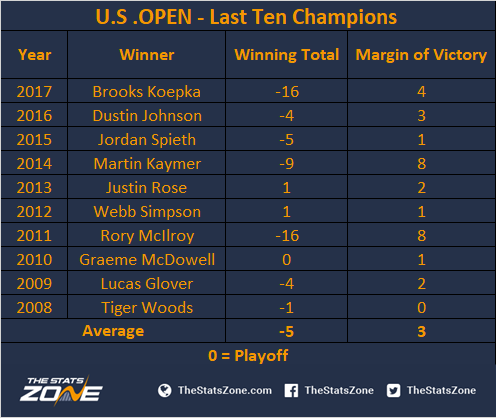 Since 2008, the average winning score has been five under par.
Rory McIlroy in 2011 produced a ball-striking masterclass during a record scoring week of 16 under in unusually soft conditions, beating his nearest opponent by eight shots, which was also matched by Martin Kaymer during the 2014 championship.
Brooks Koepka matched the scoring record of 2011 during last year's championship around a very different looking U.S. Open layout.
Notably, the average winning score when excluding McIlroy's and Koepka's total is just three under par, demonstrating the unique difficulty of this major and a characteristic most golf fans want to see return at Shinnecock Hills.
The previous Ten U.S. Opens have seen an American player win 60% of the time with a total of four different nationalities winning the championship.
Nine different nations having finished inside the top two since 2008 with American players being there 65% of the time – a statistic that makes a number of American players favourite this week.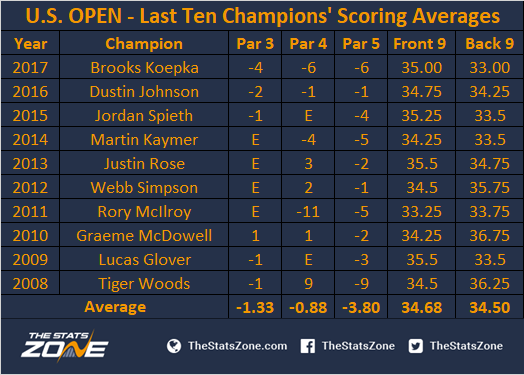 Since 2008, champions have averaged 1.33 under par for the par threes with just one player – Graeme McDowell in 2010 – finishing over par for the week around Pebble Beach's notoriously difficult short holes.
Naturally, par four scoring is the highest due to particularly long and tight championship holes and typically par 70 courses. On average, champions have finished just 0.88 under par with four players finishing over par for the week. This further highlights McIlroy's 2011 supreme ball-striking masterclass when he finished 11 under for the week.
Par five scoring in U.S. Opens in many respects is just as difficult as others pars. Koepka's six under for the week was the first time a player has finished less than five since Woods in 2008. As holes that regularly play over 600 yards, they are often true three shot plays, which yields just 3.8 under on average, further offering a significant advantage for long and straight drivers of the ball.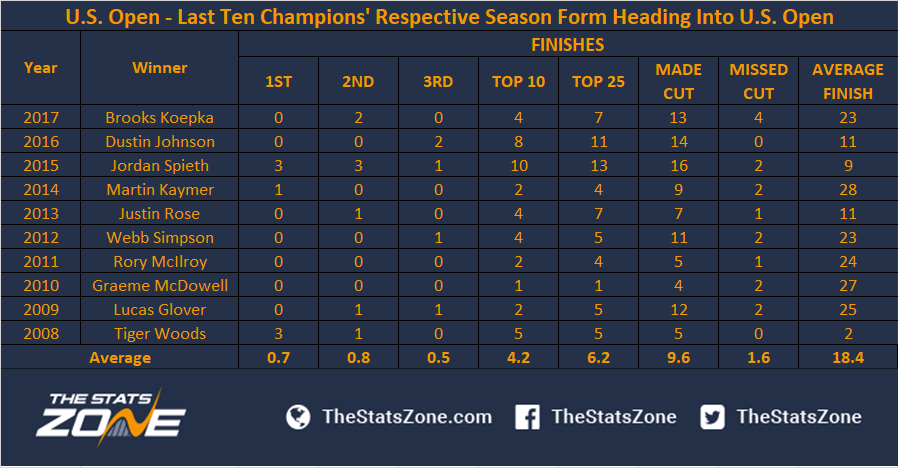 On just three occasions has the U.S. Open Champion won at least once before the championship has begun. Tiger Woods (2008) and Jordan Spieth (2015) recorded three wins by June with Martin Kaymer claiming The Players Championship during his second to last start.
With most U.S. Opens termed as 'grinding' golf championships, whereby pars move you up the leaderboard, then having won heading into mid-June perhaps isn't as necessary as some other tournaments as a few solid and error free rounds can put someone right in contention.
However, season consistency and level of form is a big factor in this championship. On average, just two players have finished outside the top 25 during the respective season events (McDowell in 2010 and Kaymer 2014) – albeit by just a few strokes (27th and 28th), suggesting consistent tee-to-green play and control of their all-round game over an extended period is required.
Perhaps other than Simpson and Glover, the champions have all been top 1 players in the world and none will have been surprise winners which can often be the case in other championships.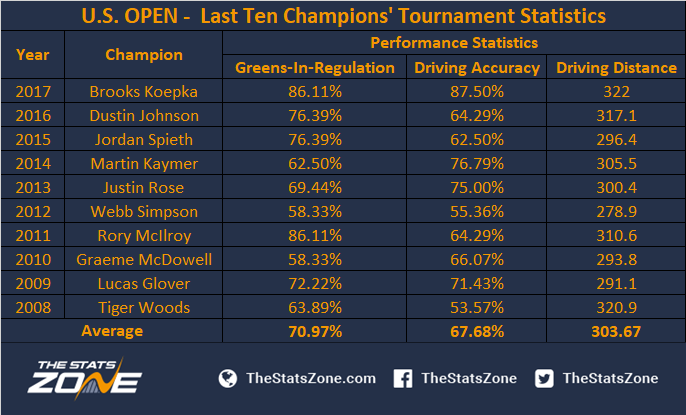 Winners on average have recorded 303.67 yards in driving distance, demonstrating the need to drive the ball long at U.S. Opens.
On average, winners have hit 67.68% of fairways, highlighting the importance of accuracy and distance combined. With the U.S. Open typically having firm and fast greens, players who are hitting shorter clubs in from the fairway have a big advantage over the field.
Therefore, players who rank high in strokes-gained: driving (number of strokes gained on the field per round from driving) have performed consistently so far this season and are in a strong position to content this week.
Dustin Johnson heads to Shinnecock Hills as the firm favourite after returning to world number one due to an impressive win at the FedEx St Jude Classic last week and as a past champion in 2016, has the ideal game to succeed around any U.S. Open layout, making him a difficult player to beat this week. Nevertheless, TSZ has compiled a list of players who have what it takes to be in contention come Sunday afternoon.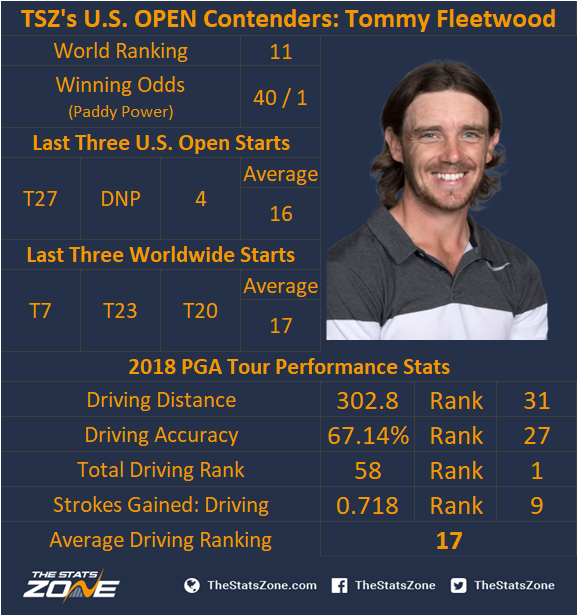 European Race to Dubai winner Tommy Fleetwood has made his mark in world golf over the last two years. His supreme tee-to-green play and consistent level of producing good performances around demanding golf courses means he has what it takes to contend at majors. His driving ability sees him lead total driving and places him ninth in SG: driving.
His current form is solid heading to Shinnecock, giving him a strong chance of being in contention come Sunday. Although on a very different layout, being in contention for four straight days at last year's Erin Hills will stand him in good stead to challenge once again this year – expect a top five finish.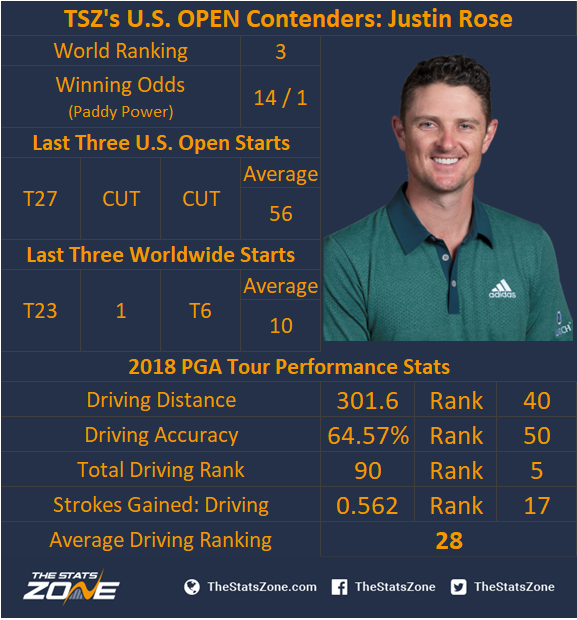 With one U.S. Open title to his name already, this tournament is arguably made for Justin Rose's ball striking skills. Having won on his second to last outing – his fourth worldwide victory since October 2017 – as well as recording a T6 finish last week, the current world number three should have a great opportunity for a deserved second major title.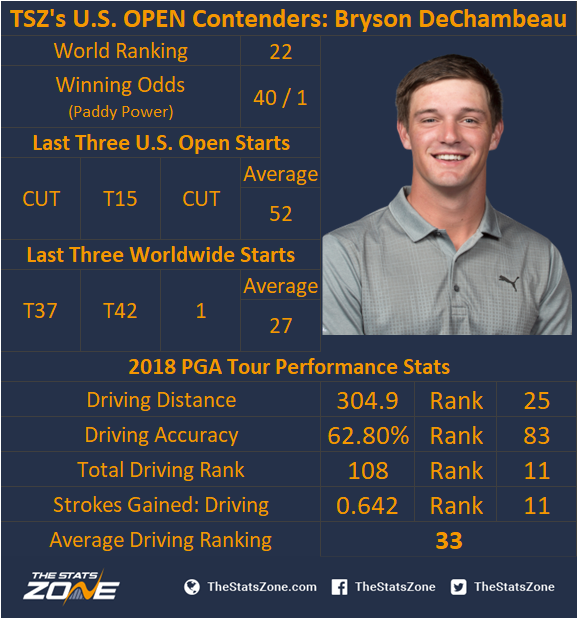 The 'Mad Scientist' recorded his second PGA Tour victory at the Memorial Tournament during his last outing in impressive fashion and with six top-ten finishes already this season, is making a habit of getting himself into contention.
His unique methods make him one of the most compelling golfers to watch on tour but there is genuine substance to his game. Ranked 11th in SG: driving and total driving, his ability from the tee will serve him well around Shinnecock. What's more, he hits long, averaging 304.9 yards from the tee, meaning he can keep up with the best of them around a long and demanding course, so expect at least another top-ten finish.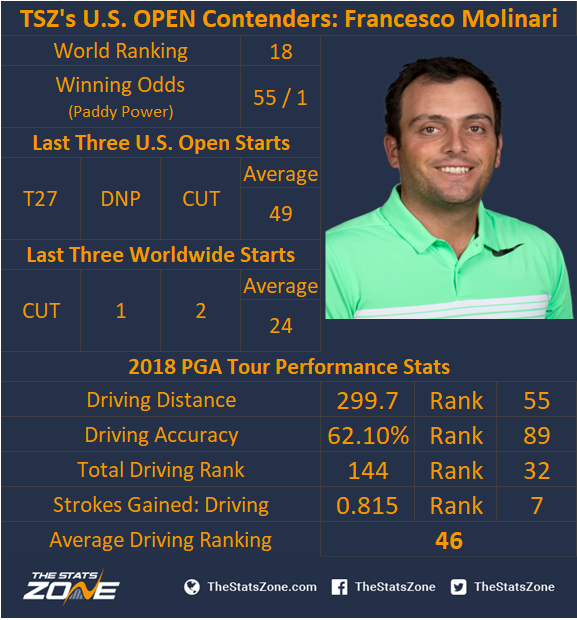 Italian Francesco Molinari picked up his biggest professional win to date at the European Tour flagship event, the BMW Championship, in recent weeks, fending off Rory McIlroy in the process and producing a runner-up finish the following week at his home country's Open.
Molinari's supreme driving accuracy has always been the main asset of his game and it sees him ranked seventh in SG: driving. However, he has also gained distance in recent years averaging 299.7 yards from the tee (ranking him 55th on tour), going from a renowned shorter hitter to a player who can compete around the longest of courses.
The Italian will be full of confidence so expect a strong week and at least a top-ten finish.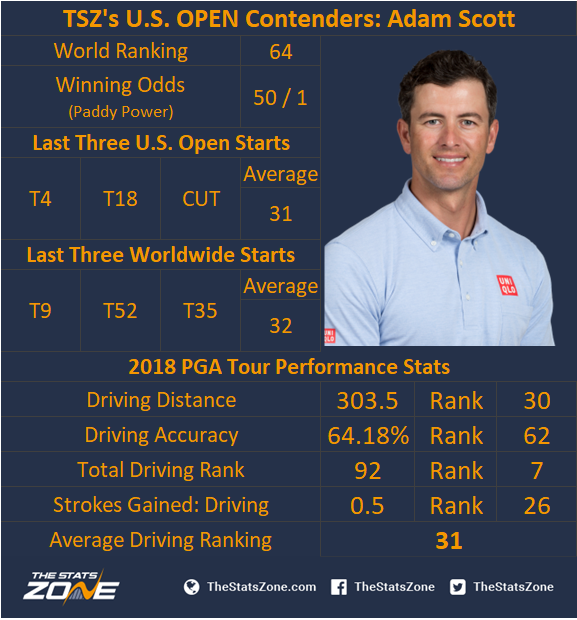 Former world number one Adam Scott's last worldwide victory came over two years ago and he has since slipped to world number 64 in the process. Scott had to come through sectional qualifying in Columbus last Monday to be able to play in his 67th straight major championship.
His game however is trending in the right direction. He was placed 11th at the Memorial Tournament after three rounds only for a poor Sunday finish and has shot nine rounds in the 60s from his past 16 attempts.
At some point, a player of this calibre will turn his form around and start contending again and this could be the perfect place to do so. Scott loves this course and it suits his game and driving strengths, so do not be surprised to see him record just his second top-ten finish of the season this week.