The United States Open Championship (U.S. Open) is regarded as golf's toughest major, with host association the USGA notoriously setting up the courses to be long and tight, with severe rough and lightning fast greens. To date, 51 different courses have hosted the championship, with the 2017 edition seeing Erin Hills host for the first time. The course was specifically built to host the U.S. Open – similar to 2015 venue Chambers Bay – and boasts a striking resemblance in its design as a firm, fast and undulating layout. If Chambers Bay is anything to go by, the very best tee-to-green ball strikers will be rewarded the most.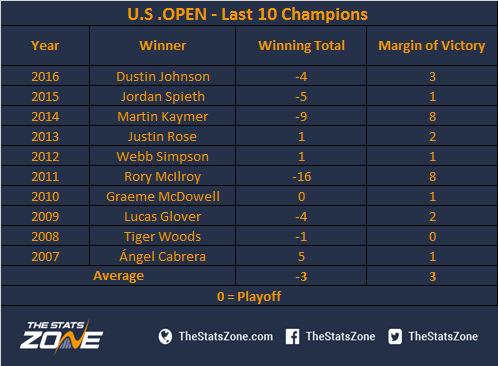 Since 2007, the average winning score has been just three-under-par, showing the difficulty of U.S. Open courses. In 2011, Rory McIlroy produced a ball-striking masterclass during a record scoring week of 16-under-par in unusually soft conditions, beating his nearest opponent by eight shots. This was also matched by Martin Kaymer during the 2014 championship.
During the previous 10 editions, the winning total has been level or over par on four occasions, with an average margin of victory of three strokes.
Notably, just once has there been a play-off - which is famously played over 18 holes on the following Monday – perhaps something all players preferably want to avoid.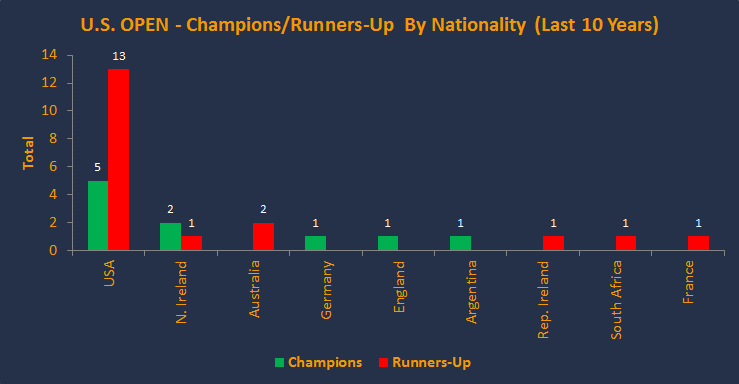 During the previous 10 championships, there have been a total of six different nationality champions, and a further three runners-up from different countries.
The USA lead the way with five winners and 13 seconds (including ties) compared to their nearest challenger, Northern Ireland, who boast two winners and one runner-up during this time.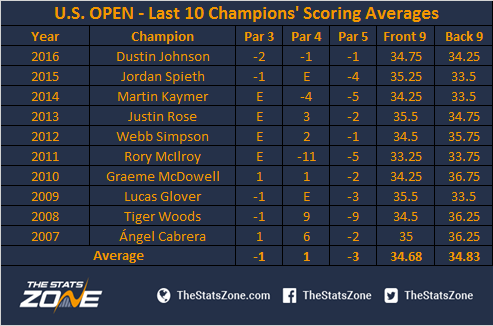 In the last 10 years, U.S. Open par three holes have been arguably easier than other major championships, with an average total of one-under-par. Furthermore, only one champion (2007) finished over par for the week.
Par four scoring has been the most difficult (one-over-par), which is mainly due to U.S. Open courses being set up as par 70's, with numerous long and difficult par fours.
Although to be expected, par five scoring is the lowest on average at three-under-par. Other than Tiger Woods (2008), no champion has scored lower than five under for the week on the long holes, which further highlights the significance of par 70's and the fact that many players in the field are unable to reach the green in two, particularly on holes that regularly play over 600 yards.
Significantly, Erin Hills will be a par 72 – the first time the championship has been since the 1992 U.S. Open at Pebble Beach – so par five scoring could be a major factor this week.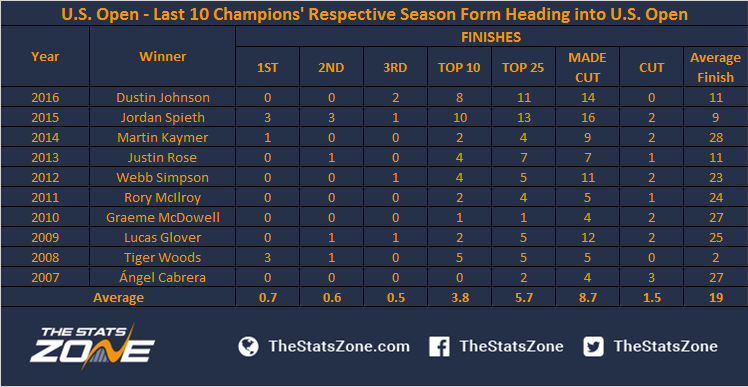 On just three occasions has the U.S. Open champion won at least once before the championship has begun. Tiger Woods (2008) and Jordan Spieth (2015) recorded three wins by June during the course of their incredible golfing seasons, whilst Martin Kaymer claimed The Players Championship in 2014 prior to his U.S. Open triumph.
Perhaps surprisingly, on average the previous 10 winners have not contended (won, second, third) during their respective seasons, suggesting U.S. Open layouts do not particularly favour form, whereby good golf can be unfairly punished.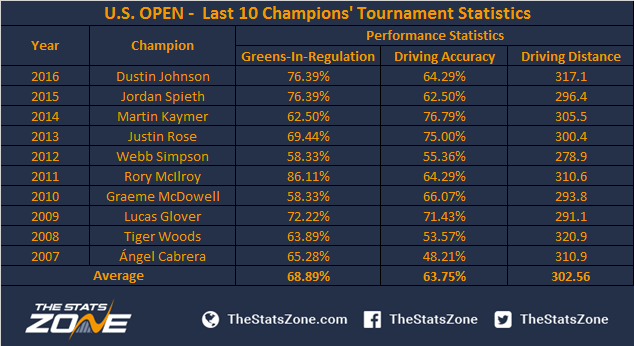 Winners on average have recorded 302.56 yards in driving distance.
However, the championship is renowned for a premium on accurate driving; a player who misses the fairway with a 300-yard drive and then uses a shorter club from the rough has a consistently better opportunity at scoring than a 270-yard drive that misses the fairway. On average, winners have hit 63.75% of fairways, showing distance and solid accuracy are the foundation to low scoring.
Therefore, players who rank high in Strokes-Gained Driving (number of strokes gained on the field per round from driving) and Par Five scoring average could be the main contenders.
With this in mind, we've narrowed down our choices:
TSZ's Picks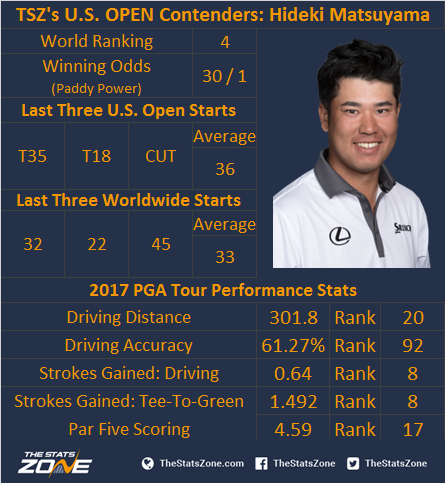 Having started the season with multiple wins, world number four Hideki Matsuyama has not produced the same standard of golf in recent months. Nevertheless, his ball striking skills have not wavered and he currently ranks 8th in SG: Driving and 17th in Par Five scoring. Furthermore, he ranks 8th in SG: Tee-To-Green, illustrating that he has been taking advantage of his driving this season. At 30 / 1, he cannot be overlooked.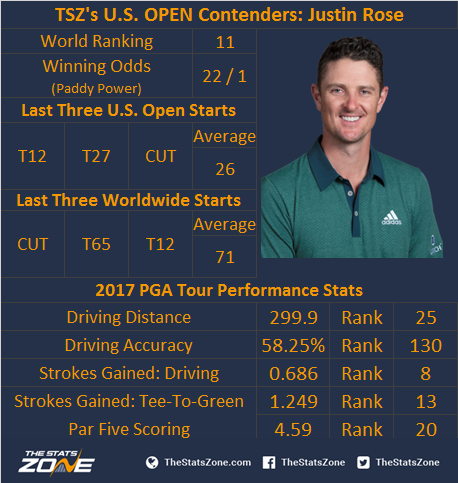 With one U.S. Open to his name already, this tournament is arguably made for Justin Rose's ball striking skills. A near miss in this year's Masters shows he is a big-time player and few would bet against him winning another major. Ranked 8th in SG: Driving and 20th in Par Five scoring, at 22 / 1 he is one of the main contenders this week.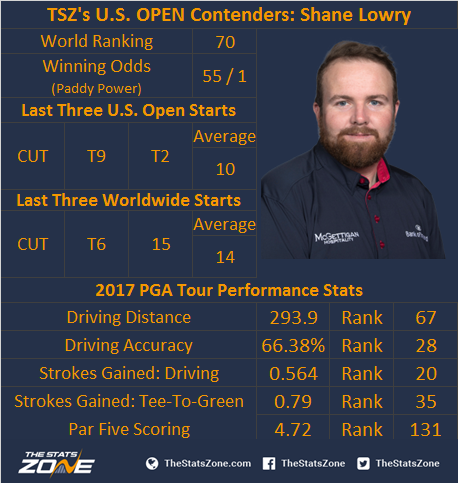 Shane Lowry narrowly missed out on a major upset during last year's championship when he finished tied second, so he clearly has the skills to contend. A T6 and 15th finish in his last two worldwide starts puts him in solid form, and he is ranked 20th in SG: Driving. Outright winner at 55 / 1 represents good odds but perhaps at 14 / 1 a top-five placing is better money.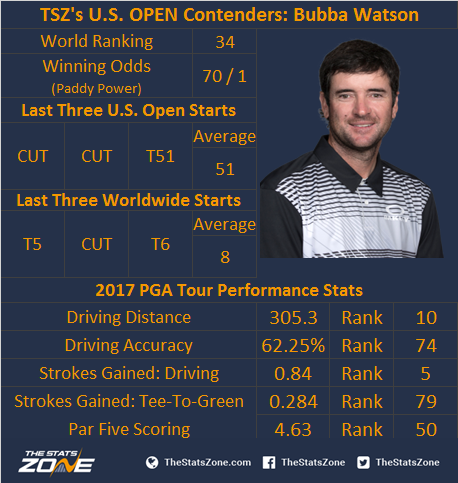 By two-time major winner standards, Bubba Watson has experienced a quiet season. Nevertheless, his form in recent weeks has increased with two top-10 finishes. His power has always been his major asset and he currently ranks 5th in SG: Driving. SG: Tee-To-Green perhaps sheds some light on to why he hasn't been performing to his usual high standard, as his approach play has not taken advantage of his driving. Nevertheless, at 70 / 1 he offers a big return and also looks good at 14 / 1 for a top-five finish.