Five teenagers taking tennis by storm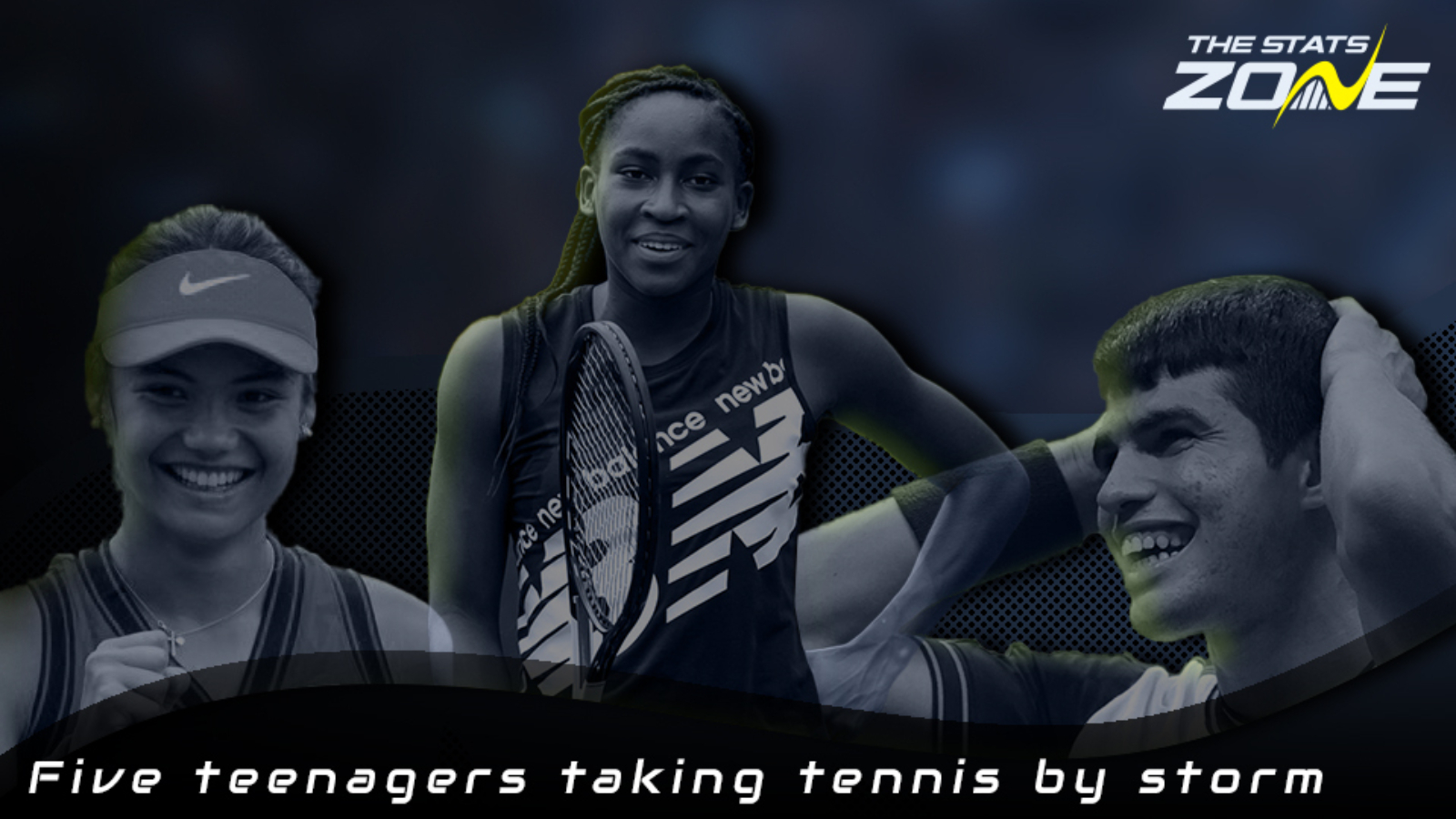 Following a five-set victory over Andrey Rublev in the third round of the US Open, 23-year-old Frances Tiafoe was asked for his thoughts on this seemingly "unique…chaotic tournament" with final-set tiebreakers popping up all over the place, qualifiers in the quarter-finals and teenagers beating former multiple champions. Tiafoe spoke of "numerous reasons" but mainly that the lack of Roger Federer and Rafael Nadal meant "anyone can beat anyone". Bring the lack of Serena Williams into the equation and you have a total of 63 Grand Slam titles' worth of dominance missing from this season's US Open. Behind the best generation of players we have ever seen a vacuum is forming, and Novak Djokovic is not as scary on his own tucked away in one corner of the draw.

Tiafoe's assertion that players are "trying extra hard" is plain to see at the US Open. With less 'GOATs' to run into in the second round players are believing they can beat whomever they draw. There is no doubt that when Roger, Rafa, Serena and Novak have retired Grand Slams will be easier to win. We are led to believe by the 'we will miss them when they're gone' narrative that this will adversely affect the sport but the likes of Leylah Fernandez, Carlos Alcaraz and Emma Raducanu have shown us this week that it could actually improve the spectacle. After several 'next generations' were beaten into submission by the insurmountable level of those aforementioned gods of the game, the nextiest next generation have come to New York with no fear; and only professional respect for the top seeds they are facing.
From Roger Federer's first Wimbledon title in 2003 to Novak Djokovic's Wimbledon title in July of this year, the 'Big Three' have won 83% of Men's Singles Grand Slams. Of course we will miss them, and 23-time Women's Singles Grand Slam champion Serena Williams, when they're gone but here's five teenagers taking the dawn of a new tennis world by storm.
Leylah Fernandez
Leylah Fernandez turned 19 on Monday, either side of beating three-time Grand Slam champion Angelique Kerber in the round of 16 at the US Open and taking out a pre-tournament favourite in world number five Elina Svitolina in the quarter-finals. In doing so, the Canadian became the youngest US Open semi-finalist since Maria Sharapova, who went on to win 36 WTA titles including five Grand Slam titles. The nature of Fernandez' victories have arguably been more impressive than whom she has beaten, with her last three matches all involving a tiebreak that she has won with superb, clutch tennis against vast experience. Fernandez won her first WTA title earlier this year at the Monterrey Open and she is set to at least halve her current ranking of world number 73.
Carlos Alcaraz
Although 18-year-old Carlos Alcaraz' US Open journey has come to an end after a disappointing injury in the quarter-finals on Tuesday night, the Spaniard breathed new life into the ATP tour with a statement win over Stefanos Tsitsipas in the third round. Alcaraz twice took the lead against the world number three, who himself almost beat Novak Djokovic to the Roland-Garros title back in June, before snatching a fifth-set deciding tiebreak with a mentality beyond his years. His level in the first set against Tsitsipas was simply out of this world, with the Greek later admitting he had "never seen someone hit the ball so hard". Like Fernandez, Alcaraz also won his first ATP title this season on clay at the Umag Open in Croatia. However, Spain's new star clearly has a game for all surfaces, like his idol Rafael Nadal, and he will break the top 40 next Monday when the new ATP world rankings are posted.

Emma Raducanu
Emma Raducanu is yet to win her first title on the WTA tour but given she has played only 10 tour-level matches in her career so far, winning seven of them, that would be a truly miraculous feat. The 18-year-old reached the round of 16 at Wimbledon as an unknown wildcard and she has bettered that at the first time of asking by reaching the quarter-finals of the US Open as a qualifier, both on her debuts. The list of women to reach the round of 16 at consecutive Grand Slam debuts includes Jennifer Capriati, Monica Seles and Chris Evert, who own 19 Grand Slams and over 200 WTA titles between them. Raducanu is also the first woman to concede just 15 games en-route to the quarter-finals at the US Open since an in-her-prime world number one Serena Williams in 2013, who went on to win the title that year. The teenager has beaten Sara Sorribes Tormo and Shelby Rogers in her last two rounds at the US Open, both of whom are the last women to beat current world number one and Wimbledon champion Ash Barty, and she did so in total dominance by winning 11 games in a row over both of them.
Coco Gauff
The youngest of the five here is 17-year-old Cori 'Coco' Gauff, who is by far the most experienced. The current world number 23 lost out to former US Open champion Sloane Stephens in the second round of the US Open this campaign but she exploded onto the scene at just 15 years old by reaching the round of 16 on her Grand Slam debut at Wimbledon in 2019. In a too-perfect metaphor for a 'changing of the guard' in Women's tennis Gauff beat her idol, Venus Williams, in the first round of that first campaign and she bettered that result by reaching the quarter-finals of Roland-Garros back in June of this year. The American already has two WTA titles to her name across two surfaces at the hardcourt Linz Open in 2019 and this year's Emilia-Romagna Open on clay. Significantly the youngest in this list, Gauff is already an established member of the top 30 and heading in only one direction.
Lorenzo Musetti
19-year-old Lorenzo Musetti has endured a season of two halves to say the least this year but the Italian is definitely one to watch for the near future. Musetti reached a career-high 58th in the ATP world rankings back in June after an incredible run to the round of 16 at Roland-Garros saw him take the first two sets against world number one Novak Djokovic before essentially burning out. Since then, the Italian has mustered just one win on tour, in the first round of the US Open, but that world-beating level is within him, especially on clay. An 18-year-old Musetti beat three-time Grand Slam champion Stan Wawrinka on his Masters debut at the Italian Open last season before also taking out former world number five Kei Nishikori, both in straight sets. This season he has lost to Stefanos Tsitsipas in the semi-finals of two ATP tournaments but claimed five wins over top 20 players.