The qualifiers for both the Champions League and Europa League wrapped up at the end of August. This is a crucial time for several of the teams in smaller leagues, as qualifying for the group stage means a large contribution to their financials. Clubs therefore put everything into the two competitions; something that has made big upsets a repeating feature. One example is Malmö FF, who managed to qualify for the Champions League in two consecutive seasons (2014/15 & 2015/16), each time knocking out Red Bull Salzburg (albeit at different stages), a team that in theory should have cruised past the Swedes. This is just one of many examples. Almost every year we see similar upsets where smaller teams get further than their larger counterparts and enter the top level of European football.
One reason behind these upsets could be the fact that for the majority of leagues, the qualifiers are played early in the season, before the start of the domestic league. In general this means that teams may not be tactically shaped with players still a few weeks from their peak fitness. The fact that teams are more evenly matched at this stage gives greater opportunity for upsets. On the other hand, summer leagues in Europe such as Finland, Ireland, Norway and Sweden have a flipped playing schedule, so the qualifiers lie in the middle of the season. Following the same argument, these teams should be tactically and physically better prepared for the qualifiers. But how have the teams from the summer leagues performed in Europe over the years? Is there an advantage to play these games when you are up to fitness and have your tactics honed? Or does European cup football only clog up an already tough domestic league schedule?
TSZ has decided to dive into the stats around European cup football to find out whether summer leagues seem to have an advantage and how well they have performed over the years. To do so, we will look at data between the 2009/10 season up until last season (2015/16), although we do acknowledge that FC Copenhagen (Denmark) and Dundalk (Ireland) have both qualified for the group stages this season. Whilst collating the data set, we found out that out of the four aforementioned leagues, the only two who had qualified to group stages were Norway and Sweden. With this in mind we have decided to compare Norway and Sweden's performance against Denmark (who do not play a summer league) as the leagues have a similar culture, mentality and are ranked closely in the UEFA ranking (Denmark 18, Sweden 20 and Norway 22).
To get into the analysis, we will start by looking at the number of teams that have qualified each season and the average points per game. This will be visualised through a combination of a line and a stacked bar graph. The line represents the average number of points per game and the bar represents how many teams qualified out of each respective league. In instances when there were qualifiers to both competitions, we have used a split bar where blue represents Champions League and red Europa League.
The second part of the analysis looks at all teams that have qualified for European Cup football and their finishing position after the group stages. This is visualised through a bar graph giving the reader an opportunity to see whether certain teams seem to perform consistently well. As an extension to this, we have decided to add a table showing average finish place for each country (Sweden, Norway and Denmark) in the group stage to compare who has performed the best over the course of time. The final part of the analysis looks at the proportion of games won, drawn and lost. We have split this by Norway/Sweden (top graph) and Denmark (bottom graph), which makes it possible to see the distribution of results per season and between the two different league types.
Looking at the top graph below, we can see that the number of teams from Norway/Sweden who have qualified for either Champions/Europa leagues ranges between one and four for seasons between 2010 and 2016. Furthermore, we can see that the line graph (average points per game) ranges between 0.17 points per game in 2011/12 to the peak in 2015/16 at 0.89 points per game. This demonstrates that, on average, Swedish and Norwegian teams score significantly less than a draw per game. The only seasons where teams have come remotely close to one point per game were in 2012/13 and 2015/16. The stacked bar graph shows that only one team qualified for the Champions League group stage in 2014/15 and 2015/16 (this was Malmö, as previously mentioned). Looking at the lower graph for Denmark we can see that every year, two Danish sides in the data set have qualified for the European cups, until last season. Last season only one team (Midtjylland) qualified for the Europa League. The line graph in this chart clearly demonstrates that on average, the Danish perform better than their Scandinavian counterparts, with the average points per game ranging between 0.75 and 1.23.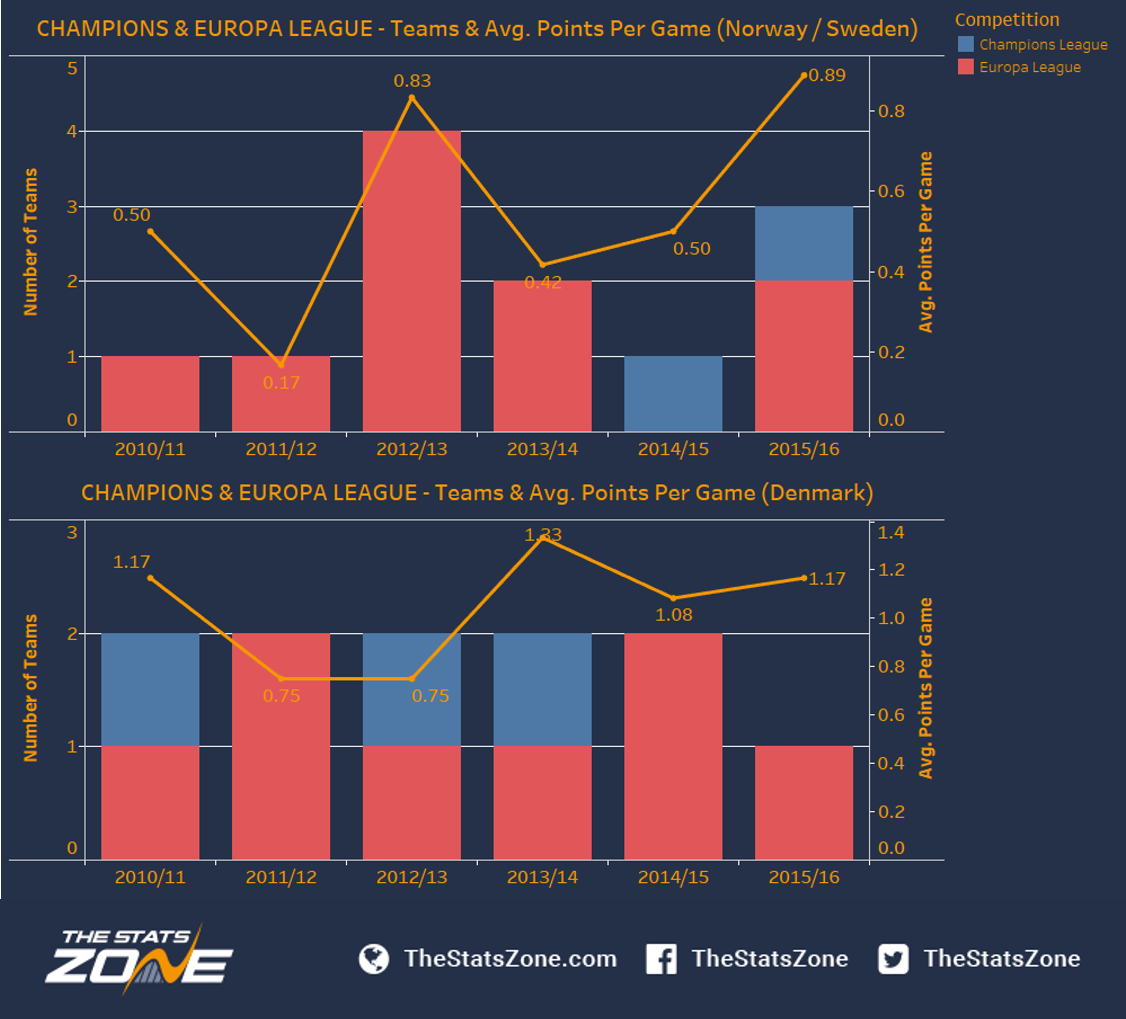 Moving onto the next graph, which looks at finishing position for the Scandinavian teams in the Champions and Europa League, we can see a strong correlation between average points per game and the final finishing place. Where Norway/Sweden have a low point average in the first graph, they also have just one team qualifying for the knock out stage. This team was Molde, who qualified and won their Europa League group last season. Notably however, they crashed out of the first round of the knock out stages against last year's winner Sevilla FC. Another interesting take from these two graphs is that Rosenborg and Malmo are the most successful teams in the summer leagues, having qualified for European group stages three times each. Moving onto the lower graph, the Danish sides show a more remarkable result. On five instances, they progressed into the knock out stages. FC Copenhagen holds a very impressive record having qualified for either of the European Cups every season in our data set except last year. Furthermore we can see that there was equally as many Danish sides (12) qualifying for European Cup football as Norwegian and Swedish sides added together.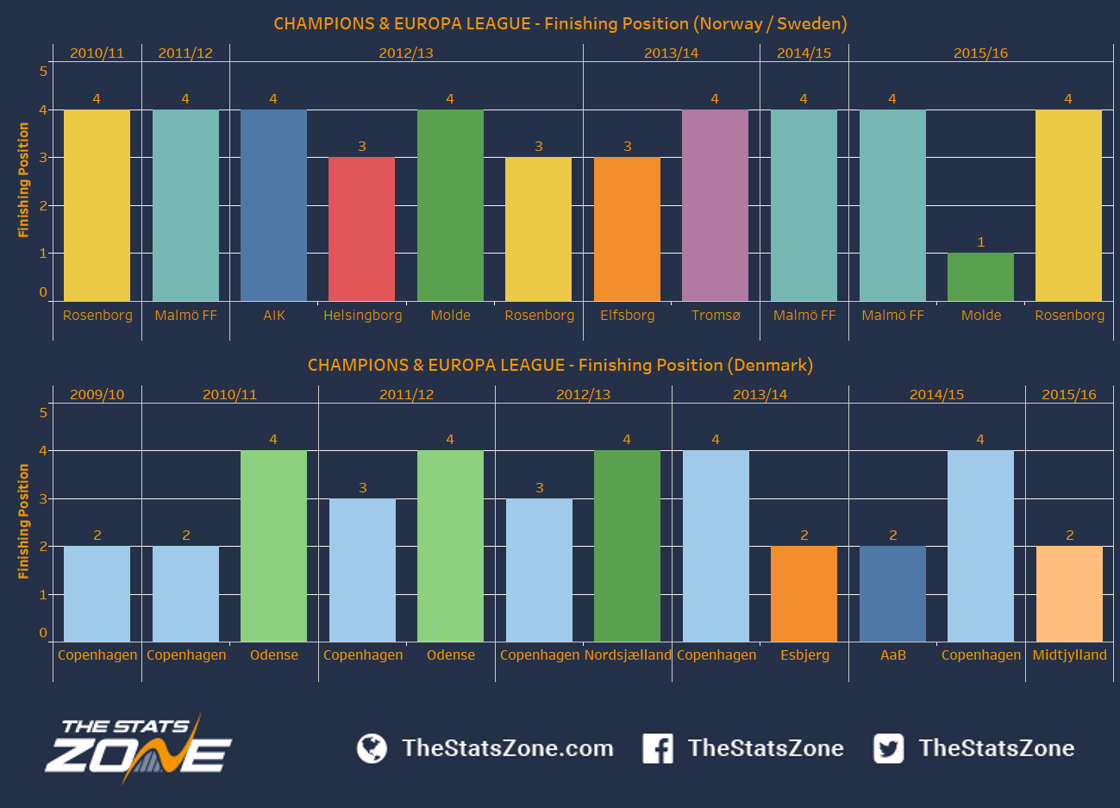 Before we move on. we wanted to explore in more detail the average finishing position for the three leagues. In the chart below we can see that Denmark performs best with an average finishing position across the leagues of 3.0, followed by Norway at 3.3. Sweden almost always finishes last in the group with an average of 3.7. This again confirms the dominance from Danish sides.

The last graphs below illustrate the proportion of results for each respective league. In the top graph we can see that the summer leagues (Sweden/Norway) performed the best in the most recent season with the least losses. This can be explained by (previously mentioned) Molde's performance in winning their group. We can also see that the highest proportion of wins for these teams was in 2012/13 where they won close to 1/4 of all their games.
For the second graph, depicting Denmark's performance, we can see that their proportion of losses is much lower. Across three seasons, 2010/11, 2013/14 and 2015/16 they lost just 50% of their games. Their highest losing percentage was 58.3% (2011/12, 2013/14 and 2014/15). This confirms that Danish teams on average perform significantly better in the group stages than Norwegian/Swedish teams. The Danish also show a great record in 2013/14, where they won an impressive 41.7% of their games, something the Norwegian/ Swedish have not come close to achieving.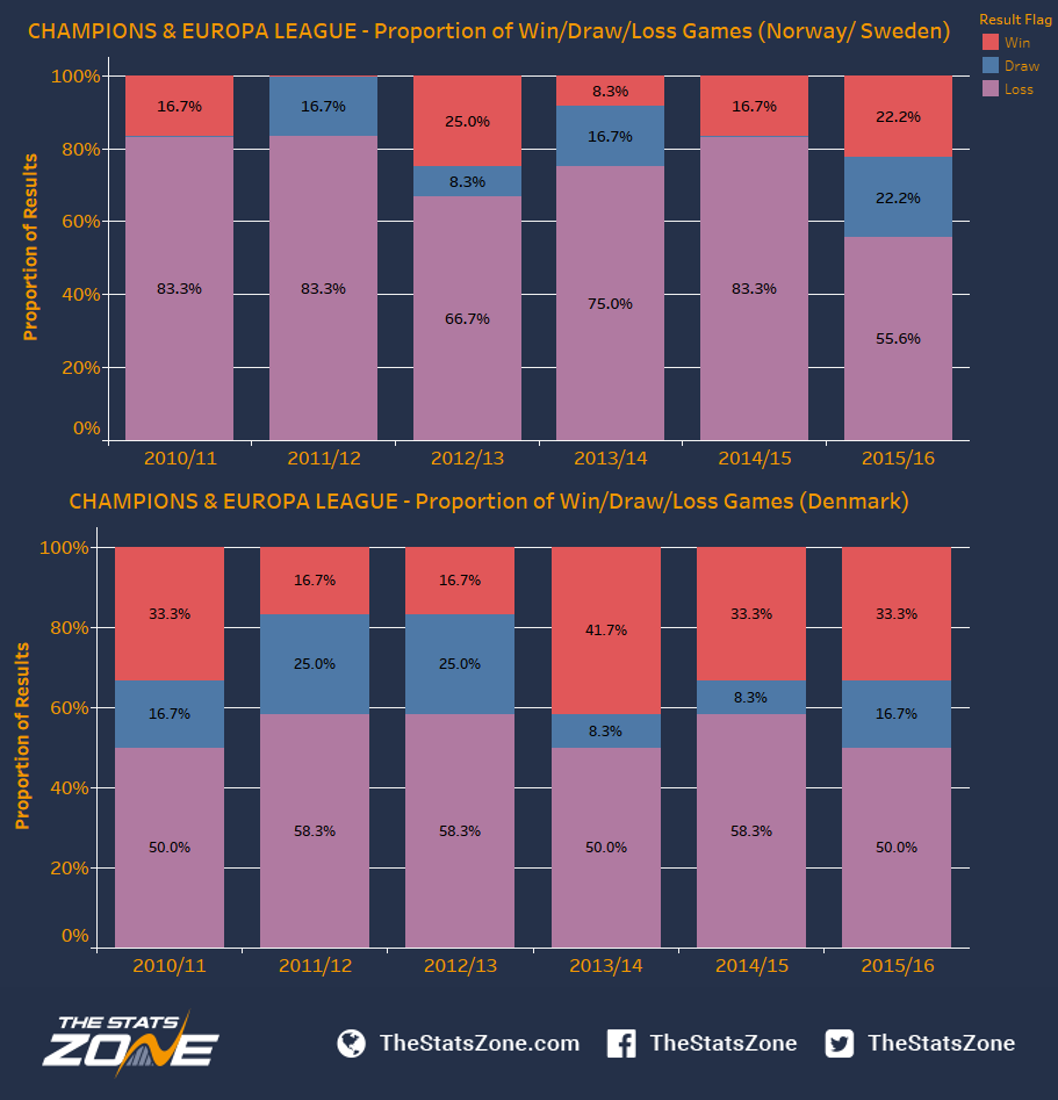 To conclude, we have looked at Scandinavian teams' performance in the European cup competitions and split it by summer and winter leagues. From our data we cannot say that there seems to be an advantage to playing in a summer league when it comes to European qualifiers. In fact, Danish sides figure more frequently in the tournaments and on average perform better when they do. We have seen that a total of five Danish teams have made it into the knock out stages compared to Norway and Sweden together with only one team. FC Copenhagen is the most successful team having qualified for six group stages in the last seven seasons and made it passed the group on two occasions. Of the summer leagues, Rosenborg and Malmo FF hold the most successful record having qualified for three group stages, however they never made it past the group. So in terms of raising the European Cup performance, could it potentially be a wise move for Norwegian and Swedish teams to consider playing similar format to the winter leagues?