Daniel Sturridge may want to keep his bags packed when he returns to Anfield from Christmas Dinner this December. The England striker turned 27 last month and adjectives such as 'promising' and 'potential' can no longer come attached to his name. At this age he is expected to be entering the prime of his career, but as the season progresses and we witness Sturridge staring sullenly from the bench on an increasingly frequent basis, one must wonder if his days at Liverpool are coming to an end.
Sturridge is an individualist – a lone wolf operating in a system that places so much emphasis on the pack. He is an undeniably talented and gifted footballer, but his remarkable eye for goal is somewhat undermined by his ostensible refusal – or inability – to fully subscribe to the Klopp School of Gegenpressing. It is this unwitting self-sabotage that may see Sturridge deemed surplus to requirements in the New Year.
Sturridge has now played 616 minutes – over 10 hours – of Premier League football since he last found the back of the net. This is a terrible statistic for a footballer whose singular commodity is goals. The only change he has seen this season has come with a pair of braces in the League Cup. The first two against Championship side Burton Albion came in the closing stages when the home team were already trailing 3-0. The second pair, while admittedly more credible, still came against a largely second-string Tottenham side on Tuesday.
However, not only is Sturridge failing to contribute to the goals tally himself, but Liverpool are apparently worse off offensively when he is in the side. In games that he has started this season, Liverpool have scored an average of 1.5 goals less than when he either begins the match on the bench or doesn't feature at all. Darting runs in and around the box, the type designed to drag defenders and create space for others, do not appear to be in his locker.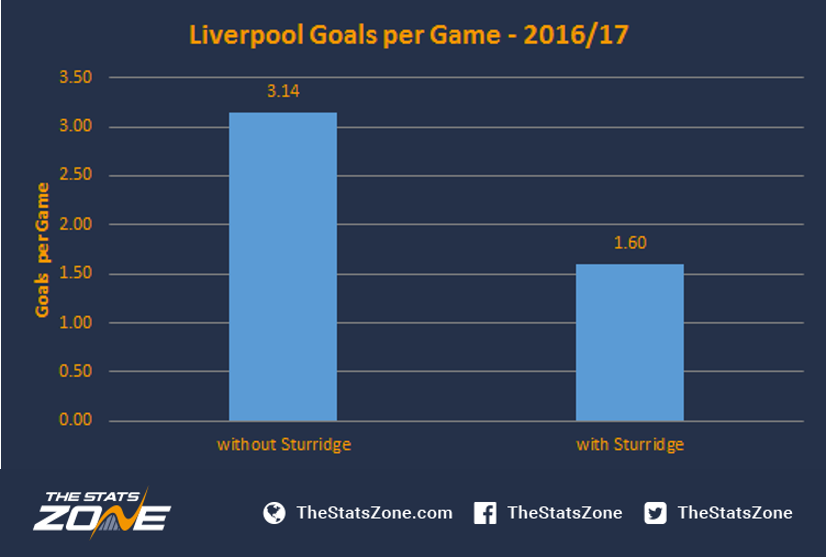 By Klopp's own admission, he believes that positions on a football pitch "are not important". On Monday Night Football back in September, the German told Jamie Carragher and David Jones that "these players are all responsible for being in the opposition box in all situations they can be". This shared responsibility is clearly a philosophy that Sturridge struggles with; his tunnel-vision approach requires him to be the main man, but when he is not scoring the goals, he does not appear able to help those around him either. A comparison of the striker's stats against his other attacking teammates at Liverpool begin to paint a picture of his contribution.

Sturridge has taken more shots per 90 minutes in the Premier League this season than the majority of his contemporaries – only four goal Coutinho is higher – yet he is the only one who has failed to make it on to the scoresheet. However, it is in the amount of touches and passes Sturridge makes that exposes his single-mindedness. He records considerably less in both areas per 90 minutes of play, corroborating the theory that he requires service rather than works to service others. This notion is further authenticated by the amount of ground Sturridge covers per match; both Lallana and Firmino cover considerably more ground than him and complete more sprints, probably a major reason why Klopp prefers to start with them in the League. High-intensity running is of paramount importance in his counter-pressing philosophy.

It is perhaps in the comparison of the defensive contributions of each player that the most revealing statistic is revealed. Winning the ball back from the opposition high up on the pitch is central to everything Liverpool do. By regaining possession in these areas, the Reds are only ever one or two passes away from an attacking position, so naturally there is a requirement for forwards to contribute towards tackling. Daniel Sturridge has recorded just one tackle in the Premier League this season. Conversely, the attacking quartet of Lallana, Firmino, Coutinho and Mané all notch up nearly two tackles per game.

Time may find these criticisms to be too harsh, and after all two goals against Tottenham is nothing to sniff at, but scoring in the EFL Cup alone will not save Daniel Sturridge. There is a frustration borne out of the fact that it is not his technical class that is at question, but his selfishness. His Liverpool career may well hinge on his ability to adapt – be more versatile, make more runs, make more tackles. The truth is though, that time is running out for Sturridge, and Klopp's patience will not last forever. It's increasingly looking like The 27 year-old is the German's plan B at Liverpool, which is a situation that may tempt the England international to look elsewhere in January.