In the aftermath of Roger Federer becoming the oldest male Wimbledon champion in the open era, a ground-breaking study by world-leading performance analysts has found that the '35-year-old' is actually getting younger.
In an announcement which contradicts everything we thought we knew about human biology, the experts – who wish to remain anonymous – claim they have undeniable proof that the Swiss superstar has managed to reverse the ageing process.
Questions were first raised during Federer's improbable Australian Open victory in January – his first major tournament following a six-month layoff – where analysts noted that he was somehow moving quicker and appeared younger than before.
"We knew something was up back then", said a spokesperson for the mysterious think-tank. "Federer was suspiciously sprightly. We estimated that he was at least 20% younger than he should be."
An undercover ball-boy was able to obtain traces of Federer's DNA from the towel he used during his epic five-set victory over long-time nemesis, Rafael Nadal.
Tests revealed that his genetic code was somehow mutating to an earlier state, a phenomenon that baffled scientists. Further tests on his sweatband in Indian Wells, and the Wimbledon trophy itself yesterday, have produced the same astonishing result.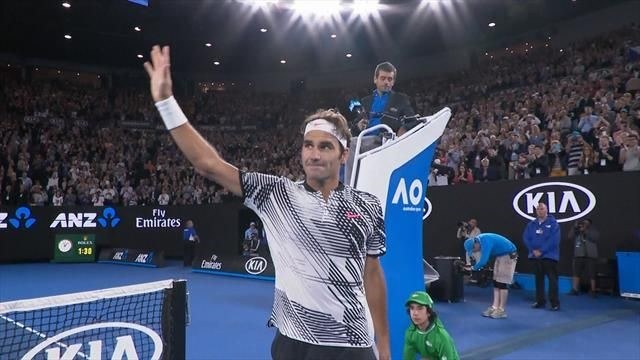 When pressed for hard evidence, the reliable spokesperson supplied the following graph, which we are forced to agree is compelling confirmation of their findings: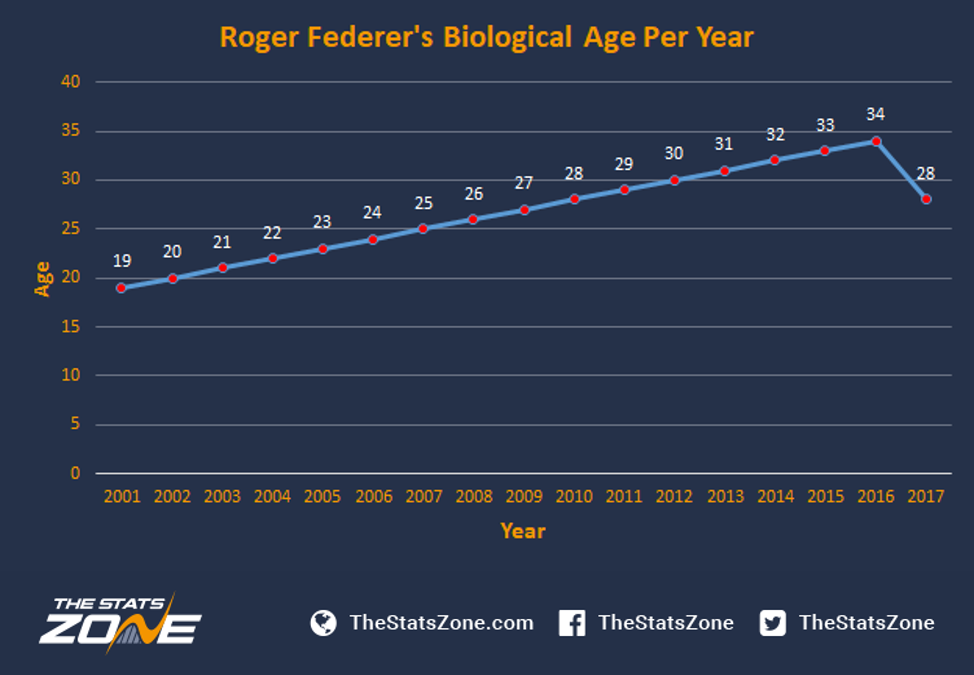 In light of this evidence, there appears to be little doubt as to the veracity of these claims. As we can clearly observe from this detailed scientific graph, Federer was ageing normally up until this year, but now undeniably has the body of a 28-year-old.
But how is such a medical miracle possible?
Little was previously known about the 19-time Grand Slam champion's whereabouts during his six-month 'rest period' following last year's Wimbledon exit, but it is now understood he journeyed to the eastern reaches of China in order to seek the help of specialist monks.
The trusted spokesperson had this to say:
"Federer knew age was catching up with him. After defeat in the Wimbledon semi-finals last year, and having not won a Grand Slam title since 2012, it was clear he was succumbing to the inevitable decay of time.
The official story is that he spent six months at home after suffering a back injury whilst running a bath for his kids. We now know this to be false. Federer was in fact visiting a controversial sect of Shaolin monks who claim to possess mysterious anti-ageing powers.
It is understood that Federer was bestowed with these powers once he had completed a set of trials, although what exactly these entailed, we do not know. What we can reasonably assume, however, is that he returned to the same mountainous region for his subsequent hiatus during the clay court season, in order to receive a top-up."
The spokesperson hinted that Federer's backhand – which analysts have judged to have improved by roughly 413% this year – may have been an additional gift from the monks, but tests are ongoing on that front. Rumours are also circulating that Venus Williams visited the same monastery in order to arrest her own decline, but the powers she was granted unfortunately ran out half-way through the women's final on Saturday. This is yet to be confirmed.
How the authorities might combat this remains to be seen, but at this rate, Federer will be in his early 20s next season – complete with ponytail – by which time it is believed he will decide to age normally again, making him favourite for the next ten Wimbledon Championships.