Following a season that saw him electrify crowds, shatter individual records, and lead the Golden State Warriors to an NBA team record of 73 wins, Stephen Curry has officially been announced as the NBA's Most Valuable Player (MVP). Curry is the first player in NBA history to win the award unanimously with all 131 first place votes in his favour, the largest percentage in league history, more than doubling the totals of Kawhi Leonard and Lebron James who finished second and third respectively.
As Curry becomes one of a select few players to win the award in back to back seasons, let's take a look at the numbers that made this season so special from an individual and historical perspective.
After an effort last season that saw Curry earn MVP honours alongside winning an NBA Championship, it is hard to believe that Curry could surpass himself individually. Curry did so much so that he recorded the eighth best player efficiency rating (PER) in NBA history (a measure to summarise a player's statistical accomplishments and productivity per minute).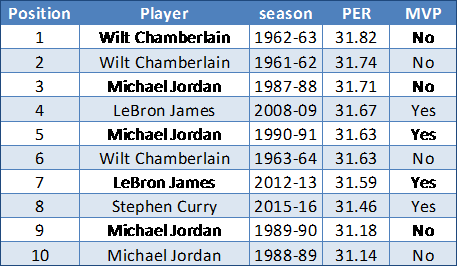 Curry improved his PER by more than any reigning MVP in history recording an increase of 3.5 points, surpassing the previous best held by Larry Bird (2.3). Of the top ten ranked PER's three players have gone on to finish as the NBA's MVP in their respective seasons (Stephen Curry, Michael Jordan & Lebron James twice).
In comparison to Curry's previous MVP season, we have also seen an increase in his numbers across the board. Curry leads the NBA in scoring with 30 points (6.4 more than his average last year) and 2.1 steals per game. Only two other players in history have the achieved this feat (Michael Jordan & Allen Iverson).
Something equally impressive, and that makes this season so special is Curry's ability to achieve high levels of efficiency and volume. Even at this early stage in his career, Curry is one of the most efficient shooters we have ever seen, in fact, the efficiency of Curry's shooting is quite frankly something to marvel at; especially when we consider the volume of shots Curry takes on a nightly basis. Curry is shooting 50.4% from the field, 45.4% from 3point range and 90.8% from the free-throw line, and continues to dominate from long range; he is taking 11.2 three point attempts per game and is converting on 5.1 of them, the most in NBA history.
This consistency is the reason Curry has broken the single season three point record. Curry has converted on 402 three point attempts, a record surpassing Curry's previous benchmark of 286 last year by 116. Curry has taken the most attempts to achieve this total but his shooting percentage is also the highest.

If we put Curry's shooting efficiency in to context even further, another feat he has achieved is that he now places in the 50/40/90 club, a bench mark considered the gold standard for elite shooters in the NBA. To make the cut, in a single season a player needs to average a minimum of 50% made field goals, 40% made 3 pointers and 90% made free throws (with a minimum number of attempts). Curry joins only six others to have accomplished a 50/40/90 campaign.
Curry's back to back MVP honours also put him in elite company. Only 12 players in NBA history have won more than one MVP crown, and only 11of these players have won it consecutive years (the exception being Bob Pettit who won his four years apart).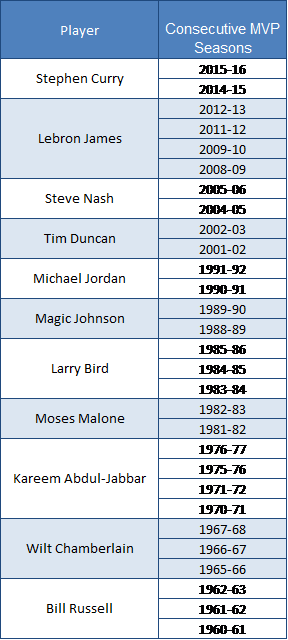 Of the 12 players that have won multiple awards, only three have played the point guard position, Stephen Curry, Magic Johnson and Steve Nash, and each player has won the award in consecutive seasons.

Of the three, Curry seems to be the most scoring minded and leading the way with 30.1 ppg, this total is 7 more points than Johnson's best MVP average of 23.7. Unsurprisingly Curry also leads the three in field goals attempted and made; 3 point shots attempted and made, 3 point percentage and steals per game. Johnsons and Nash's statistics lean towards traditional point guard play, with higher assist totals, although still highly efficient from inside the 3 point line and free throw line. It is fair to say that Curry is changing how we view jump shooting in todays NBA, the NBA is certainly leaning towards becoming a jump shooting league.
Needless to say, when we compare Curry with historic or active MVP's he belongs with their company. Curry is worthy of the MVP crown, he is multidimensional, highly efficient, capable of scoring in abundance and is quite possibly the best 3 point shooter we have seen. At such a young age it is crazy to think that Curry has much more to offer, and with this season's playoffs still underway Curry has the chance to break even more records, If Golden State win the title Curry will become the 4th player in history to win an MVP and an NBA title in consecutive seasons, a feat which only Michael Jordan, Bill Russell and Lebron James have achieved.