When? Wednesday 16th August, 22:00 (UK)

Where? Santiago Bernabeu
Where can I watch it? Sky Sports Football
Are tickets still available? Tickets can be obtained from the official Real Madrid website and from Viagogo.
Real Madrid - https://realmadrid.entradas.com/sports-web/Real_Madrid/Futbol/2017-2018/Supercopa_de_Espana/REAL_MADRID_CF_-_FC_BARCELONA_(SUPERCOPA)/?seller=2&lang=en&_ga=2.10687412.1299311787.1502725250-603152427.1502725248
Barcelona - https://www.viagogo.co.uk/Sports-Tickets/Football/European-Premier-Leagues/Spanish-Premier-League/Real-Madrid-FC-Tickets/E-2222614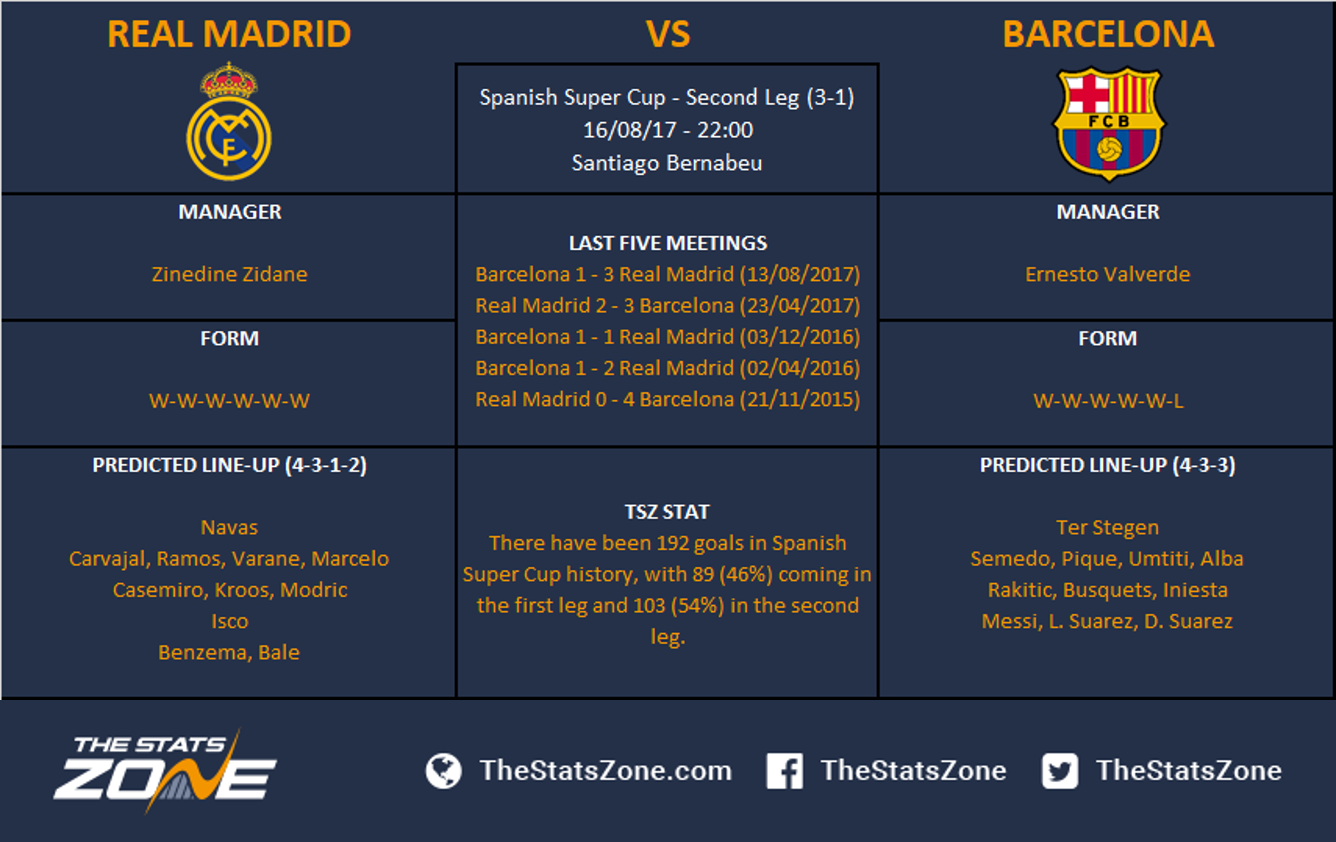 STATS & FACTS
Last five head-to-head Spanish Super Cup meetings:
Real Madrid W2 Barcelona W2 Drawn 1
13/08/2017 Barcelona 1 - 3 Real Madrid
29/08/2012 Real Madrid 2 - 1 Barcelona
23/08/2012 Barcelona 3 - 2 Real Madrid
17/08/2011 Barcelona 3 - 2 Real Madrid
14/08/2011 Real Madrid 2 - 2 Barcelona
Neither team has won on home soil in the last five head-to-heads in all competitions.
Following the first leg, Barcelona have now suffered back-to-back El Clasico defeats in the Spanish Super Cup after also losing the second leg in 2012; a result which saw Real Madrid lift the trophy by virtue of away goals.
Ernesto Valverde will be looking for his first competitive win at Barcelona after taking charge of the club earlier in the summer.
Real Madrid will be looking for their second trophy already this season, after they won the European Super Cup in Macedonia against Manchester United.
Should Real Madrid go on to win after their first leg advantage, it will be their 10th success in this competition. If Barcelona can overturn the 3-1 deficit from the first leg, they will earn a 13th Spanish Super Cup success.
Cristiano Ronaldo will miss the second leg as a result of his dismissal on Sunday.

Both Cristiano Ronaldo and Lionel Messi were on the scoresheet in the first leg, and since the Messi/Ronaldo era begun it is now 11 Spanish Super Cup goals for Messi and four for Cristiano Ronaldo.
Messi will obviously be looking to add to that tally on Wednesday and will have the perfect opportunity to pull further clear with the suspension to Real Madrid's talisman.
If Real Madrid can hold out without the talents of Ronaldo, then it would mean just a second Spanish Super Cup victory for the Portuguese international, while if Lionel Messi can lead a Barcelona comeback, then it would be lucky number seven in terms of wins in this competition.
If Real Madrid win then it will be the 23rd time in which the previous season's La Liga winner has gone on to win the competition, while if Barcelona win it will mean a 12th win for the Copa del Rey champions (this can sometimes be cup runners up if a team has won the double).
There have been 192 goals in Spanish Super Cup history, with 89 (46%) coming in the first leg and 103 (54%) in the second leg. This indicates that we could be in store for even more goals in Madrid on Wednesday night.
The average amount of goals in a first leg now stands at 2.78 after Sunday night's result, but that is still some way off the average of 3.32 that we see in the second leg.
The most goals scored in a second leg is nine, which took place in 1994 when Barcelona lost 5-4 to Real Zaragoza at Camp Nou. Although they were on the losing side that night, the Catalan giants would still go on to win the competition that year.
After the 3-1 win in Barcelona for Real Madrid, that particular result has become the second most common scoreline in Spanish Super Cup matches.
The most common scoreline is a 1-0 win (irrespective of home or away). This has happened on 12 of the previous 63 occasions, followed by the 3-0 and 3-1 win outcomes (again irrespective of home or away). These two particular scores have both occurred eight times.
MOST MEMORABLE MEETING
Countless classics have been played out between the two over the years, but we're going to pick out a particularly memorable victory for Real Madrid, who crushed their arch rivals 5-0 back in 1995.
This season would bring an end to Barcelona's La Liga dominance after four title successes in a row, with the trophy returning back to Madrid at the end of the season.
Not only that but Michael Laudrup, who was such a key figure of "The Dream Team", would go on to play an instrumental part in Los Blanco's victory that evening after moving to Real Madrid in the summer of 1994.