Southampton do not boast an impressive trophy cabinet filled with an array of silverware, or posses the incredible financial weight to attract the world's best players, yet they have always prided themselves on their impressive youth academy looking to create world class players instead of buying them. Whether it was Alan Shearer or Matt Le Tissier during the 80s, right up to the modern day, Southampton's academy is well regarded as one of the best in the world. We decided to take a closer look at the success of home-grown academy graduates since 2000.
Criteria
Included are all players who have made their senior team debut from 01/01/2000 until the present day.
Only players with UK nationality are included, but dual nationality is accepted.
Players must have been trained at the academy from the age of 14 or younger.
All data was accurate as of 20/04/17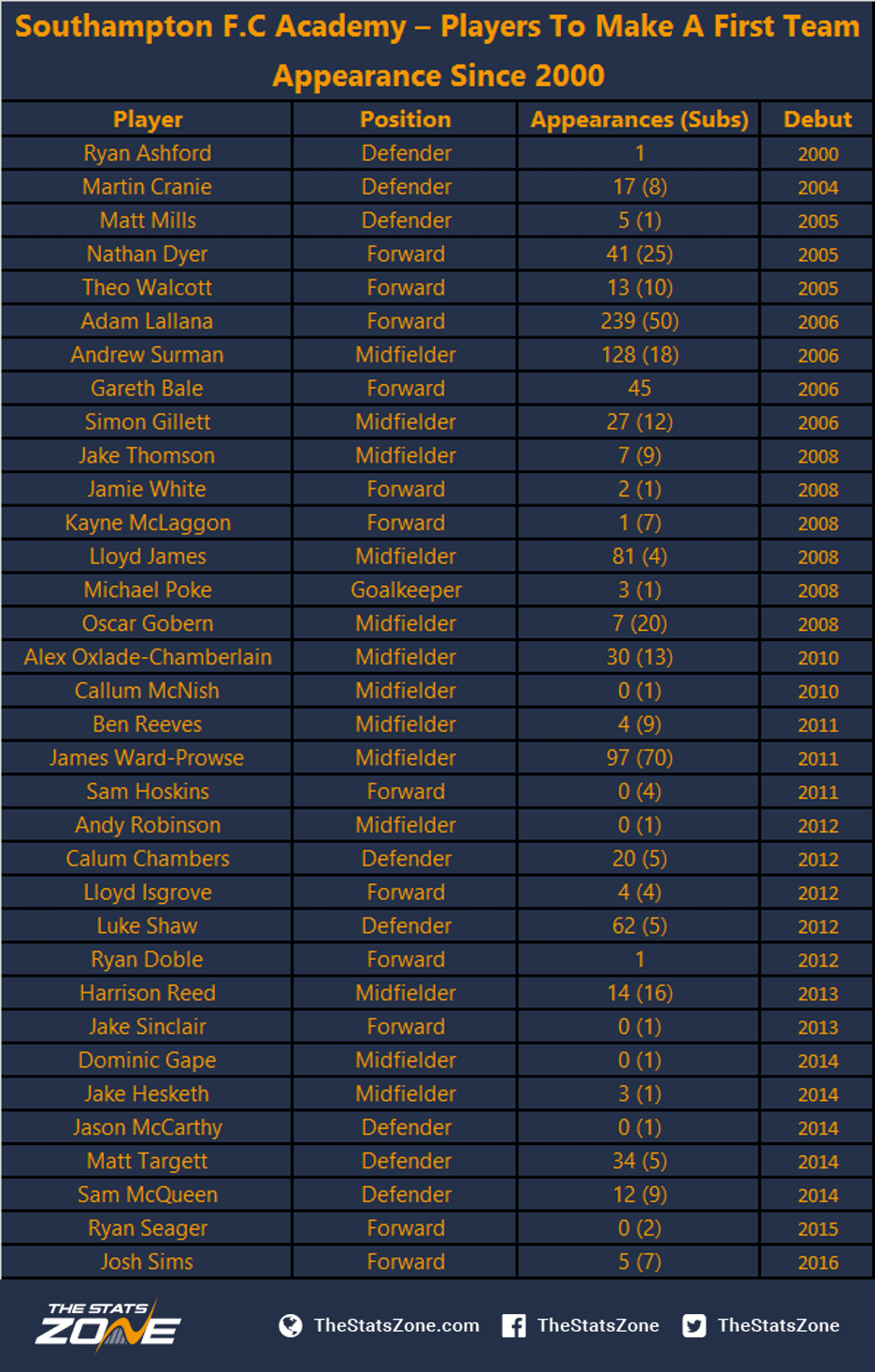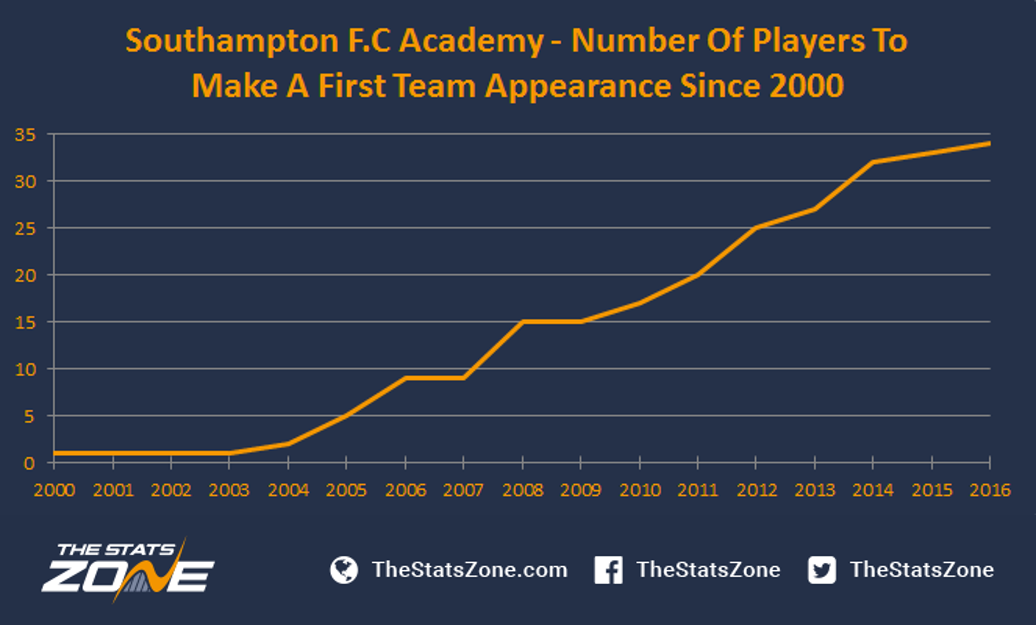 Since 2000, Southampton has produced 34 players who have made their first team breakthrough.
An impressive ten players who have made their debut since 2000 are still on the books at Southampton; those being James Ward-Prowse, Lloyd Isgrove, Harrison Reed, Dominic Gape, Jake Hesketh, Jason McCarthy, Matt Targett, Sam McQueen, Ryan Seager and Josh Sims.
Their most prolific year was during 2008 when they fielded six debutants. This coincided with their disastrous 2008/2009 season, when the bankrupt Saints were put into administration and relegated from the Championship to League One.
So what has been the most common position produced by Southampton since 2000?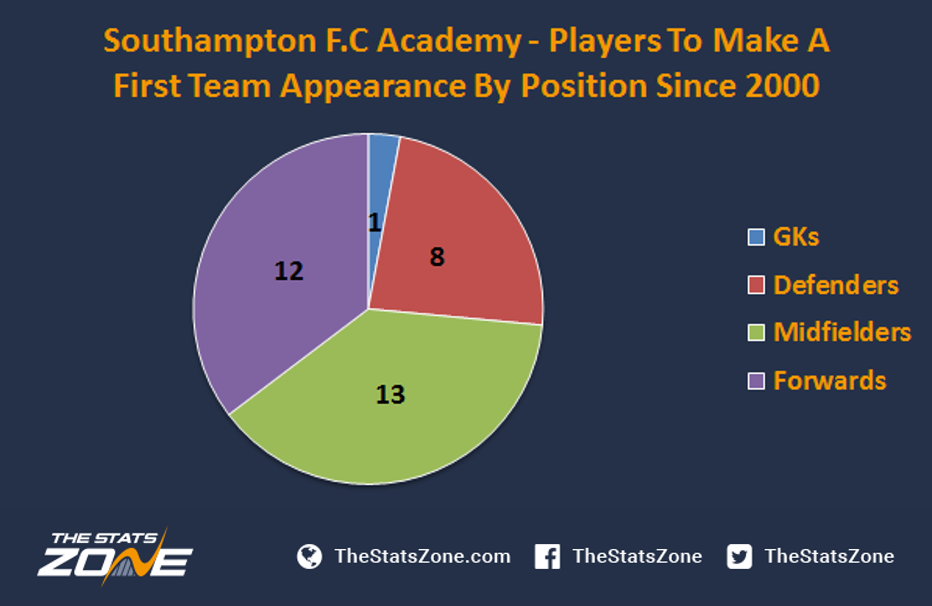 Midfielders have been the most common position produced by Southampton since 2000, closely followed by forwards.
Only one home-grown goalkeeper has made their first team breakthrough at the Saints.
Southampton returned to the Premier League in 2012 after impressive back-to-back promotions, but which competition have they most frequently chosen to blood their new academy talent?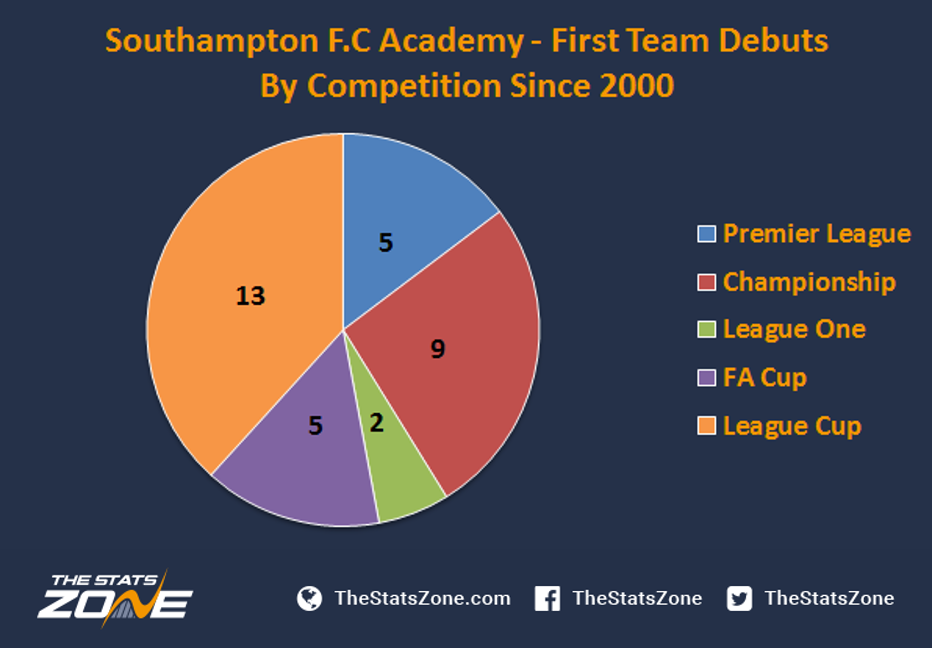 The League Cup has been the most frequent competition for Southampton to debut academy players.
16 out of the 34 players made their debuts in league competition, compared to 18 who debuted in cup competitions.
Every youth player dreams of one day stepping out of the shadows of the academy and cementing their place in the senior team. So, how many academy graduates went on to play a significant number of times for the Saints?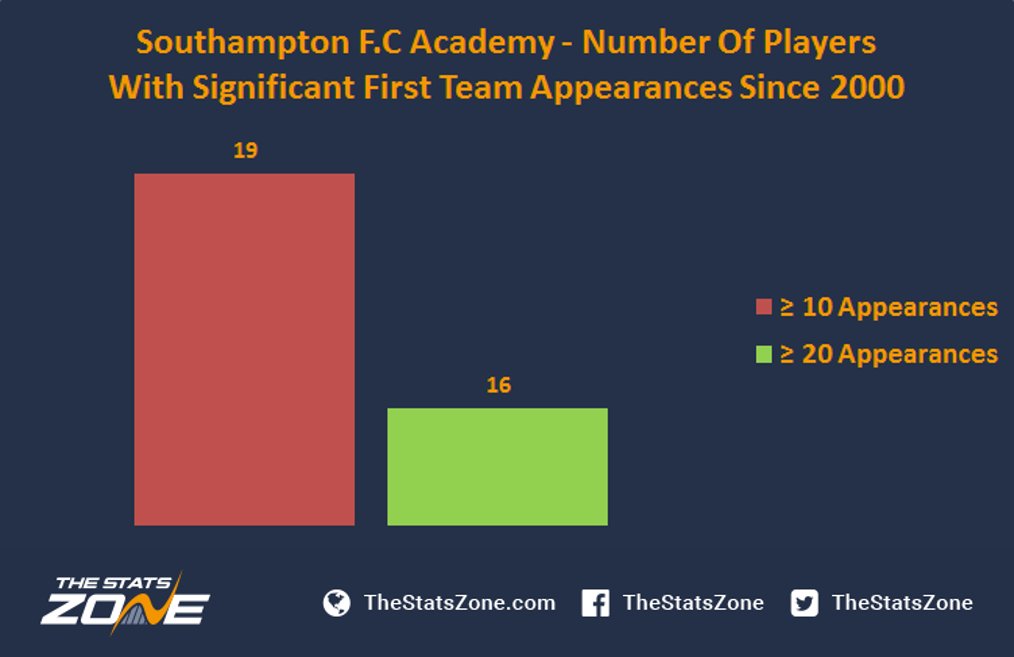 A very credible 19 (56%) academy graduates since 2000 have gone on to play 10 or more times for Southampton.
16 (47%) players have also gone on to make 20 or more appearances.
Out of the three players who did not make it to 20 or more appearances, only Josh Sims is still on the books at Southampton and could yet reach that milestone in the near future.
Now let's take a look at which academy graduates have gone on to represent Southampton the most times since 2000: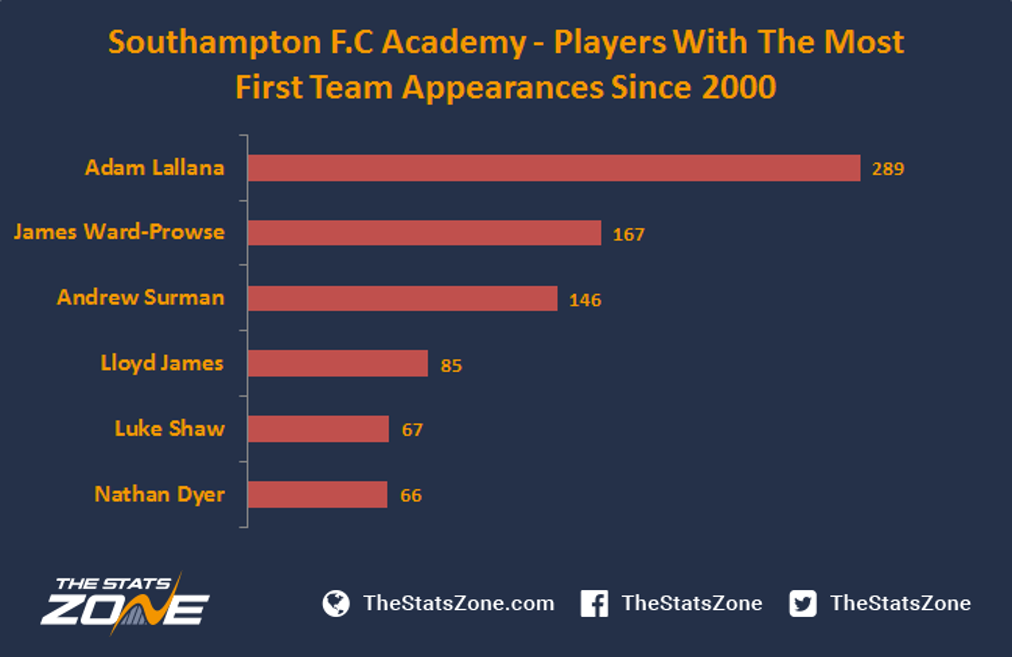 Ex-Southampton captain and current England international Adam Lallana leads the way with an impressive 289 appearances for the club.
Only James Ward-Prowse is still a Saints player.
Lloyd James is the only player not currently at a Premier League team.
So what about goals? Which academy graduates have the best scoring record since 2000?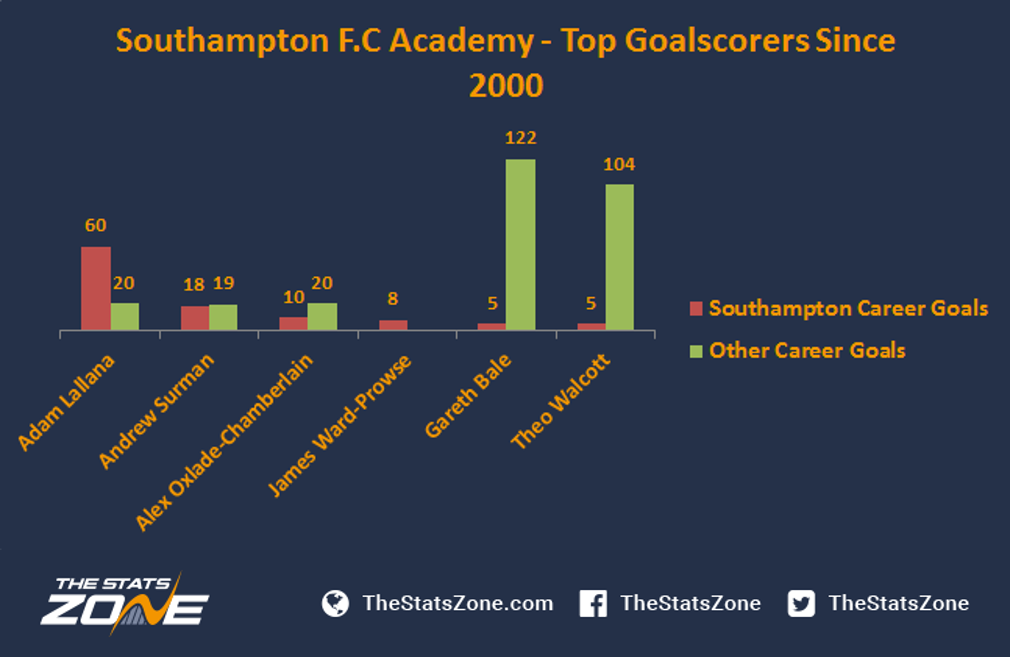 Once again, Adam Lallana tops the list with 60 career goals for the Saints.
Despite only scoring five goals each for Southampton during their short careers, Gareth Bale and Theo Walcott have amassed over 100 career goals each since leaving the south coast.
Four out of the 34 academy graduates have also scored at international level – Adam Lallana, Alex Oxlade-Chamberlain and Theo Walcott for England, and Gareth Bale for Wales.
In recent years, Southampton have arguably fallen victim of their own success, being the envy of many teams in the Premier League and receiving a barrage of bids for their players on a yearly basis. Since 2000, how much profit has the Southampton academy made?

Southampton have received a staggering amount of money since 2000 for their academy stars – including transfers for Luke Shaw (£31m), Adam Lallana (£26m) and Calum Chambers (£17m).
Gareth Bale's world record transfer of £85m to Real Madrid in 2013 makes up the majority of future transfer fees.
However, not all big money transfers are considered a success. Which players have forged respectable careers in the Premier League since leaving St Mary's behind them?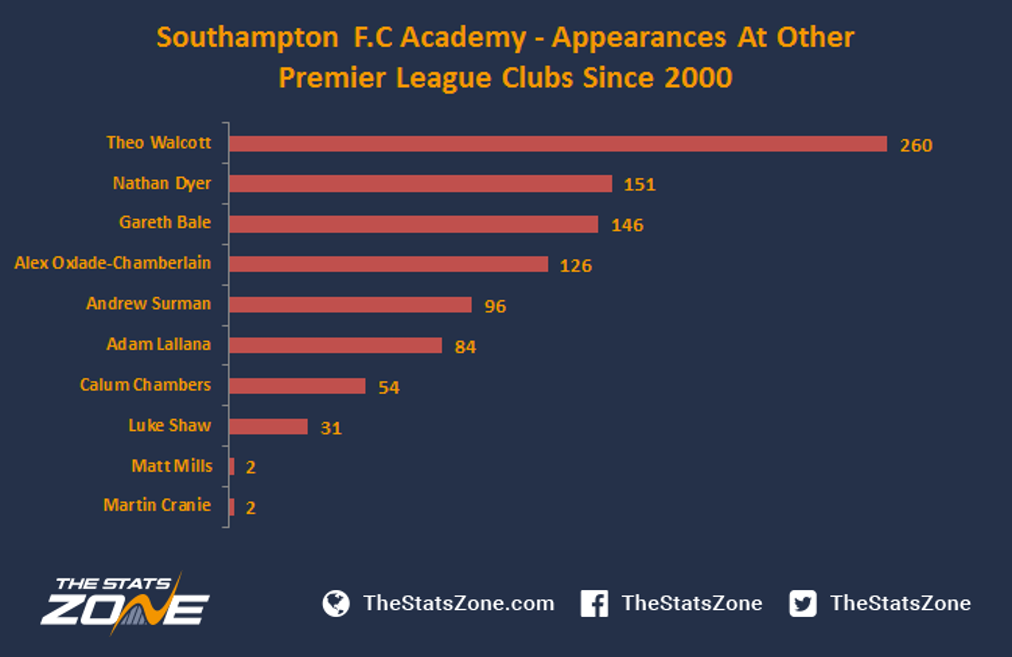 Theo Walcott has notched up an impressive 260 Premier League appearances since leaving Southampton.
Only Matt Mills and Martin Cranie are not still currently playing in a top European league.
10 players out of the 34 graduates have also been capped at international level – James Ward-Prowse, Theo Walcott, Alex Oxlade-Chamberlain, Adam Lallana, Calum Chambers and Luke Shaw for England, Ben Reeves for Northern Ireland, Jake Thomson for Trinidad & Tobago, and Gareth Bale and Lloyd Isgrove for Wales.
Although many players do not make the grade at the top level, Southampton's academy has still succeeded in producing professional footballers who have enjoyed lengthy stints throughout the Football League:
Matt Mills has been a solid defender at Championship level throughout his career and has notched up 340 appearances in the Football League.
Sam Hoskins only made four substitute appearances during his time with Southampton but has gone to make over 100 appearances in the Football League.
Despite the continued sales of the Saints' best young home-grown talent, the south coast club have cemented themselves as consistent Premier league performers. Whilst fans may get frustrated at the player poaching by the elite teams in the division, Southampton's academy continues to produce top talent that creates a sustainable and effective business model, providing a welcome lifeline in a hostile and cutthroat business. With all the money and flamboyancy in the modern game, who would have guessed that a club that started in a local church would go on to produce the world's most expensive player (at the time), and numerous England international stars? Who knows if Southampton's academy can continue to thrive in years to come, but in a game dominated by financial power, clubs could learn a great deal from following Southampton's fine example.
For similar analysis on Everton, Liverpool and Manchester United, visit the following links:
Everton - http://www.thestatszone.com/ar...
Liverpool - http://www.thestatszone.com/ar...
Manchester United - http://www.thestatszone.com/ar...