According to the great American golfer Jonny Miller, on paper Europe has one of the worst teams they have had in years and as a result, Team USA will comfortably win the 2016 contest at Hazeltine. With the USA being such heavy favourites with many and the Europeans being almost overlooked, here at The Stats Zone we take a closer look at individual records and experience during past Ryder Cups, and the form the players are bringing to this year's match.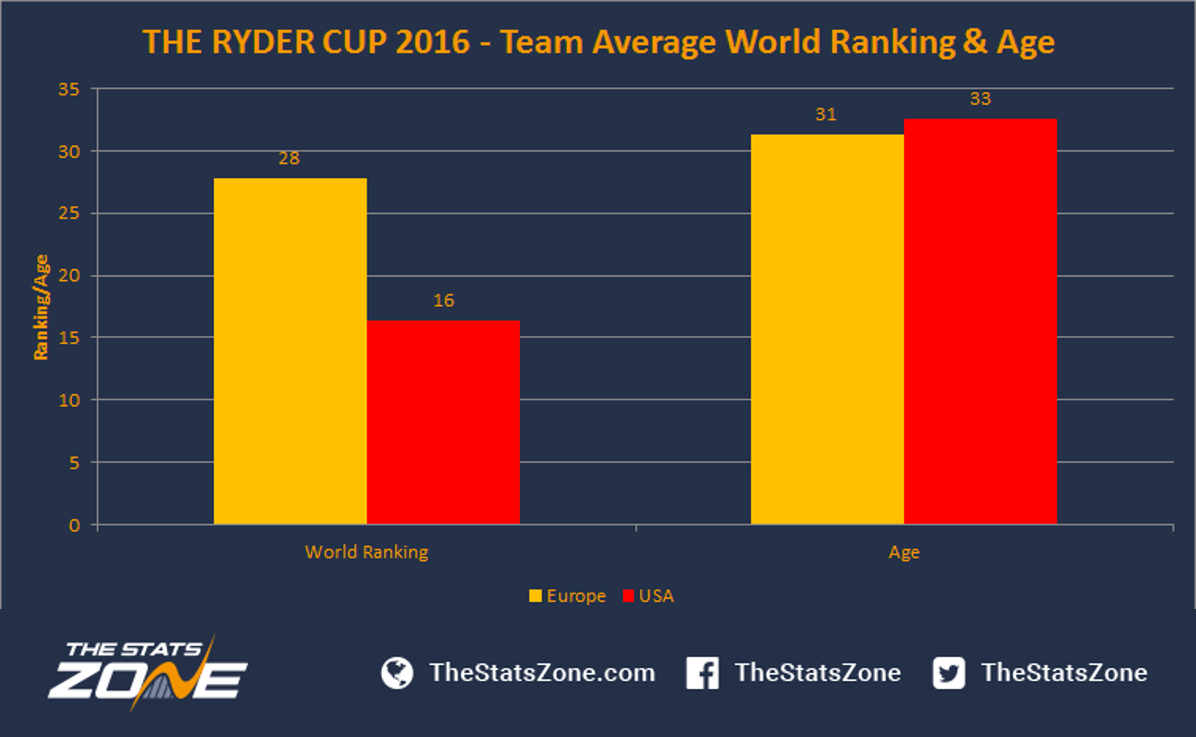 With six rookies in Team Europe compared to only two in Team USA, the lack of experience from previous Ryder Cups is being branded as the determining factor for the outcome. However, on average Team Europe is two years younger (31) compared to Team USA (33), with a strong combination of experience at the highest level and extremely talented youngsters to complement each other. Nevertheless, the USA team is strong throughout, with an average world ranking of 16th compared to Europe's 28th.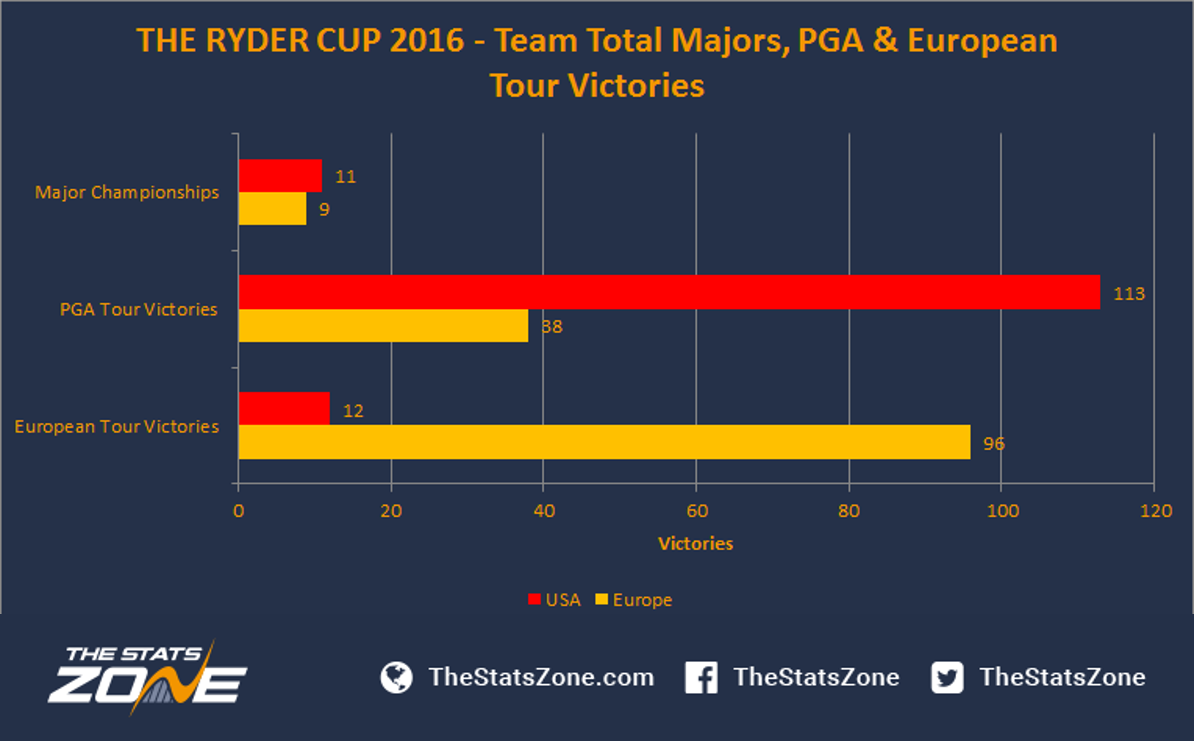 The capacity to win on tour is the strongest sign of ability and nerve at the uppermost level, something the Ryder Cup requires to the maximum. The six European rookies all predominantly play their golf on the European Tour, as is the case with the USA team and the PGA Tour.
The USA lead the way in terms of major champions (11), with six different winners compared to Europe's nine and five separate winners, suggesting there is little to choose between the highest skilled players on each team. Team Europe have amassed 95 European Tour victories as well as an impressive 38 PGA Tour wins, totalling 134. Whereas Team USA have collected 113 PGA Tour victories but just 12 European wins, totalling 125. Although it is fair to suggest many of the American players rarely play in Europe and the quality of fields are normally lower, it is also argued that players such as Fitzpatrick, Sullivan and Pieters are in the early stages of their professional careers and yet already have multiple victories, each proving their aptitude and nerve at the highest level.
Team USA naturally have more experience which is mainly due to age, but suggesting the Europeans are weaker due to the number of rookies is an unfair observation and could prove to be team USA's undoing if such a mentality is assumed at Hazeltine.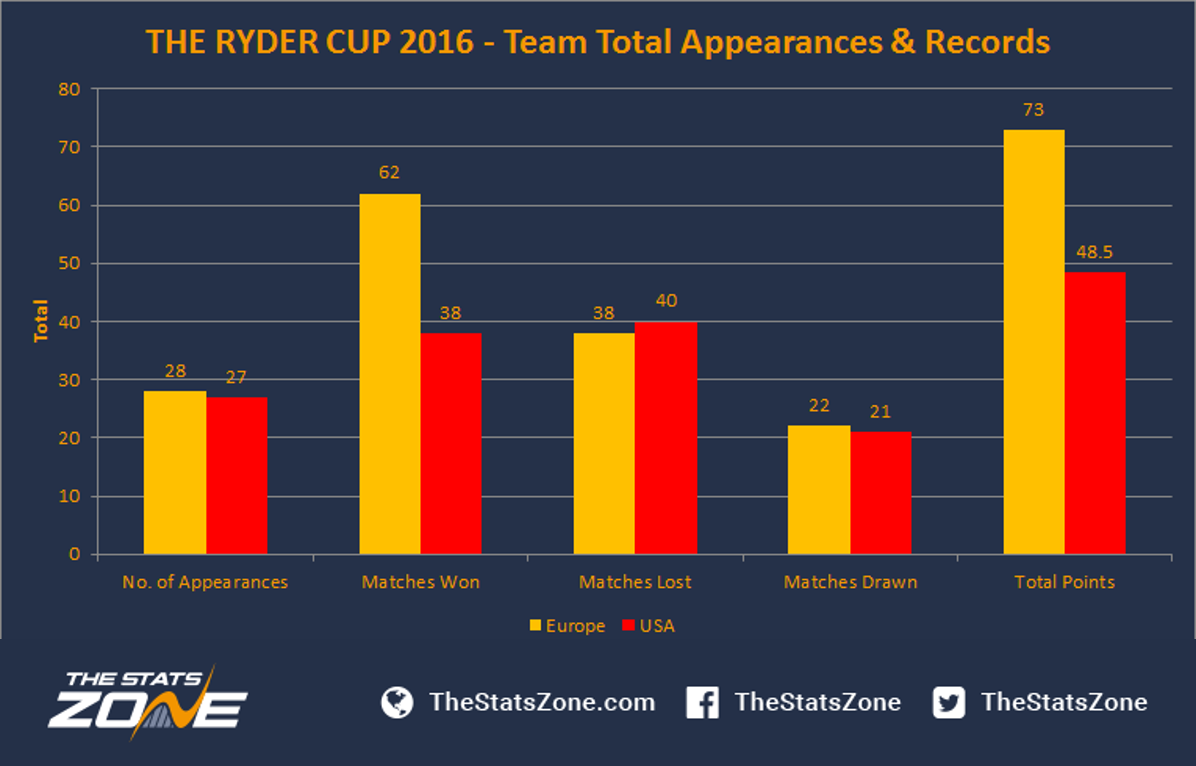 Although the Americans have more experience in terms of individuals, collectively as teams Europe have more appearances (28) then the USA (27). With half of Europe's team having never played a Ryder Cup before, the statistics are quite staggering. Of Europe's six players against USA's ten, Europe have outplayed them by a mammoth 73 points to 48.5. The experience and confidence gained against the negative involvements of the Americans could be a vital factor yet again.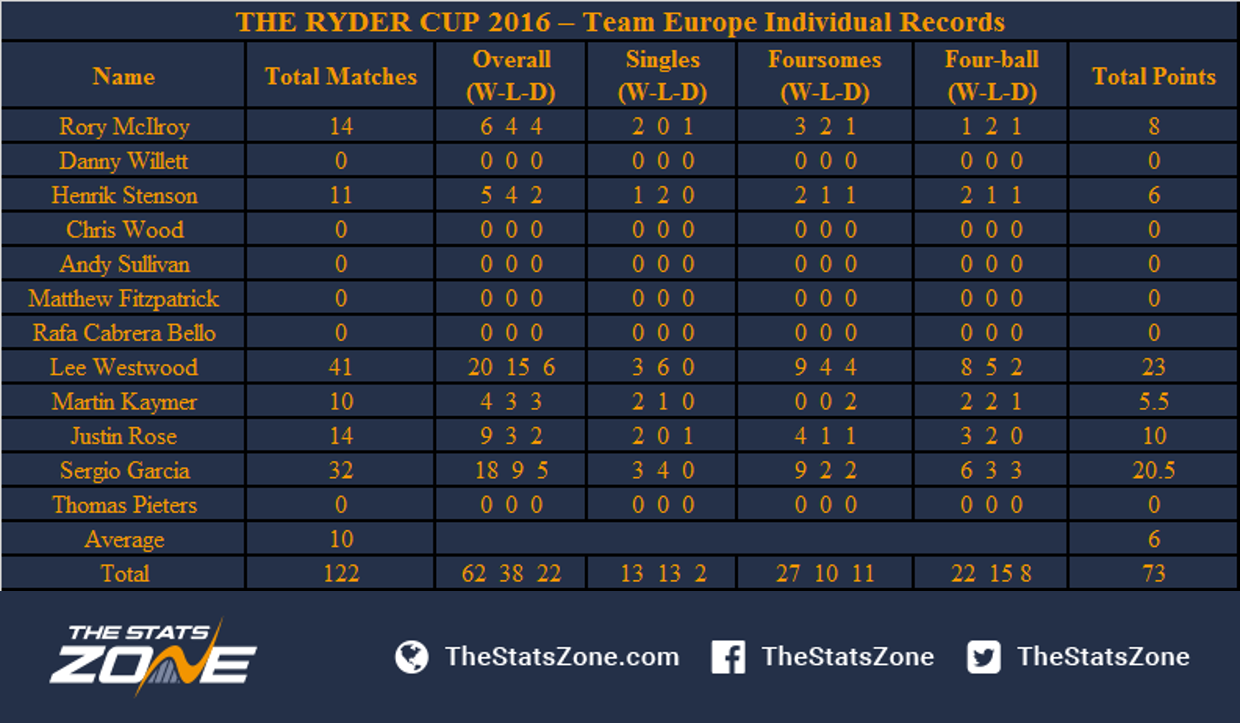 As mentioned previously, the Europeans have two of the most experienced and greatest players in Ryder Cup history in Lee Westwood (23 points) and Sergio Garcia (20.5 points). McIlroy, Stenson, Rose and Kaymer all have strong records and will be classed as the senior members of the team, recording a total of 27.5 points from just 49 matches. Additionally, these players have performed strongly in the foursomes and four-ball format; however, the singles is an area of concern with only 13 wins from 28 matches.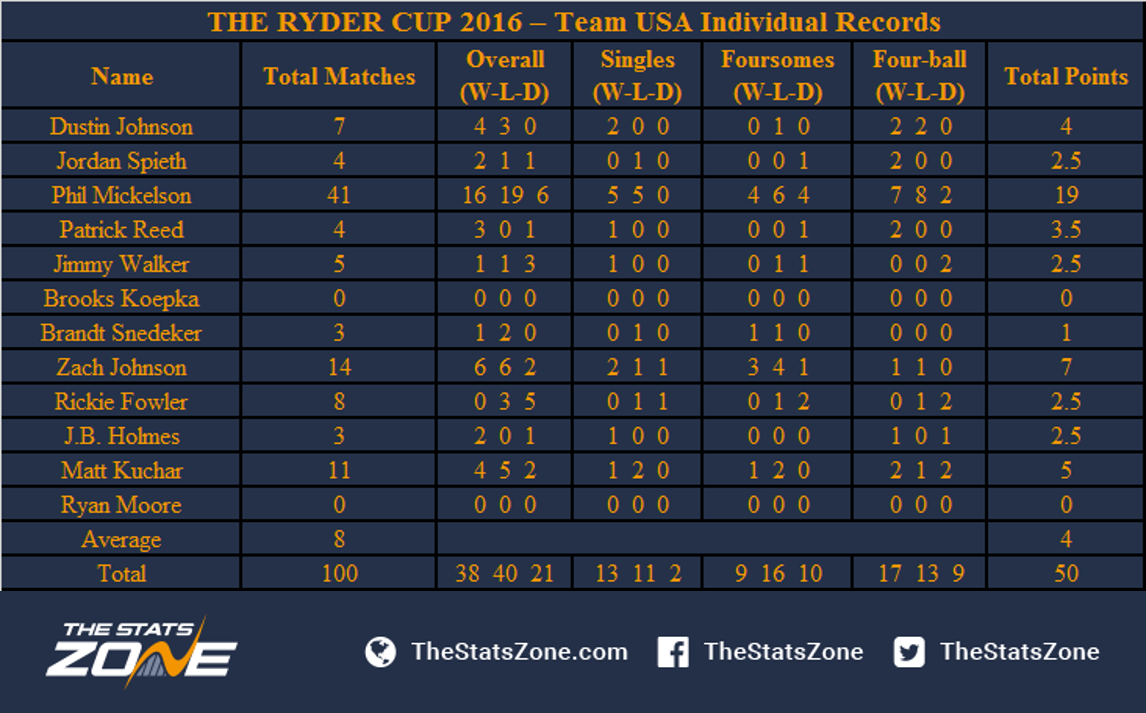 Notably, Team Europe have participated in 22 (122) extra Ryder Cup matches of the six eligible players than the USA's ten entitled players (100), further highlighting the gulf in experience between the two teams. Mickelson is the most senior and experienced but has a modest record for a player of his calibre, only recording 19 points from his 41 matches. Fowler has participated in the third highest number of matches in the current team but has significantly never won any of those, and with his form dipping throughout the season and having to rely on a wildcard pick, a player world ranked at nine could not be as much of a key performer as may be thought. Nevertheless, Dustin and Zach Johnson, Spieth, Reed, Walker, Snedeker, Kuchar and Holmes are some of the biggest players in the current game, and have all experienced at least one Ryder Cup each with a total of 27 points between them from just 51 matches, making their role in the team potentially the difference.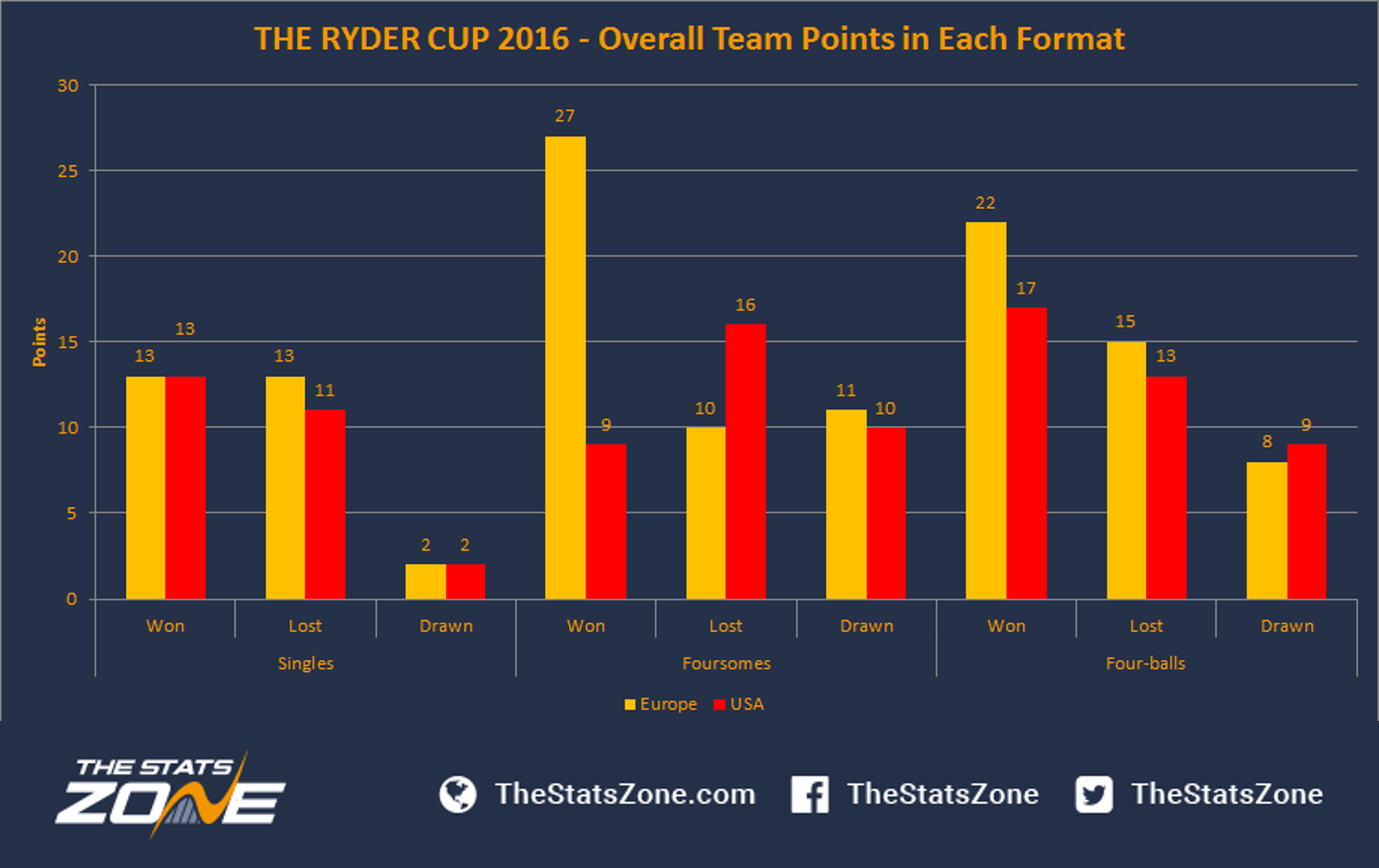 Team Europe have been publicised as having greater team spirit than the USA, with it being one of the biggest factors in Europe winning nine of the last 11 editions. This is further highlighted in the superiority in the foursomes, with Europe claiming 27 wins and 11 draws compared to the USA recording just nine wins and 10 draws. Furthermore, Europe have been better – although not as dominant – in the four-balls, claiming 22 wins and eight draws against 17 wins and nine draws. However, the singles matches have been an even contest, with 13 wins and two draws a piece.
Captain Clarke will have some easy decisions when choosing foursome and four-ball pairings, however with the six rookies in the team, new pairings must be made and with no history to go from, the team chemistry and compliment of skills will be the hardest toughest aspect to get right. Consequently, Team USA will have a clearer idea of which pairings simply do not work, making Captain Love's decisions overall potentially easier. What's more, with the Presidents Cup to use as a further indicator, the formats Europe have traditionally been stronger in could be about to change.
In order of world ranking from highest to lowest, each individual member of their respective team's last four tournament positions were averaged to gauge their current form heading to Hazeltine.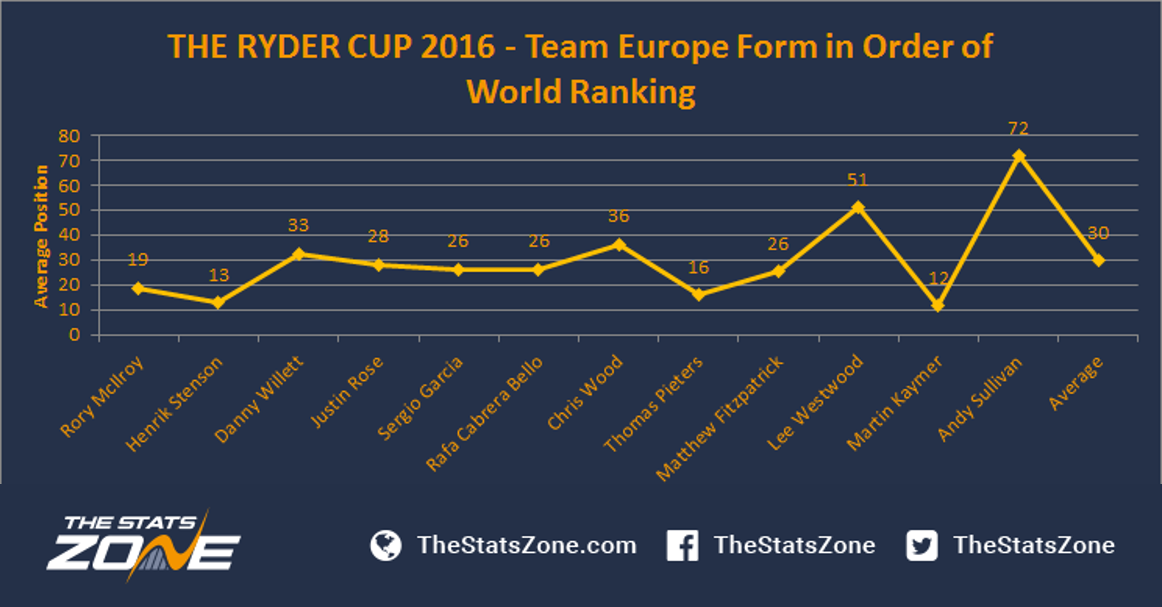 Pieters (16th) and Kaymer (12th) have showed the right form at just the correct time to deservedly justify their captain picks. However, Westwood's form has dipped towards the end of the season (51st) after playing consistent golf during the start and middle part of the year, with strong finishes in majors. His record in the Ryder Cup makes him impossible to overlook though, and he could become Europe's most successful player by overtaking Sir Nick Faldo with a successful showing at Hazeltine. On the other hand, with his form decreasing and him entering the twilight years of his career, this could be his final showing and it would be a shame for him to go out on a low note.
Excluding McIlroy's two victories in his last three starts, the remainder of the team's form has been steady. Stenson had to pull out of an event during the FedExCup Playoffs due to a reoccurring knee injury, and it remains to be seen how his health will hold up over the three days. Willett's game has naturally dropped since his Masters triumphant, with Rose and Garcia both having quiet seasons by their standards. There is enough in the European team to cause an upset at Hazeltine; nonetheless, this would require a colossal effort from every individual. Ultimately, no one knows how they will fare on the biggest stage under the highest of pressures, something five of them are yet to experience at any point during their careers.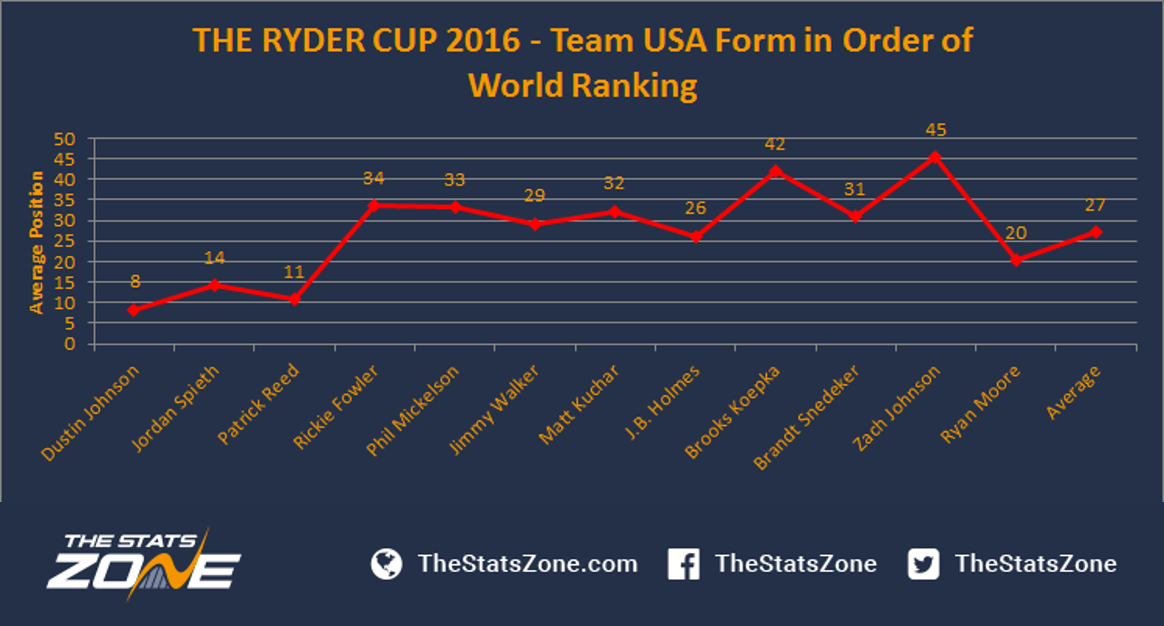 On average, the American team places just three positions higher (27) than the Europeans (30), but with all of them competing in the FedExCup Playoffs against the strongest fields of the season, this is perhaps misleading. D. Johnson and Reed claimed two of the four playoff events, with 10 of the 12 members competing in the 30 man Tour Championship field. This however could be detrimental to Team USA, as the majority of the team will have had less rest and time to prepare and gel as a group unlike the Europeans, where many have had at least a week to prepare.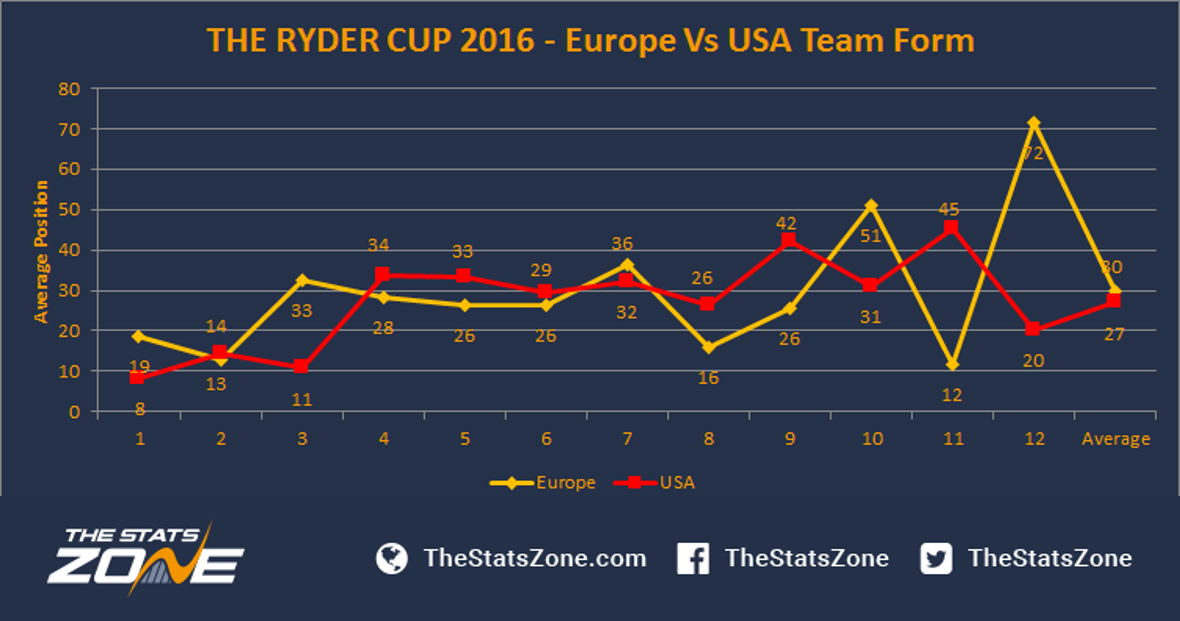 As Jonny Miller suggested, on paper this year's Ryder Cup is a forgone conclusion in favour of Team USA. Nevertheless, similar comments have been made in previous years and with only two victories from the last 11, it would be foolish of the Americans to think that this will be the case. In reality, both teams are more evenly matched in terms of experience, past records and form and it could yet again come down to the final few single matches on Sunday afternoon.