Football fans have dedicated countless hours over the years debating the age old question as to who is the greatest player ever to have played the beautiful game. In amongst these debates – which span across the generations – many names are bandied about but the usual characters such as Pelé, Diego Maradona, Lionel Messi and Cristiano Ronaldo are repeated time and time again. One man who perhaps doesn't feature as prominently is the Bayern Munich great Gerd Müller, whose astonishing scoring feats are sometimes seemingly overlooked when the greatest player of all time is discussed. But is this omission unfair when his record is considered against those other players who consistently appear in lists and discussions the world over? We decided to compare and contrast Müller's record against a select group of all-time greats to see whether in reality he should at the very least feature more highly in people's thoughts, and perhaps even stake a claim to be considered the greatest.
In order to make the assessment fairer, we decided to limit the comparison to those players who could be termed "attackers". In this respect, legends of the game who primarily played in midfield such as Bobby Charlton, Zinedine Zidane and Xavi Hernandez are not considered. We also decided to limit the study to those players who have played in the last 50 years, so historic attacking greats such as Arthur Friedenreich, Josef Bican, Ferenc Puskás, and Alfredo Di Stéfano are also excluded. As such, the players we decided to compare Müller against were:
Cristiano Ronaldo
Lionel Messi
Diego Maradona
Pelé
Ronaldo Luís Nazário de Lima (Ronaldo)
Eusébio
Johan Cruyff
Total Club Goals
We began by examining the total number of goals scored by our legends throughout their careers. Whilst sheer volume of goals alone is not necessarily determinative when analysing who is the greatest, it certainly stands as an interesting point of comparison to see where Müller stands in this regard against such exalted company. It should be noted that considerable discrepancies exist in the records of some of our players, particularly those who played a number of years ago. In particular, players such as Pelé and Müller played numerous "unofficial", "friendly" and "exhibition" games which are sometimes counted in their cumulative goal tallies. For instance, Pelé is widely stated to have scored 1281 goals in 1363 games (including internationals) which includes all manner of fixtures against various assorted "teams", but for the purposes of our assessment we have only included first team goals scored in official club fixtures. In this regard, Lionel Messi's brief spell in the Barcelona C and B teams along with Cristiano Ronaldo's even briefer spell at Sporting Lisbon B are included as these teams take part in official fixtures within their respective countries' league structures.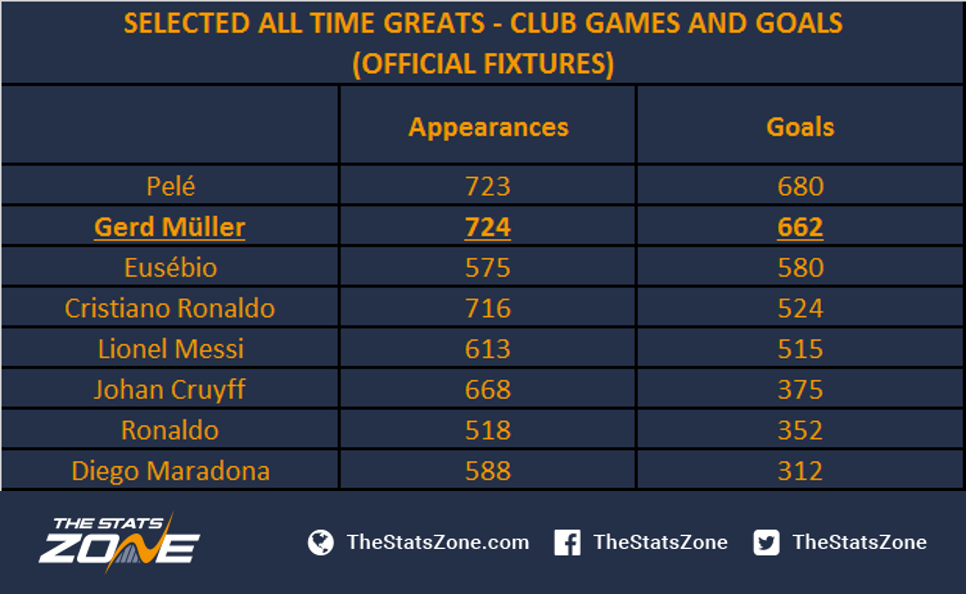 When looking at the number of career club goals, it is immediately apparent that Müller's record demands respect even when compared to the most prolific goalscorers in history. Indeed, he is second only to the great Pelé and has scored more than double the amount of club goals scored by Diego Maradona. Given that the vast majority of Müller's goals were scored in Europe where the standard of football was generally considered to be higher than domestic football in Pelé's native Brazil, then this record is all the more impressive. Of course, given their outrageous scoring feats in recent years, then it is perhaps likely that Lionel Messi and Cristiano Ronaldo may usurp Müller (and Pelé) in the coming years, but for now, a close second behind Pelé marks a very strong showing for the German in this comparison.
Goals per Game
Having considered the sheer number of goals scored by each legend of the game, we then moved on to examine their goals per game ratio. Clearly this will help level the playing field for the likes of the Brazilian Ronaldo, whose career was blighted by injury and therefore will not have played as many games as some of the other players.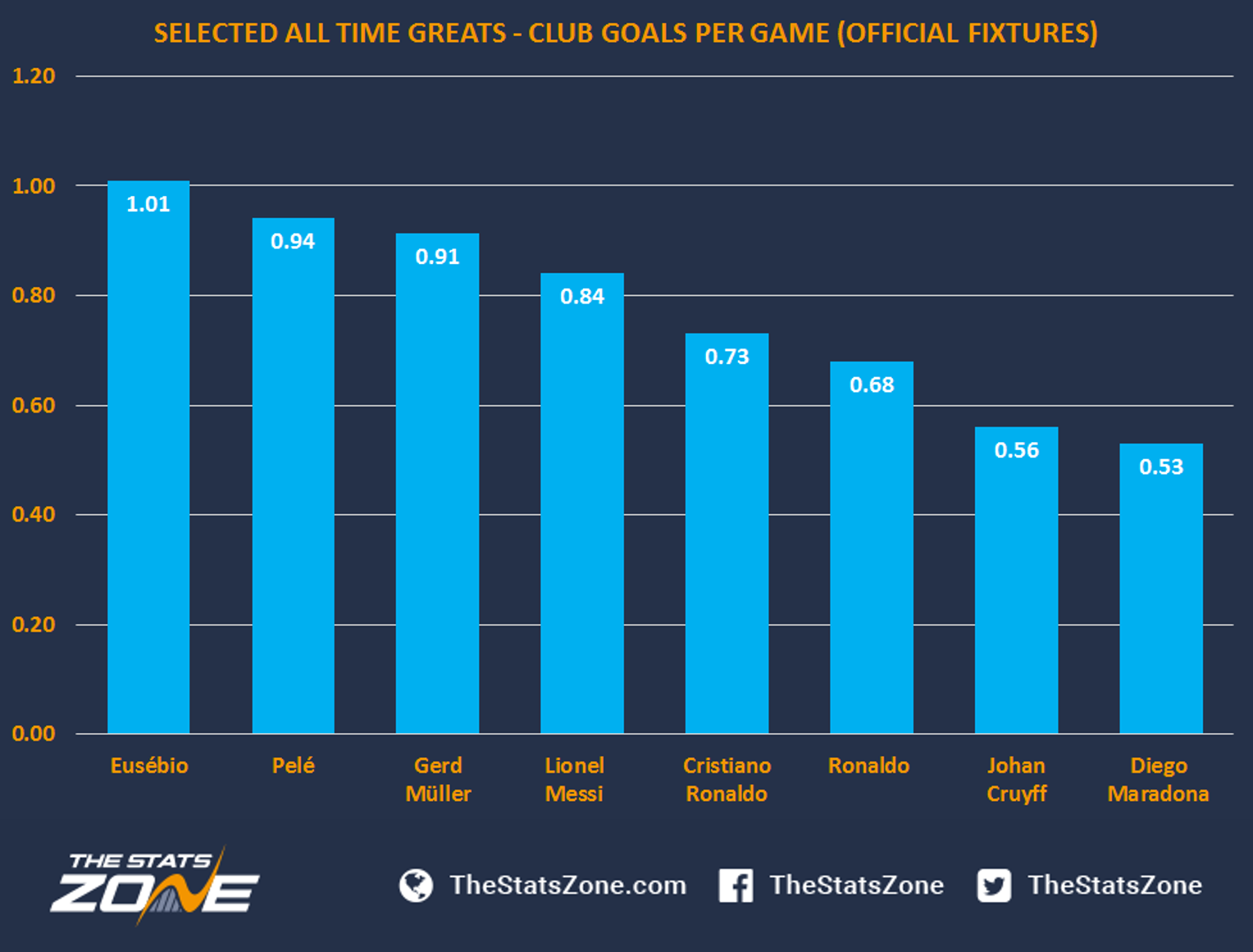 In this analysis, Müller again fares very well, with an outstanding ratio of 0.91 goals per game, putting him in third place amongst our chosen players. His record is all the more impressive when it is considered that he scored 0.18 goals per game more than Cristiano Ronaldo currently has, and 0.07 goals per game more than Lionel Messi currently has, two players whose scoring records are (rightly) deemed extraordinary. Of course, both of these players' records are influenced by – relatively – slow starts, particularly in the case of Cristiano Ronaldo whose career began very much as a flying winger rather than as an out-and-out goalscorer. However, over the course of a long club career, Müller will also have had to deal with challenges including attempting to establish himself in the Bayern Munich team and therefore there is no doubt his final goals per game record is incredibly impressive. It is also worth noting Eusébio's record, with the "Black Panther" averaging more than a goal per game over a 575 game club career. Given the general wisdom that a goal every other game is a more than decent record for an attacker, this record shows just how potent the Portuguese legend really was.
Goal Record at One Club
Having looked at each player's overall record, we then examined their record during their spell at the club for which they scored the most goals. After all, whilst some may argue that succeeding across different leagues or for different clubs is a sign of a truly great player, it is also the case that many players' legendary status is really cemented owing to their spell at one club in particular. Indeed, some players become so great that the club itself becomes synonymous with the player, rather than the other way around. For instance, think Ajax, and Johan Cruyff follows almost immediately thereafter. The same applies to Santos and Pelé, and Benfica and Eusébio.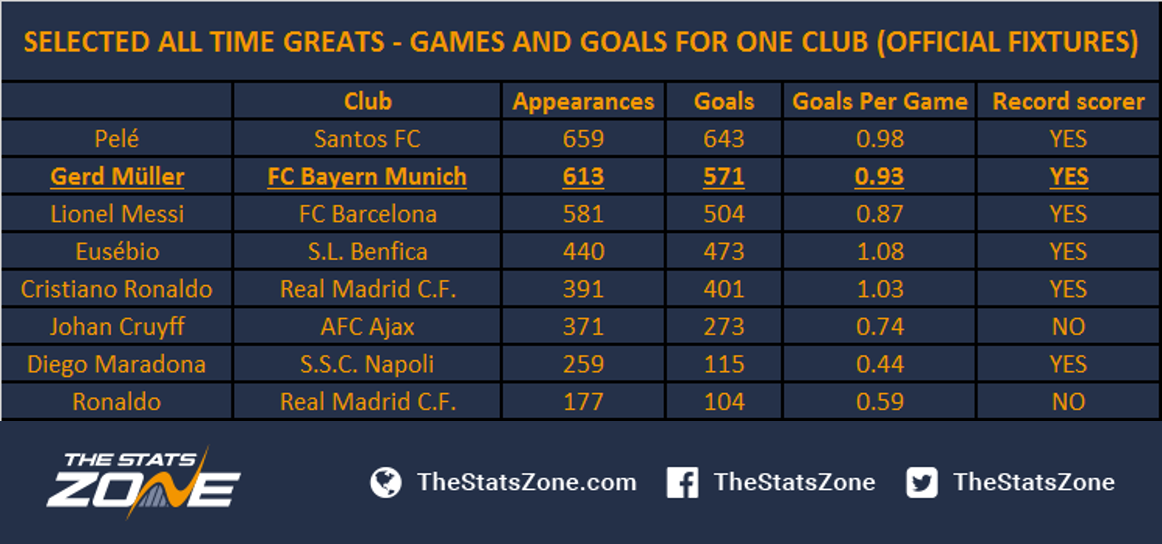 The first noticeable point is that all the players apart from Johan Cruyff and the Brazilian Ronaldo are the record all-time goalscorers at a club, and in Cruyff's case he is an agonisingly close second behind the prolific Piet van Reenen. As for Müller, all but 91 of his goals were scored for the German giant Bayern Munich, with the other goals coming at the beginning and end of his career in spells at TSV 1861 Nördlingen and Fort Lauderdale Strikers respectively. Again, he is second only to Pelé who scored 643 goals for Santos before also finishing his career in the North American Soccer League. Müller's goal per game ratio during his spell with Bayern is marginally better than his career rate, with 0.93 goals per game as opposed to 0.91. Again, given the quality of the opposition in the Bundesliga and European competition, this rate is remarkable.
Other than Pelé, Müller's record for Bayern is better than the other legends except the Portuguese pair of Eusébio and Cristiano Ronaldo, who both average more than a goal per game for Benfica and Real Madrid respectively. When these figures are compared against the Brazilian Ronaldo, whose 104 goals came at an average of 0.59 goals per game during his spell at Real Madrid, the magnitude of these performances is put into some perspective. The lowest goals per game ratio in this comparison is Diego Maradona's 0.44 during his spell at Napoli, and it appears that his reign as Napoli's record goalscorer is shortly to end with Marek Hamšík only three goals behind and poised to overtake him either in the remaining two games of this season, or next season should he remain at the club. Of course, the god-like status Maradona still enjoys amongst Napoli fans shows that when judging a player – and his impact on a club – goals are not the only currency that counts.
Trophies
With this in mind, we then moved on to look at each player's trophy count, to see how Müller compares in terms of his contribution to trophy winning teams. After all, most players' legendary status is developed not only by volume of goals, but being part of – and contributing to – trophy winning sides.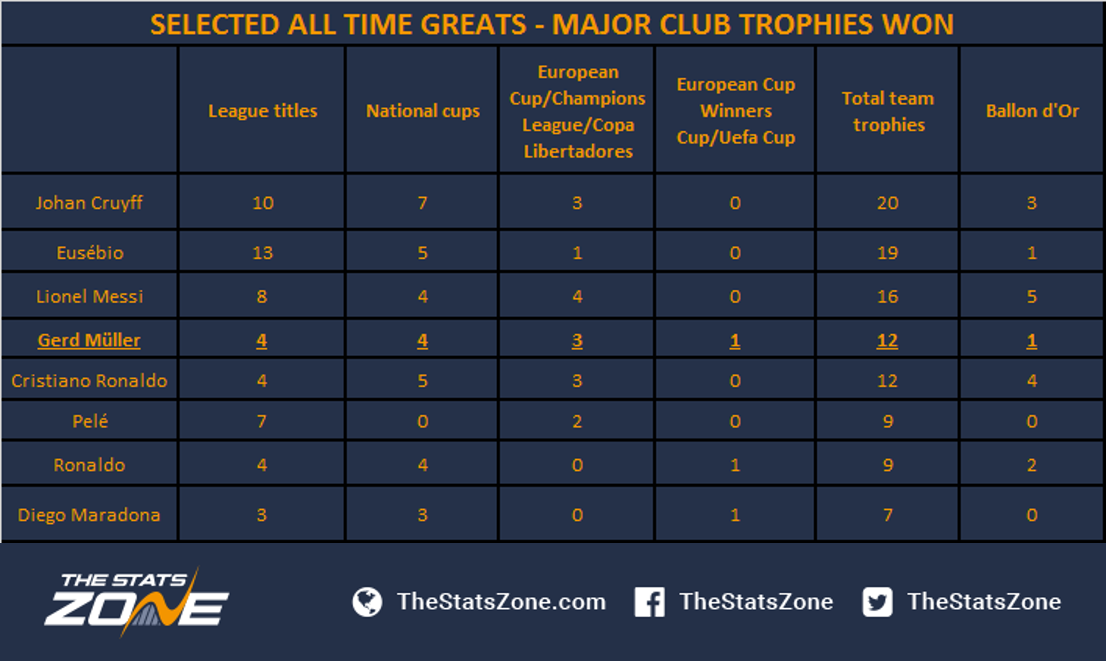 In terms of trophies won, unsurprisingly it is Müller's spell at Bayern which provides all of his triumphs and in this respect he fares well, with his 12 major trophies putting him fourth on our list. This tally includes three European Cup wins which is bettered only by Lionel Messi's tally of four. Johan Cruyff who leads the way in terms of total trophy haul, with his role in the Ajax total football revolution in the 1970's helping to swell his trophy count to 20, which also includes title triumphs at both Barcelona and Feyenoord. Again, it is Diego Maradona who is at the bottom of our list of legends but in this case, the statistics perhaps don't tell the full story, with his two title triumphs at Napoli causing a seismic shock within the Italian football landscape at the time, given it was the first time a team from the south of Italy had won Serie A.
In terms of individual honours, Müller falls some way short of Lionel Messi and Cristiano Ronaldo, who have won five and four Ballon d'Or crowns respectively against Müller's one triumph in 1970. It must be said that the comparison in this regard is unfair on the South American greats Pelé and Maradona, given the prize could not be won by non-Europeans until 1995. In this respect it is worth noting that in 2016, France Football re-evaluated the awards presented before 1995 to include South American players, and although the original recipients remain unchanged, it was deemed that had the eligibility criteria been different, Pelé would have triumphed on no fewer than seven occasions and Maradona two. Both have also been awarded an honorary Ballon d'Or for their services to football.
International Record
We then moved on to examine how Gerd Müller's international record compared to the other legends of the game. After all, when considering a footballer's rightful place in history, how they have fared for their countries will feature prominently in people's minds. This is especially true for some of the older players in our comparison as footage, and indeed knowledge, of their performances in their domestic competitions will have been much more limited than today where football from around the globe is so readily available. In a similar vein to our analysis of their records in club football, we looked at both the total number of goals each player has scored as well as looking at their goals per game ratio.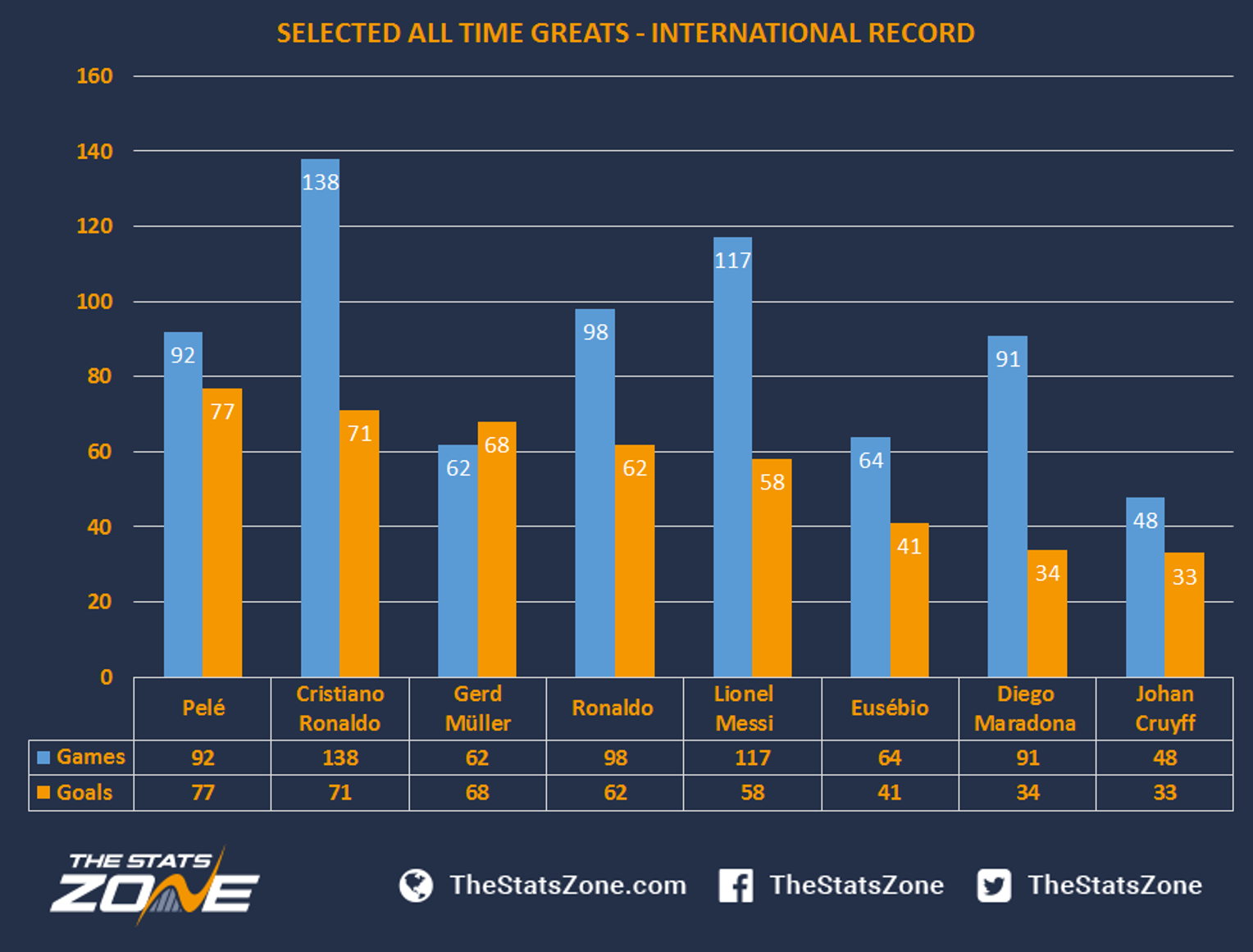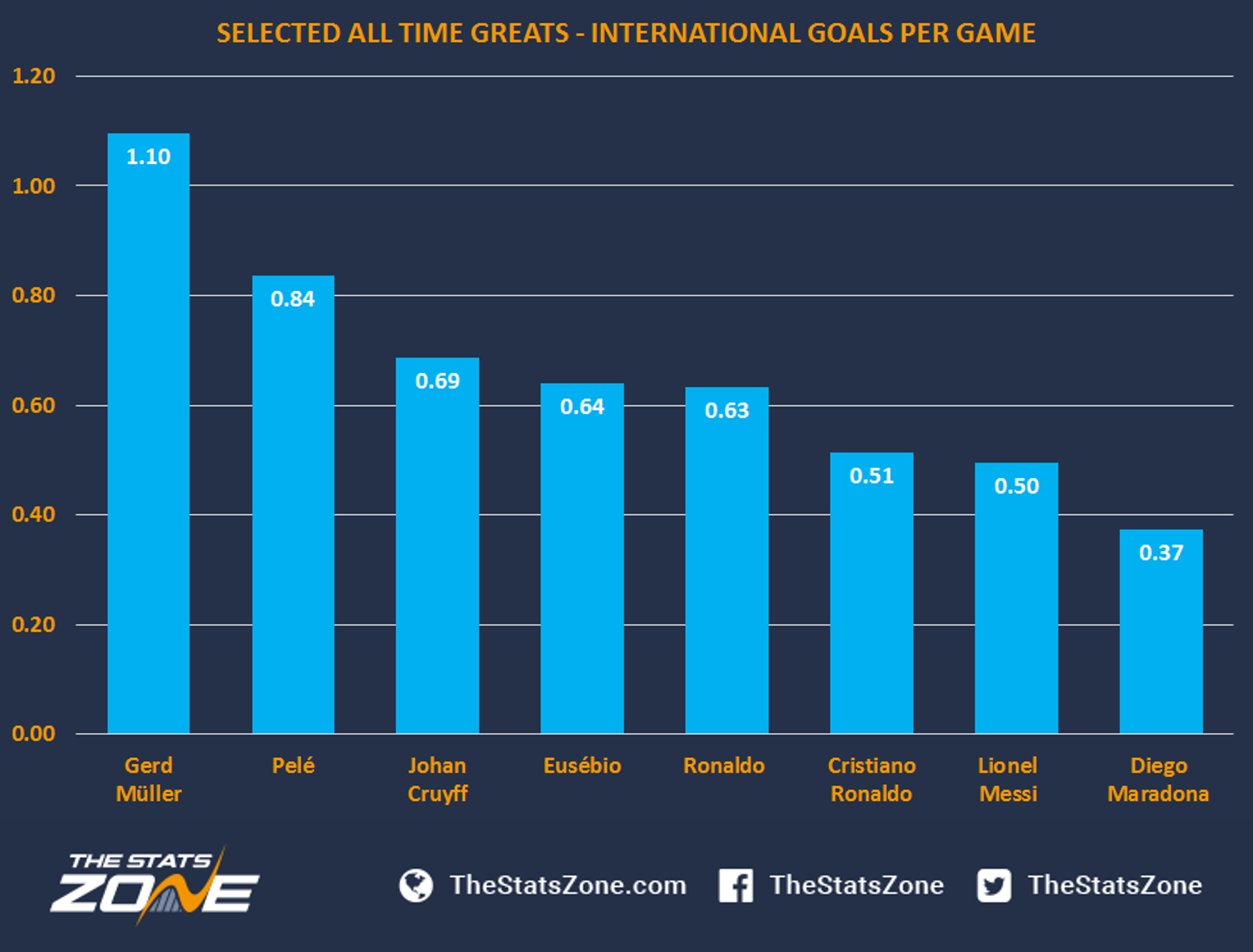 It is clear that in terms of performance on the international stage, Müller really does stand out even amongst these legends of the game. He is third on our list in terms of goals scored behind only Pelé and Cristiano Ronaldo, having notched 68 times for Germany, including 10 at the 1970 World Cup and the winning goal in the 1974 World Cup final. His goals per game ratio is even better, and he is the only man on our list to have scored more than a goal per game in international football. Indeed, his ratio is 26.80% better than his nearest challenger Pelé and almost three times as high as Diego Maradona's international scoring record. Even taking into account the fact he was playing in a very impressive German side, this record is truly remarkable. Indeed, it is quite possible that if he hadn't retired from international football somewhat abruptly following the 1974 World Cup win aged just 28, then his record in this regard may have been even more eye-wateringly impressive.
Conclusion
It is clear from the statistics that Gerd Müller's record stands up to scrutiny against the other legends in our comparison. His goal stats – particularly at international level – are incredible, and if it wasn't for the recent exploits of Cristiano Ronaldo and Lionel Messi, such numbers may seem almost impossible to modern audiences.
However, greatness, certainly when attempting to pinpoint the greatest player of all time, cannot be based on statistics alone. The way a player plays the game, their ability to make the impossible possible, and the way they can lift a team beyond the sum of its parts all contribute to the subjective assessment that people make of a player. In this sense, others on our list seem to invoke more nostalgia, romanticism, or awe-inspired wonder than Müller. To many Napoli and Argentina fans - despite his failings and the fact the statistics do not place him in the same league as some of the other players in our comparison – Diego Maradona will forever will be the greatest for his achievements and the way he dragged both teams to unlikely triumphs. Similarly, many who saw the Brazilian Ronaldo run from the half-way line to score for Barcelona against SD Compostela in 1996 cannot believe there has been a better player in history and would argue that if it wasn't for injuries, he may well have topped the goal scoring lists as well. Similar arguments can be made for all the players on our list, from Johan Cruyff pioneering total football at Ajax and Barcelona, to Lionel Messi and Cristiano Ronaldo re-writing the record books in the modern age. That is without even mentioning Pelé, the man voted player of the century by FIFA, and who tops our goal scoring lists even without taking into account his myriad of goals in unofficial games. Therein lies the beauty of football, that everyone can have an opinion and that these opinions are of course heavily influenced by their own experiences, be it as a fan of a particular club, or because they have seen a certain player live.
In this respect, it is hard to make a definitive argument for Müller being the greatest player of all time. Indeed, it has oft been commented that Müller possessed neither the mesmeric feet of a Maradona, the power and grace of a Pelé or Eusébio, or the dazzling dribbling of a Messi. Indeed, certainly compared to seemingly perfect athletic specimens such as Eusébio, Pelé, or Cristiano Ronaldo, Müller didn't naturally appear to fit the prototype of a great footballer, with renowned football writer David Winner commenting that Müller was "short, squat" and "awkward-looking". In fact, his nickname in some circles was even "Kleines dickes Müller" (short, fat Müller) and despite this being a clear exaggeration, there is no doubt that Müller was not someone with physical gifts to match some of our greats. However, his statistics would suggest that despite his supposed aesthetic deficiencies, he deserves to at least be mentioned in the discussion regarding the greatest player of all time.
Perhaps if the discussion is further narrowed down to the greatest goalscorer rather than greatest player, then these statistics, along with Müller's unerring finishing ability and goal scoring instincts, would surely lead to a highly compelling case.