Last August, many of the top coaches in Europe came together to discuss a number of key issues surrounding the game with UEFA, with one of the key talking points being the future of extra time and penalty shoot-outs. The fact that the world's top coaches are potentially challenging the need for extra time suggests that something's wrong, so what has brought them to this conclusion? Here we will look at matches going to extra time and when needed; penalties – per decade since 1970 in the UEFA Champions League (UCL), UEFA Europa League (UEL), UEFA European Championship (Euro) and the FIFA World Cup (Word Cup). Is extra time discouraging attacking play? When we get down to it, does it add any value to the game?
Extra time since the 70's
From 1970, there have been 472 matches that have gone on to extra time in these four major competitions; qualifying and knockout stages included (note: the data does not include 2016/17 knockout stages for the UCL and UEL, as tournaments are ongoing). Of these 472 matches, 233 have gone on to penalties, or 49.4% - so nothing highly unusual there if around half the matches are not decided in the preceding 30 minutes. Let's look into this in more detail - the following pie charts show the proportion of where the 472 matches have been spread between the four competitions: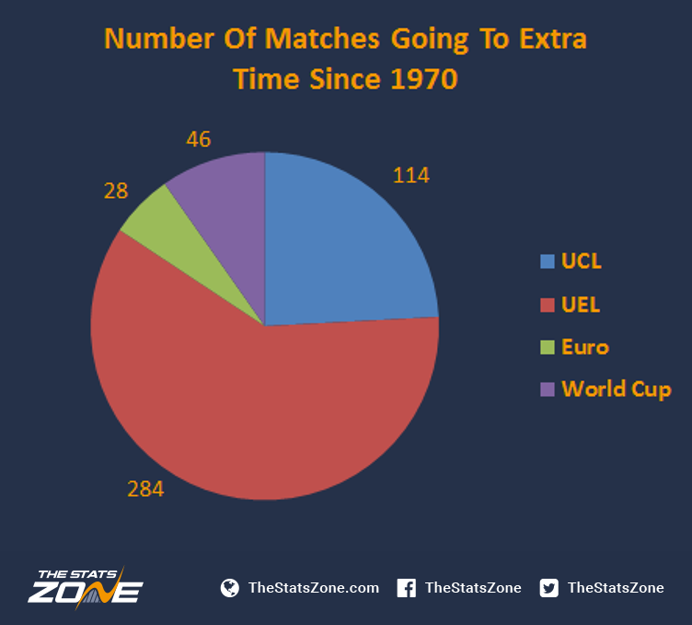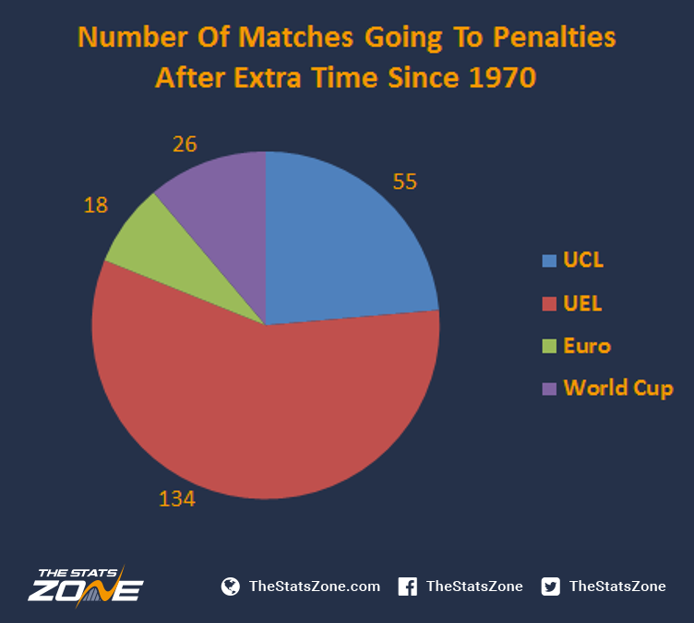 The Europa League (formerly the UEFA Cup) has dominated the proportion of matches going to penalties over the last 36 years, which is not at all surprising given the higher frequency of matches compared to the other competitions. Comparing the two charts, the proportions look fairly similar, but further examination does reveal some key differences: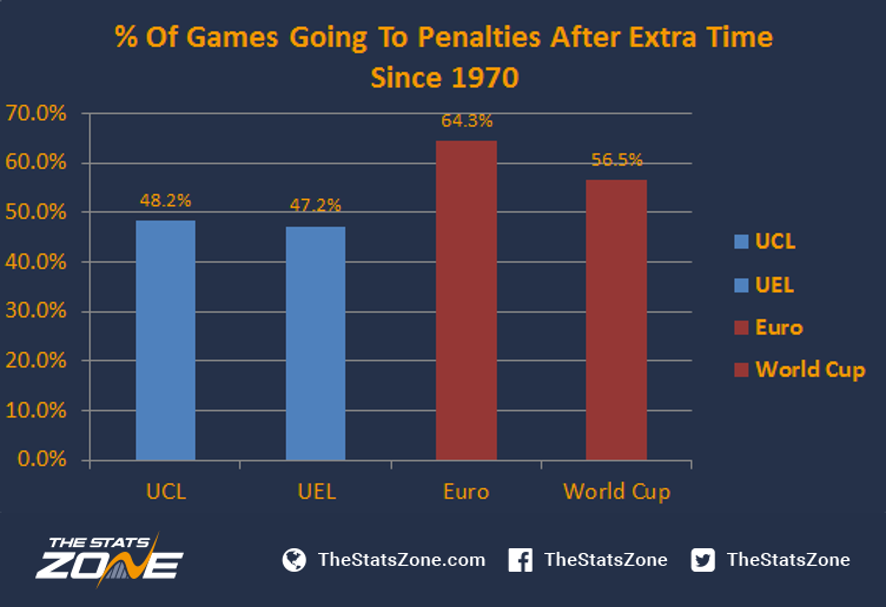 The bar graph shows a clear difference in percentage between domestic (shaded blue) and international competitions (shaded red), with a higher proportion of matches going to penalties after they've reached extra time in the Euros and World Cup as compared to the Champions League and Europa League. With the Euros and World Cup only coming around every four years, there's an extra pressure for players to perform as many of them will only get the once chance at this level. The evidence suggests that once they get into extra time, international teams tend play it safer and are less likely to take risks. Perhaps this is due to fear of making a mistake which could result in elimination.
The fact UEFA have met to discuss this topic would suggest that perhaps something more is going on than just teams playing it safer in international competitions. Perhaps looking at the statistics by decade will reveal some patterns.
Change over time
The following graph shows the average percentage of matches going to penalties after extra time for each competition per decade since 1970: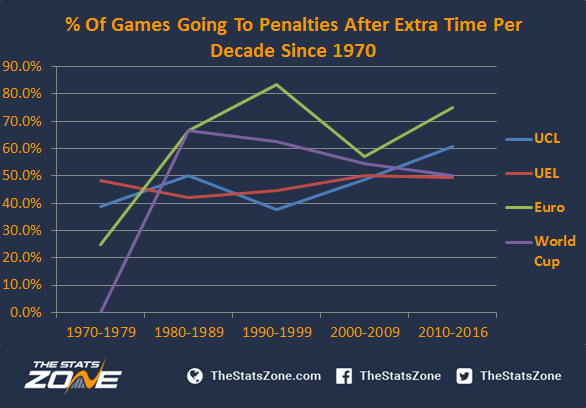 The lines fluctuate during the middle decades, but there is a visible increase in the percentage of matches going to penalties from 1970-79 to 2010-2016. One anomaly is in the World Cup between 1970-79, where only one match went to extra time (which subsequently did not go to penalties) – hence the drastic increase thereafter.
So, if we group all four tournaments together, how does the trend look?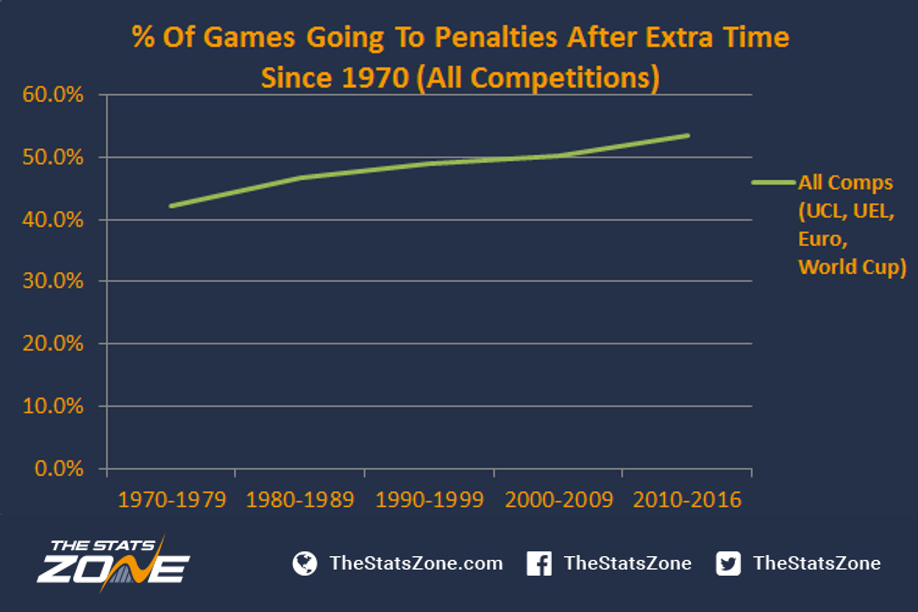 A clear trend has emerged here, the percentage of matches going to penalties after matches have reached extra time has increased each decade - teams are clearly becoming more cautious in extra time, leading to more matches going to penalties. Between 1970-79 the % of matches going to penalties after reaching extra time was only 42.3%, but since 2010 it has risen significantly to 53.5%. How do we account for this?
Concede first at your peril
The next pie chart shows a possible reason. We have now removed qualifying games from the data, so we are now focusing on the knockout stages of all four tournaments since 2010: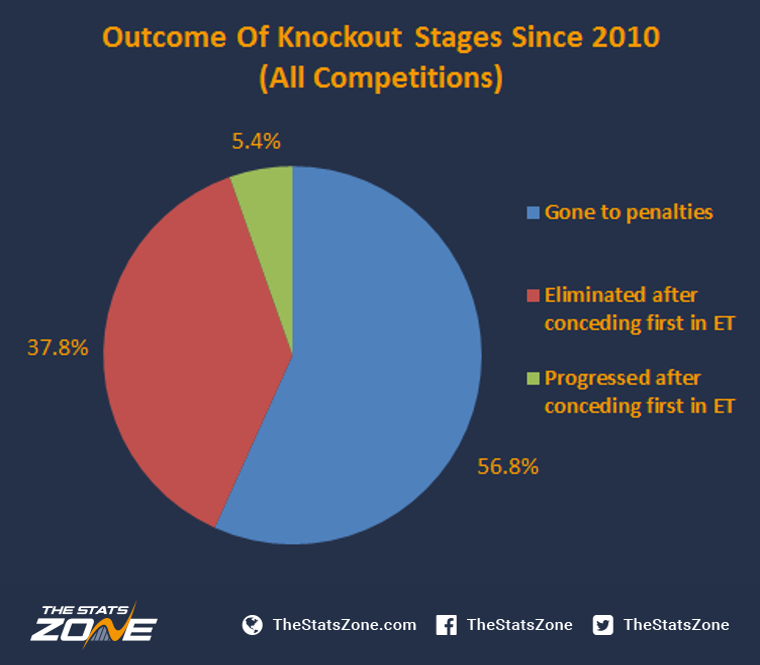 In the 37 matches that have taken place in the four competition's knockout stages, only two teams have progressed after conceding first in extra time – and both of these teams progressed due to the away goal rule in the domestic competitions, where two legs were played. The graph essentially says "Concede first in extra time and get knocked out" - this could explain why lots of teams are playing with caution when it comes to extra time. Another key finding to note is that 56.8% of matches have gone to penalties, which is higher than the average overall percentage (including qualifying matches) of 53.5% from 2010 onwards - in these knockout stages, where the pressure is greater, teams are even more cautious.
Extra Time – Worth Keeping?
There is conclusive evidence to show extra time is becoming less and less useful in delivering a result – which is its objective, but with 46.5% of matches this decade still being decided in extra time, can you really discard such an important part of the game? Some of the most memorable games have been decided this way e.g. England beating West Germany the World Cup in 1966 or Real Madrid defeating Atletico Madrid in the Champions League Final in 2014 – each have their own magical story and extra time played a role in that drama. However, it is clear that coaches remain concerned about the value of extra time, and it will no doubt continue to receive close scrutiny.