Romelu Lukaku has been around the professional scene for a long while now, making his debut for Anderlecht as a schoolboy in 2009 when just 16. Given his early breakthrough into professional football, we sometimes forget that the Belgium International is still just 23 years of age. His excellent form in the 2010/2011 season earned him a move to Chelsea; however his progress stalled at the London club. He then enjoyed successful loan spells at both West Brom and Everton before signing permanently for the Merseyside club for a club record £28 million in 2014.
So the question we pose is, does Lukaku have the potential to be one of the world's best strikers or is he on his way to being there already? To try and answer this, we shall compare Lukaku to a selection of top strikers both past and present; firstly we shall look at goal scoring before the age of 23 to see how Lukaku is progressing, whilst later on we shall look back at statistics from the past few seasons to see how Lukaku's goals per game record and percentage of team goals scored and assisted stands against a selection of other strikers from the Premiership and across Europe.
Firstly we shall take a look at how the striker is developing season by season, taking into consideration all appearances, goals and assists.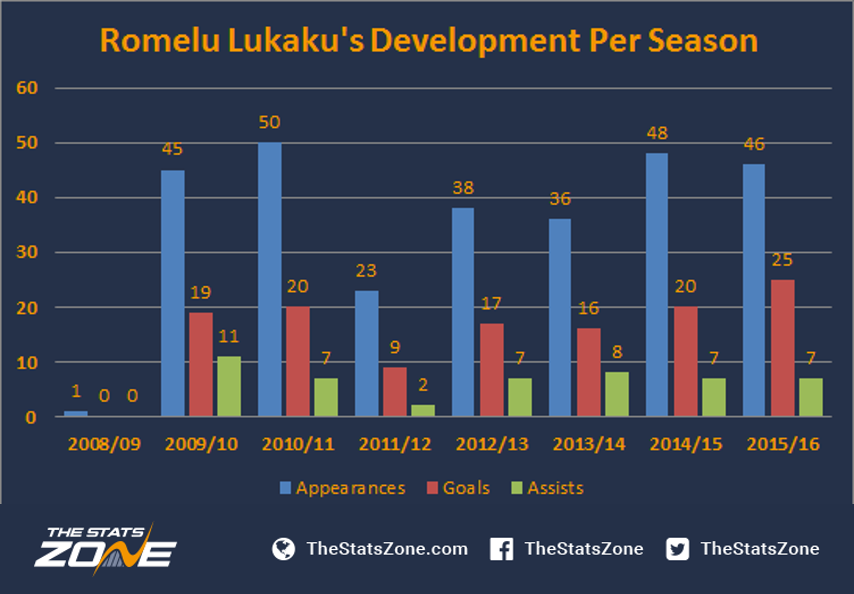 Romelu Lukaku became a regular member of the Anderlecht first team in the 2009/10 season, and produced two excellent seasons, scoring 39 and creating 18 in 95 appearances, earning him a move to Chelsea. In his first year in England, Lukaku wasn't given many opportunities at Stamford Bridge, instead playing more games for the reserve team. In the 2012/13 season, Lukaku was given the chance to show his talents when on loan at West Brom and he grasped this opportunity with both hands, scoring or assisting 24 goals in 38 appearances and then equally impressing the season after when on loan at Everton. His excellent performances and continued development saw Everton part with a club record £28 million to secure his services and he has continued to steadily improve in the two seasons after his permanent move to the Toffees.
Next up, we will compare Lukaku's goal scoring exploits before the age of 23 to a handful of top strikers both past and present.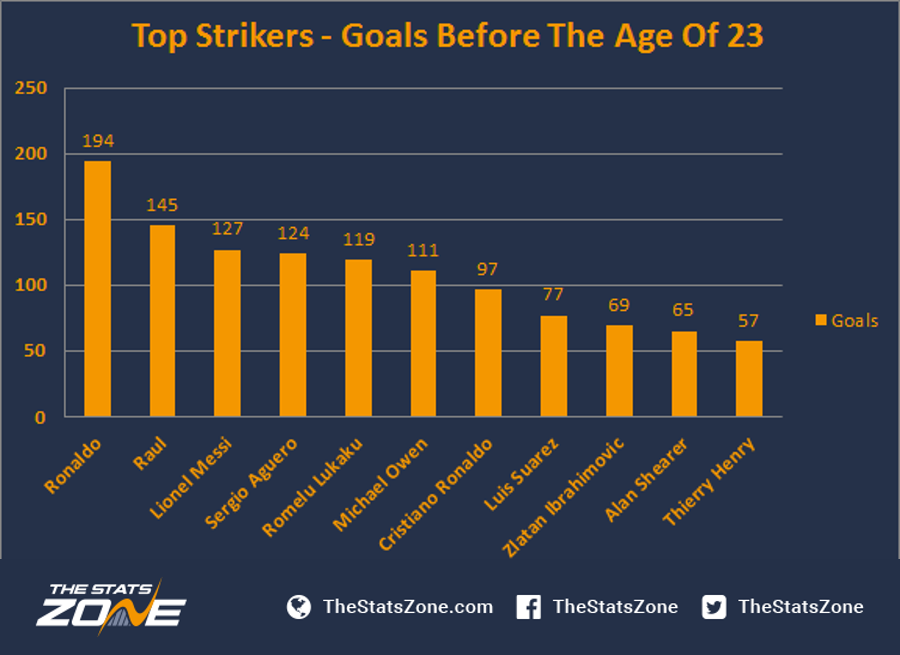 We can see that the statistics make for impressive reading when comparing Lukaku to a selection of the world's best both past and present. Lukaku had scored more goals before the age of 23 than the likes of Cristiano Ronaldo, Luis Suarez, Zlatan Ibrahimovic, Thierry Henry and Michael Owen. The Everton forward was only five goals behind Sergio Aguero and eight behind Lionel Messi at this stage of their careers – some big footsteps to be following in, but this shows that if he can continue steadily progressing, Everton may have a challenge on their hands to try and keep their star striker as undoubtedly other clubs will start knocking on the door. In fact, Lukaku's father was last season quoted as saying his son was ready to secure a move away from Goodison Park to one of the European giants; however, a move failed to materialise over the summer.
When we take a look at the youngest players to reach 50 Premier League goals, we can see that Lukaku's goal scoring exploits at an early age in the Premier League are very impressive.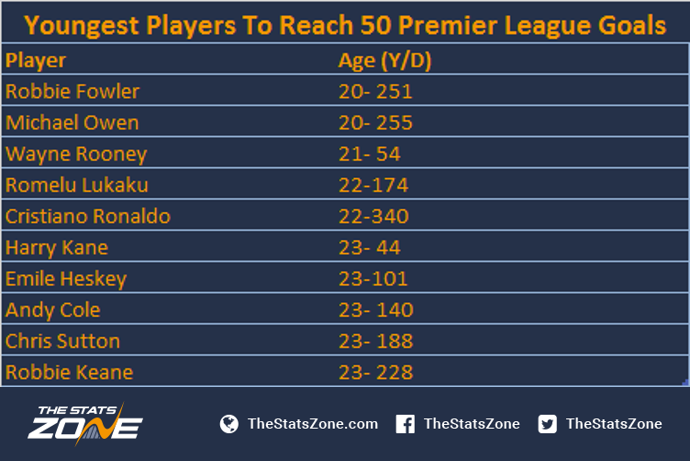 Lukaku is the fourth youngest to reach 50 Premier League goals, and is one of only five players to achieve this feat before reaching the age of 23, joining the likes of Cristiano Ronaldo, Wayne Rooney, Michael Owen and Robbie Fowler.
We now turn our attention to how Lukaku's goal per game record compares to a selection of top forwards. Data used is from the 2012/13 season up until the end of the 2015/16 season, and only league goals have been included. In Lukaku's 2013/14 season, we have only included his record when on loan at Everton and have discounted his two substitute appearances for Chelsea. All data gathered has come from www.whoscored.com.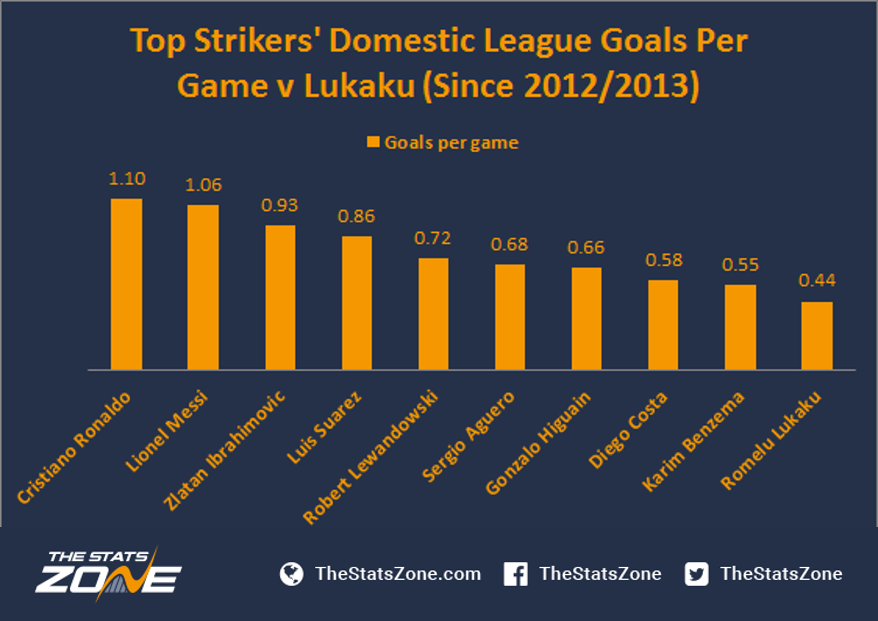 The comparison shows that Lukaku is not yet up to the standard of the very best strikers in world football with 0.44 goals per game; however, when looking at the players we have compared him to we can see that he has age on his side. An important factor to bear in mind when looking at this graph however, is that all other strikers on the list were plying their trade at clubs who generally score more goals and create more chances than Everton, so this will undoubtedly impact upon Lukaku's goal return.
Finally, we shall investigate Lukaku's importance to his side compared to that of a selection of Premier League strikers. To do this, we shall investigate the percentage of team league goals scored or assisted. Since Lukaku signed permanently for Everton in 2014, we will look back at the data from the last two Premier League seasons.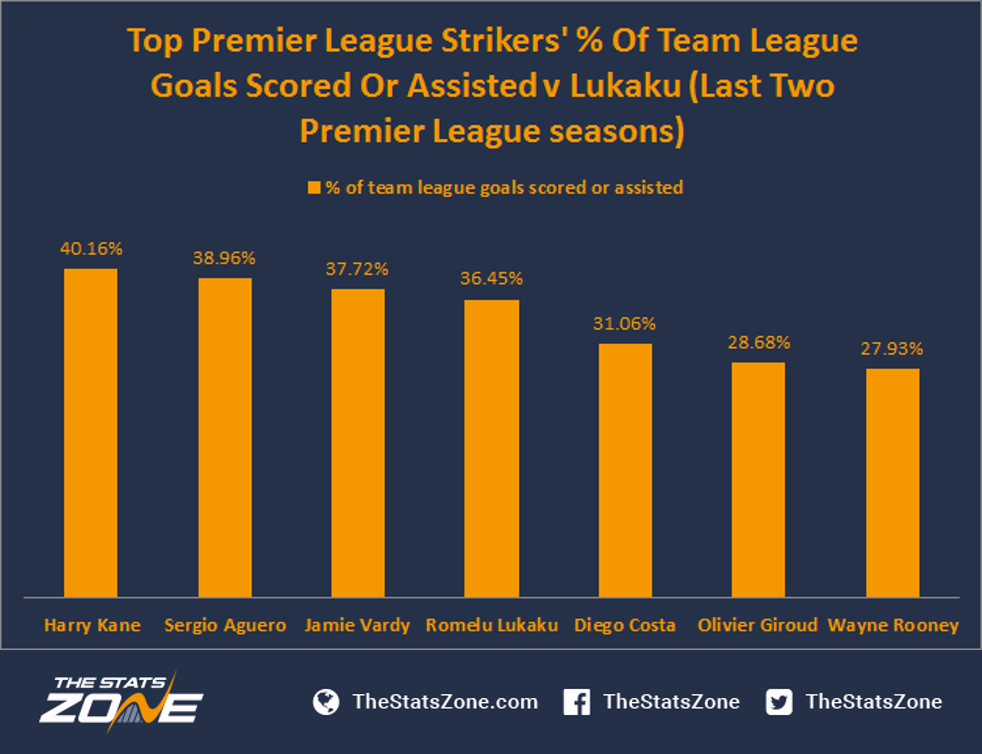 Over the last two Premier League seasons, Romelu Lukaku has shown his importance by scoring or assisting 36.45% of Everton's goals; this shows that he has been of greater importance to Everton in attack than Diego Costa has been to Chelsea, Wayne Rooney has been to Manchester United and Olivier Giroud to Arsenal. However Harry Kane, Sergio Aguero and Jamie Vardy have proved to be more important for their teams than Lukaku has been to Everton, if judged by these statistics alone.
This investigation has revealed that Romelu Lukaku cannot be considered a world class striker just yet, which is shown by his goals per game record when compared to other elite strikers; however, this may drastically improve over time if he continues to develop. The Belgian has the potential to be a world beater, scoring more goals before the age of 23 than the likes of Cristian Ronaldo, Luis Suarez, Zlatan Ibrahimovic and Thierry Henry. He blows hot and cold and divides opinion, but if he can continue to perform and improve, it will be interesting to see how high his ceiling is. Will we be talking about Lukaku in the same breath as the strikers in this analyses considered to be the world's elite? His development certainly suggests this could be the case in the future.