As the build-up to the eagerly anticipated 2018 FIFA eWorld Cup - which kicks off in London on 2ndAugust - ramps up, The Stats Zone continue to bring you a number of exclusive interviews with a collection of the 32 players who will be competing in the biggest tournament that eSports has to offer.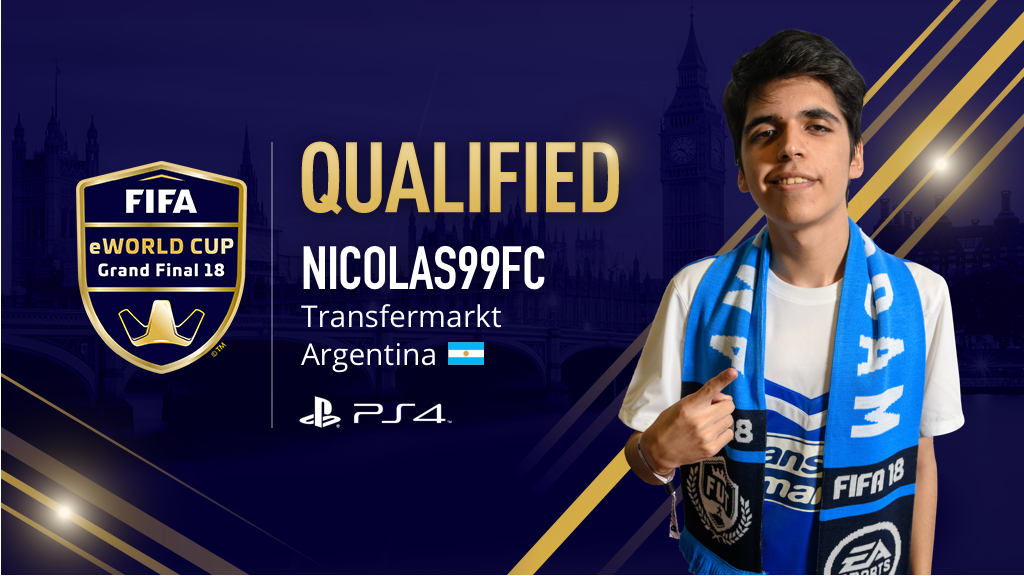 In this interview, we spoke to the favourite to win the 2018 FIFA eWorld Cup – Nicolas "nicolas99fc" Villalba. He is the sole Argentine player to make it to London and will travel as the number one seed on the PlayStation 4 after winning the Global Series Playoffs in Amsterdam in June. He will compete in Group C alongside the likes of last year's eWorld Cup runner up Kai "deto" Wollin and FUTWIZ's Harry "Honey Badger" Blackmore.
It's been a remarkable season for the Transfermarkt eSports player, who boasts a record of over 1,700 wins on the FIFA 18 FUT mode this season. After qualifying for the first FUT Champions Cup in Barcelona, Nicolas went on to reach the grand final of that event, thus booking his place in Amsterdam.
Since winning the Global Series Playoffs, the South American has been preparing meticulously for the biggest tournament in FIFA eSports and exclusively shared with us his plans on approaching the event, which include locking horns with his opposition even sooner than expected!
STATISTICS
We've collected data from the recent Global Series Playoffs in Amsterdam and created FIFA style play cards for each qualifier: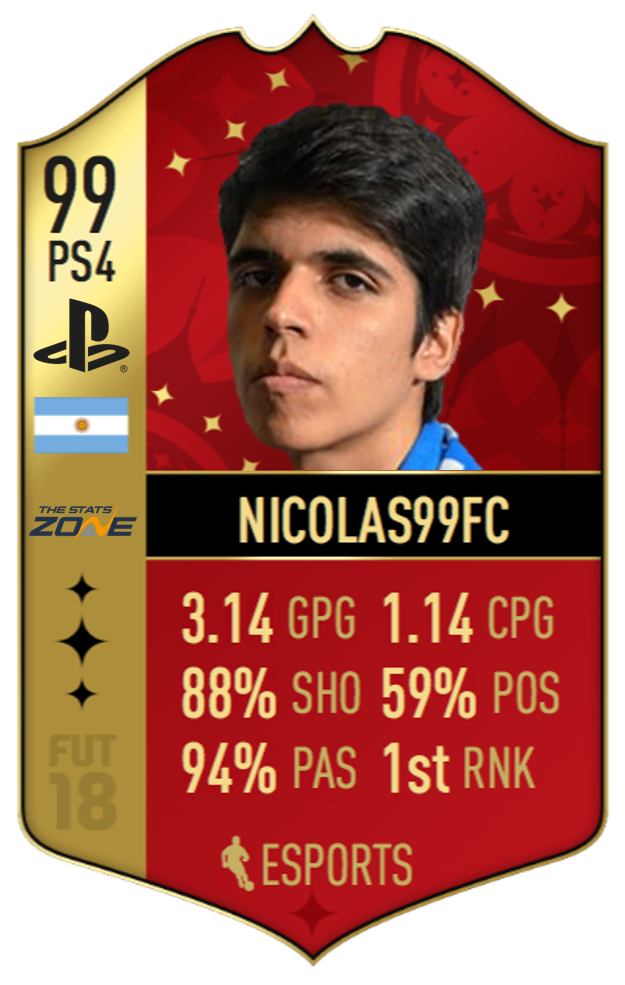 Stats are based on Global Series Qualifiers group stage games only
GPG = Goals per game
CPG = Conceded per game
SHO = Shot accuracy
POS = Average possession
PAS = Pass accuracy
RNK = eWorld Cup ranking based on our algorithm
INTERVIEW
When did your professional FIFA career begin?
"I cannot really recall when I first started to play, yet I remember that watching "Gorilla" play really inspired me to achieve the same. I wanted to dominate with my playstyle and make it to the big stage, which I would say, really started to come true from last year."
How do you balance all the practice, travelling, online/offline competition that comes with being a professional FIFA player with maintaining your everyday lifestyle?
"That is indeed challenging! I'm lucky to have the support of my Management KiNG eSports. They are helping me in regards to training, communication and marketing. Finishing my school education, being an eSports professional and meeting all the requirements that come along with it is something that's really time consuming."
If you weren't a professional FIFA eSports player, what would you be doing right now?
"Considering I don't hold my first major degree yet, I'd probably be at the same position. But taking into consideration that I had the opportunity to travel the world, help my family due to my winnings and having a career path ahead of me, is something I'm really grateful for."
You've qualified for the FIFA eWorld Cup. How does it feel knowing all the hard work you've put in this season has been worthwhile?

"It was a massive relief. I've put my mind and heart into this, seeing this to come into fruition was an awesome feeling. I wouldn't mind experiencing this again."
How will you approach the event in terms of training and practice?
"This is where my management comes into play. I'm really lucky to be invited to Europe to practice prior to the eWorld Cup. They are hosting a bootcamp together with Bayer 04 Leverkusen and my team Transfermarkt. The event will take place in Bayer 04 Leverkusen's own Arena and lasts 3 days. "M4RV", my friend and also part of KiNG eSports, will be present and furthermore more players from Europe are invited to participate."
"The interesting approach is that this will be the first training camp that does not only focus on FIFA, but will be accompanied by three experts in nutrition, sports and psychology. I'm really looking forward to thinking outside the box and I'm very happy to be part of this innovative project."
How much has your organization Transfermarkt eSports helped you to make that final push that has seen you secure qualification?
"Being economically independent has been something that really helped me. Transfermarkt offered me this opportunity and have played a crucial part in my development."
Who do you consider your biggest competition from the 31 other players who have made it to London?
"I don't consider any individual player more important than any other. Everyone deserves to be there and has the opportunity to win."
Have you thought about the money on offer in London and the publicity that comes with competing in such a prestigious event?
"I'm a competitor. I want to win, I like the competition and that's what drives me. Making a living out of that is just a bonus."
How crucial has the FIFA eWorld Cup been to establishing FIFA as a global eSport?
"The FIFA eWorld Cup is the most important and prestigious FIFA event. An event like this catches the media's attention and can help to elevate FIFA eSports to new heights."
Tell us about your personal FIFA 18 playstyle and how often (if ever) you have to alter this playstyle on short notice depending on your opponents, the situation of a match etc?
"I follow my own gameplan and try to force it upon my opponent. I rely on a strong defence and a dynamic attack."
Do you like to tinker with your team and formations game to game, or do you prefer to keep a particular XI and only change it as a last resort?
"I don't really tend to change much, as long as it is not needed."
Which players are the most crucial to the way you play on FIFA 18?
"Ruud Gullit and N'Golo Kanté."
What can FIFA 19 do to improve on FIFA 18 and are there any new features you would add to the game to improve it competitively if you had the power?
"Increasing the skill gap via enabling more individual defending. Also, a spectator mode and a dedicated eSports mode which doesn't differ between online/offline could be major upgrades.
Follow "nicolas99fcx" on Twitter here along with his organisation Transfermarkt and be sure to keep an eye on our FIFA eWorld Cup tournament index page as we bring you further exclusive interviews and build-up to the biggest FIFA eSports tournament in history!