As the build-up to the eagerly anticipated 2018 FIFA eWorld Cup - which kicks off in London on 2ndAugust – ramps up, The Stats Zone continue to bring you a number of exclusive interviews with a collection of the 32 players who will be competing in the biggest tournament that eSports has to offer.

In this interview, we spoke to the sole Maltese participant competing at the FIFA eWorld Cup – Kurt "Kurt0411" Fenech. Kurt has gained notoriety throughout the FIFA eSports scene due to his his outspoken personality and relentless self-confidence. However, no one can deny he has the ability to back up his words after booking his place in London. Kurt will compete on the Xbox One in Group A and after speaking to us, made it clear that should he be at his best, then no one in the entire tournament, let alone the group, will be able to beat him.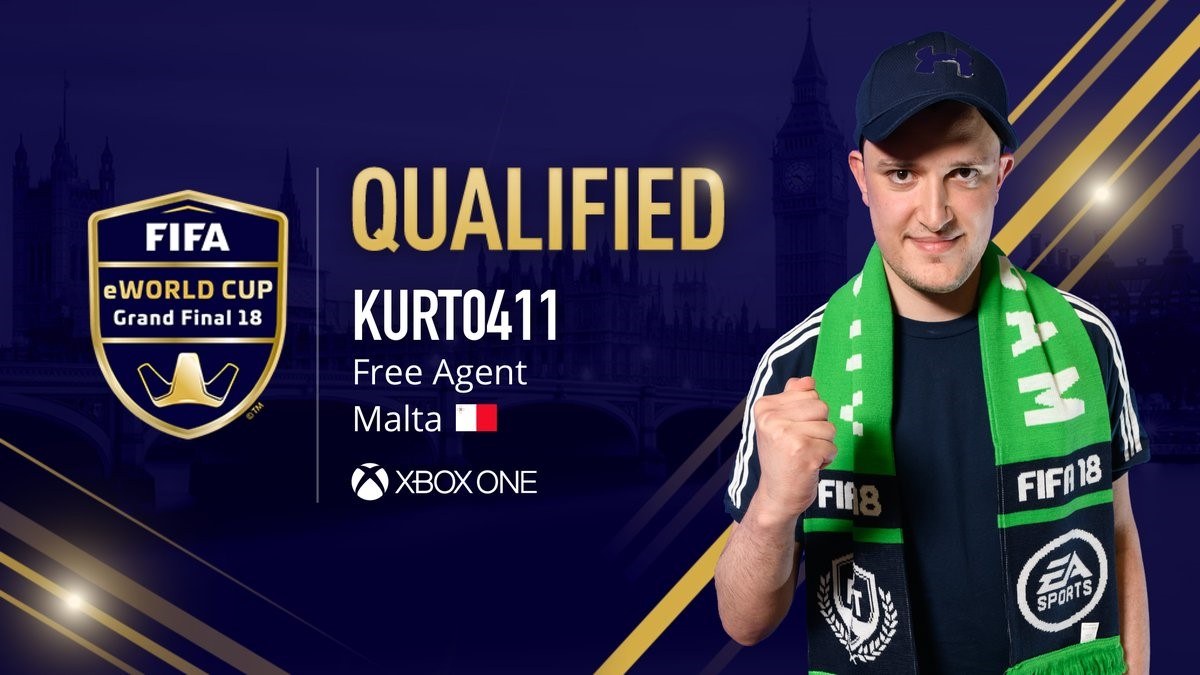 STATISTICS
We've collected data from the recent Global Series Playoffs in Amsterdam and created FIFA style play cards for each qualifier:
Stats are based on Global Series Qualifiers group stage games only
GPG = Goals per game
CPG = Conceded per game
SHO = Shot accuracy
POS = Average possession
PAS = Pass accuracy
RNK = eWorld Cup ranking based on our algorithm
INTERVIEW
When did your professional FIFA career begin?
"I began playing FIFA competitively from FIFA 16."
How do you balance all the practice, travelling, online/offline competition that comes with being a professional FIFA player with maintaining your everyday lifestyle?
"Its obviously different to a regular job, you have to put in a lot of hours especially at the beginning when a new FIFA comes out and nothing tops travelling the world competing in offline tournaments."
If you weren't a professional FIFA eSports player, what would you be doing right now?
"I'd most likely be the President of Malta!"
You've qualified for the FIFA eWorld Cup. How does it feel knowing all the hard work you've put in this season has been worthwhile and how will you prepare for the event?
"The main objective of the season from the start for me has been to win this tournament, but you obviously can't win it if you're not there, so its the most special feeling to be able to compete in the biggest tournament of the year. It's been a long road with a lot of games played but it's so worth it at the end. In terms of training and practice its the usual for me, I've just started playing FIFA again recently after a very well-earned break and now I'll just play several pro's to get in the best form heading into the eWorld Cup."
Who do you consider your biggest competition from the 31 other players who have made it to London?
"The best of the best will be competing now so it won't be easy but there isn't anyone in particular I consider to be my biggest competition because if the game lets me play my best, then it's a wrap for anyone that will step onto my pitch!"
Have you thought about the money on offer in London and the publicity that comes with competing in such a prestigious event?
"The FIFA eWorld Cup being the biggest tournament of the year gives us the global platform to showcase everything we've worked on so far this year. There's obviously a lot of other big eSports but we are football, it's the reason we're all here to begin with and trust me you don't want to miss this one!"
Tell us about your personal FIFA 18 playstyle?
"My playstyle is unique and unmatchable. Everyone else is out there abusing every single possible flaw but I don't have to. I will admit this FIFA has given me headaches I've not had to deal with before, it's without a doubt the worst one I've ever played, but I'll give it everything I've got for this last tournament."
Do you like to tinker with your team and formations game to game, or do you prefer to keep a particular XI and only change it as a last resort?
"Usually I prefer not to tinker too much as I'll have figured out the formation and players I want to use 3-4 months into the game. But with this one we're 9 months into the game and I still have absolutely no idea, so yes I will be tinkering a lot."
Which players are the most crucial to the way you play on FIFA 18?
"I'd say both Ronaldo's and Sergio Ramos."
You've been vocal in the past on social media regarding the cons of FIFA 18 from a professional players' point of view. What can FIFA 19 do to improve on FIFA 18 and are there any new features you would add to the game to improve it competitively if you had the power?
"Well I could write you an essay of 5000 words but I'll keep it short and say gameplay. Its pointless having all these amazing well-run tournaments if the game we're playing is fundamentally broken. So if they primarily sort out the gameplay and make it fast, fun and responsive again then we'll take it to the next level. I cannot wait for the new one!"
Follow "Kurt0411" on Twitter here along with his live Twitch TV stream here and be sure to keep an eye on our FIFA eWorld Cup tournament index page as we bring you further exclusive interviews and build-up to the biggest FIFA eSports tournament in history!