As the build-up to the eagerly anticipated 2018 FIFA eWorld Cup - which kicks off in London on 2nd August - gets underway, The Stats Zone continues to bring you a number of exclusive interviews with a collection of the 32 players who will be competing in the biggest tournament that eSports has to offer.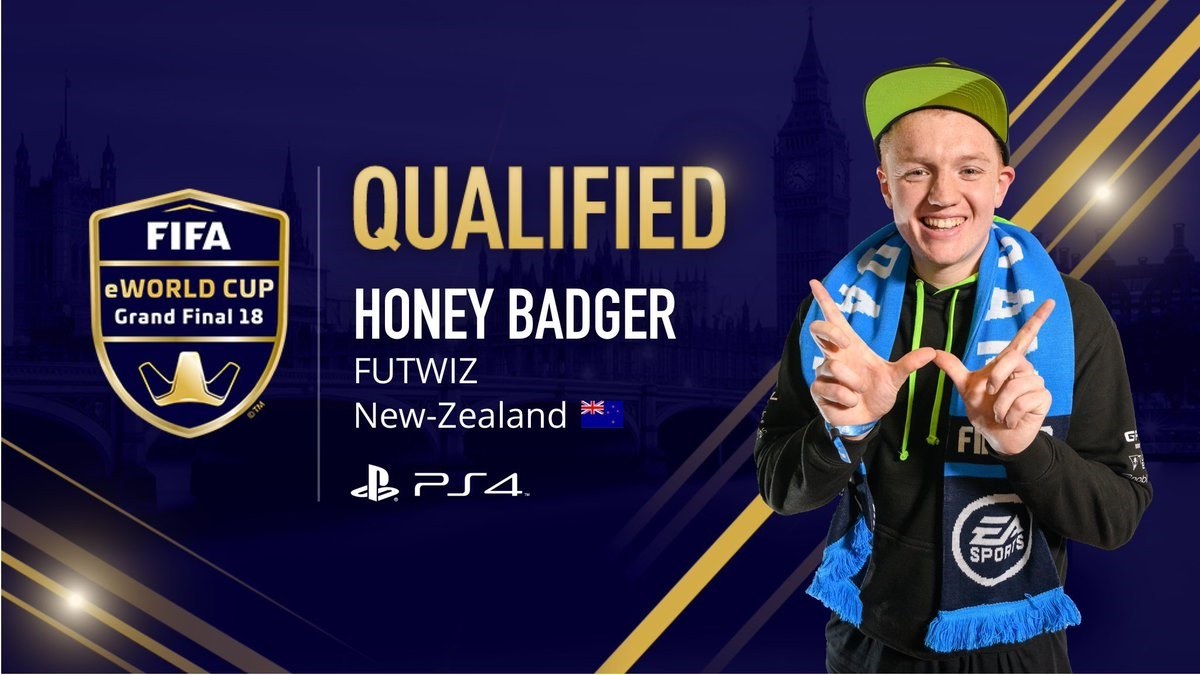 In this interview we spoke to the sole New Zealand based player who is set to make the long journey to London in his quest to become the 2018 FIFA eWorld Cup winner. Harry "Honey Badger" Blackmore will compete in Group C on the PlayStation 4 where he will meet players such as last year's FIFA eWorld Cup runner-up Kai "deto" Wollin and the Global Series Playoffs winner Gonzalo "nicolas99fc" Villalba.
Blackmore is one of seven players who represent professional eSports organisation FUTWIZ. The UK-based company boasts a hugely impressive roster of FIFA 18 players which includes the likes of ESWC 2018 Xbox One champion Fabian "Dubzje" De Cae and Adelaide United's Australian E-League participant Jamie O'Doherty. However, Blackmore is the only FUTWIZ player who survived the fierce qualification process to book a coveted spot in London. He spoke to us about his pride at representing FUTWIZ at the event, along with how he has managed to balance all the travelling with his online practice and university work.
STATISTICS
We've collected data from the recent Global Series Playoffs in Amsterdam and created FIFA style player cards for each qualifier: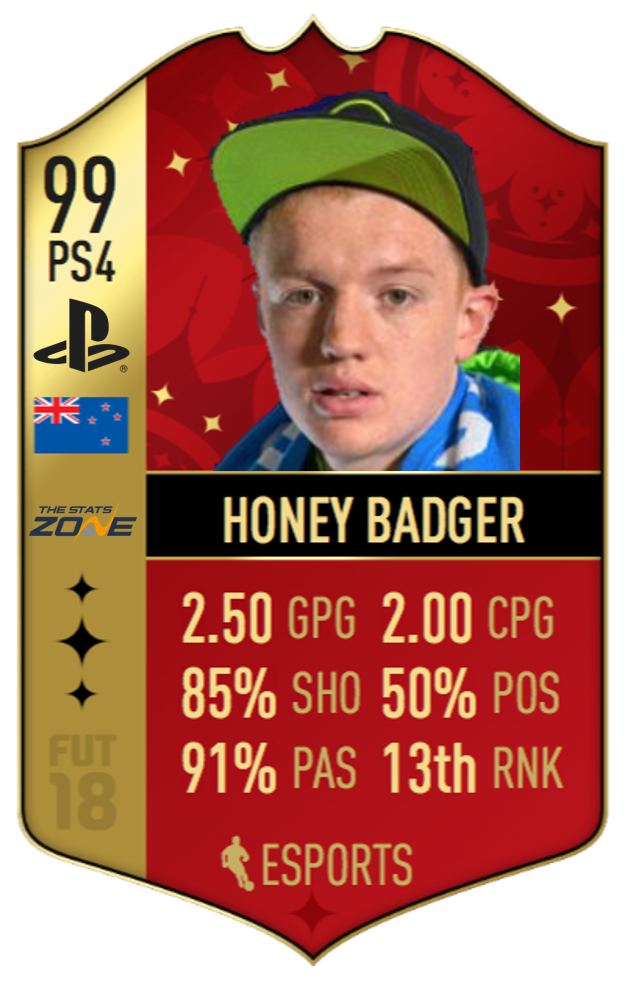 Stats are based on Global Series Qualifiers group stage games only
GPG = Goals per game
CPG = Conceded per game
SHO = Shot accuracy
POS = Average possession
PAS = Pass accuracy
RNK = eWorld Cup ranking based on our algorithm
INTERVIEW
How did your professional FIFA career begin?
"I began very casually and playing FUTChamps changed it all for me. I managed to qualify for Sydney playing on my 40 inch plasma TV, then coming 3rd in Sydney caught the eyes of Epsilon eSports. After a year in their academy I signed my first pro contract with FUTWIZ."
How do you balance all the practice, online/offline competition and (in your case in particular) the travelling that comes with being a professional FIFA player with maintaining your everyday lifestyle?
"I manage to balance my university work, family and girlfriend very well. I play a lot during the day and spend time doing personal things after everyone gets home from work. Travelling is probably the hardest thing about pro FIFA at the moment. I've travelled to Europe four times this year and it is taxing but it's necessary for competing at the highest level which I enjoy the most."
You've qualified for the FIFA eWorld Cup. How does it feel knowing all the hard work you've put in this season has been worthwhile and have you thought about the money on offer along with the publicity that comes with competing at such an event?
"This is the pinnacle event for FIFA and something that I'm happy to get to but it's not done yet. Of course the money is crazy for this event and the ability to turn this into a full time profession is a massive incentive for this event."
How will you approach the event in terms of training and practice?
"Watching gameplay of my opponents and studying my own gameplay will be a massive part of training for this event. I'll definitely be playing some of the Australian E-League players in the build up as well."
At 60/1 with the bookmakers you have the longest odds of the 32 competitors to win the FIFA eWorld Cup. Does that motivate you to prove them and any other doubters wrong?
"It really doesn't faze me in the slightest. I've beaten some of the biggest names this year and continued to prove people wrong. I think living in New Zealand puts me as an underdog but I grew up in England so I'll have some homegrown support."
Who do you consider your biggest competition from the 31 other players who have made it to London?
"nicolas99fc" is the biggest threat in the PlayStation side. I'm looking forward to the challenge and to see how I can perform against the best."
You are the only New Zealand native at the tournament. How proud does it make you knowing that you aren't only playing for yourself, but your country as well?
"I'm proud to not only represent my NZ side but my English side as well. I have massive support from the NZ and English communities and can't wait to perform on the big stage."
You will be representing FUTWIZ at the event. How has being a part of FUTWIZ helped develop your game and profile as a FIFA eSports athlete and how have they helped you to make that push that saw you qualify for the World Cup?
"FUTWIZ and especially Dan (Bellis) have taken my game to the next level. Not many teams branch out to my region, but FUTWIZ saw the potential and allowed me to pursue FIFA competitively. Their support of developing my brand and pushing me towards reaching the eWorld Cup is amazing. I can't thank FUTWIZ enough for their support this year and I'm proud to represent them in London."
Tell us about your personal FIFA 18 playstyle and how often (if ever) you have to alter this playstyle on short notice depending on your opponents, the situation of a match etc? Do you like to tinker with your team and formations from game to game?
"I actually made some pretty big transitions leading up to the Manchester event. I changed formation for competitive play and also adapted my defensive technique in order to cater for the better players at competitions. Game to game I re-adjust my playstyle to best handle the situation in front of me."
Which players are the most crucial to the way you play on FIFA 18?
"I like dribbling in FIFA so Messi and Neymar are the lynchpins to my success. Hopefully, they can perform for me in London."
FIFA 18 has almost completed its cycle. Overall how have you found the game and do you consider it a success from a competitive point of view?
"I love FIFA every year. I'd love to see some more support for the pro players and the growth of both eSports & FIFA will continue to aid more players to compete full time."
What can FIFA 19 do to improve on FIFA 18 and are there any new features you would add to the game to improve it competitively if you had the power?
I think the support for players off the pitch is crucial. I see other games providing a minimum wage like 2K, and also the development and support of twitch streamers will allow more people to play full time."
Follow "Honey Badger" on Twitter here along with his organisation FUTWIZ here and be sure to keep an eye on our FIFA eWorld Cup tournament index page as we bring you further exclusive interviews and build up to the biggest FIFA eSports tournament in history!