As the build-up to the eagerly anticipated 2018 FIFA eWorld Cup - which kicks off in London on 2nd August - ramps up, The Stats Zone continue to bring you a number of exclusive interviews with a collection of the 32 players who will be competing in the biggest tournament that FIFA eSports has to offer.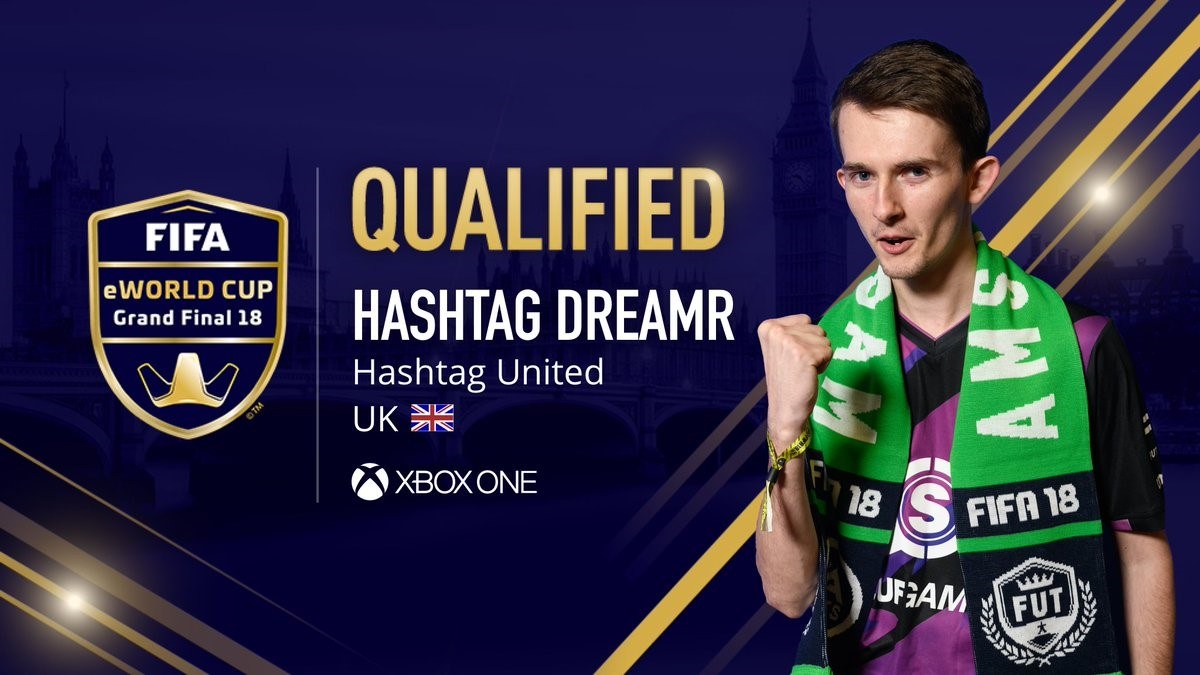 In this interview we spoke with the one Welsh qualifier for the 2018 eWorld Cup Grand Final. Adam "dreamR" Barton is one of three players who will represent popular football club and eSports team Hashtag United at the 02 Arena in August. "Hashtag dreamR" is seeded 16th on the Xbox One and will compete in Group A alongside the likes of VfL Bochum 1848's Michael "MegaBit" Bittner and Sporting Kansas City's Alex "Alekzandur" Betancourt.
To get to the 02 Arena, the Welshman competed at the FUT Champions Cup in Barcelona, making it past the top 16 stage of the Xbox One side of the knockout bracket to book his place at the Global Series Playoffs in Amsterdam. At the playoffs, Barton secured his ticket to London after defeating "RemiMartinn" 4-2 on aggregate in the first round of the knockout bracket.
It's not been an easy road to London for Barton, who holds a full-time job to go with his FIFA commitments. He chatted to us about how he handles the balance, along with the whirlwind first year he's had as a FIFA eSports professional player.
STATISTICS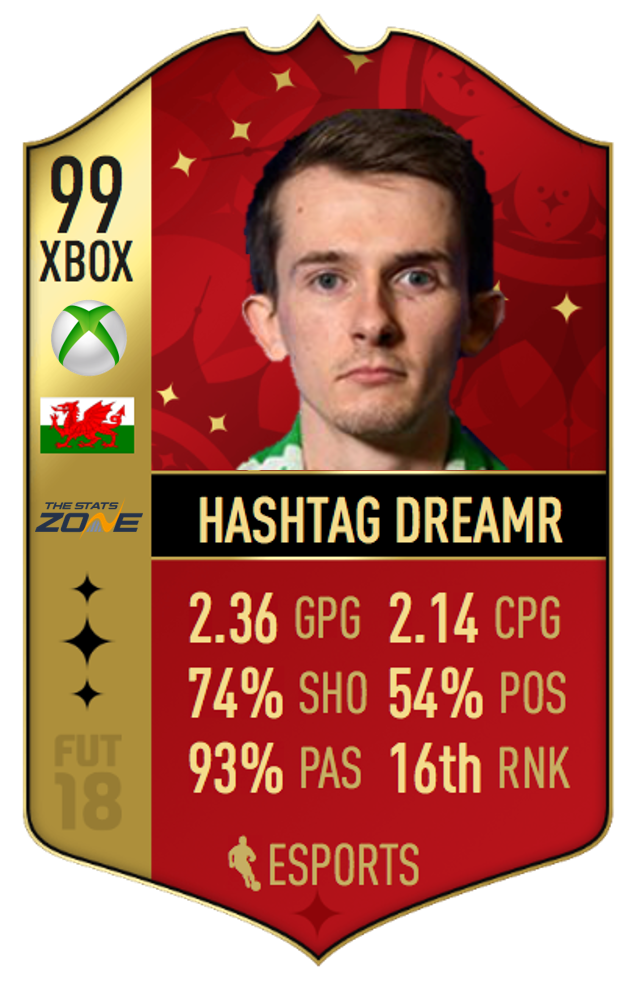 We've collected data from the recent Global Series Playoffs in Amsterdam and created FIFA style play cards for each qualifier:
Stats are based on Global Series Qualifiers group stage games only
GPG = Goals per game
CPG = Conceded per game
SHO = Shot accuracy
POS = Average possession
PAS = Pass accuracy
RNK = eWorld Cup ranking based on our algorithm
INTERVIEW
When did your professional FIFA career begin?
"I started playing FIFA competitively this season back in September. I saw that the qualification process had changed to include the top 64 players on each console and felt that was an achievable goal. From there I did well in the November qualifying and managed to make it to Barcelona where I finished top eight. This gave me the confidence to get myself into the Gfinity Challenger Series Draft where I was lucky enough to be signed as a professional FIFA player for Hashtag United."

How do you balance all the practice, travelling, online/offline competition that comes with being a professional FIFA player with maintaining your everyday lifestyle?
"It's difficult because I also work full-time at the moment so it's been quite a precise balancing act to be able to get sufficient practice in and there have been some sacrifices elsewhere. I've just had to make sure I make the most of the time I get to practice. Thankfully it has all been worth it."
If you weren't a professional FIFA eSports player, what would you be doing right now?
"I work as an engineer currently so I'd still be doing that."

You've qualified for the FIFA eWorld Cup. How does it feel knowing all the hard work you've put in this season has been worthwhile?
"The whole year has been an incredible experience and the fact that I've made it this far in my rookie season has definitely made all the hard work worth it. Hopefully I can now take it one step further."
How will you approach the event in terms of training and practice?
"Similarly to other tournaments I'll try to play as many top players as possible. I've also picked up a lot from the other events that I can take home and work on so it's a case of ironing out mistakes and making sure I'm as prepared as I possibly can be."

Who do you consider your biggest competition from the 31 other players who have made it to London?

"Everyone who has qualified for this competition will be very tough to beat but the standout would be Nicolas ("nicolas99fc") as he has been so consistent all year round."

Have you thought about the money on offer in London and the publicity that comes with competing in such a prestigious event?
"To be honest, the money and publicity would be great but I'm more interested in trying to focus on the competition and doing everything I can to go as far as I can."

How much has Hashtag United helped you to make that final push that has seen you secure qualification?
"The support has been immense from everyone at Hashtag United and knowing I had people wanting me to do well definitely pushed me over the line in the last 32 game in Amsterdam."
"How crucial has the FIFA eWorld Cup been to establishing FIFA as a global eSport?"
"I think the fact it is a World Cup makes it carry a lot more weight. It is definitely a global spectacle that people also want to attend to see the best players in the world competing on the same stage. As the showpiece of the competitive FIFA calendar I think it has been very crucial to establishing FIFA as a global eSport."
Tell us about your personal FIFA 18 playstyle and how often (if ever) you have to alter this playstyle on short notice depending on your opponents, the situation of a match etc?
"I actually have multiple playstyles that I often change between. In Barcelona I played a very possession based game and recently I used a more direct approach in Amsterdam. I think this has allowed me to adapt to different opponents on the fly, which has been very important to my success."

Do you like to tinker with your team and formations game to game, or do you prefer to keep a particular XI and only change it as a last resort?
"I use the same core for the team in every game but certain players come in and out of the starting XI depending on how I want to play in the game. I'm definitely not afraid of making changes if something isn't working."

Which players are the most crucial to the way you play on FIFA 18?
"I think just about every player is important in their own way. The best player in the game for me is TOTY Ronaldo so I suppose he is the most crucial but I also love POTY Neymar and TOTY Ramos. R9, Gullit and Vieira are also notable mentions."

FIFA 18 has almost completed its cycle. Overall how have you found the game and do you consider it a success from a competitive point of view?
"For me, it's my first competitive year so it's hard to compare it to other years. For me, though, it's certainly been a success. The competitions have been well run and the eSports version of the game has been great fun to play."

What can FIFA 19 do to improve on FIFA 18 and are there any new features you would add to the game to improve it competitively if you had the power?
"Personally I'd prefer if goalkeepers were better from long range and worse from close range to reward creation of clear cut chances. I'd also like defending to be slightly more manual to widen the skill gap."
Follow "Hashtag dreamR" on Twitter here along with his club Hashtag United and be sure to keep an eye on our FIFA eWorld Cup tournament index page as we bring you further exclusive interviews and build-up to the biggest FIFA eSports tournament in history!