As the build-up to the eagerly anticipated 2018 FIFA eWorld Cup - which kicks off in London on 2ndAugust - ramps up, The Stats Zone continue to bring you a number of exclusive interviews with a collection of the 32 players who will be competing in the biggest tournament that eSports has to offer.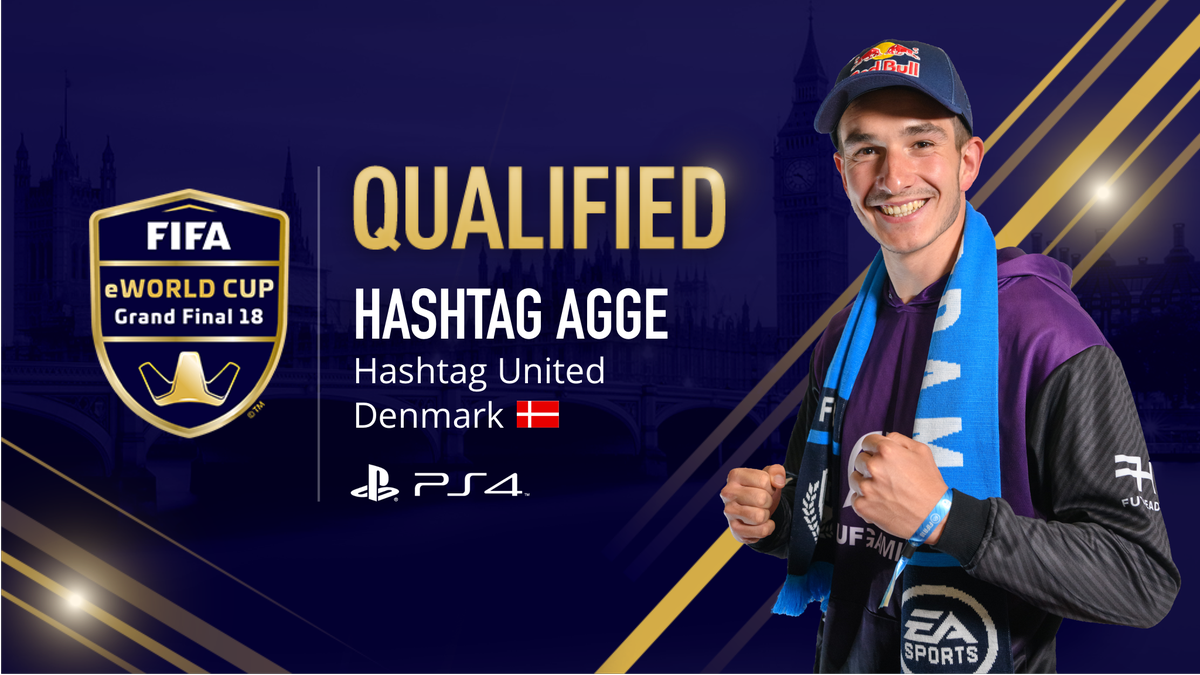 In this interview, we spoke to 2014 FIFA eWorld Cup (FIWC) winner August "Hashtag Agge" Rosenmeier. A six-time Danish champion, Rosenmeier is one of the most experienced players on the FIFA eSports scene and this season has seen him already add the ESWC Paris title to his already bulging trophy cabinet. After going on to qualify for the 2018 FIFA eWorld Cup Grand Final at the Global Series Playoffs in Amsterdam, he will be seeded 14th on the PlayStation 4 at the event and will compete in Group D.
The Dane represents popular football club and eSports team Hashtag United, who not only boast a vast online following of supporters, but also have two other players representing them at the 02 Arena in Ivan "Hashtag Boras" Lapanje and Adam "Hashtag dreamR" Barton. "Agge" chatted to us about how much playing for Hashtag United means to him and who he thinks will be his toughest competition.
STATISTICS
We've collected data from the recent Global Series Playoffs in Amsterdam and created FIFA style play cards for each qualifier: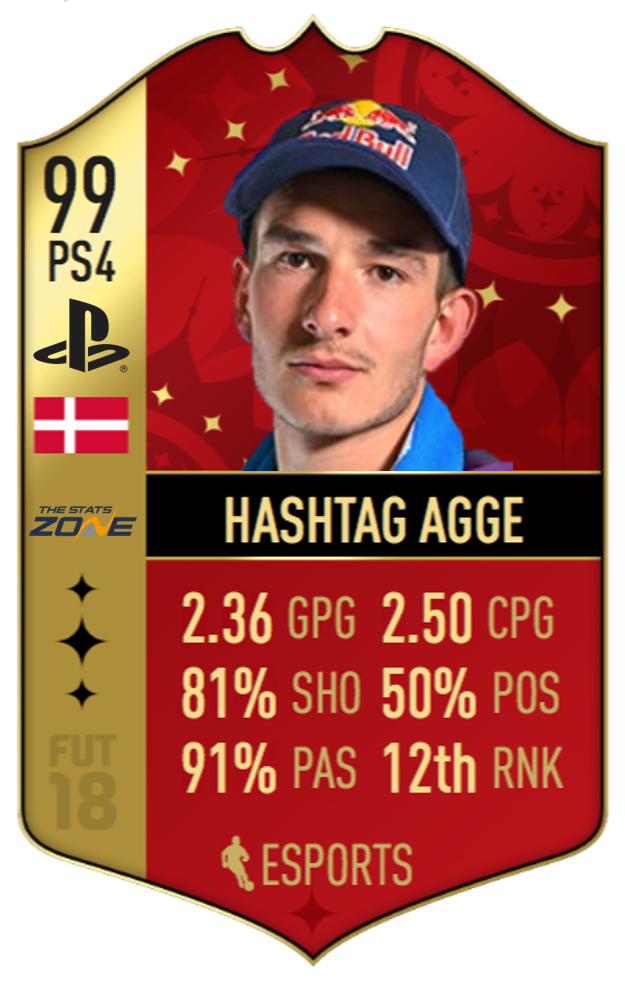 Stats are based on Global Series Qualifiers group stage games only
GPG = Goals per game
CPG = Conceded per game
SHO = Shot accuracy
POS = Average possession
PAS = Pass accuracy
RNK = eWorld Cup ranking based on our algorithm
INTERVIEW
If you weren't a professional FIFA eSports player, what would you be doing right now?
"I would be playing football on a more serious level than semi-pro (I think) or studying!"
You've qualified for the FIFA eWorld Cup. How does it feel knowing all the hard work you've put in this season has been worthwhile?
"It feels great. The ambition was first and foremost to get to the eWorld Cup when the season started. So so far so good, but there is more to be achieved now and that is the next focus for me."
How will you approach the event in terms of training and practice?
"I will practice with my teammate Ivan Lapanje (Hashtag Boras) who also qualified and my sparring partner Marcus Jørgensen (Marcuzo) who qualified as well. I've been doing that the entire season and it has paid off so far."
Who do you consider your biggest competition from the 31 other players who have made it to London?
"I think all are very equal to be honest. Anyone can beat anyone so its hard to pick some people out, but I'm going for my teammate Ivan Lapanje and my sparring partner Marcus Jørgensen because I know how good they both are when they reach their highest level."
Have you thought about the money on offer in London and the publicity that comes with competing in such a prestigious event?
"I didn't think too much about it. The money is a great bonus, but the title and prestige is what I think about. It could be my second FIFA eWorld Cup title, it would be history written!"
How much has your Hashtag United helped you to make that final push that has seen you secure qualification?
"Hashtag United have been amazing for me! I always felt the support since day one, and I wake up every day and want to give 110 per cent for this team. A team that I consider my second family!"
Which players are the most crucial to the way you play on FIFA 18?
It's hard not to mention Gullit and Vieira in the midfield – the two 'goats' as I like to call them. Then you also need R9 (Ronaldo) up top because of his five star weak foot and fast turns.
Follow "Hashtag Agge" on Twitter here along with his club Hashtag United and be sure to keep an eye on our FIFA eWorld Cup tournament index page as we bring you further exclusive interviews and build-up to the biggest FIFA eSports tournament in history!