As the build-up to the eagerly anticipated 2018 FIFA eWorld Cup - which kicks off in London on 2ndAugust - ramps up, The Stats Zone continue to bring you a number of exclusive interviews with a collection of the 32 players who will be competing in the biggest tournament that eSports has to offer.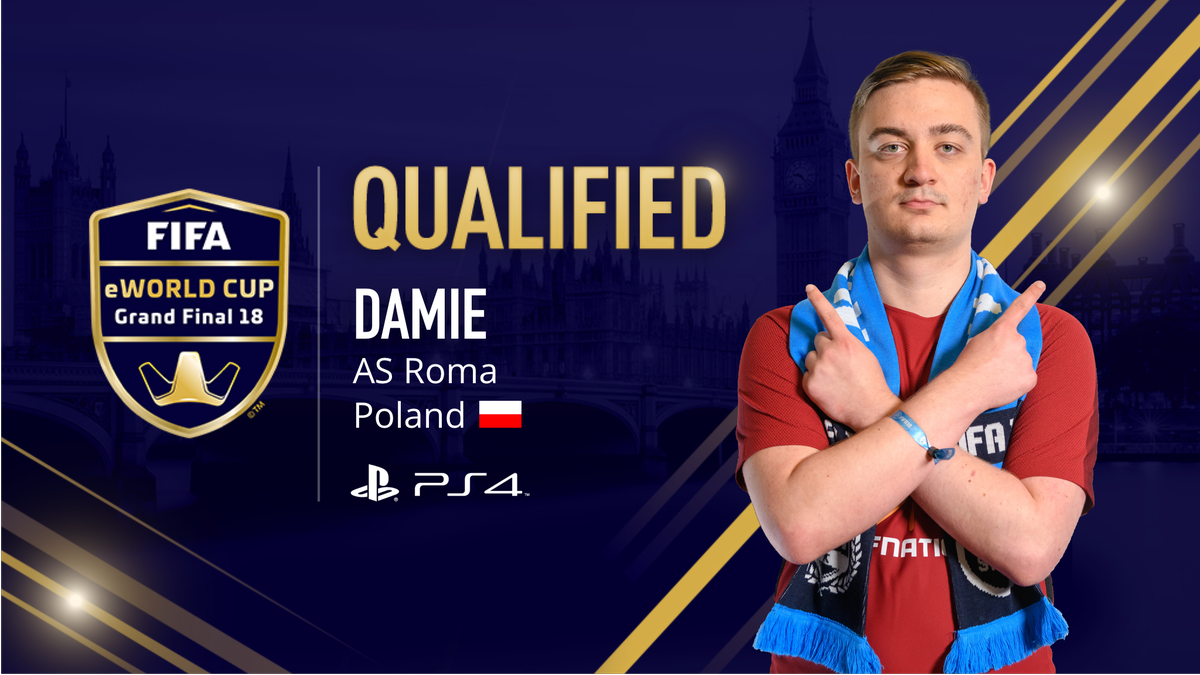 In this interview, we spoke to the only Polish player to have qualified for the 2018 FIFA eWorld Cup Grand Final – Damian "damie" Augustyniak, who will come to London as the number six seed on the PlayStation 4. He will compete in Group D, which is seen as the most open of all four groups of eight, featuring players such as 2014 eWorld Cup champion August "Hashtag Agge" Rosenmeier and Bayer 04 Leverkusen's "B04 M4RV".

"damie" represents AS Roma Fnatic, an eSports team formed via a partnership between the famous Italian football club AS Roma and prestigious eSports organisation Fnatic. His debut event representing the team saw him compete in the Global Series Playoffs where he made it to the quarter-finals. More importantly, he booked his spot at the 02 Arena following a win over PSV Eindhoven's Ali Riza Aygun. Here, "damie" spoke to us about the emotions he felt qualifying for the biggest tournament in FIFA eSports.
STATISTICS
We've collected data from the recent Global Series Playoffs in Amsterdam and created FIFA style play cards for each qualifier: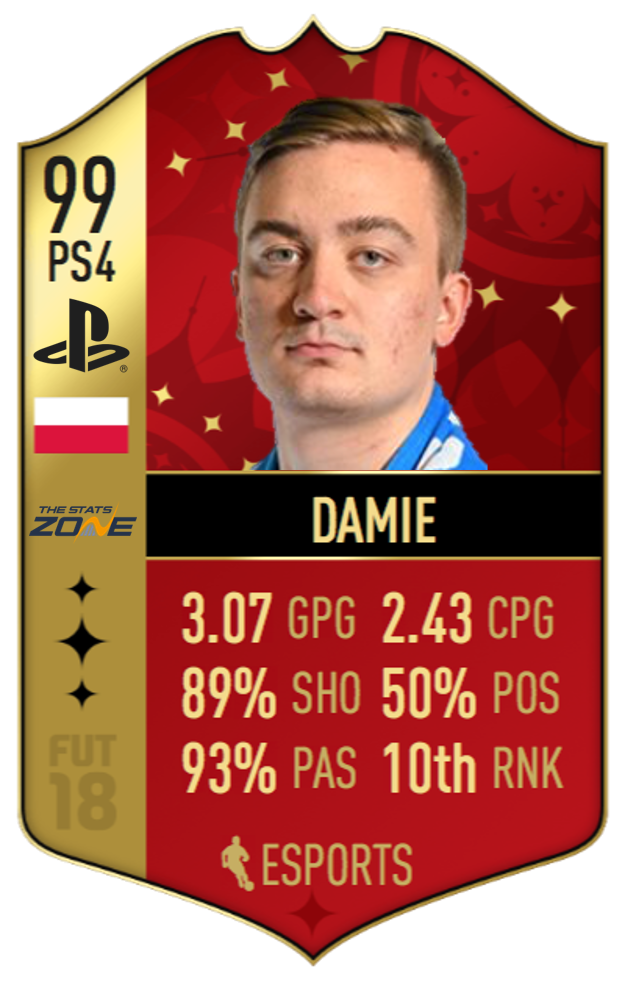 Stats are based on Global Series Qualifiers group stage games only
GPG = Goals per game
CPG = Conceded per game
SHO = Shot accuracy
POS = Average possession
PAS = Pass accuracy
RNK = eWorld Cup ranking based on our algorithm
INTERVIEW
When did your professional FIFA career begin?
"It all started in August 2016 when I moved to London. I was working for two weeks to buy a new Xbox One and decided that I will try my best in FIFA 17. At the start I never thought that I would become a pro player, but month after month I was noticing my improvement and after some time I just said to myself 'Hey let's try to play this game full-time'." How do you balance all the practice, travelling, online/offline competition that comes with being a professional FIFA player with maintaining your everyday lifestyle?
"At this moment I don't think it's really hard to balance everything, especially when you can play FIFA full-time. FIFA as an eSport is growing every year but we still don't have that many offline events compared to other games which makes it easier to balance it with our lifestyle."
If you weren't a professional FIFA eSports player, what would you be doing right now?
'Honestly, I have no idea. I think FIFA was my last chance to make a living from something that I really love to do. That's why I went all in with FIFA and hopefully I can play it professionally for the next few years."
You've qualified for the FIFA eWorld Cup. How does it feel knowing all the hard work you've put in this season has been worthwhile?
"I can't even describe it. In the two weeks just after the Global Series Playoffs I needed to stop myself from crying every time when I really thought about my qualification for the FIFA eWorld Cup Grand Final. It's just pure joy and a dream come true."
How will you approach the event in terms of training and practice?
"As always I will play a lot of matches against other pro players, also just before the tournament we will have a bootcamp with our FIFA team to analyse and improve my gameplay together."
Who do you consider your biggest competition from the 31 other players who have made it to London?
"I'm a PS4 player so it must be Nicolas ("nicolas99fc"), the most consistent player on the PS4 side for sure and definitely one of the favorites to win the tournament."
Have you thought about the money on offer in London and the publicity that comes with competing in such a prestigious event?
"Sure, every single player is excited but on the other hand we all know that we have a job to do in London. At the moment I'm fully focused on improving my game and pulling out the result but money and publicity is obviously a great bonus."
How much have AS Roma Fnatic helped you to make that final push that has seen you secure qualification?
"Before the Global Series Playoffs we didn't really have the time to practice together since I just joined the team but they really helped me during the tournament. Having a coach for the first time was a great experience; he helped me several times and also just being there as a team and cheering for each other gave me more confidence during my matches."
Tell us about your personal FIFA 18 playstyle and how often (if ever) you have to alter this playstyle on short notice depending on your opponents, the situation of a match etc?
"I always start with my formation and I try to play my game, but sometimes when I feel it's not working I like to change formation and make one or two substitutions."
Do you like to tinker with your team and formations game to game, or do you prefer to keep a particular XI and only change it as a last resort?
"At the start of FIFA 18 I was changing my team almost every week to check a lot of players. At this point of the game I know which players I want to see in my team so I don't really like to change anything. The only exception would be some special cards of players that I've already used."
Which players are the most crucial to the way you play on FIFA 18?
"I would say Cristiano Ronaldo up top, Neymar as CAM and Ronaldinho as RCM."
FIFA 18 has almost completed its cycle. Overall how have you found the game and do you consider it a success from a competitive point of view?
"Overall I've really enjoyed the game but I think some unnecessary patches made the game boring for casual players. From a competitive point of view I think it's fine, but some improvements are needed such as pressure as whole team."
What can FIFA 19 do to improve on FIFA 18 and are there any new features you would add to the game to improve it competitively if you had the power?
"I've heard that there will be changes with finishing so I'm curious as to how we will adapt to any new mechanic, and as I said before we need a little bit of pressure back from FIFA 17."
Follow "damie" on Twitter here along with his FIFA team AS Roma Fnatic and be sure to keep an eye on our FIFA eWorld Cup tournament index page as we bring you further exclusive interviews and build-up to the biggest FIFA eSports tournament in history!