Usain Bolt – 'The Fastest Man Alive' – currently holds six Olympic gold medals. In the 2008 Beijing Olympics, he won gold in the 100m, 200m and 4 x 100m relay, and duplicated this four years later at the London Olympics in 2012. He is also the first man to set world records in all three sprinting events at a single Olympics. He is the men's 100m world record holder at 9.58 seconds, the men's 200m world record holder at 19.19 seconds and the 4 x 100m relay world record holder with Jamaica, winning the 2012 Olympic gold in 36.85 seconds.
With the Rio Olympics close approaching, there is more and more talk on whether Usain Bolt can once again achieve his treble and consequently win three gold medals, in the same three events, over three Olympics. With this massive accomplishment looming, we wanted to look back through Olympic history and find out who else has managed to win one or more events at multiple Olympics, and if there is anyone who has achieved what Bolt is attempting to achieve at this year's Rio Olympics.
We specifically only looked at Athletics data as we believed this to be more relevant to Bolt's achievements; other sports have varied career lengths and some have more disciplines compared to Athletics, such as Swimming. With this Athletics only data, we looked at gold medals won in athletics from the 1896 Olympics in Athens to the most recent Olympics in London 2012. We found that on ten occasions athletes have been able to win gold in three events at one Olympic games. Two of these occasions were Ray Ewry (USA), who won both the standing high jump and standing long jump in 1900, 1904 and 1908. He also won the triple jump in 1900 and 1904, but was unable to retain his gold in 1908. Two other athletes – Michael Johnson (USA) and Irena Szewinska (POL) – won golds in three Olympic games, however these were not in the same event. In total, Michael Johnson (USA) won four Olympic gold medals as he won the 200m and 400m in 1996.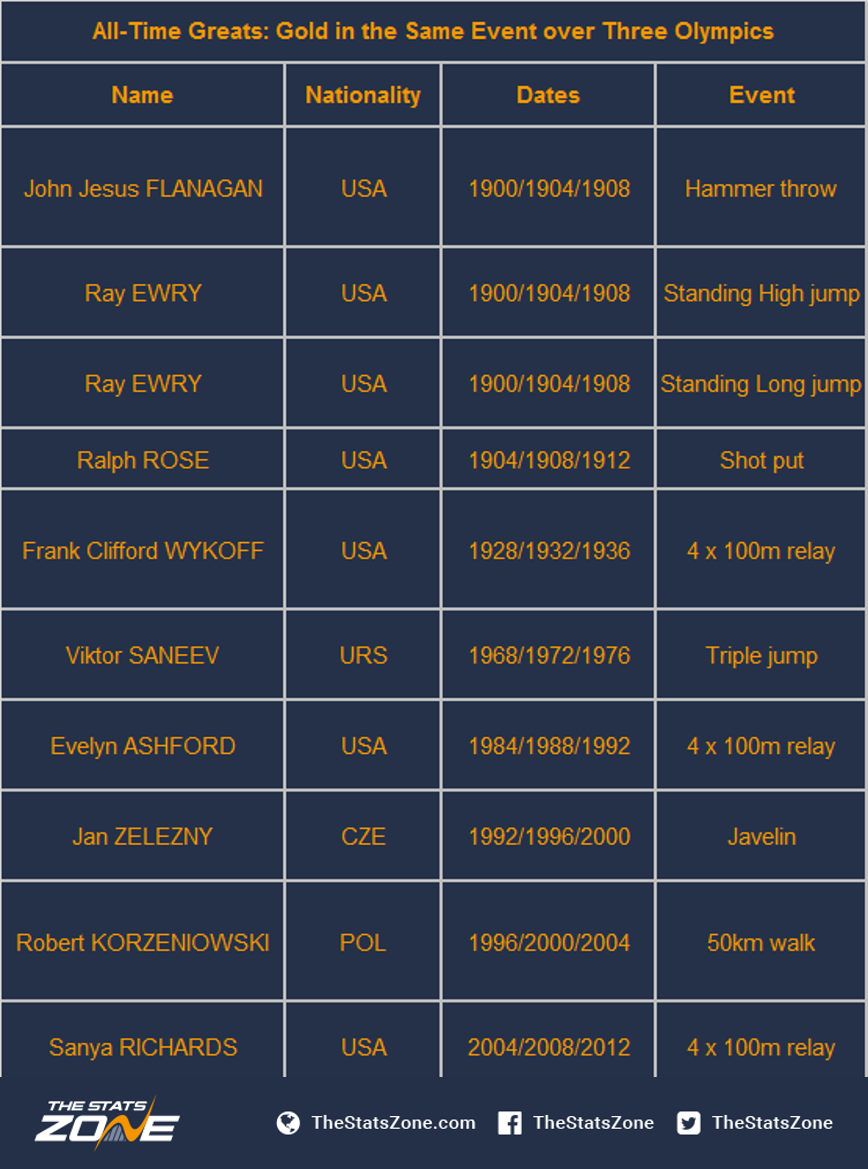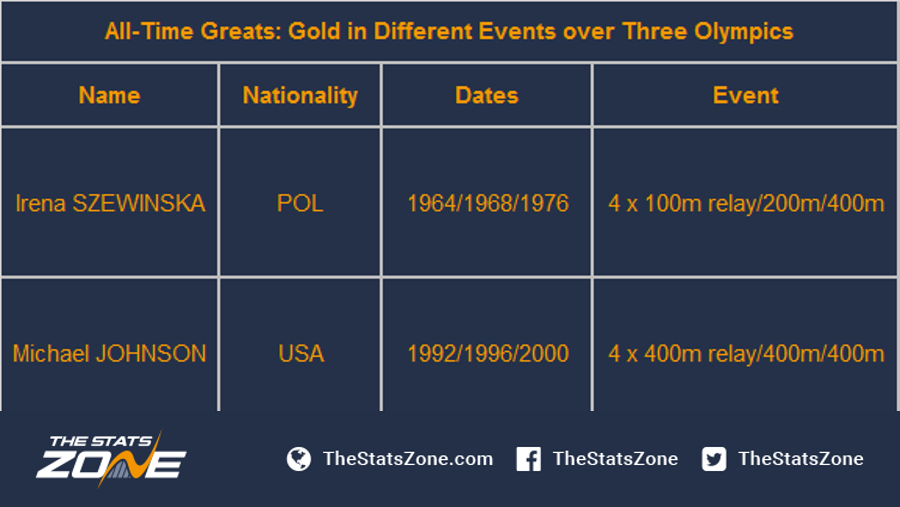 Astonishingly, two athletes have won four gold medals in the same event over four Olympic games. They were both American athletes, with Carl Lewis attaining gold in the long jump in 1984, 1988, 1992 and 1996 and Alfred Oerter winning discus gold in 1956, 1960, 1964 and 1976. Carl Lewis won these gold medals in back-to-back Olympics, meaning there were 12 years between his first and last Olympic gold medals. Alfred Oerter won gold in three back to back Olympics, however his fourth gold came eight years later, taking him 20 years to achieve four Olympic gold medals in the discus.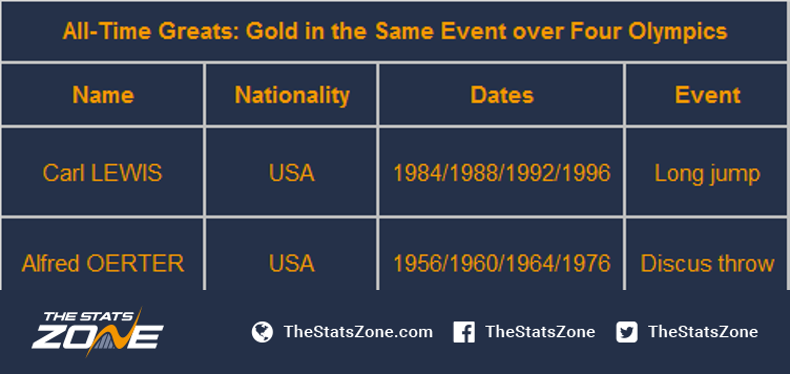 As Bolt has won three events in each of the last two Olympics, we wanted to see what other athletes have won multiple gold medals at a single Olympics. In total, there are 13 athletes who have managed to win three events at a single Olympics. Within this 13 there are five athletes, including Florence Griffith-Joyner (USA) who triumphed in the same events as Bolt (100m, 200m and 4 x 100m relay). Florence Griffith-Joyner – who won these events in 1988 – is still the women's world record holder in the 100m at 10.49 seconds and in the 200m at 21.34 seconds.
There are five athletes who have been more successful at a single Olympics than Bolt. Alvin Kraenzlein (USA), Ville Ritola (FIN), Jesse Owens (USA) and Fanny Blankers-Koen (NED) have all won four golds at a single Olympics, whilst Paavo Nurmi (FIN) won five Olympic gold medals. Paavo Nurmi is still the only athlete ever to win five gold medals in a single Olympic games.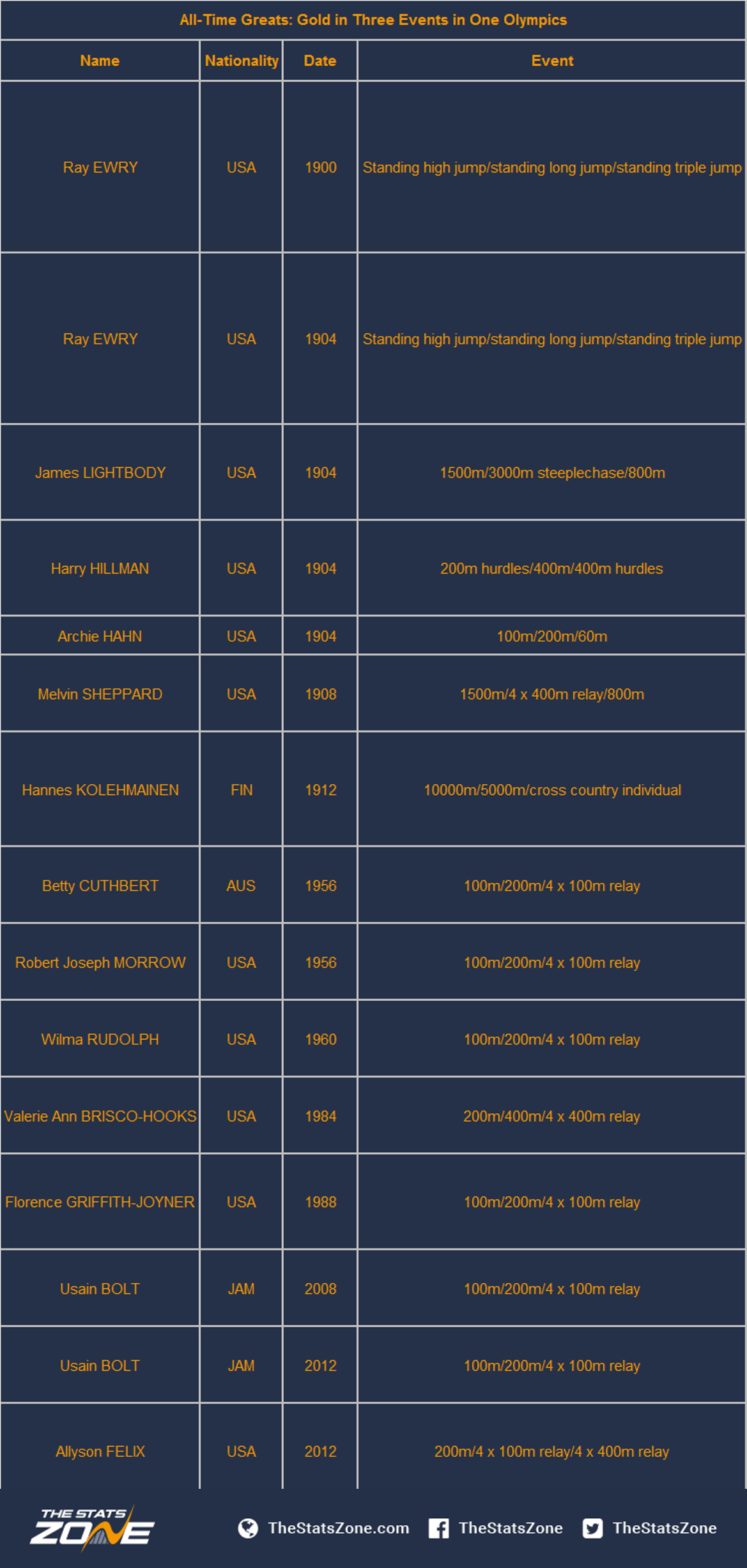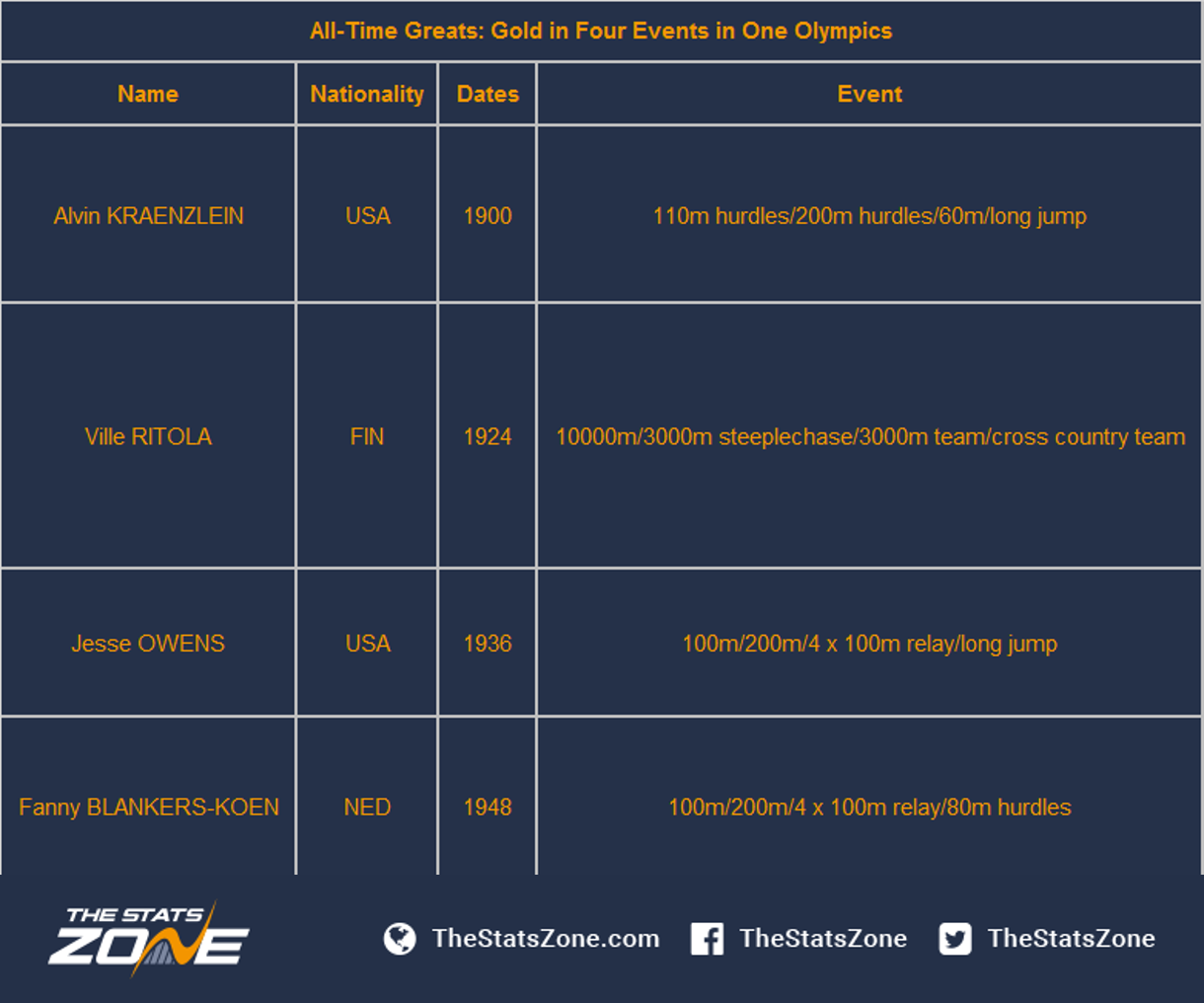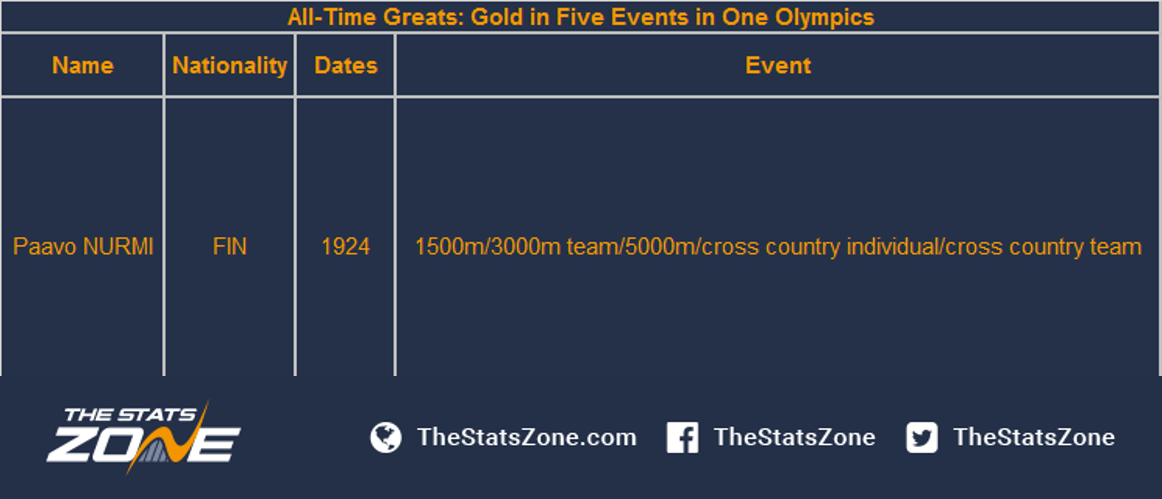 After winning his gold medals at London 2012, Bolt was part of a very elite group of athletes in Athletics; he had won multiple gold medals in the same events at multiple Olympic games. From 1896 to 2012, there are only two athletes who have achieved two Olympic gold medals, in the same two events, over two Olympic games, and only one other athlete has won three gold medals, in the same three events, over three Olympic games.
These athletes were Lasse Viren from Finland and Bärbel Eckert-Wöckel from the former East Germany. Viren was a long distance runner who won back-to-back Olympic gold medals in the 5000m and 10000m, and sprinter Eckert-Wöckel won two out of Bolts three events, winning the 200m and 4 x 100m relay in 1976 and 1980.
The only other athlete to hold Bolt's title of winning three gold medals, in the same three events, over two Olympic games is American Athlete Ray Ewry, winning the standing high jump, standing long jump and standing triple jump in 1900 and 1904.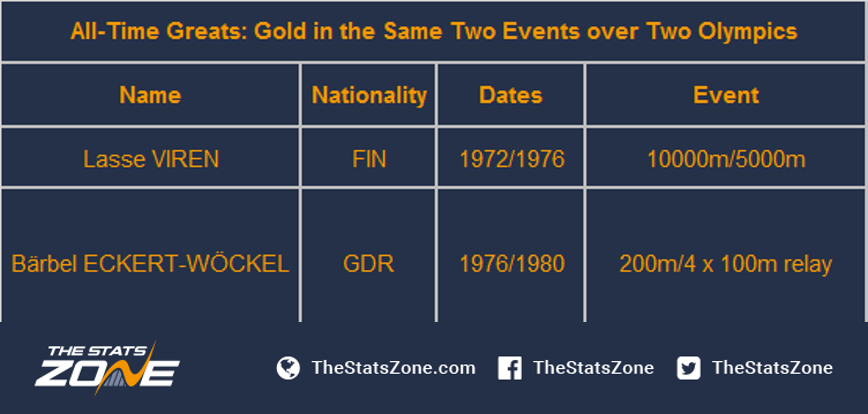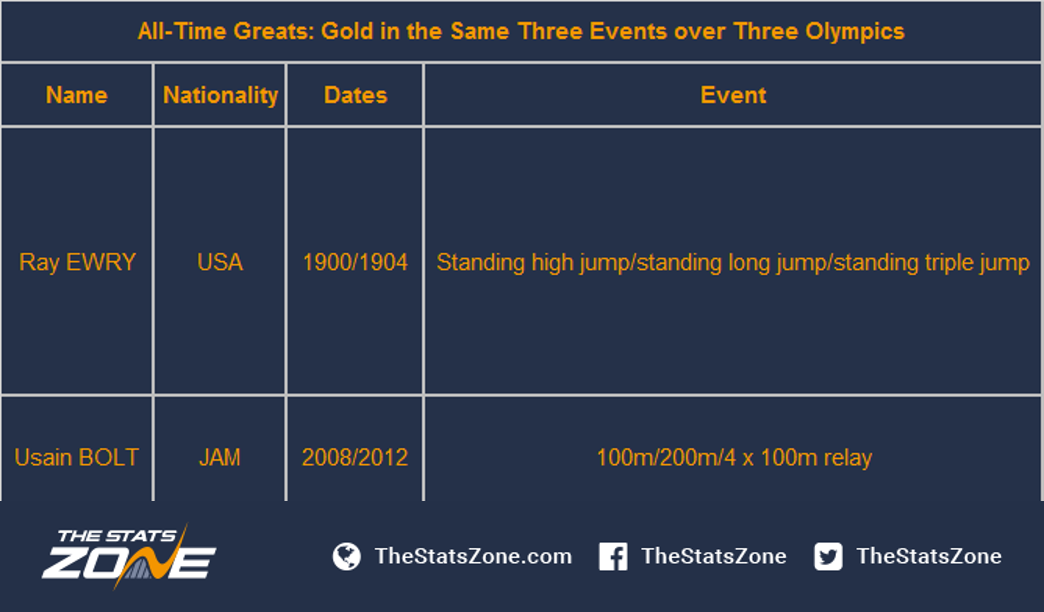 Looking forward to Rio, questions are being asked as to whether Bolt can win gold in any of these three events due to injury and lack of competition time so far this year. Although Bolt has recorded 12 of the top 30 times of all time in the 200m and nine of the top 30 times of all time in the 100m from 2008 to 2016, he has only recorded the fourth quickest time in the 100m so far this year, and the fifth fastest 200m. Currently, his biggest competitor in both of these events is seen to be Justin Gatlin (USA) who, since returning from his doping ban, quickly made his way on to the 100m all-time best list in May 2015, recording a time of 9.74 seconds. A month later he also reached fifth in the 200m all-time best list, running 19.57 seconds. His 100m time is still 0.16 seconds slower and 200m time 0.38 seconds slower than Bolt's world records, which were set in 2009.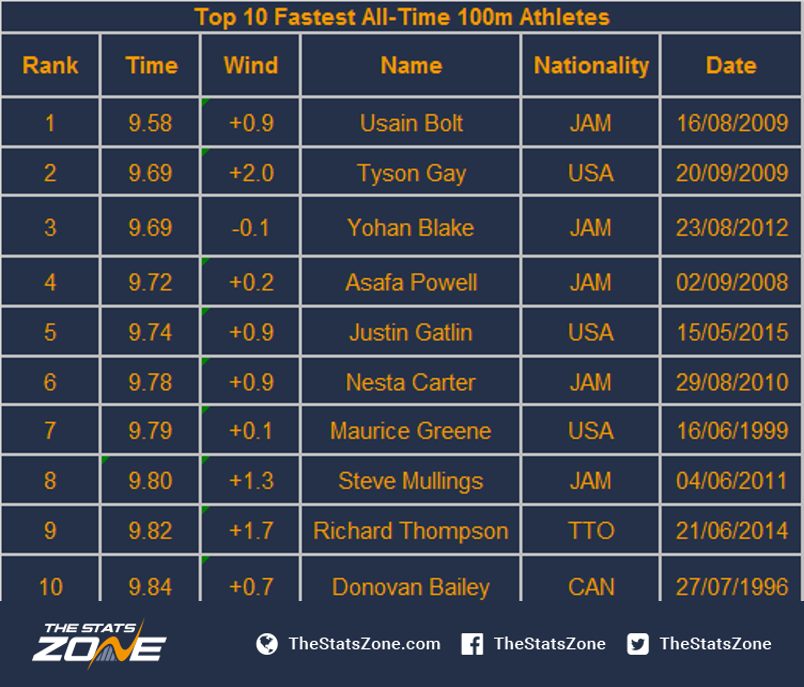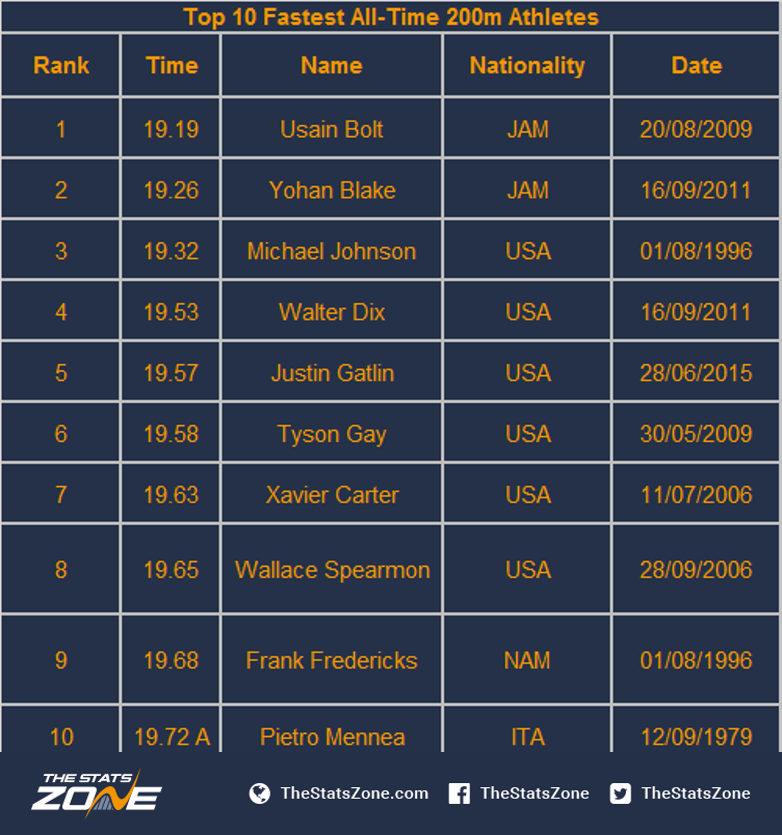 If we just look at the last two years, Gatlin is much more of a threat to Bolt than the all-time best list leads us to believe, especially in the 100m. In 2015, Gatlin topped the 100m top times list, beating Bolt by 0.05 seconds, and has continued this form in to 2016, recording times that are 0.08 seconds quicker than Bolt. Gatlin tops the 2016 table so far, with Bolt three places lower in fourth. This means that from January 2016, three people have run quicker times than Bolt, with Justin Gatlin being one.
In Bolts preferred event, the 200m, Bolt's only race was at the at the London Anniversary Games, where he recorded the fifth fastest time of 2016 – 19:89. Gatlin however, sits in second place behind fellow American LaShawn Merritt. In 2015 where we can compare Gatlin and Bolt in the 200m, Gatlin was only 0.02 seconds slower than Bolt. Does this bode well for the current Olympic Champion?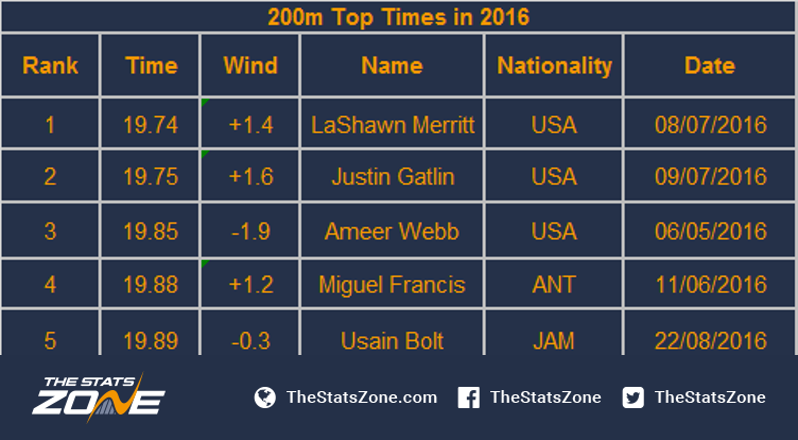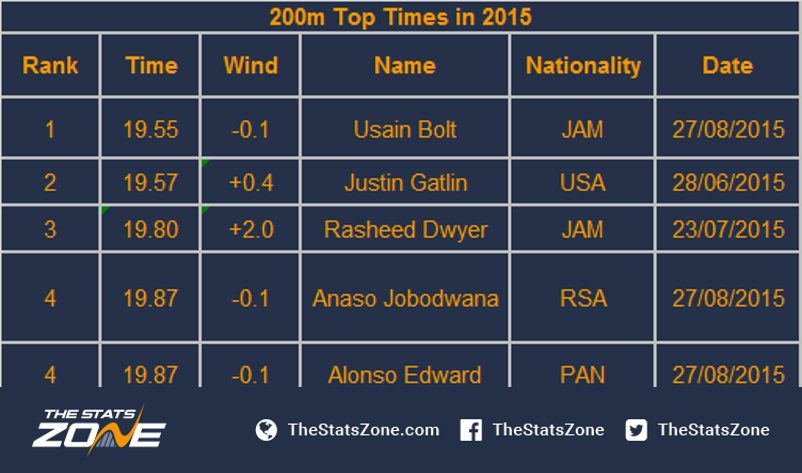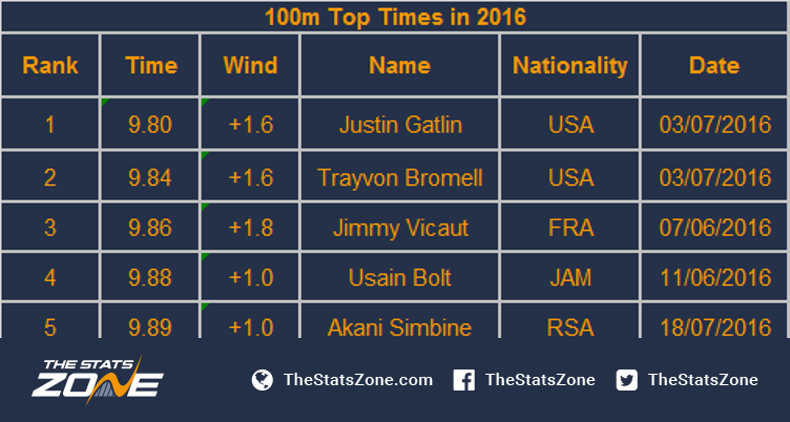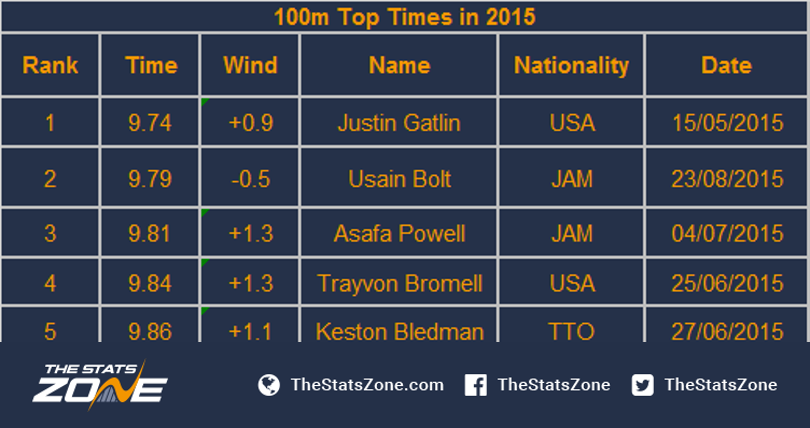 Pushing all the negatives aside, if Usain Bolt is able to achieve another three gold medals at this year's Olympics in Rio, he will go in to another record book, being one of only three athletes – alongside Carl Lewis and Paavo Nurmi – to hold the most Olympic gold medals in athletics, each with 9 Olympics gold medals to their name.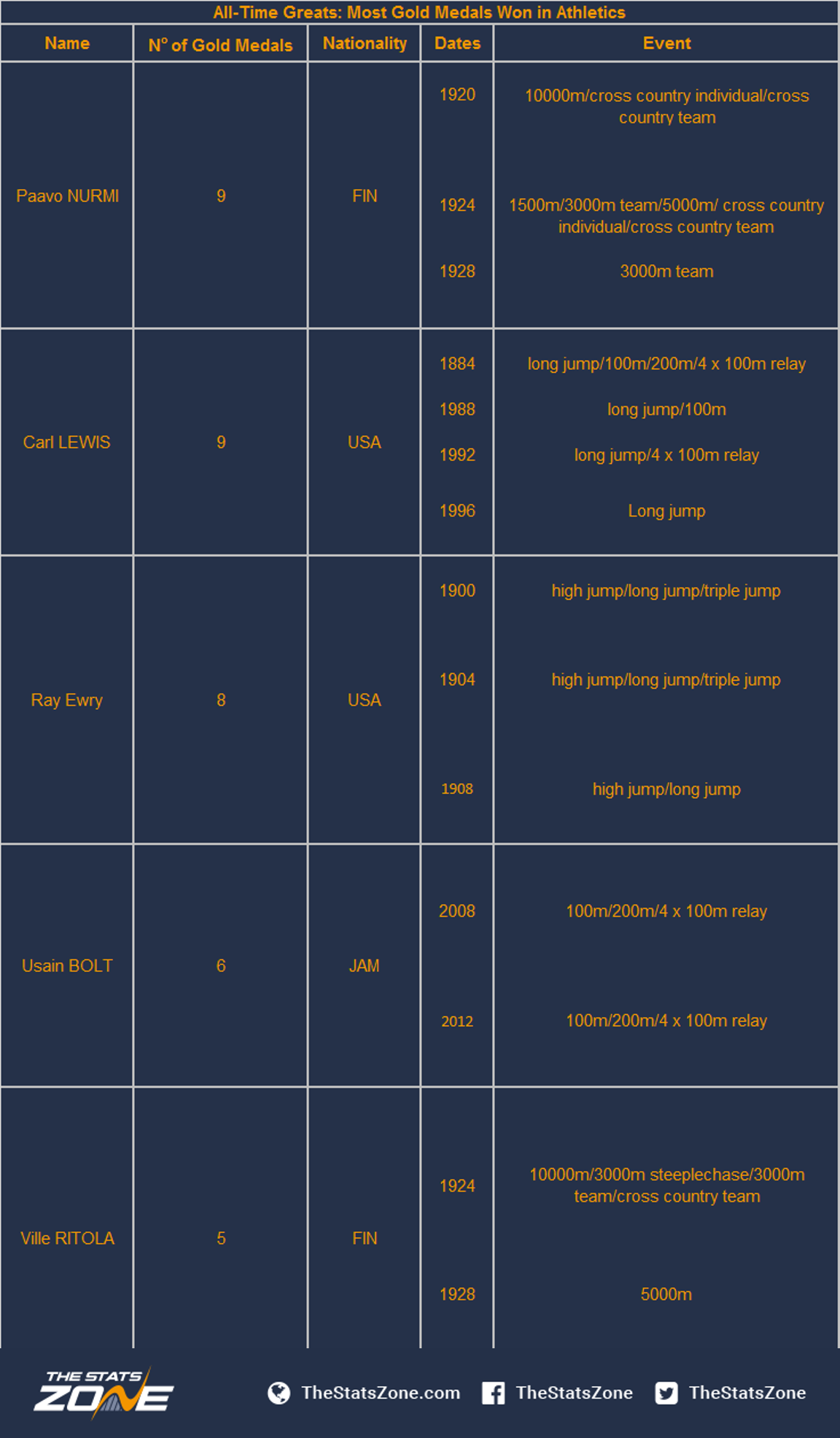 We all know that if Bolt runs to the best of his ability, there is no way any other athlete can catch him. All of his competitors are at least 0.11 seconds behind him in the 100m and 0.07 seconds behind him in the 200m.
Although Bolt insists he has no fitness problems heading in to Rio, it remains to be seen whether his hamstring strain from earlier in the year and his lack of competition time so far this year will effect the fastest man alive and prevent him from being the only ever individual in Athletics to win Olympic gold medals in the same three events, over three back-to-back Olympic games.