The sport of swimming is not one you would regard as mainstream, with little media coverage compared to many other sports, and yet every four years during the Summer Olympics swimming becomes one of the main attractions in the sporting world.
The sport itself is one of the oldest in the games and hosts the second largest number of events behind athletics. Men and women participate in 16 events each in the form of team relays and individual competitions in four strokes – freestyle, breaststroke, butterfly and backstroke. With photo finishes and numerous world records being set, it is no surprise that swimming is one of the most popular spectator sports during the games.
What's more, swimming possesses the most successful Olympian of all time in Michael Phelps. With a medal haul of 22 – including 18 golds - Phelps, at the age of 31, will be competing in his final Olympics for a second time after coming out of retirement – can this be yet another fitting end to one of the world's all-time great athletes?
Here at The Stats Zone, we take a look at all the records, including world, Olympic, season and which events and countries are most likely to yield success at Rio.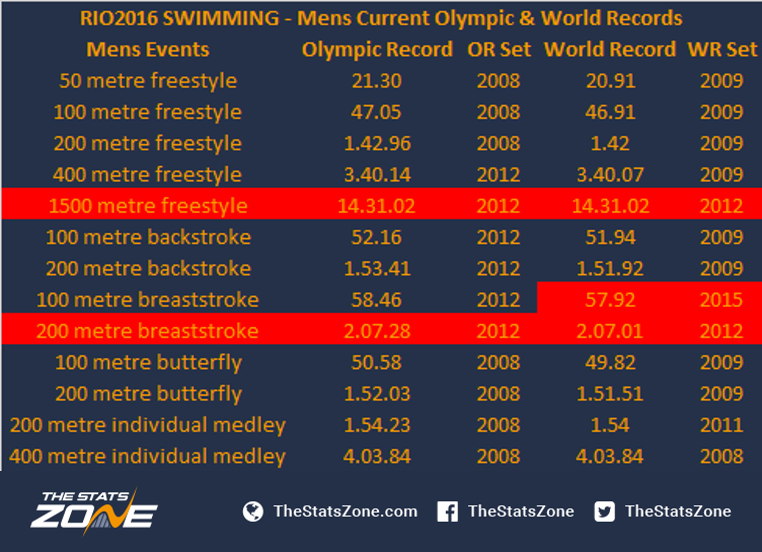 Notably, the majority of Olympic (OR) and World Records (WR) were recorded in 2008 and 2009 respectively, when the advances in swimsuits allowed competitors to swim 2 – 4% faster. Since January 2010, all body length swimsuits have been banned from competition, correlating with many of the world records not being broken since these years.
In recent years, both the men's 1500 metre freestyle and 200 metre breaststroke events have seen world records set during the previous Olympic Games (London 2012). Interestingly, only one men's world record has been broken since 2012, the 100 metre breaststrokes in 2015.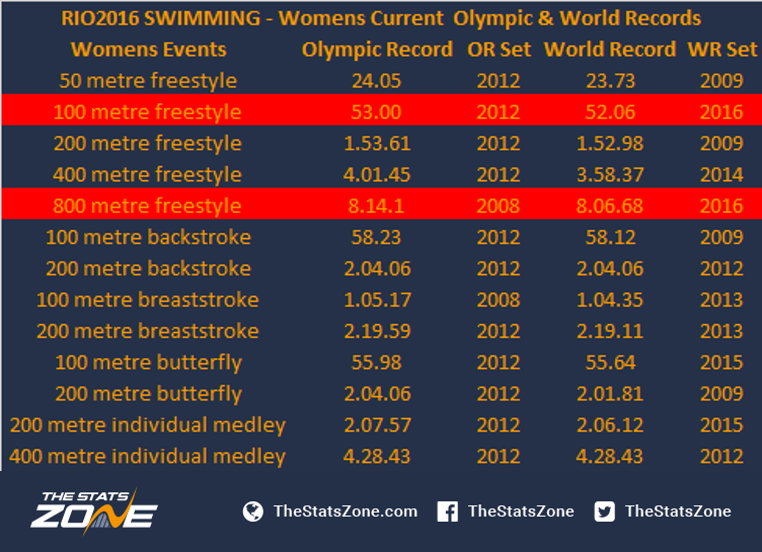 Unlike the men's competitions, only two ORs and four WRs currently still stand since the non-textile swimsuit ban. There have been two new WRs set during 2016 in the 100 and 800 metre freestyle, where a new OR during Rio is highly possible.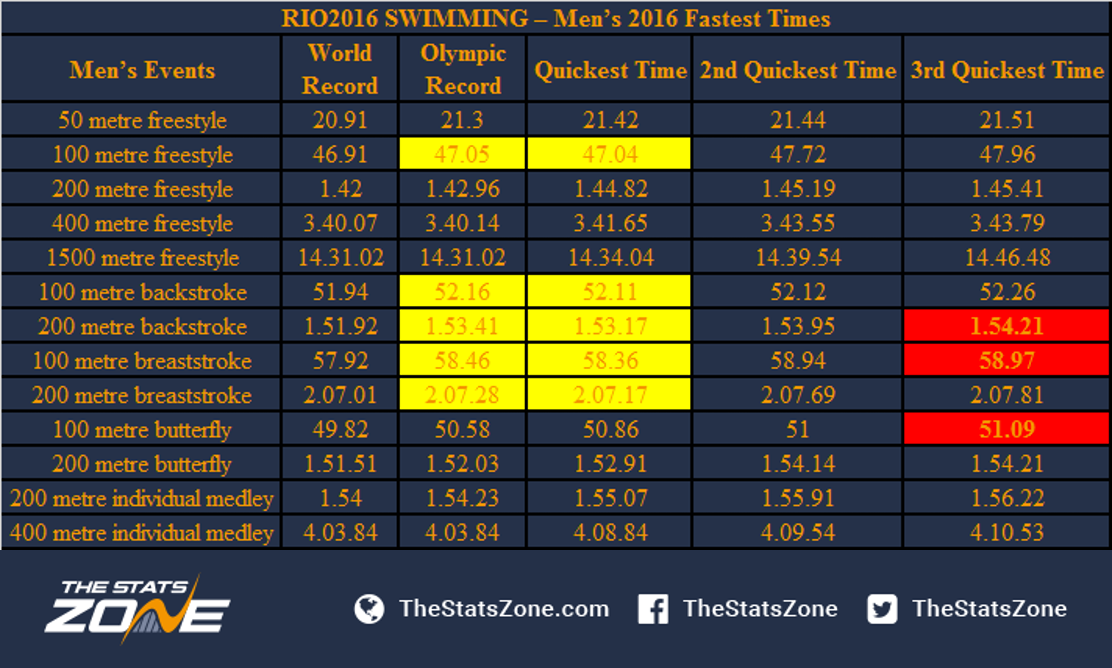 Assessing the three quickest times in each event presents an idea of form in relation to current WRs. As each athlete will be aiming to peak for the Olympics, times are expected to be slower but within a time frame that presents a level that will have a strong chance of achieving a medal. Three of the 3rd quickest times highlighted in red are those of Russian swimmers, which still possess problems and could be invalid come the time the events begin.
During the 2016 season there have been five events that have recorded quicker times than the current Olympic Records, suggesting these swimmers are favourites for gold and to break the OR providing they can produce on the biggest stage.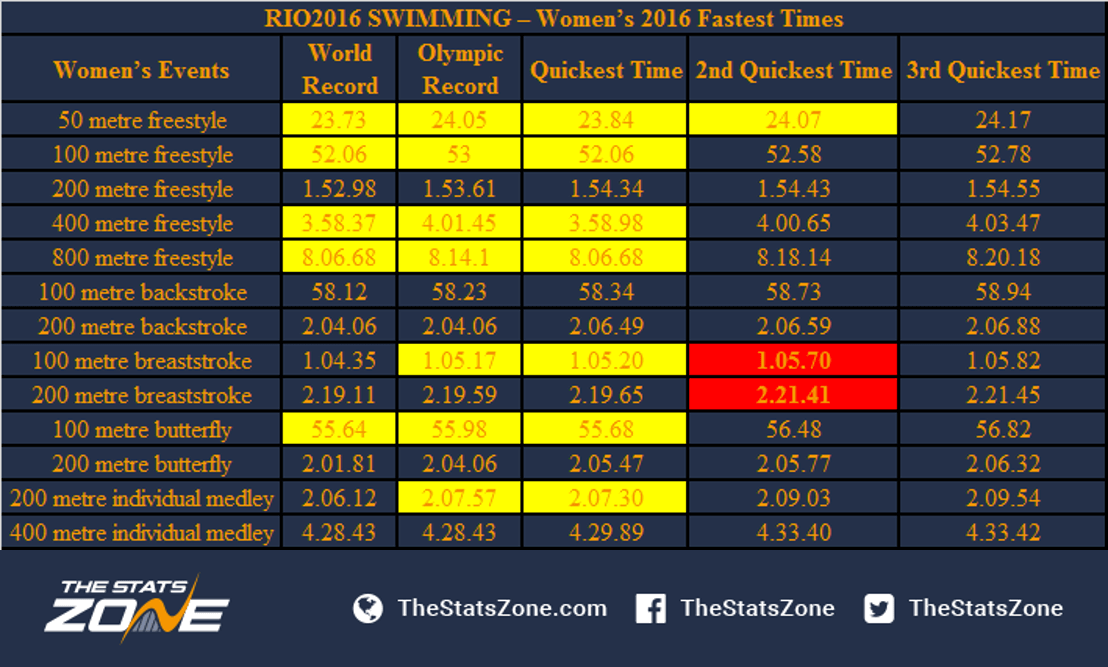 The women's events however look as if many records could be broken during Rio 2016. With two WRs being set already during the 2016 season, it is probable a new OR will be set in the 100 metre breaststroke and 200 metre individual medley. Furthermore, the 50 metre freestyle could be an interesting one to follow as the 2nd quickest time of the season alone is only 0.02 seconds slower than the current OR. Additionally, the 100 metre butterfly could see a new WR, with the 2016 fastest time being just 0.04 seconds off the pace.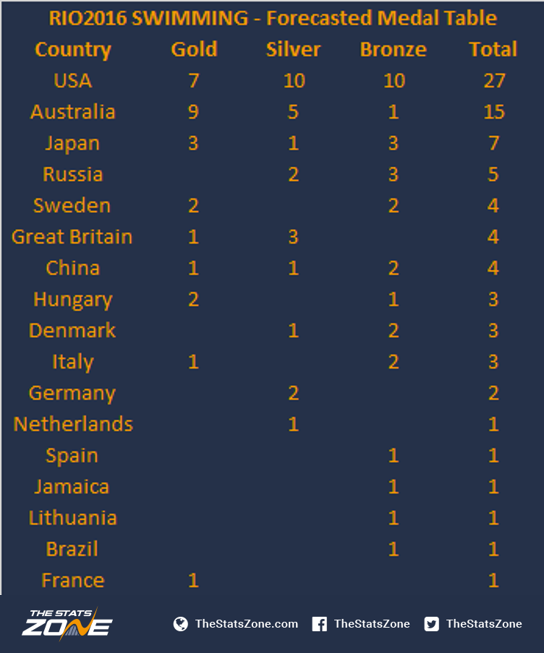 Taking into account the top three 2016 season times, the medals for each country would be spread out as above. The USA are currently leading the way with a total of 27 medals, however Australia have two more golds at present with nine. As has been the case in recent games, the swimming medals haul will be a close run competition between these two countries; expect some records to be broken along the way.
In recent years, Japan has started producing world class swimmers, and this is also apparent in the forecasted medals table, sitting at 3rd with seven. Interestingly, Russia is in fourth position; nonetheless this is likely to change due to recent doping events. Even if some of their athletes compete, from a psychological perspective they may not be in the right frame of mind to reach their desired levels.
Over the last 20 years and five Olympic Games world records have been smashed regularly, but during which time frames have been most successful and how does this relate to the likelihood of Rio 2016 seeing more records broken?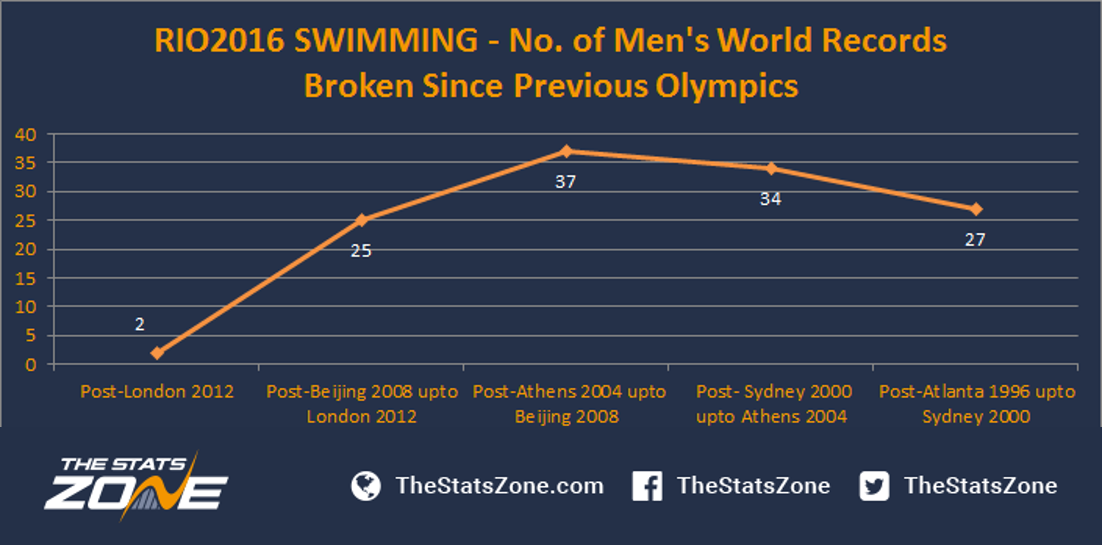 From Atlanta 1996 until Beijing 2008, a world record in Olympic swimming events was broken on average 32.6 times every four years. However, between Beijing 2008 and London 2012, this number decreased to 25 times – although relatively high still, this further coincides with the swimsuit rule change. Notably, since the London 2012 games, only two world records have been broken in the pool, which is not only a sizeable difference compared to the 30.75 average of the previous 16 years, but also a very minimal number in general. It appears that men's swimming has plateaued in terms of world records.
One of the main attributing factors to a larger number of records broken during certain four-year time periods can be factored to individual greatness rather than a progression in competition, with two of the greatest swimmers and Olympic athletes demonstrating this further. Ian Thorpe alone accounted for 11 new WRs between 1996 and 2000 in just the 200 and 400 metre freestyle events. The great Micheal Phelps accounted for 21 out of 71 WR in Olympic swimming events, showing that the quantity of WR breaks is highly dependent on great athletes.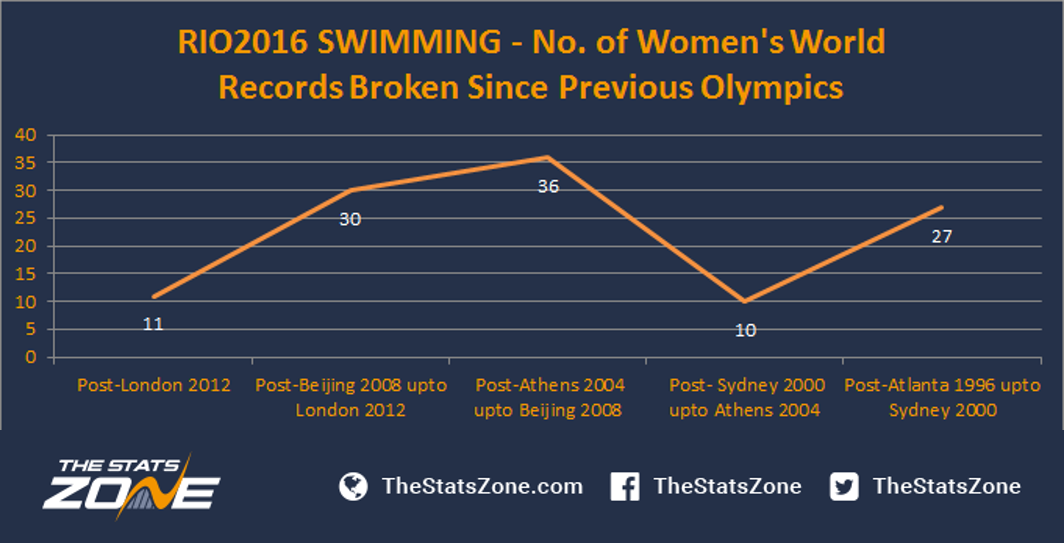 Excluding the period between Sydney 2000 and Athens 2004 as well as post-London 2012, on average a world record was broken in the women's Olympic swimming events 31 times. However, between post-Sydney 2000 and up to Athens 2004 this number decreased significantly to just 10 new records. Furthermore, during the 2004 games, there were no new records set in any individual race but there were three new records in each of the three team events. Could this be a similar pattern to what is being seen in the men's competitions at present?
Nevertheless, post-London 2012 has already seen 11 new world records in the pool, which is significantly higher than the men's event during the same time period. However, 19 year old Katie Ledecky's swimming genius lays acclaim to over half of these records alone (6), and if the 1500 metres freestyle was a women's event in the Olympics, this figure would rise to nine.
We see similar trends in previous time periods that account for large numbers of records for one single swimmer, with Penelope Heyns of South Africa recording 11 world records in the 100m (6) and 200 metre (5) breaststroke alone between the 1996 and 2000 games. Natalie Coughlin of the USA recorded six WRs between 2004 and 2008 in the 100 metre backstroke, demonstrating that individual greatness can and does account for large WR breaks in specific time periods.
When comparing men's and women's world record breaks, it is evident that both possess similar trends throughout the past 20 years. Barring the women's period between 2000 and 2004, they produce similar numbers throughout. Notably however is the decrease in new WRs since London 2012. Although the Olympics is yet to begin where many new WRs could be set, there appears another reasons as to why.
As identified in the past, great athletes move world records forward and often create new ones in larger chunks over certain time periods. Therefore, it appears at present the men's competition does not currently possess a swimmer who is superior to the rest in their events. However, we are witnessing something closer to the Thorpe, Phelps, Coughlin and Heyns in the domination of Ledecky in the women's competition, but this is still on a smaller scale.
Remarkably, we witnessed a large number of WRs during 2008 and 2009, which coincided with the new design of full-body swimsuits as discussed previously. It is then, by little coincidence that new WRs have dropped dramatically post 2010 when the new rule change took place.
With so many new WRs being set during this time frame, it is likely down to the advancement in equipment as many of the WRs set remain today. It could be suggested that the gap was made too big too quickly, meaning today's swimmers are struggling to break these records without the 2 – 4% faster suits. We have seen numerous records broken since the rule change nevertheless, but new world records being set as regularly as in previous years could be rare in today's events, meaning the Olympic Games may not witness as many WRs in the pool as in previous games.
With times still getting better though, it is expected new Olympic Records will be likely, but unless an advancement in equipment that is legal is used in the near present, the trend of new world records could be a thing of the past.