So much has been made of Premier League clubs breaking the £1b mark in summer transfer spend this summer, but looking at that number in isolation is a little misleading. Net transfer spend is far more accurate and breaking down per team gives much greater insight.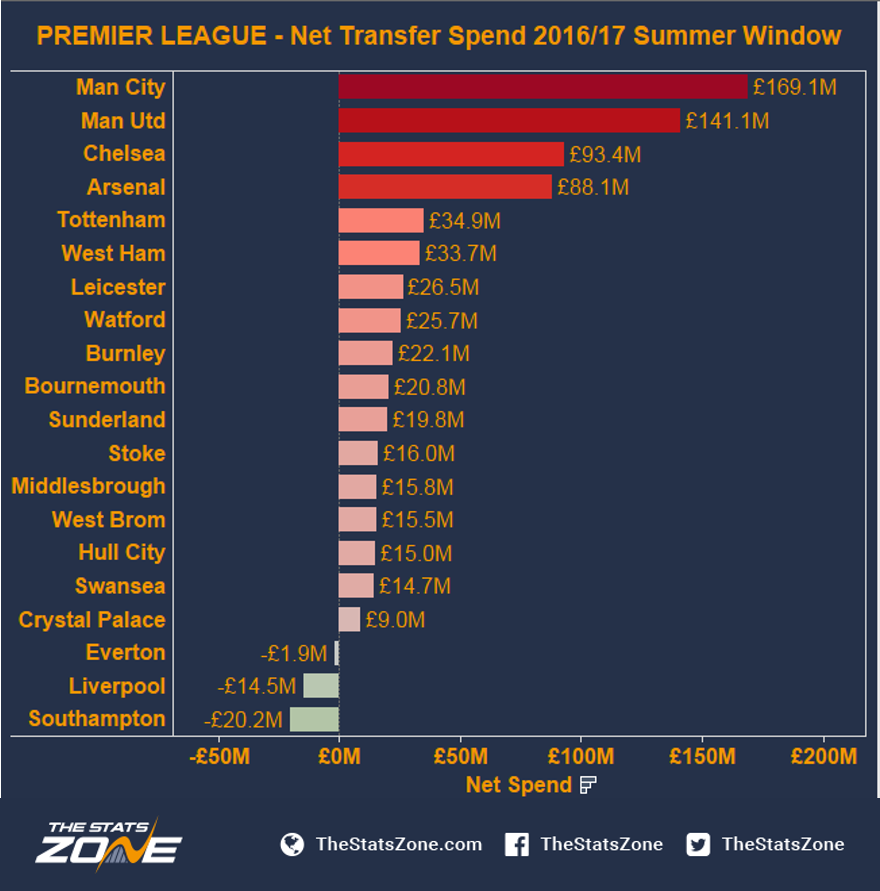 The investment by the two Manchester clubs this summer has been huge as they support their new managers Jose Mourinho and Pep Guardiola. They have a net transfer spend of £310.2m this summer which is a phenomenal amount. Their net spend is so high as they have struggled to offload many of their unwanted high earners for fees.
The big four dwarf the rest of the league and the figures for the rest of the teams are not as high as one would expect. While fees may be inflated even further, club are still generally balancing their books.
Three teams actually had a negative net spend on fees as Everton were roughly flat (profit of £1.9m), Liverpool £14.5 profit and Southampton £20.2m. It is fair to say there are frustrations among many of their fans when they look at the numbers alone. However, if you're an Everton fan and rewind to the end of last season, would you have taken Bolasie, Williams and Gueye for John Stones and seen it as good business? Liverpool fans, would you have taken Mane, Wijnaldum, Karius, Grujic, Klavan & £14.5m for Ibe, Benteke, Allen, Skrtel, Luis Alberto & Smith?
Southampton fans may have more questions marks but that is largely due to the fact that many of their new signings are unknowns, and they do not appear to have replaced Graziano Pelle.
Net transfer spend gives us an idea of how teams are balancing their books but it should not be the primary measure for judging success or failure in transfer activity. From a financial perspective, salaries should also be taken into account. On the pitch, only time will tell of course, but the figures can be misleading.