There is a fate that all football players have to eventually deal with, their inevitable decline. Even the very best cannot maintain their high standards that set them apart from the rest. Here at TSZ, we are going to look at how clubs deal with the decline of their iconic players and how these star players are managed. We shall be digging into the statistics surrounding the players' game time, whilst we shall also be looking at whether the decline of these iconic players coincides with a decline in the team, with other contributing factors also discussed. For each player, we have chosen to compare their final/most recent three years with a three-year period we have deemed to be the most productive in their career, based on the specific statistics we're analysing.
Steven Gerrard
We will kick things off by looking at Liverpool legend Steven Gerrard. We shall see how Liverpool managed him in his later years compared to when he was in his prime and how his individual contribution stood up.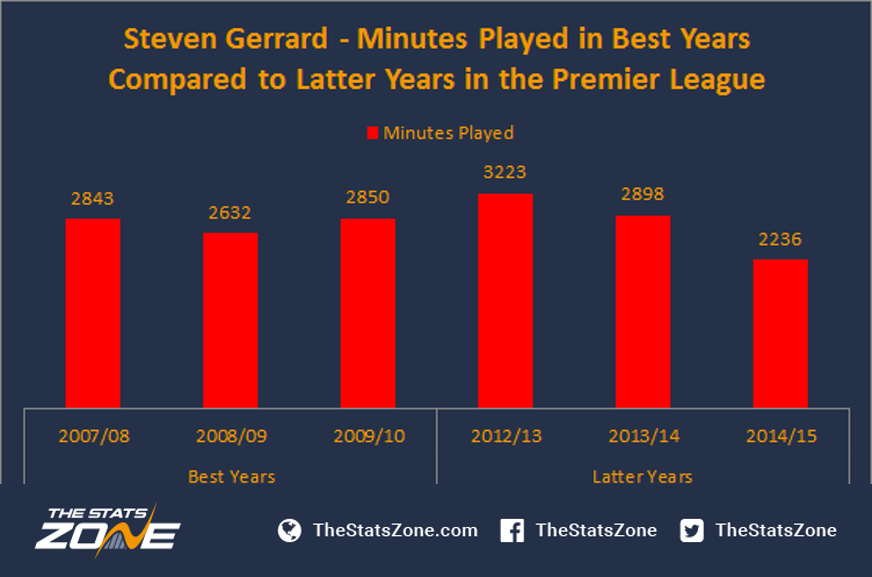 In Brendan Rodgers' first season in charge he relied heavily on Gerrard, with the midfielders' game time amounting to 3223 minutes in the Premier League, the highest amount of minutes played by Gerrard in his final 10 seasons for the club; he started 36/38 Premier League games and was only subbed once. The then manager soon realised he couldn't ask the ageing player to continue this amount of game time, and after a chat with Rodgers late in 2014 it was decided that his future game time would be managed, with the likes of Henderson and Emre Can becoming regular starters. In the 2013/14 season his minutes played were reduced and then even more so in his final season as he only made 29 appearances (25 starts, four from the bench and was subbed off four times).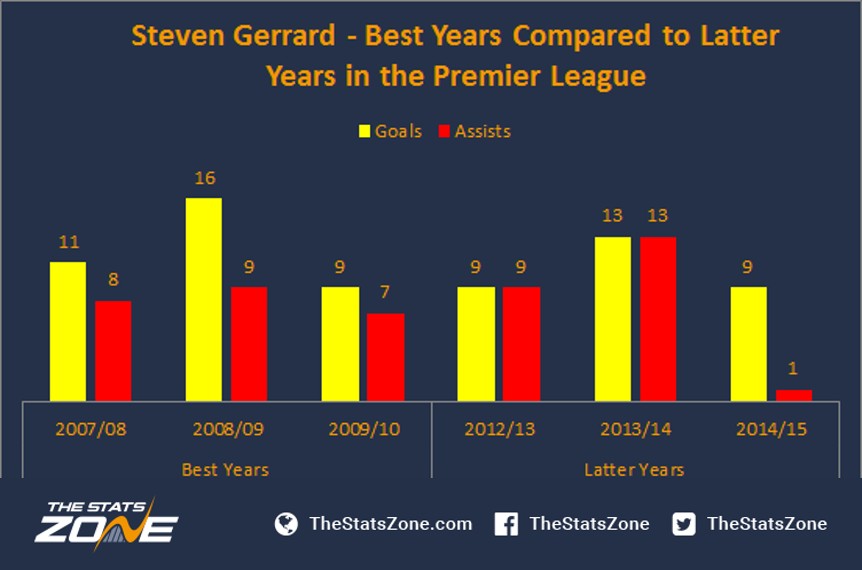 Steven Gerrard only scored five less goals in his final three Premier League seasons (31) when compared to the three seasons when he was in his prime (36), however these stats are slightly misleading considering he scored 10 penalties in the 2013/14 season and only 9 in his three prime seasons. In his final season for the club, there was a significant drop off in terms of assists as he only created one goal, not typical of the creative Gerrard we all knew; however, Rodgers often employed him in a deeper role, lessening his influence in attacking areas and forcing the ageing and slowing legs of the club legend to scamper around defensively. Perhaps Brendan Rodgers felt that the ageing player couldn't meet his demands for high intensity pressing.
Gerrard came out in the press and stated that had he been offered a contract in the summer of 2014 he would've stayed; however, Gerrard has never been or wanted to be a squad player so opted for the move to the MLS with LA Galaxy. It would be slightly unfair to say that with Gerrard's declining ability Liverpool struggled, having challenged for the Premier League title in the 2013/14 season with Gerrard and Luis Suarez a big part of the team.
Frank Lampard
Next up we will look at all-time leading goal scorer and Chelsea legend Frank Lampard and how Chelsea managed the iconic player in his later years.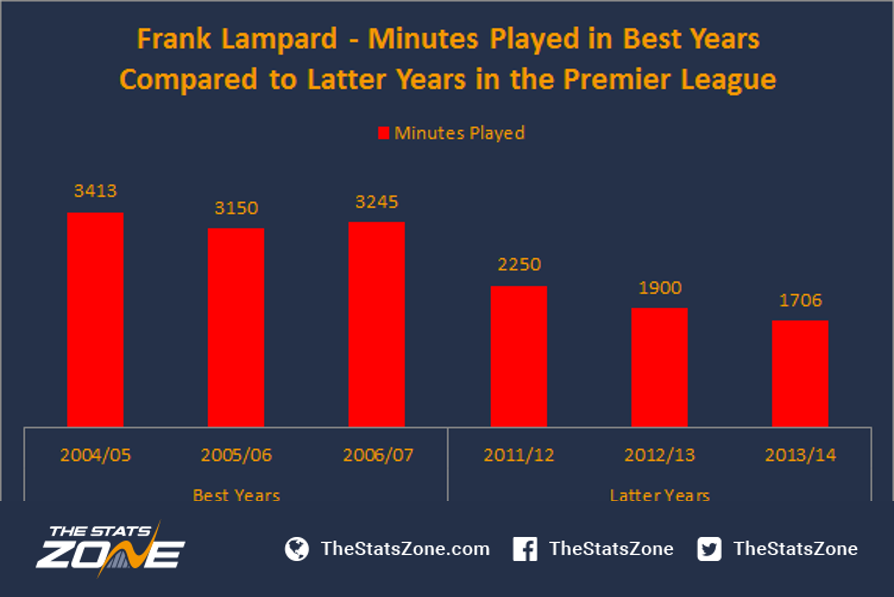 When in his prime Frank Lampard was one of the first names on the team sheet for Chelsea; playing in all 38 games in the Premier League in the 2004/05 season, whilst appearing in 35 and 37 games in the following two seasons respectively, being substituted in only four games in three seasons and appearing from the bench just once. When coming to the end of his days with Chelsea, we can clearly see how his game time was managed, with the midfielder playing around half the minutes in his final season when compared to the 2004/05 season.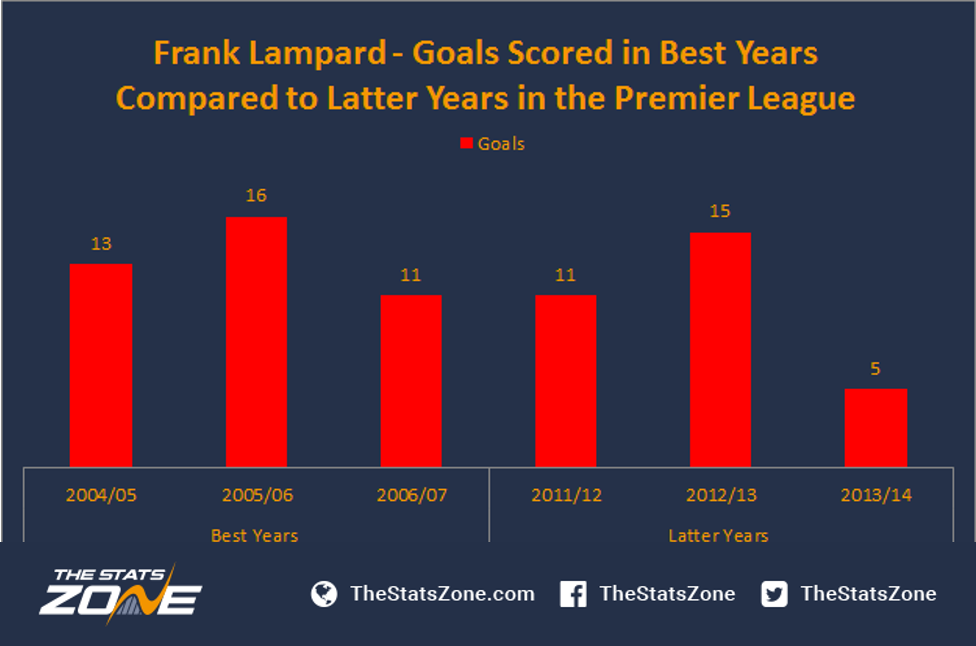 Frank Lampard was one of the best midfielders at timing his runs into the box and scoring from midfield, even managing to get into double figures in two out of his last three seasons at the club; however, the midfielder's goal scoring record dropped off in his final season. This could be expected given his significantly decreased playing time, so surely it wasn't his on field contribution which saw Chelsea let him go. Jose Mourinho has since stated that Frank Lampard was allowed to leave as the manager felt his presence would hamper the development of Matic and Oscar. Nevertheless, the decision of Frank Lampard to play for Manchester City on loan in the following season and even scoring against Chelsea must've left a sour taste in the mouths of the Chelsea fans.
John Terry
Staying with Chelsea, we now turn our attention to John Terry who, unlike Frank Lampard, was given a contract renewal when it looked like he would be leaving.
When Chelsea were a dominant force and John Terry was in the earlier years of his Chelsea career, he alongside Frank Lampard were the first names on the team sheet; the defender played in 33 games in the 03/04 season and then in 36 games in the following two seasons, never coming on as a sub and only being subbed once. Chelsea continued to pick the defender regularly in the 13/14 season (34 appearances) and 2014/15 season (38 appearances) but decided to try and manage his game time in the last season which can be seen above, with the Chelsea management trying to blood through young talent such as Matt Miazga and most notably Kurt Zouma. It seems like it was a sensible decision to extend John Terry's stay at the club given Chelsea's troubles in defence so far this season in his absence.
From the 2003/04 - 2010/11 season, Chelsea legends Terry and Lampard were in their prime and the club never finished outside the top three places, winning the Premier League three times, finishing 2nd four times and finishing 3rd once. The club showed they were able to manage without Lampard, winning the Premier League in the 2014/15 season but with John Terry remaining and playing in all the games; however, when trying to manage Terry's game time and without the goals from midfield from Lampard Chelsea really struggled last season.
Wayne Rooney
Unlike most of the other names featuring in this article, Wayne Rooney is slightly younger so having to manage his game time as of yet shouldn't be an issue; however, in recent times there have been growing claims that Rooney is past his best, so how will the all-time England leading goal scorer and soon to be all-time Manchester United leading goal scorer be managed?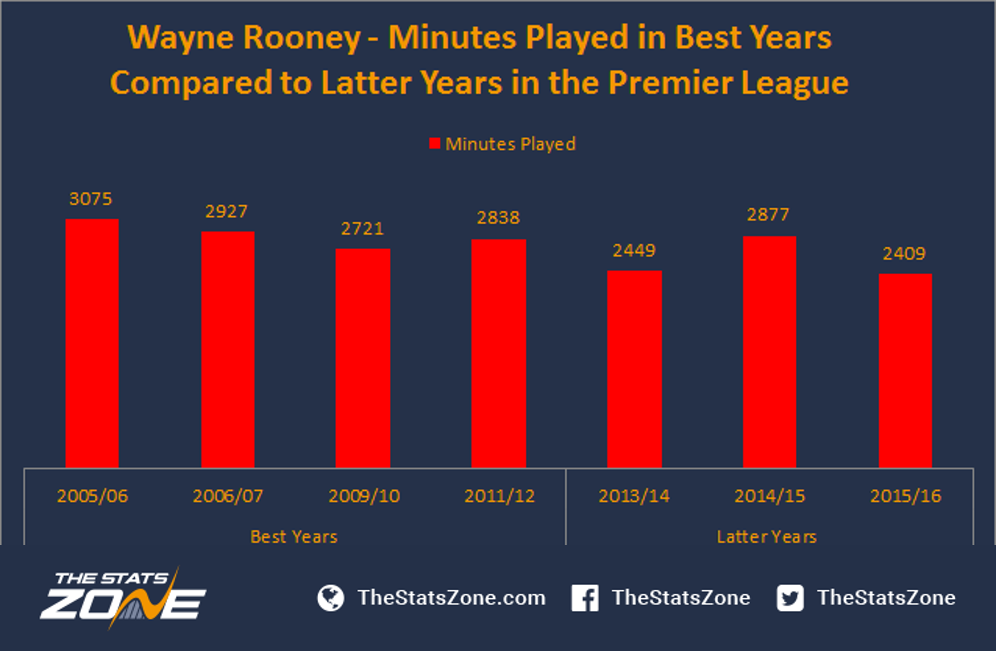 When Wayne Rooney was in his prime years, he was one of the most feared strikers in the Premier League. The striker has played over 2500 minutes for Manchester United in six seasons, but only one of those seasons was in the last three years. Increasingly so, Rooney has been deployed in central midfield for both club country, most likely as a direct result of goals drying up. If we look at the stats, how severe is this drop-off?
Last season was the first in which Rooney failed to hit double figures in terms of goals. It would be unfair of Manchester United fans to say that Rooney should be dropped because of his goal scoring as he was asked to play in midfield, thus having a reduced amount of goal scoring chances. When looking to see if Rooney's so called decline coincides with a decline in team performance, on the face of it the simple answer is yes – with Man United finishing in 7th, 4th and 5th in their last three seasons, but there are so many other factors which have influenced this; the retirement of Alex Ferguson, the failure of David Moyes, the "unManchster United" like way of playing football under Van Gaal – the list could go on and on.
So once we dig a little beneath the surface it would be unfair to solely blame Wayne Rooney for Manchester United's failings as have a lot of fans of late. This season, the club have looked to play Wayne Rooney further up the field with the new signing Paul Pogba filling the gap in midfield; however, criticism still falls the way of the England International with Mourinho dropping him the game before the international break, not to mention the fact he was benched for the national side – it will be interesting to see how Rooney's situation pans out for the rest of the season for both club and country.
Carles Puyol
The Spanish centre back was one of the best defenders of his generation, and unlike Steven Gerrard and Frank Lampard, ended his career at the club he loved.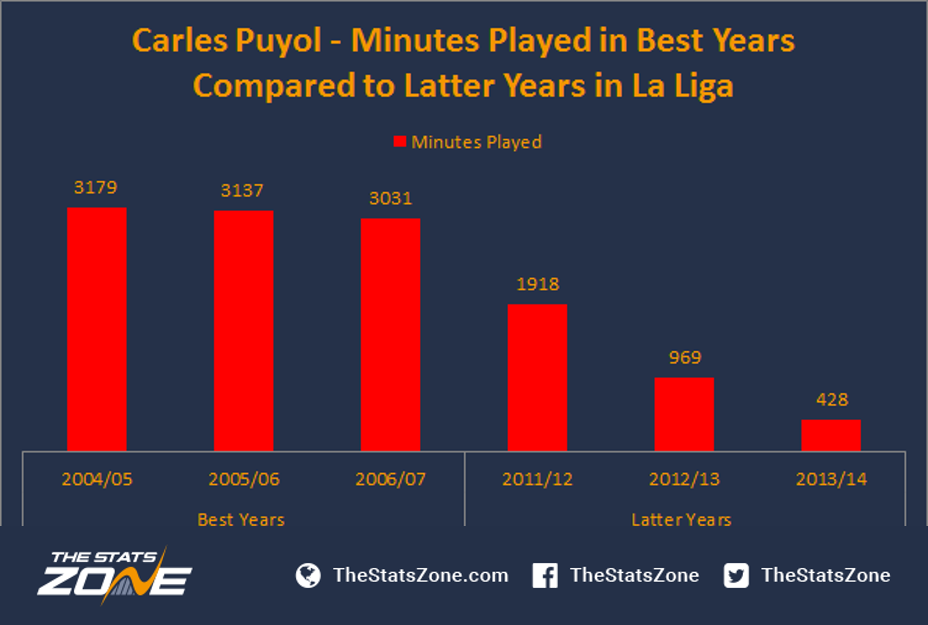 There were very few mentions of problems in defence when Carles Puyol was playing for Barcelona; the centre back made 36 appearances in the 2004/05 season and 35 in both the following seasons, and was a colossus at the back for the Catalan giants. In his last three seasons for the club, the defender struggled massively with injury and was only able to make 13 appearances in the 12/13 season and just five in his final season. In the end, it was a succession of knee injuries which saw him call time on his career. As painful as it was to part company with his beloved club, he was allowed to finish at Barcelona rather than see out his years at a lesser club.
Francesco Totti
Finally, we end with Italian and Roma legend – Francesco Totti.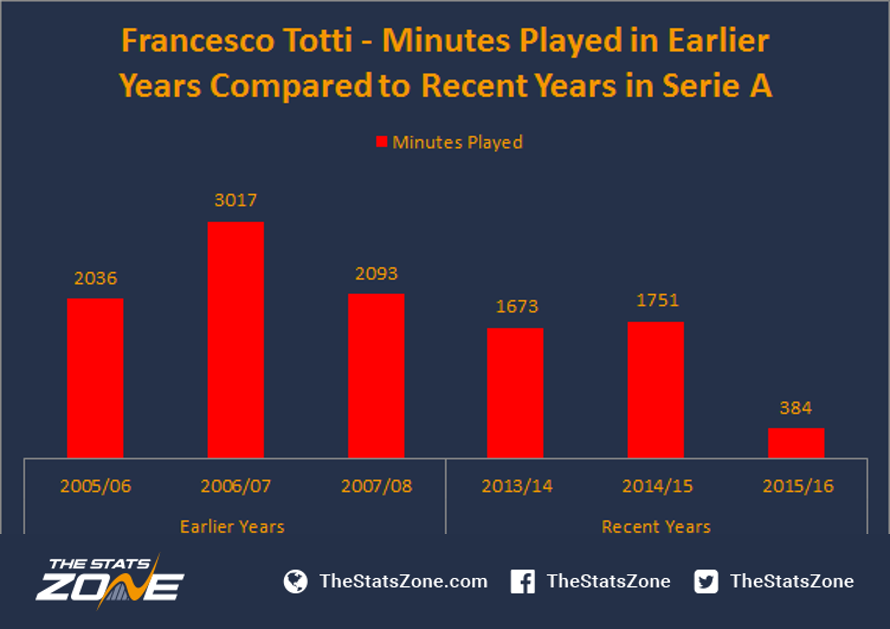 What is significant about Totti is not so much what the graph shows you but the details behind the numbers. In earlier seasons for Roma, if Totti was fit he would play, making only one appearance from the bench in the three seasons shown under earlier years on the graph. However, Totti has realised and accepted that this would not always be the case with his body unable to cope with the physical demands of the game as he entered his late 30's.
In the recent years section of the graph, Totti's minutes played have obviously reduced but what is significant is his acceptance of coming on from the bench; the forward has played a role from the bench 20 times in the last three seasons – a significant difference from when he was in his earlier years, accepting the squad player role unlike other players featured in the article. Remarkably, Totti has still been able to contribute too, scoring 21 goals in his last three seasons – an excellent return for an ageing squad player. And let's not forget the fact he has now scored in an incredible 23 consecutive seasons for Roma.
Clubs across the world will always have the difficulty when trying to accommodate their star players in their declining years; do they try to get rid and look towards the future as Liverpool and Chelsea did with Steven Gerrard and Frank Lampard? Or, do they still look to use the experience of their iconic players right to the very end like Barcelona and Roma have done with Puyol and Totti? Soon enough it seems Manchester United may arrive at this cross roads with Rooney, but will he stay or will he go?