As the 2005-06 season got under way – two rookies took to the ice to make their NHL debuts. Twelve gruelling years later, Canadian Sidney Crosby on 16th February 2017 and Russian Alex Ovechkin on 11th January 2017 joined the elite 1000-point club – a club that only boasts 86 players since Gordie Howe's initial submission in 1960. So, how do these two future hall of famers compare? We decided to take a closer look at these two players and how their 1000 points were scored: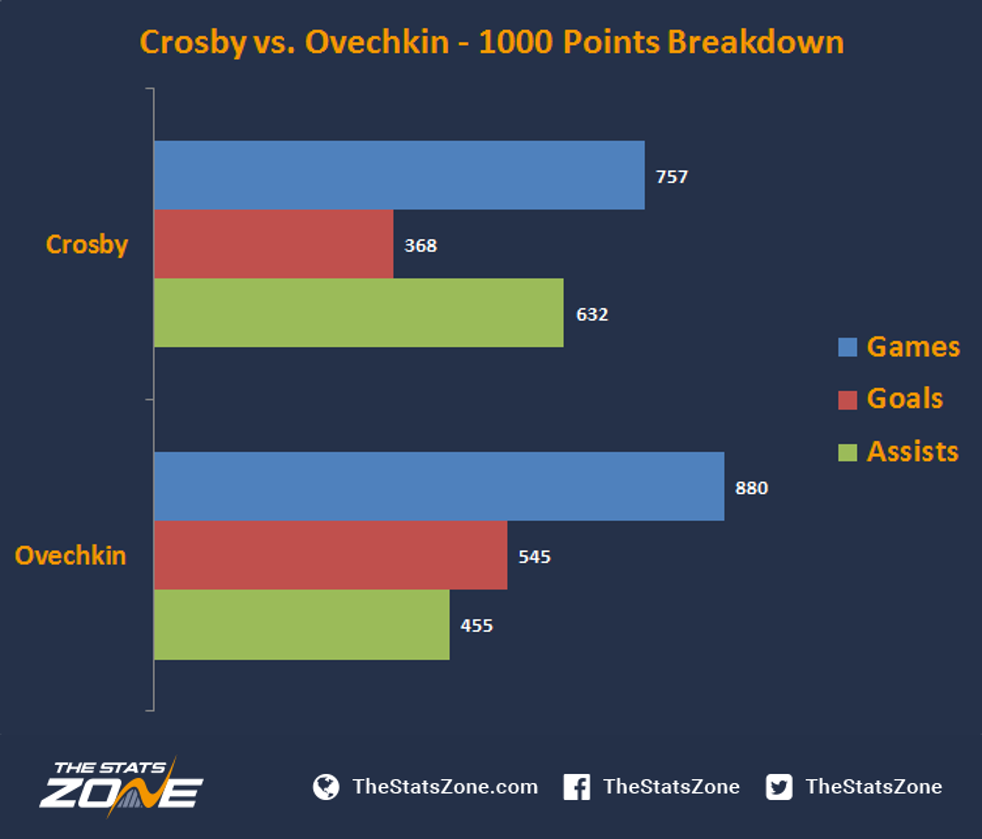 Crosby reached the 1000-point milestone over 100 games sooner than Ovechkin.
Crosby's 1000 points have been made up primarily from assists (63.2%).
Ovechkin has a far more even spread between goals (54.5%) and assists (45.5%).
How have these points been scored systematically over the years? The below graph shows both players' points totals after 100 games, 200 games etc, all the way up to their 1000th point: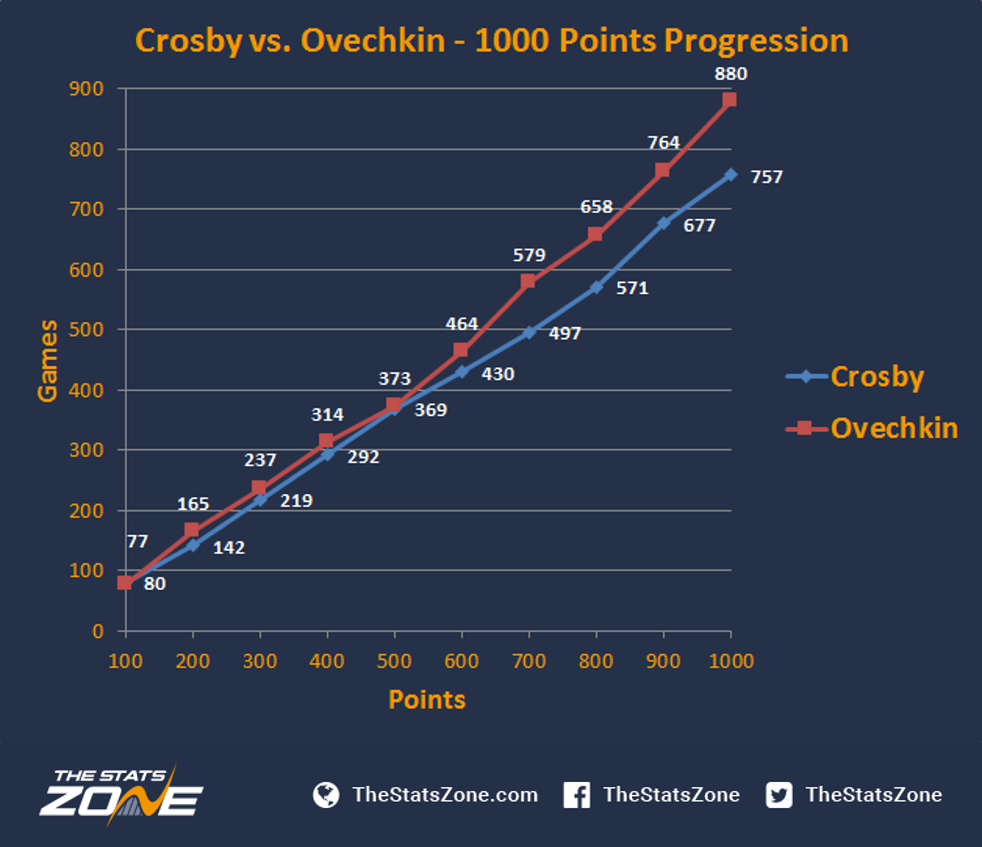 Both players took a similar amount of games to reach the 500-point landmark, with only four games difference between the two players.
Crosby, however, accumulated points 500-800 just under 100 games quicker than Ovechkin.
It also appears that Crosby has been significantly more consistent, with only points 800-1000 taking slightly longer than previous landmarks.
Of course, any player must have game time in order to score goals or make assists, so how efficient at scoring are these two players?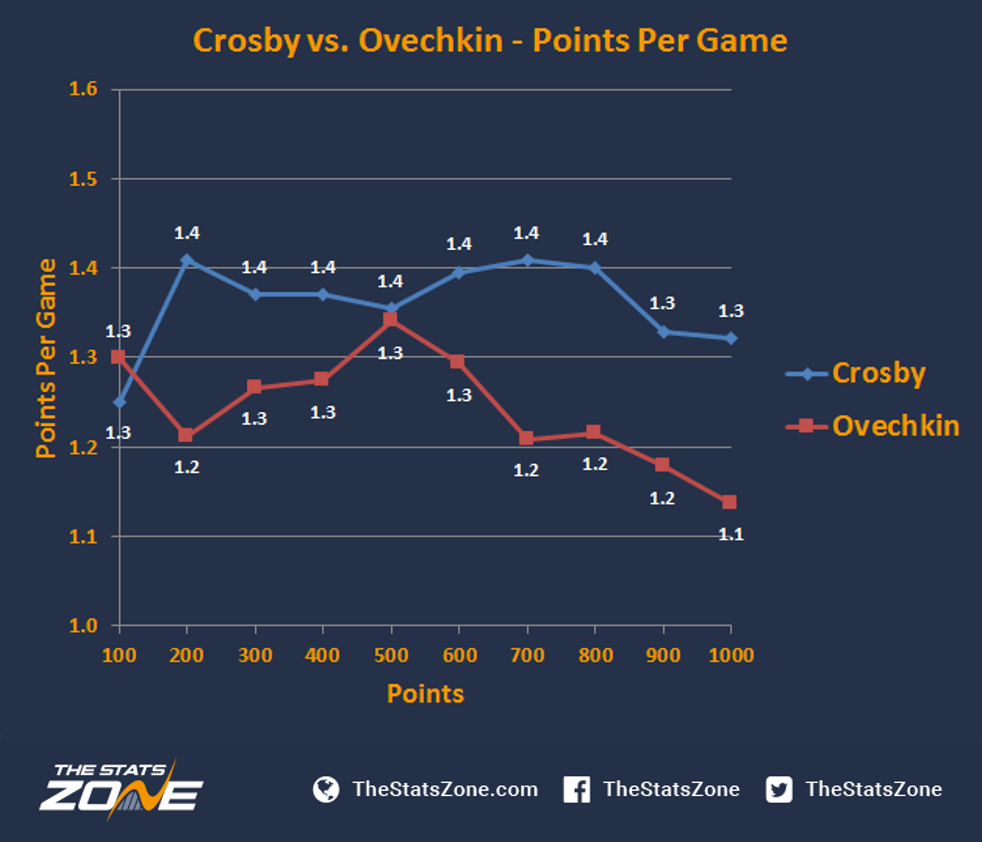 Apart from the first 100-point milestone, Crosby has boasted better points per game (PPG) than Ovechkin throughout their 1000-point achievements.
Both players' PPG ratio dipped between 800-1000 points.
Neither player has ever dipped below a 1.1 PPG ratio.
Next we look at how their 1000 points have been distributed. Which teams have suffered the full force of their tremendous talent and which teams have they struggled to score against?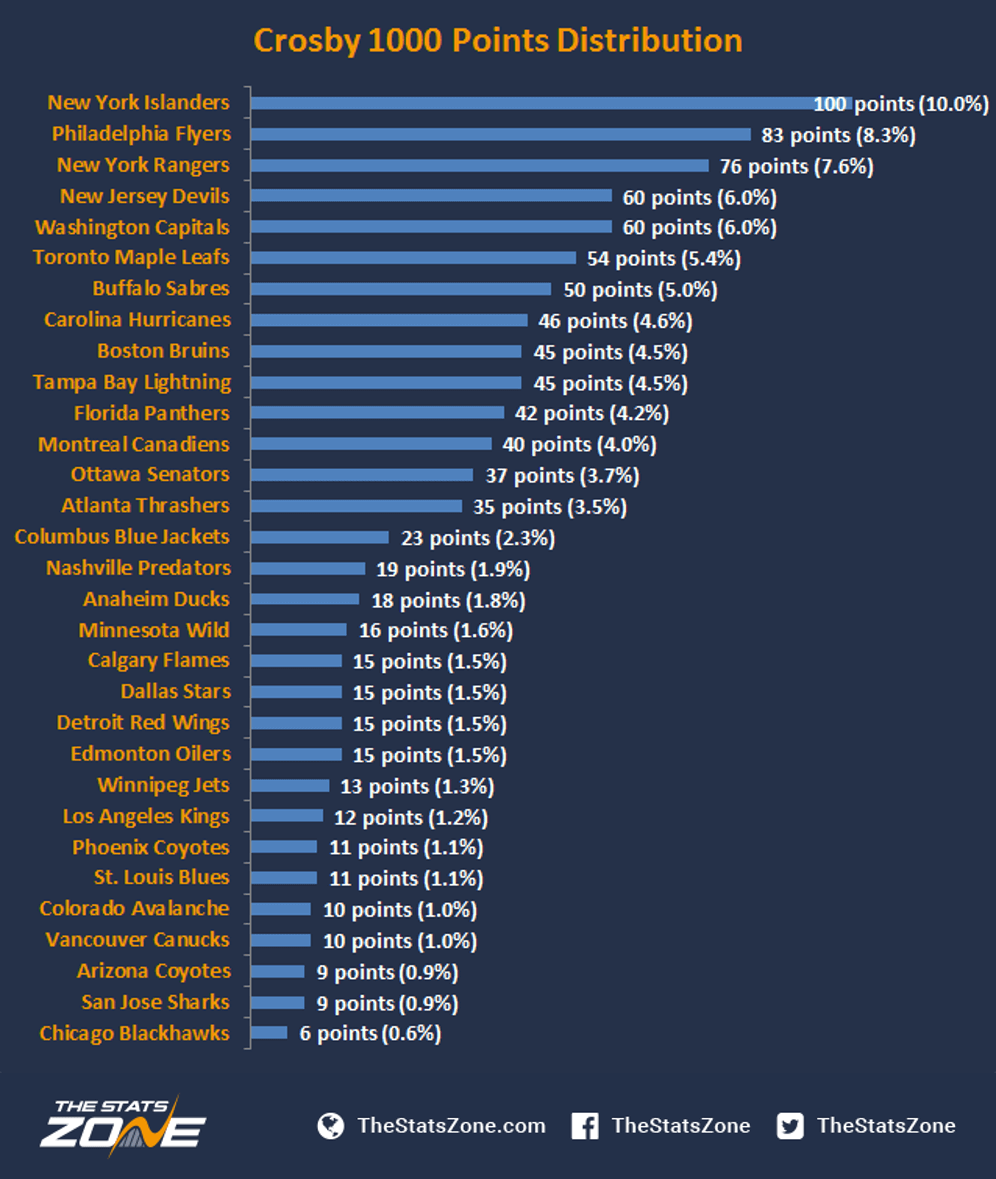 Both New York teams have suffered significantly at the hands of Crosby compared to the other teams in the NHL.
The Chicago Blackhawks have an impressive record at keeping Crosby's scoring to a minimum, including the 2014-15 season where Crosby failed to score a single point against the eventual Stanley Cup winners.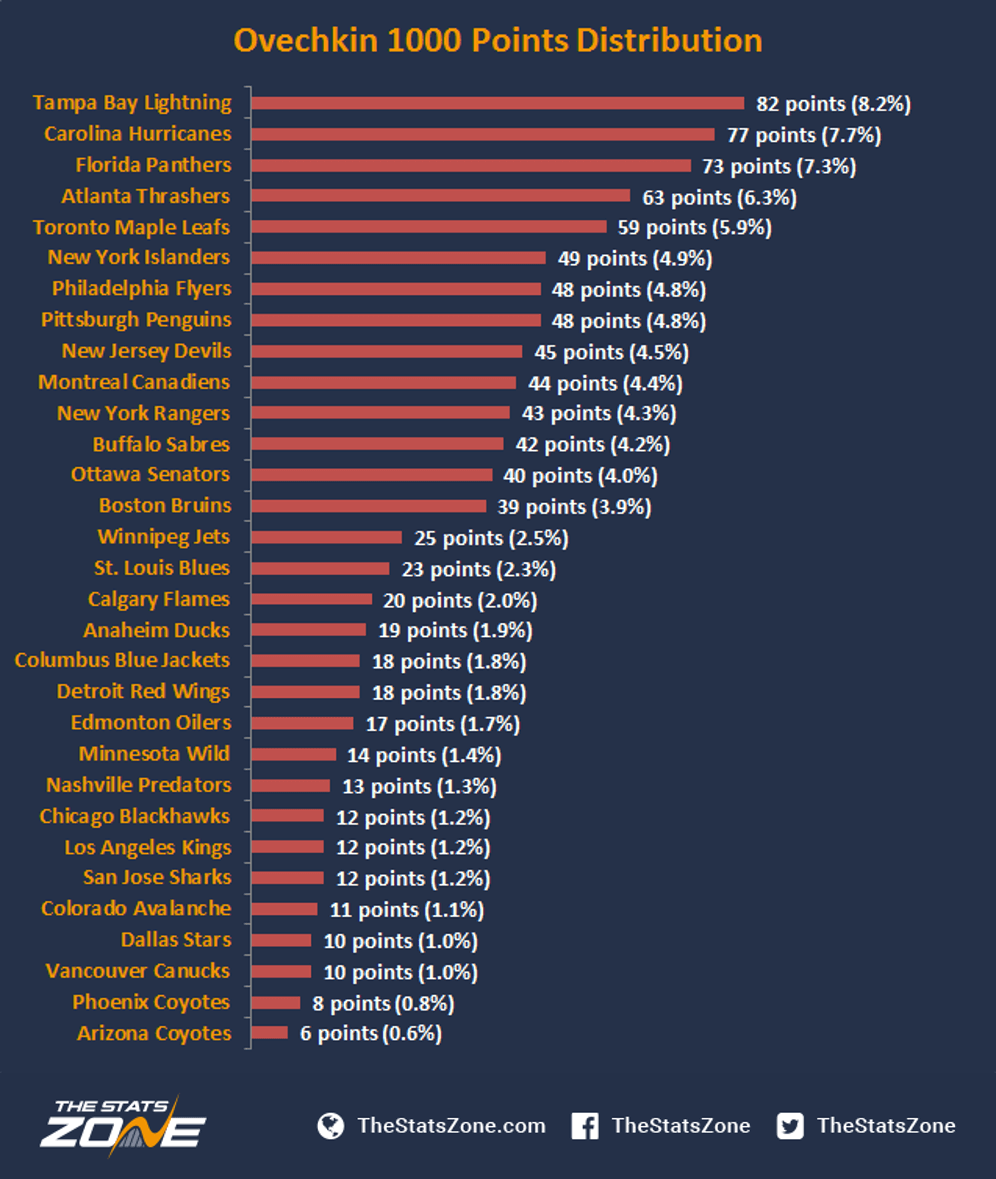 A similar pattern exists with Ovechkin's point distribution, with Tampa Bay being his most lucrative opposition over the years.
It must be noted that the Phoenix Coyotes became the Arizona Coyotes in 2014 – however, combined they still only account for 1.4% of Ovechkin's 1000 points haul.
During the 2015-16 campaign, Ovechkin failed to score against Crosby's Pittsburgh Penguins, who went on to claim victory that year.
All great sports stars can influence matches by their mere presence. Let's take a look at how these two NHL legends compare in terms of points difference when they are present on the ice.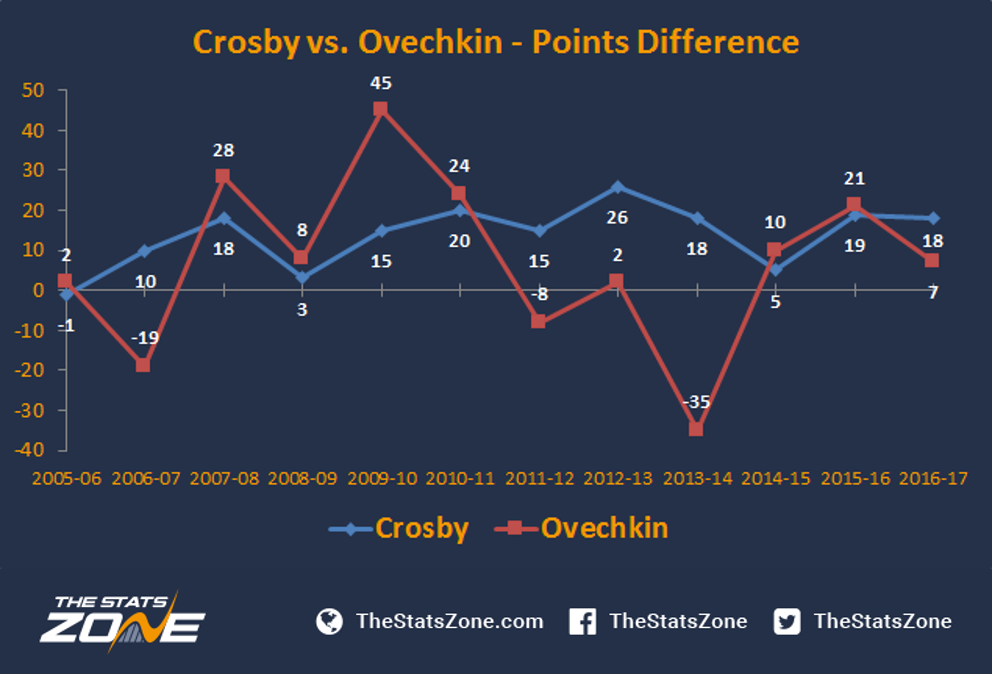 Apart from his debut season, Crosby has always finished the season with a positive number of points scored compared to points conceded when he was on the ice.
Ovechkin's points difference is far more volatile compared to Crosby's; Ovechkin reached an impressive +45 points during the 2009-10 season, but also suffered a disastrous -35 with his team during the 2013-14 season.
Three times out of 12 seasons, Ovechkin has finished the season with a negative points difference.
As with all major American sports, it's not until the play-offs that we really start to see what teams and players are made of. So, how do their play-off records compare?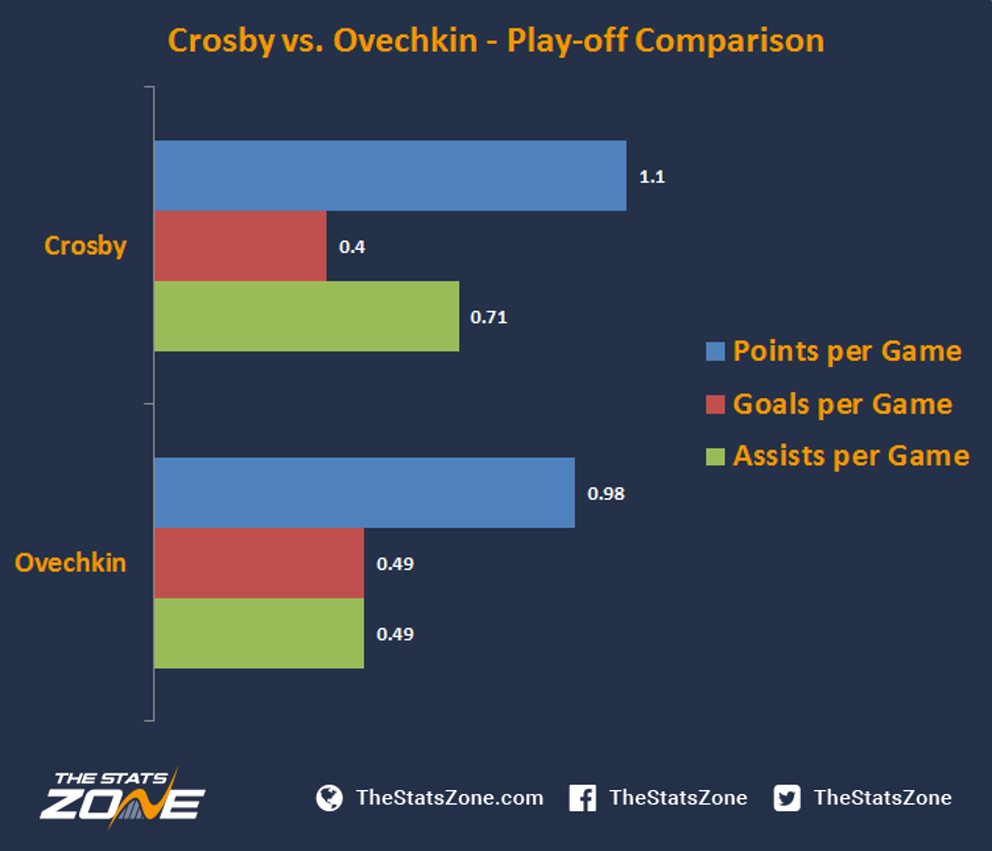 Crosby marginally has the better points per game ratio in the play-offs – once again boasting a superior assist record compared to goals.
Ovechkin has an even distribution between goals and assists in all play-off games.
Crosby has made 124 play-off appearances, whereas Ovechkin has played in 84 play-off games.
Crosby has made the play-offs on nine occasions with the Pittsburgh Penguins, winning the Stanley Cup twice (2009 & 2016).
Ovechkin has made the play-offs on eight occasions with the Washington Capitals, but has never lifted NHL's greatest prize
There is no doubt that these two great players will go down in NHL history. Crosby – the 12th quickest player to reach 1000 points – has been a consistent point scorer throughout his career, despite some serious injury setbacks. He garners the majority of his points through assists, whereas goals are what his Russian counterpart feasts on.
Ovechkin may not have sustained the consistency of Crosby throughout his career, but becoming the 25th quickest player to reach 1000 points is still a remarkable feat. However, for the three time world champion, the elusive Stanley Cup still evades the Russian's grip. Having already clinched a play-off berth, could this finally be his year?