Following the recent departure of Roy Hodgson as the 17th England Manager, the search has begun for his successor. Are there enough English candidates or are we going to see another foreign manager of the national team? This article will be looking into the amount of English and foreign managers currently in the top four divisions of English football to find the reason behind there being a lack of quality English candidates. Following this we will take a closer look at some of the previous England managers before comparing the candidates for the vacant England manager's role.
English Managers in England
It is no secret that English football has seen a huge influx of foreign players into the game which has inevitably seen an increase in the amount of foreign managers as well. This graph below shows how many managers in each division are English.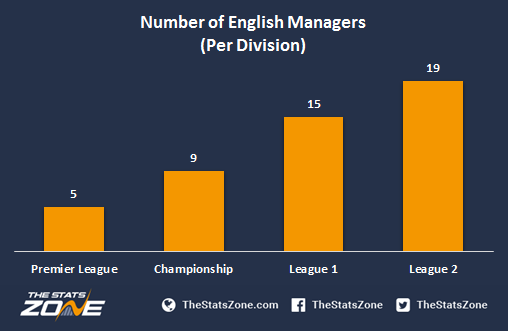 We see that as you go down the leagues, the amount of English managers increases massively from just five in the Premier League down to 19 out of the 24 teams in League 2. It is also worth noting that the other five managers in League 2 consist of two Scottish, one Welsh, one Irish and one from Northern Ireland. From the five English managers in the Premier League, two are newly promoted teams Burnley and Hull City with the others being Crystal Palace (Alan Pardew), Bournemouth (Eddie Howe) and Sunderland (Sam Allardyce), who finished in the lowest spots possible without being relegated last season, 15th, 16th & 17th respectively. But, given the high standard of football on show in the Premier League, is having a lack of English managers in English football something that has to be sacrificed for quality? Apparently not. When comparing the amount of managers from the same country managing in the top flight across Europe we see some interesting results.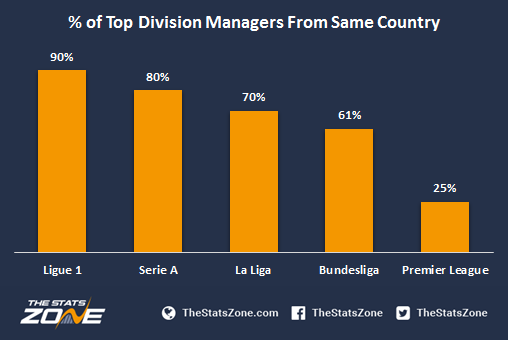 The Premier League is by far the worst with this at just 25% with the next lowest being the Bundesliga in Germany on 61% with 11 out of the 18 Managers being German. The other four leagues shown in this graph (France, Italy, Spain and Germany) all have well established international teams, with four out of the last five World Cups being won by each of these four nations (the other one being Brazil). It seems as though the Premier League might be missing a trick here, and instead of looking to bring in 'quality' should look closer to home which may in turn help the national team. You would assume the huge amount of foreign managers in English football would be because they are better, So we took a look at the average win percentage of the English and foreign managers in each division.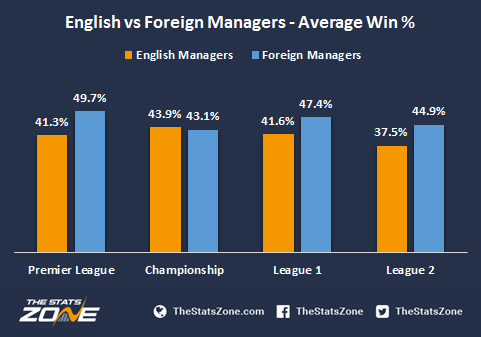 With the exception of the Championship, the foreign managers all have a better win ratio than the English managers meaning that Premier League clubs having the idea of improving their success through a foreign manager might be correct. However, as we saw in the graph before, this may well come at the sacrifice of the national team. But is this a concern of a league club? Do they have a duty to produce and use English players and managers for the sake of the national team which may in turn risk their own success?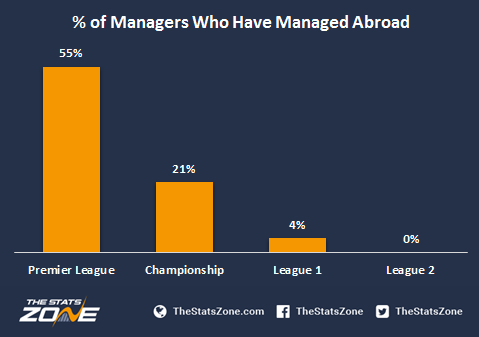 There are 15 foreign managers in the Premier League, but only 11 of those have actually managed teams abroad. Is it important for our new England manager to have experience of coaching abroad as well as in England or is international team management experience more important?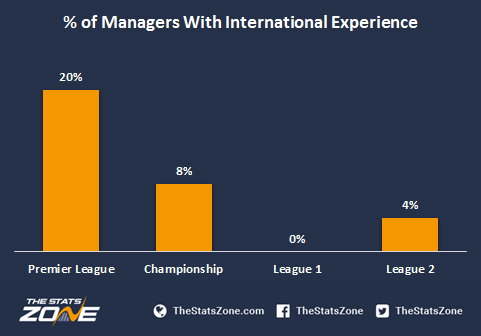 If the new manager needs to have had International management experience, as well as experience in English football then this will narrow down the numbers to just four people in the Premier League (Antonio Conte, Claudio Ranieri, Slaven Bilic and Mark Hughes). It seems as though finding someone who can tick all the boxes might be a lot harder than it seems as there are a limited number of English managers in the Premier League and none of them have had experience either abroad or at International level. Where do you turn to next and who do they have to follow in the footsteps of?
Previous England Managers
To get a better look at what the new manager will be compared against, we looked at the previous England managers and how they got on during their time in charge. Being an international manager is a much different role to that of a club manager as there is very little room for error and dips in form. The tournament qualifications often consist of 10 games, compared to the Premier Leagues 38 so losing a couple of these games can have a much bigger impact than it would in a domestic league. They are also spread out over a longer period of time meaning that it can be hard to gain any rhythm in these stages. Then, once the tournament finals come around, it is often win or go home meaning the stakes increase drastically. It is for this reason we have looked at the win percentage of each of the previous managers (excluding caretaker managers).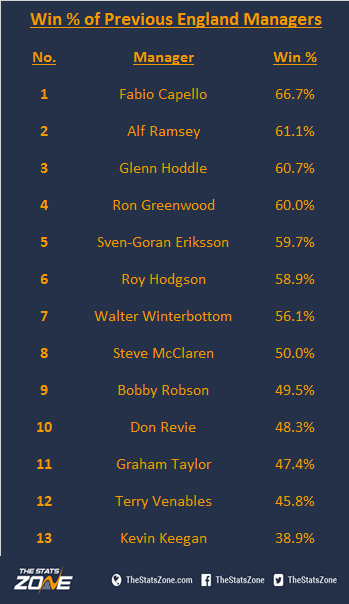 Fabio Capello tops the list quite comfortably here, even beating World Cup winning manager Alf Ramsey. The only other foreign manager, Sven-Goran Eriksson, also appears in the top five with a win percentage of 59.7%. Roy Hodgson was only 8% behind top place with the recently departed manager winning 33 out of the 56 games he was in charge for, losing just eight. To break this down into the more important games, the next table shows the win percentage of each manager in both Euro and World Cup qualifying games.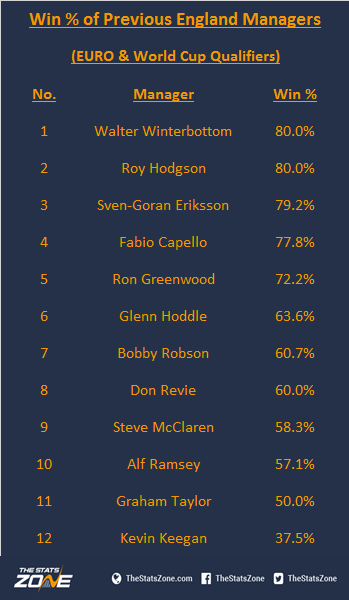 Here we see Roy Hodgson and Walter Winterbottom joint top having never lost a qualifying game with Sven-Goran Eriksson and Fabio Capello only losing one. Bobby Robson also only lost one, however, he drew 10 out of a total of 28 games which is what brought down his win percentage massively. It seems that for these managers, getting to the Euro and World Cup tournament finals was not a problem, but as every England manager knows, it's carrying on this winning streak that is the problem and being able to handle the pressure of the big occasion. In the tournament finals games, Roy Hodgson and Walter Winterbottom drop from top to bottom.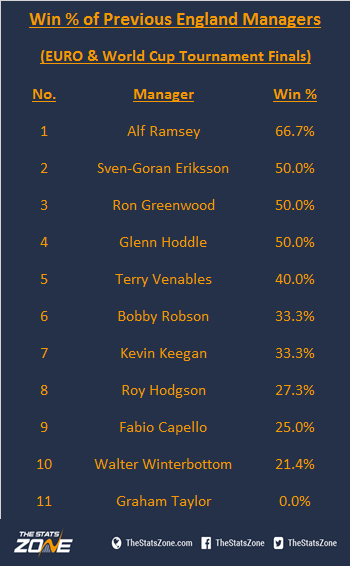 There is a massive dip all round in the win percentages when looking at just tournament finals games with 10 out of the 11 being at 50% or less, with the only person going above that being World Cup winner Alf Ramsey who won eight out of the 12 Euro & World Cup tournament games he was in charge of England for. We did see Alf's problems in qualification games in the previous table though, with his win percentage in qualifiers being less than it was in a tournament finals situation.
If you take a look at the top five in each of the previous three tables to get an overall view there is one name that appears in all three, Sven-Goran Eriksson. Although he struggled in tournament finals, all but one of the previous managers has had the same problem, with Sven seeming to be the best of a bad bunch. It seems as though what we need is someone who is able to lead a team to victory in the pressure filled, must win games. Time to look at the potential candidates to see if any of those can provide the answer.
The Candidates
There are currently a lot of names being thrown around in relation to the England job but we have narrowed it down to the eight most likely candidates. There is a great mixture here of all the things we have previously talked about including experience managing in England, abroad and at international level, as well as both English and foreign managers with a varying range of years in the management business.

An experienced list, so to see how they have done in their time as managers we delve into the win percentages once again, looking at both their club and international management. With all the candidates having experience at club level, we see some huge differences in their success rates.
As mentioned earlier, Laurent Blanc has had great success in France, winning titles with both Bordeaux and PSG. The interesting thing about this table is that out of the eight candidates, four are English and all four are at the bottom with a sizeable gap between them and the foreign candidates. As we saw earlier with the stats on domestic football in England, foreign managers also had a bigger win ratio there. Club and international management is a different game though, so out of the six candidates who have had international experience, how do they compare?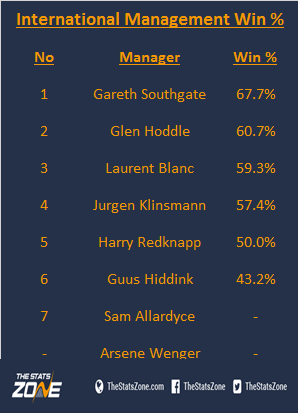 Thankfully here we see a switch around with the top two being English. Not only are they both English, but both these win percentages have been achieved with the England team (Southgate at U21 and Hoddle with the Senior team). Laurent Blanc once again makes an appearance just behind Hoddle following his work with the French team.
Summary
It seems as though the England manager problem might not be something which can be solved in one move. English football as a whole needs to see an improvement on the amount of English managers being brought through, which will in turn eventually improve the performance of the national team. Our top English managers finished in the lowest places possible in the Premier League without being relegated last season whilst the other English candidates on this list are not currently involved in English domestic football. When looking at previous England managers, it seemed as though Sven-Goran Eriksson was the best of a bad bunch which once again failed at the final hurdle – tournament football. Glenn Hoddle appeared in the top five of each table we showed and with his dismissal from the job being about comments he made, rather than his performance, if the selection panel have their heart set on an Englishman, he has got to be one of the favourites. He is 3rd in the all-time win percentage standings of previous England managers, winning 60.7% of games including being 2nd best in the tournament win percentage department, winning 50% of the time. Gareth Southgate is close behind with his England U21's experience, having the best international management win percentage of all the candidates, winning 21, drawing 5 and losing 5 in his 31 games in charge. Having worked with a lot of the current and future England players, his knowledge of the current England setup is second to none. The best of the foreign candidates, despite having fewer years' experience than some of them, is Laurent Blanc, who has achieved a lot and seems to have success running through his veins. He has won two thirds of all club games he has managed (66.7%) and nearly 60% of the games he was in charge of with the French team. He has also had success at international level as a player winning both the European Championships and the World Cup.
It seems a very good list of candidates has been put together which comprises of a huge amount of experience at all levels and an argument can be made both for and against every one of them. One thing is for sure, whoever is picked is going to have the weight of a nation on their shoulders, and will need to prove to that they can get England to start to produce the goods when it really matters.