Test cricket has finally returned to Australia, and with a blockbuster summer kicking off against the South Africans and then onto Pakistan, TSZ have decided to look at a player who we believe to be key for the home side. Since bursting onto the scene in 2011 against Sri-Lanka with an incredible five wicket haul, Nathan Lyon has gone on to capture 211 wickets and holds the mantle of Australia's greatest ever off-spinner. With much hype around Australia's fast bowling cartel, Lyon is an important member of a bowling unit out to disrupt South Africa's star studded batting line up and help dismantle the highly ranked Pakistan.
Career Statistics
First of all we take a look at how Lyon stacks up to the best spinners in the world by looking at the official ICC test bowler rankings.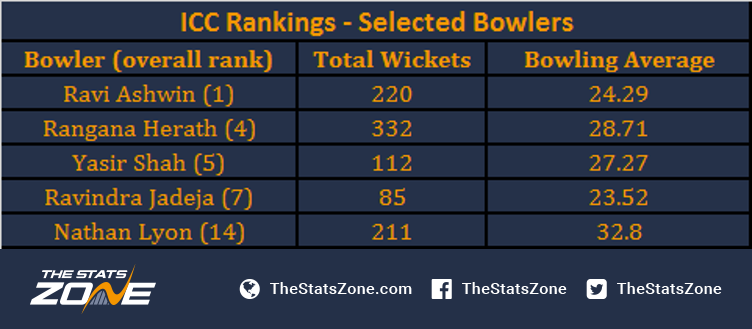 Although there are some ahead of him in the ICC bowler rankings when discussing spin bowlers, it must be noted that Lyon is the only player in the current top five not from the subcontinent; in fact, the next best ranked spin bowler not from the subcontinent is England's Moeen Ali whose overall ranking is 27. Playing most of his test matches away from these conditions means the wickets he generally plays on are nowhere near as spin friendly, making his test record all the more impressive.
Next, we take a look at how Lyon has captured his test wickets. As we can see below, 'caught by fielder' is by far his most common dismissal method. Interestingly, there is a fairly even split between 'caught by keeper', 'bowled' and 'LBW'. These results are not out of the ordinary for test match bowlers, with "caught by fielder" generally being the predominant mode of dismissal for bowlers.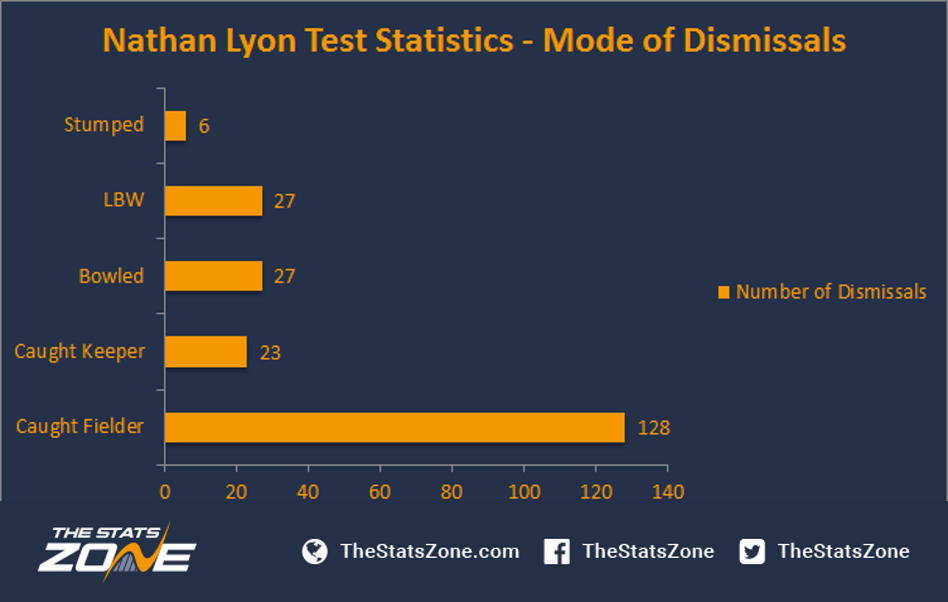 Opposition Analysis
Although Lyon boasts an impressive overall record, it is apparent that he does struggle against certain opposition; he has poor records against the two teams he will be facing this summer in Pakistan and South Africa. However, the fact that he's only played two matches against the current number two ranked test team means we have a small sample size to work with, making an in depth analysis against them difficult.

When we break down dismissals into batting position, we can clearly see why he is so successful, as he possesses the ability to capture wickets against all types of batsmen. Although his dismissal scorecard is fairly even, he tends to take most of his wickets against opposition batsmen batting between five and nine in the order (total of 53% of all wickets).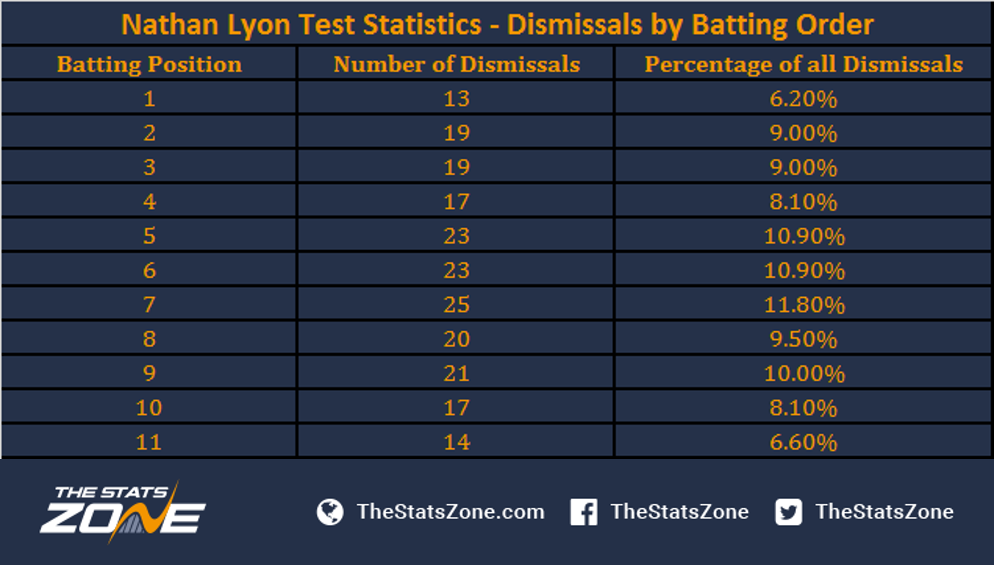 Another important statistic to analyse is at what number of runs Lyon is able to dismiss batsmen. In the graphic below we can see at what stage of an innings Lyon is most effective; over half the batsmen dismissed have scored between 1-29 runs (54%), which proves that he is most damaging when a batsman is fairly new to the crease.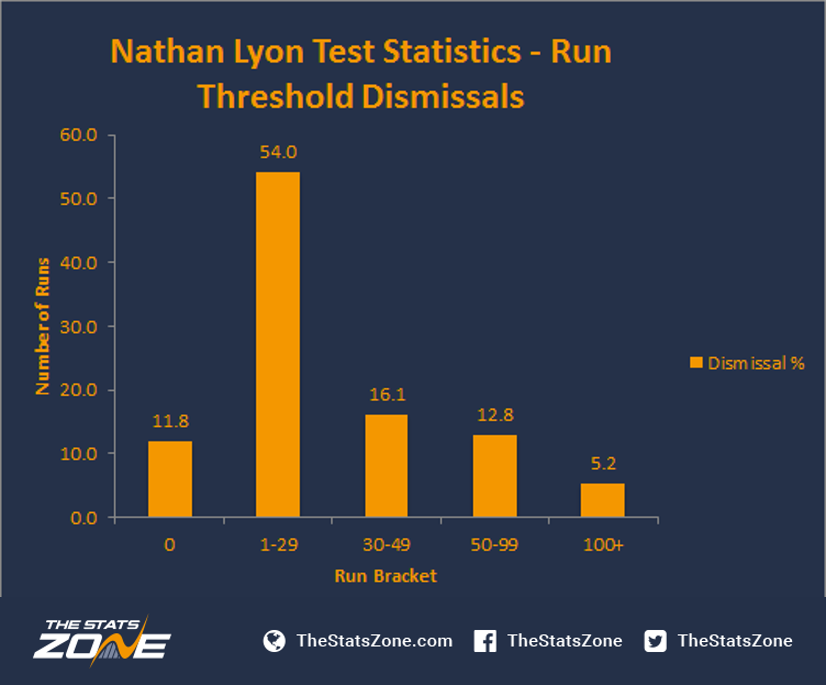 Venue Analysis
As the upcoming series is being played on Lyon's home turf, we have analysed his test match form at all Australian venues. Aside from Perth, his stats show he performs quite well on pitches in Australia that are not traditionally conductive to spin, with his records at Brisbane and Hobart particularly impressive. What is seen to be against the norm is Lyon's record in Sydney. Historically, Sydney has been a ground more conducive to spin, however this venue is where he seems to struggle the most, with just 13 wickets taken at an average of 54 runs. This may be due to the fact that unlike many current spinners, Lyon does not simply rely on sideways spin, but tends to utilise the bounce in the pitch to his advantage. This is extremely notable in Australian conditions where his seemingly favourite venue is at the Gabba in Brisbane, a deck thought to favour the quicks more so than slow bowlers.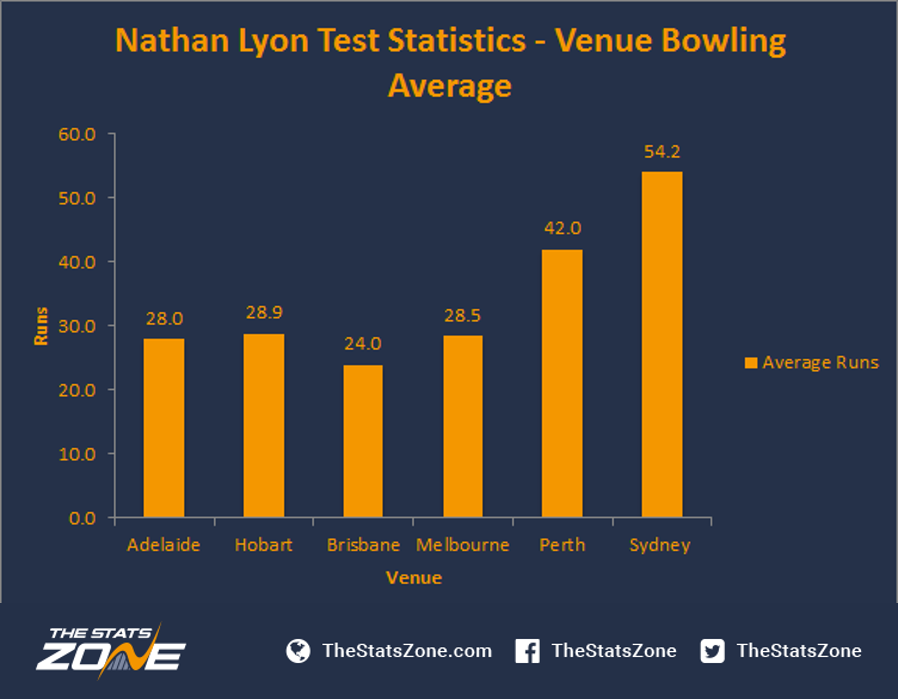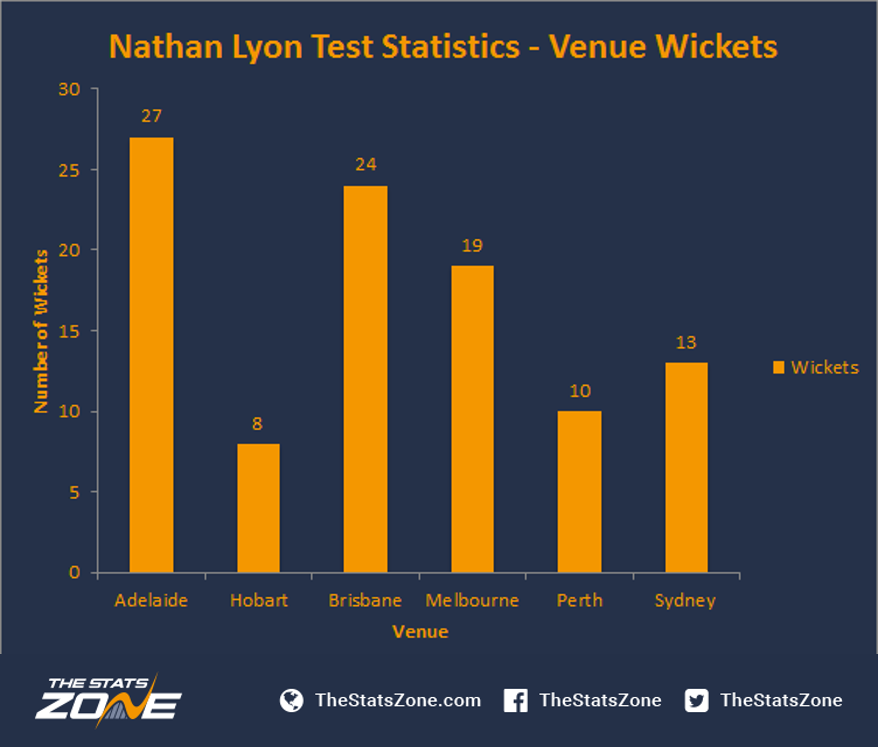 South Africa Analysis
Now we dig a little deeper into Lyon's record against the Proteas and predict how he will fare during the first leg of the home summer.
Lyon has played a total of eight matches against the Proteas, with five games away and three at home. Although he has played fewer games against the Proteas in Australia, he has collected the same number of wickets at home as he has when playing on their home turf. When in Australia, Lyon's average does climb slightly to just over 40, a statistic he will look to improve on throughout this series.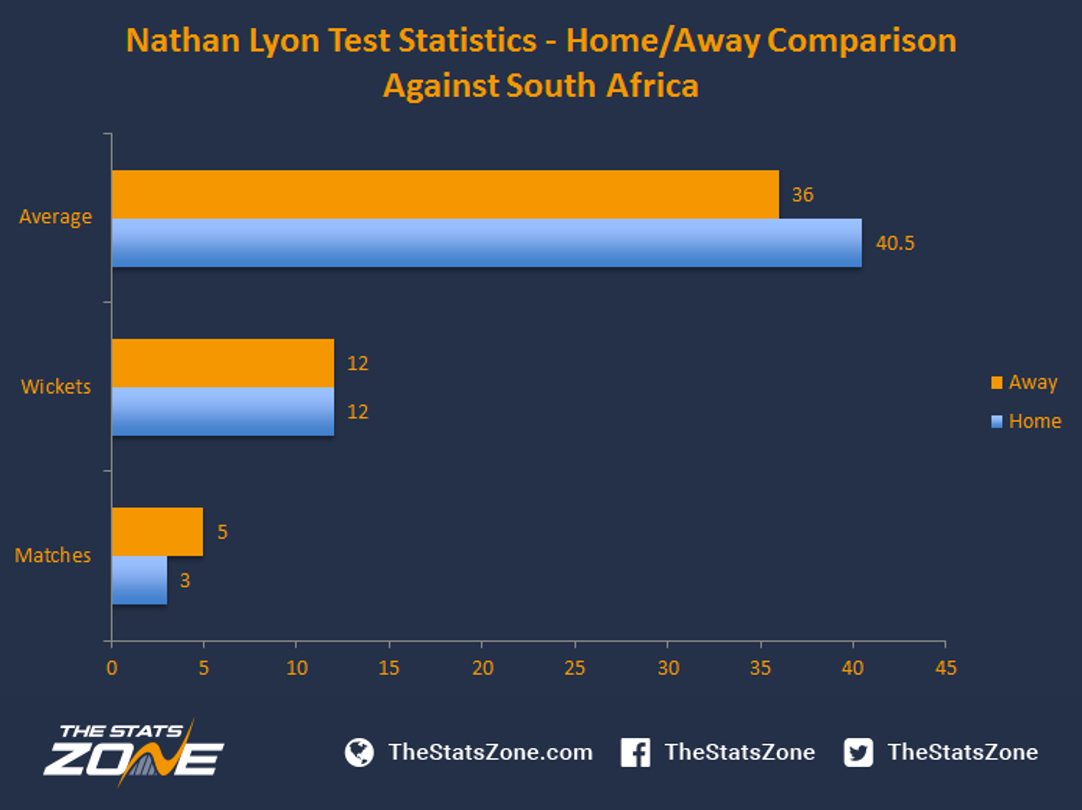 Out of the three matches to be played against the Proteas this summer, Lyon only has statistical records against this team for two of the three venues, with the spinner playing one match at both the WACA and Adelaide Oval back in 2012.

Because he has only played a handful of games against South Africa over a long period of time, we have instead decided to analyse what batting position Lyon is most successful against when playing against the Proteas. Much like his career analysis, he has quite a bit of success against the middle order of South Africa, with a particular liking for batter numbers four and six.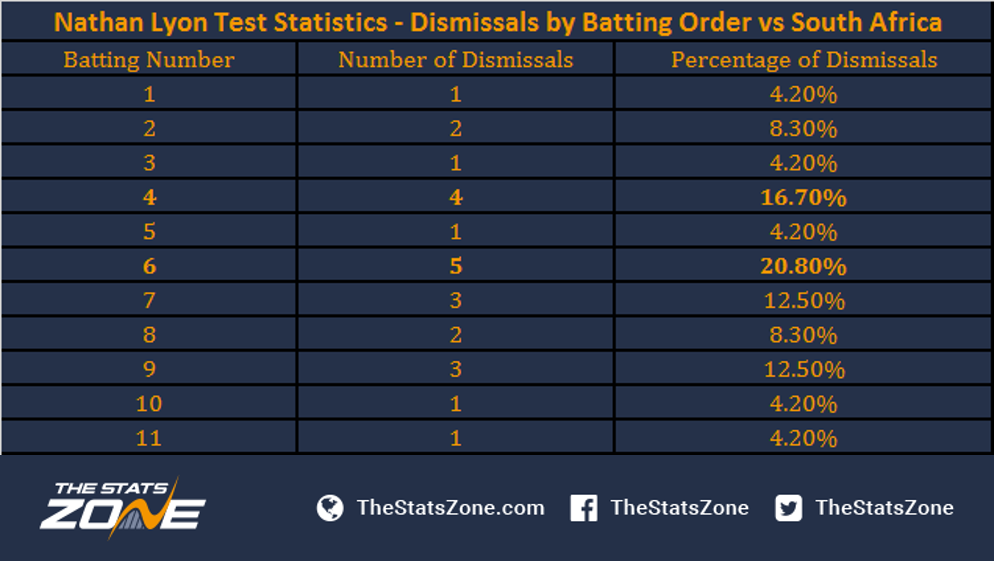 Overall, Lyon's career record is extremely impressive for an Australian finger spinner, although his record against South Africa is not as elite as his record against other countries. It should be noted however, that his role in the Australian cricket team is not just about the number of wickets taken. When the conditions are not in his favour, his job is to build consistent pressure on the opposing batsmen with his impeccable accuracy and subtle variations. With a match at the WACA and a day/night test in Adelaide, do not necessarily expect big bags of wickets from the frontline spinner; instead look for him to wear down the batsmen with a few key wickets and allow this prominent Australian attack to take control of the series.