Just a single point separates the top five in the Premier League currently, which justifies the pre-season narrative that this could be one of the closest and most competitive title races in years. At such an early stage though, it's a little soon to be making solid judgements on form, as even within the first nine games we have seen Pep Guardiola's Manchester City go from looking unbeatable to a team littered with vulnerability. We've decided to see what the top of the table would look like if we were to extend the form book into the end of last season, and what effect that would have on the standings. Firstly, let's see what the current top 10 looks like: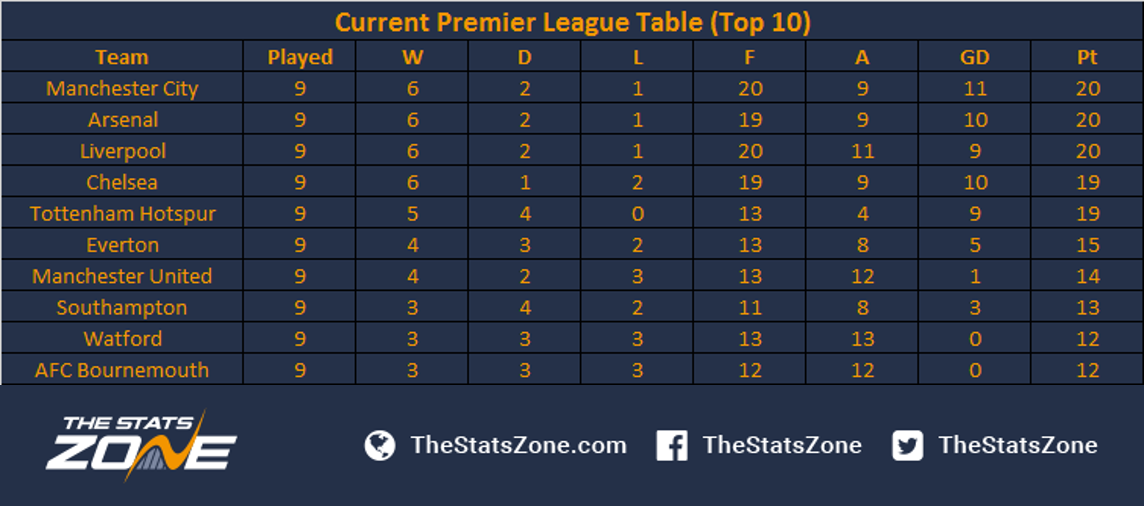 As previously discussed, the table is tightly packed at the top, with Manchester City, Arsenal and Liverpool having near identical records. An important factor to consider though, is the variables thrown up by the fixture list; both Chelsea and Liverpool have had the toughest run so far, and will perhaps feel more positive about their prospects compared to their rivals given the fact they have got some big games out of the way (Chelsea alone have played Liverpool, Arsenal, Manchester United and Leicester City in their opening nine matches). Arsenal on the other hand, have had a relatively easy run of games (on paper), but will face Tottenham Hotspur, Manchester United, Everton and Manchester City before Christmas.
Last season's champions Leicester City are nowhere to be seen in this table, but what happens if we extend to the last 20 games?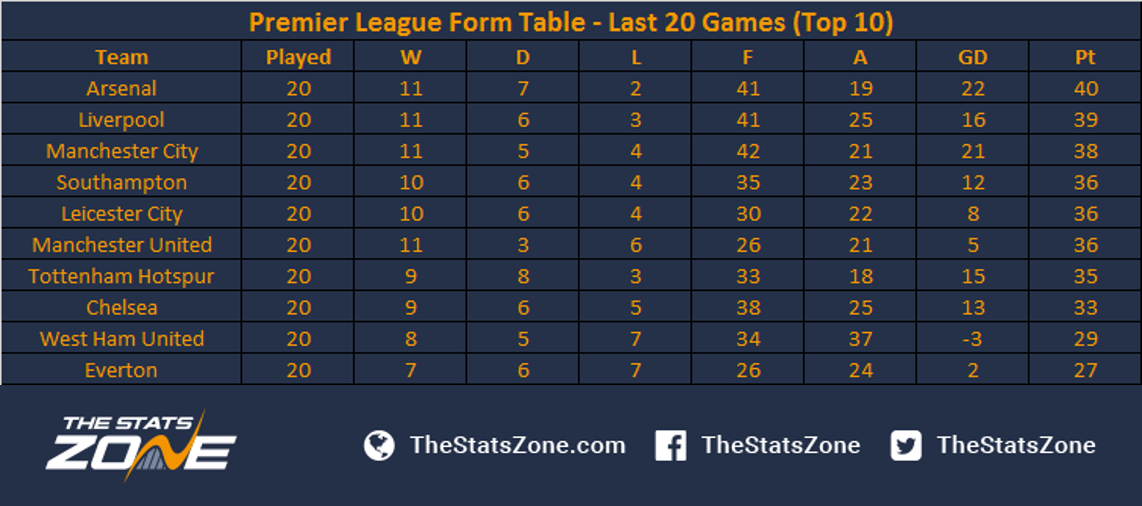 We now see Claudio Ranieri's men making an impression on the top 10, jumping up to fifth place.
The top three are the same, but in a different order. Arsenal are a point clear of Liverpool, with Man City a further point behind.
Despite a recent upturn in form, West Have endured a difficult start to the campaign, but if we combine their current tally with the final 11 games of last season, they just sneak into the top 10.
Impressively, Southampton occupy fourth spot over the last 20 games, edging Leicester and Man Utd into the final Champions League spot.
Finally, let's see what the tables would look like if we were to include the last 38 games played: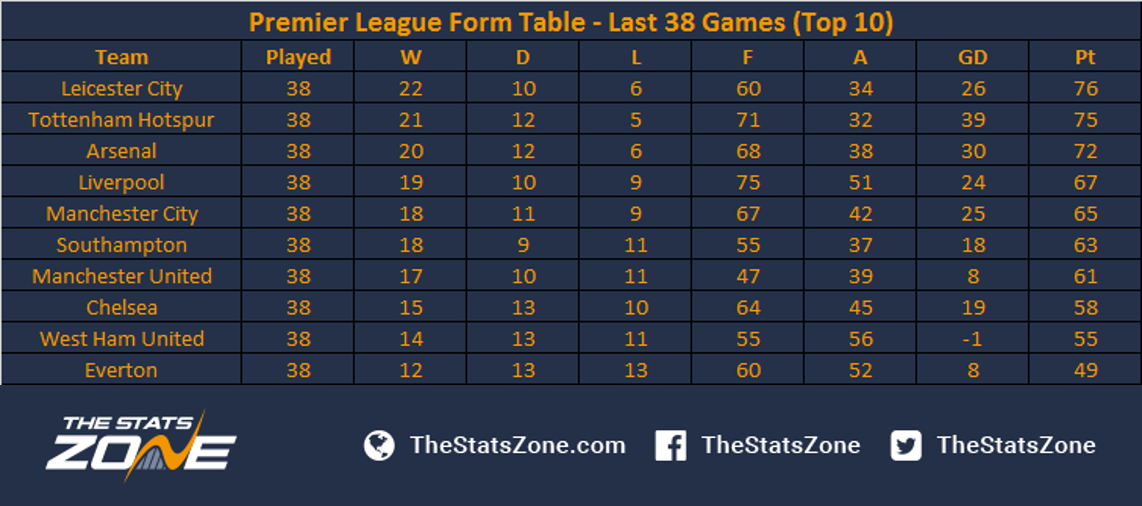 True to expectations, Leicester's form has dropped off this season, but they are still top of the pile when taking into account the last 38 games played.
No team is really dominating over this period. Leicester's tally of 76 points is lower than their title winning 81; Manchester United's points tally of 75 in the 1996-97 season is the lowest winning total in Premier League history.
Manchester City's form over the past 38 games is poor by their standards – they miss out on a Champions League spot.
Liverpool have scored the most goals over this period but also conceded significantly more than their rivals, highlighting both their strengths and weaknesses.
In summary we can see that Manchester City, despite their current mini-slump, have gradually been improving their form, and the same can be said of both Chelsea and Everton who are enjoying brighter periods. At the other end of the spectrum, Leicester City and West Ham have seen a downturn in fortunes but of course, at this early juncture we shouldn't be writing these teams off just yet. What is clear is that the top half of the table is more competitive than ever – gone are the days of the 'big four'; seven different teams occupy the Champions League spots across our three tables, so it promises to be an exciting and unpredictable race for those berths as this season progresses.