MMA Preview – Robert Whittaker vs Israel Adesanya at UFC 243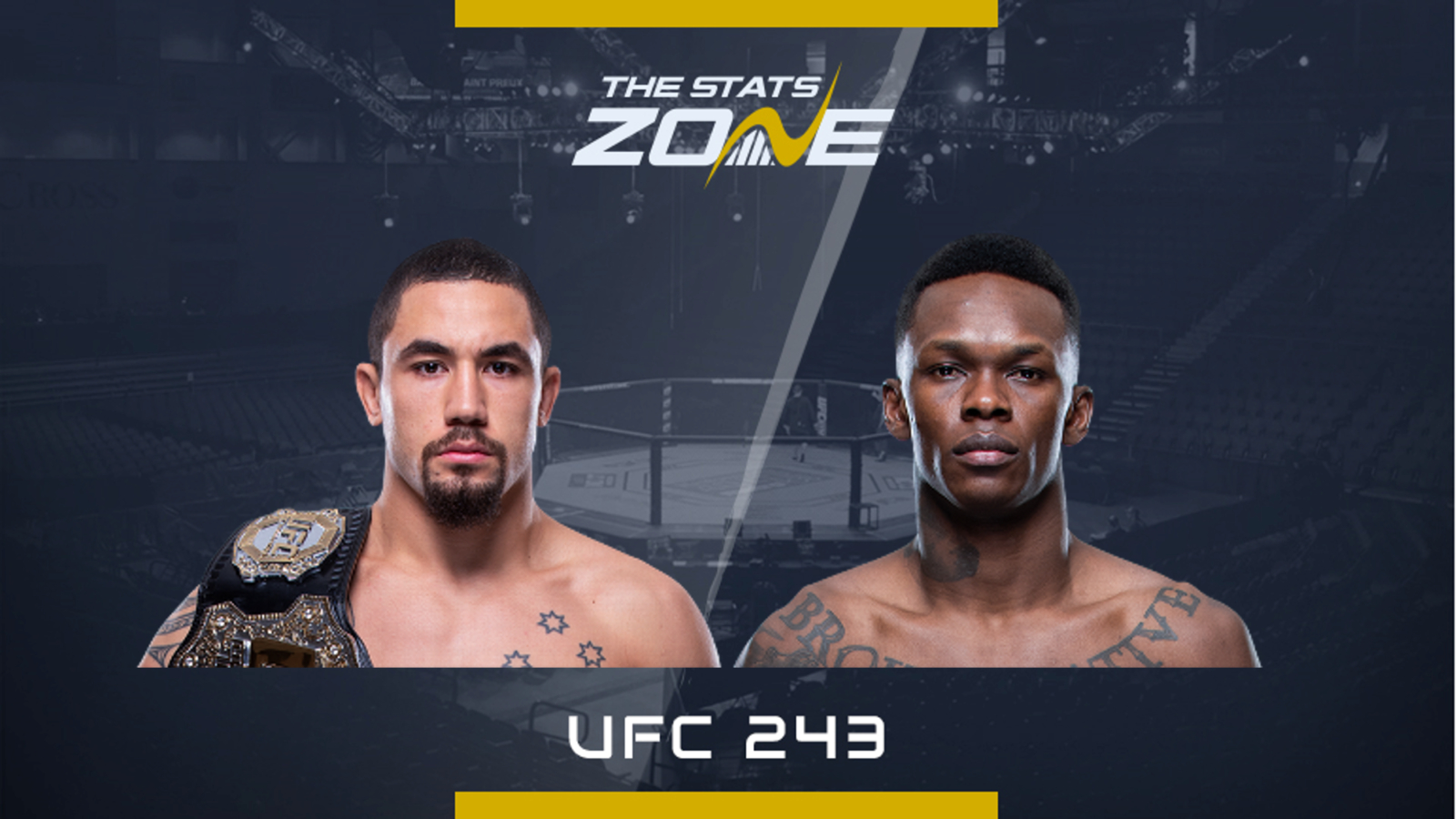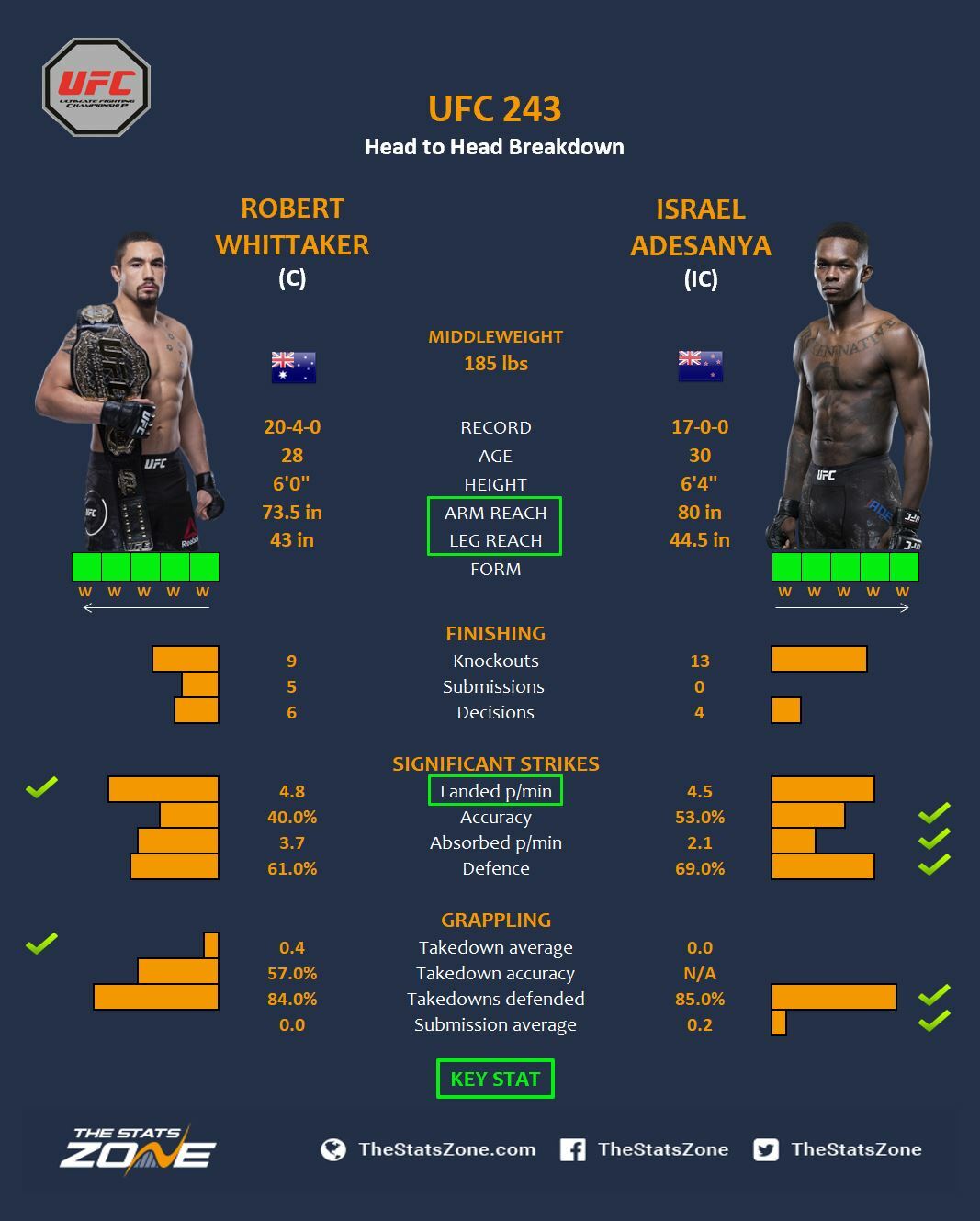 THE LOWDOWN
The brash and cocky Kiwi takes on the humble champion in the biggest fight in Australasian history. Robert 'The Reaper' Whittaker defends his belt on home turf against the interim champion Israel 'The Last Stylebender' Adesanya.
Whittaker has fought once since July 2017 but he deserves no criticism for his lack of activity. Back then, he went to war with Yoel Romero for the interim title, winning the epic battle but with a severe knee injury aggravated by Romero's oblique kicks. This kept him on the side-lines for a year but he returned for the rematch in which he scraped another hard-fought decision – this time fighting with a broken hand.
Then, just hours before his title defence against Kelvin Gastelum, Whittaker took ill and was forced to undergo emergency dual surgery for an abdominal hernia and a twisted/collapsed bowel. Horrendous luck, but this paved the pay for Adesanya to earn his shot.
'The Last Stylebender' filled in for Whittaker after beating Anderson Silva and put on one of the fights of the year with Gastelum. Both men displayed an abundance of heart and skill. Adesanya earned the well-deserved unanimous decision which extended his unbeaten run and the volume of trash talk which has created an entertaining build-up between the contrasting champs.
THE PREDICTION
The most notable stat is Adesanya's 6.5 inch arm reach advantage. However, Gastelum had a similar discrepancy and closed the distance brilliantly in lighting Adesanya up early in the fight. It was only after two rounds when Gastelum began to tire that Adesanya settled to find his range but he remained susceptible to Gastelum's right jab and power left.
Although he took a lot of damage to the shorter opponent, 'The Last Stylebender' won the fight with his heart and better cardio, but Whittaker is one of the most conditioned athletes in the division and has absorbed 10 rounds of everything Romero had to offer.
Adesanya will look to pick off his shots at distance to wear Whittaker down, constantly switching stances, but 'The Reaper' is a seasoned beast on the feet. He has knockout power and the technique to close the distance and reel off combinations, finishing with his devastating high kick which Gastelum rocked Adesanya with.
Gastelum pushed Adesanya to the limit but Whittaker is a better version with phenomenal wrestling, powerful and diverse striking, a granite chin and, crucially, cardio that will keep up the pace for five full rounds.
Adesanya is unbeaten, obviously a world class striker and has displayed champion-calibre mentality but Whittaker has displayed all of this on his way up the stacked division. He got past Romero with two serious injuries and now we are likely to see the best version of him on home soil.
Winner: Whittaker via Decision
Striking and grappling stats sourced via FightMetric.
Promo by Martial Edits: