MMA Preview – Magomed Ankalaev vs Ion Cutelaba at UFC Vegas 8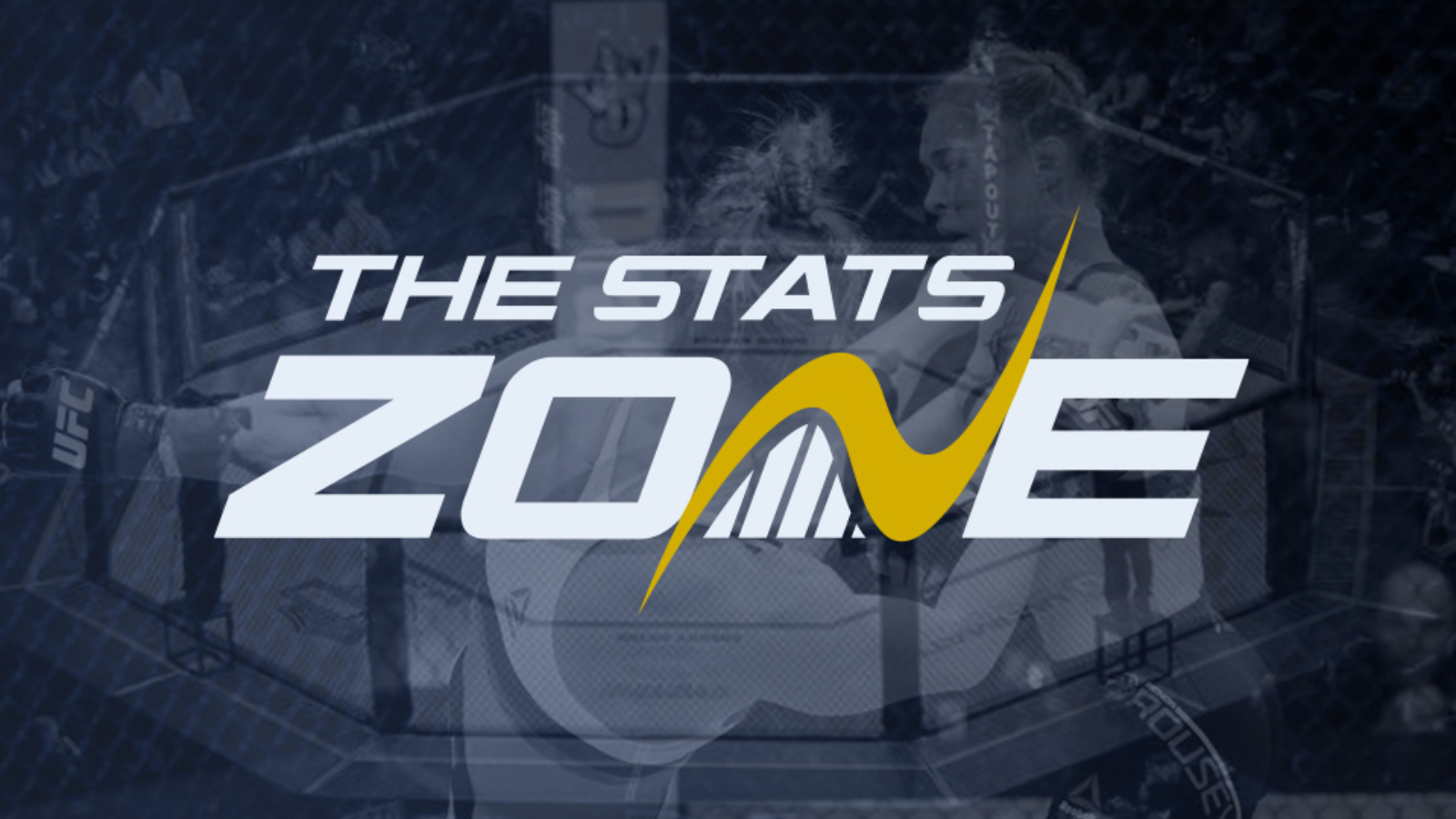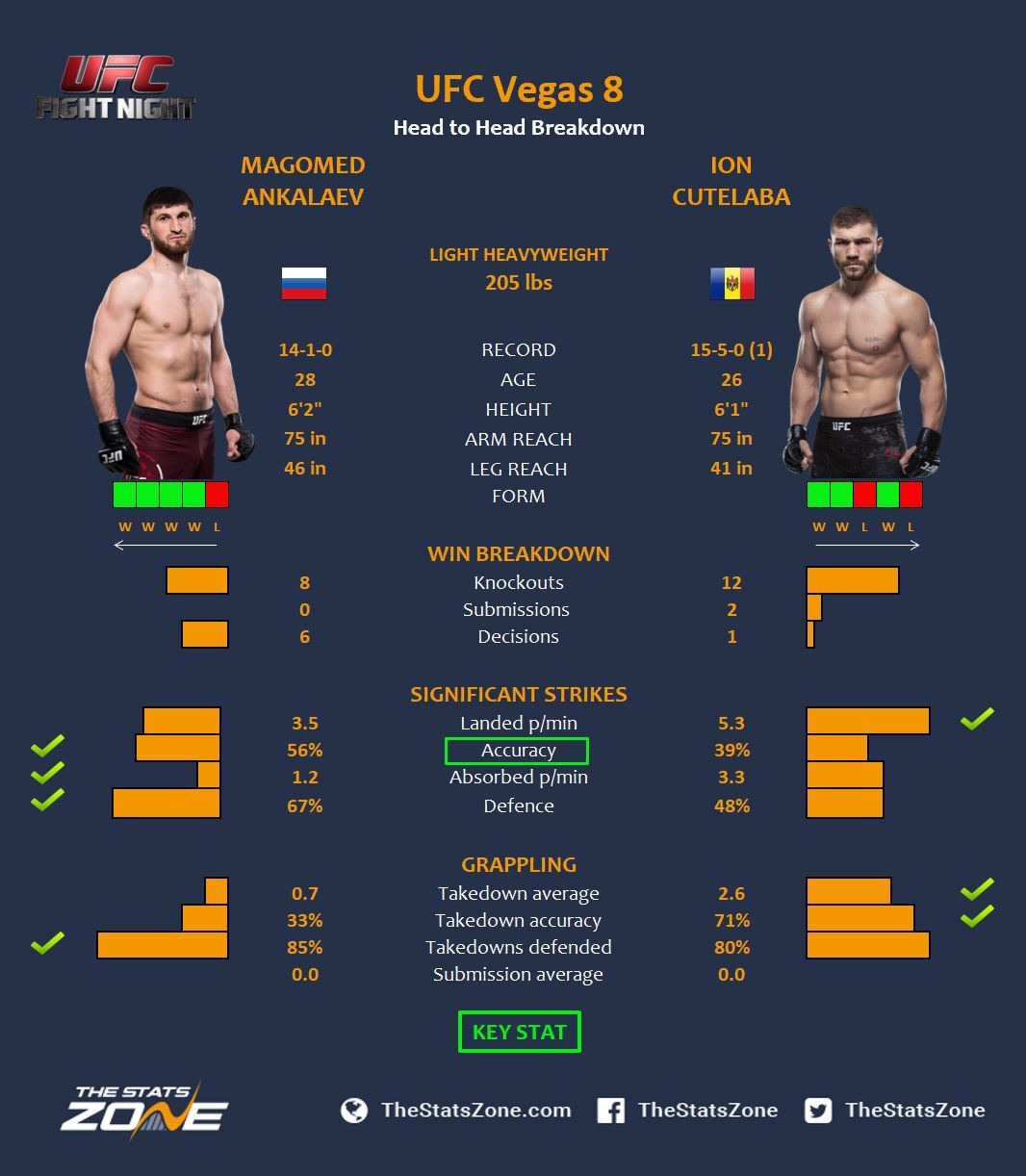 Stats sourced via ufcstats.com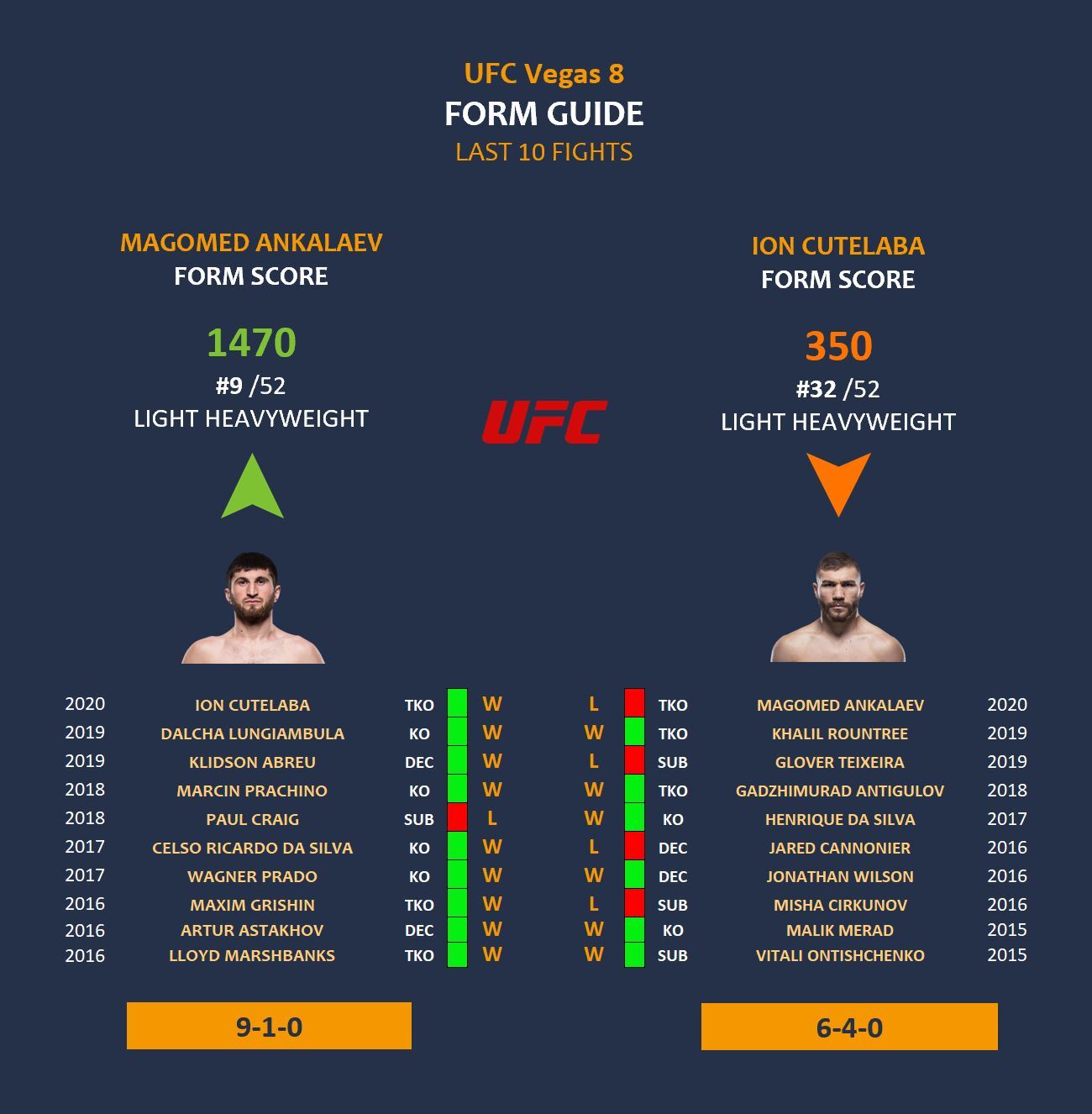 Stats sourced via Ewan Lavender's UFC Form Guide
MAGOMED ANKALAEV VS ION CUTELABA LOWDOWN
This scheduling is third time lucky for Magomed Ankalaev and Ion Cutelaba after their controversial scrap back at UFC Fight Night 169. Ankalaev pulled out of UFC 249 due to travel restrictions related to COVID-19 and then Cutelaba ended up testing positive prior to UFC 252 but now hopefully they get to settle the score.
Ankalaev walked away with the first round TKO win but it was a very controversial stoppage. They quickly engaged and Cutelaba played possum, pretending to be hurt to lure Ankalaev in. However, referee Kevin MacDonald fell for Cutelaba's acting and stepped in to stop the fight feeling he was preventing the Moldovian from sustaining more damage. It was a shame which has been compounded by the rescheduling attempts so let's hope they make it to the octagon as it is guaranteed fireworks.
MAGOMED ANKALAEV VS ION CUTELABA PREDICTION
The first fight started as expected with both men wasting no time in pursuing the knockout. Although it ruined the fight, Cutelaba playing possum was a plan to force the brawl where he thought he could come out on top. Considering Ankalaev's striking credentials this was not a bad idea.
Cutelaba obviously will not risk the same mistake this time but he is expected to get the fight in a phone booth i.e close the distance and throw heavy leather in the pocket. However, the problem is that Ankalaev is a cool, calm and calculated killer who can attack from various angles and if Cutelaba loiters in the pocket for too long, the Russian will be waiting to explode with that left kick.
Ankalaev should also be more patient this time around but that does not mean he is safe from Cutelaba. If Cutelaba can come in with a different strategy and even shoot in for takedowns in between throwing his powerful combinations, his monster overhand right has more chance of landing.
Cutelaba is always worth a bet when his opponent is happy to stand but Ankalaev's sambo and wrestling should allow him to dictate where the fight goes countering Cutelaba's takedowns and eventually finding the knockout.
Winner: Ankalaev via KO/TKO