Date: Sunday 11th February, 3am (UK)

Location: Perth, Australia
Venue: Perth Arena
The first UFC event to be hosted in Perth was originally scheduled to be headlined by Robert Whittaker who was preparing to defend his newly earned middleweight championship but unfortunately withdrew due to a series of injuries, infections and illnesses. This has given Yoel Romero the opportunity on the back of a loss to fight Luke Rockhold for an interim title.
Let's hope this fight sets up a legitimate title fight with Whittaker to end the carousel of belts as all the attention should be focused on the immense talent of all these contenders. The middleweight division has consistently produced some of the most skilled fighters of all time and none more so than Romero and Rockhold so despite the dropouts, the anticipation is simmering in Perth.
Rockhold lost his belt to Michael Bisping in June 2016 which damaged his stock but we cannot forget he steamrolled an undefeated Chris Weidman to earn the title and has regularly displayed breathtaking finishing against legends of the sport, boasting arguably the most complete skillset in MMA. His striking technique is mesmerizing with a savage right hook and left kick as well as a dominant top game which has allowed him to submit black belts for fun.
Then we have Romero who is simply a freak. At 40 years old, he still looks like he was crafted by the gods themselves with an intimidating skillset of his own. Arriving into MMA as an accomplished Olympic wrestler, he has displayed frightening knockout power and speed. His natural athleticism has propelled him into the elite of MMA but he has certainly met his match in Rockhold.
Rockhold's skills speak for themselves and after joining forces with top trainer Henri Hooft, we can expect to see him rejuvenated but so too Romero after being humbled by his loss to Whittaker. The Cuban has learnt some valuable lessons, in particular the importance of keeping the pace for the five rounds and leaving enough energy for his explosive attacks.
Romero has the speed and power to knock out anyone and will be spurred on by Rockhold's fights against David Branch and Bisping where he received damage on the feet, but Rockhold also has the technique and reach to inflict and counter with his own destruction.
So, the stand-up contest will be enthralling but so will the grappling if the fight takes that route. Romero's back-up plan is his elite wrestling but nobody has ever out-grappled Rockhold. They are evenly matched everywhere but Rockhold has the edge in the submission game. Wherever this fight takes place, we will be witnessing greatness, but sandwiched between the Californian and the mat is the worst place Romero could end up.
Every stat should be considered with these two absolute weapons but the submission average of Rockhold stands out as the advantage, providing he can keep 'The Soldier of God' down. See below for the statistical breakdown: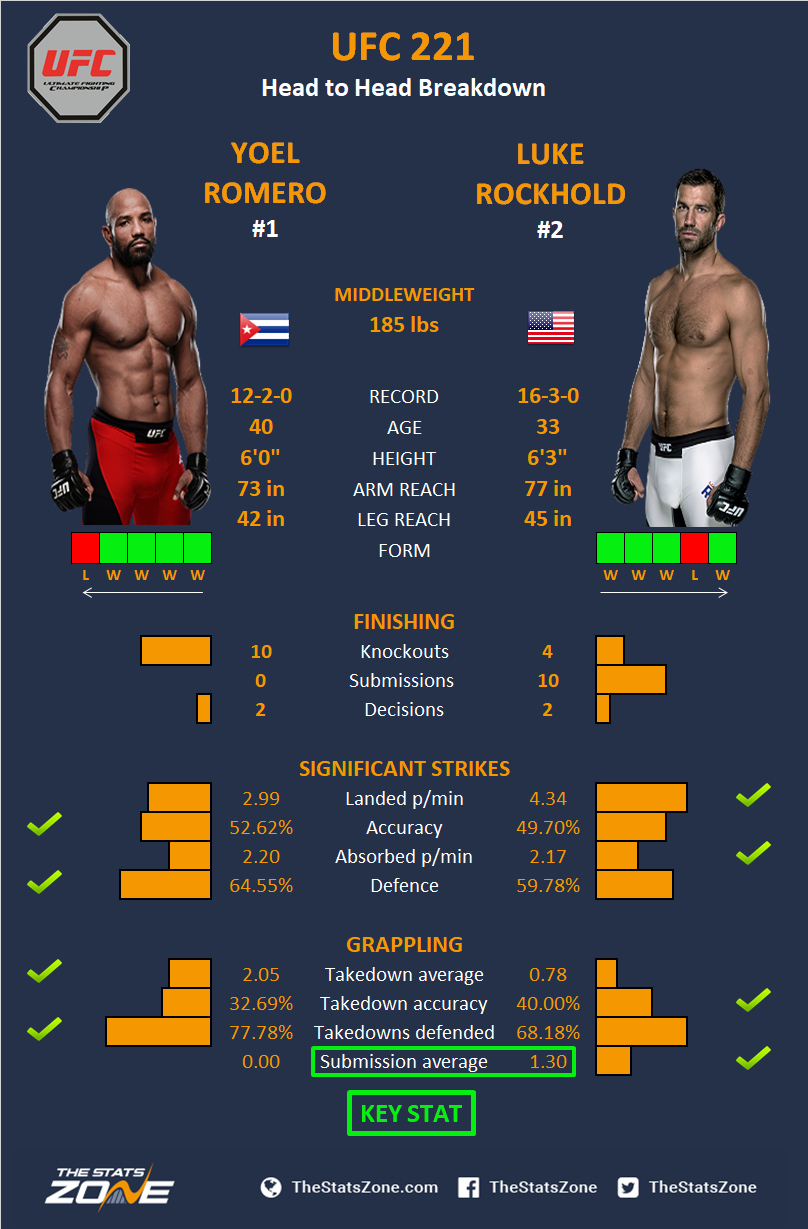 Striking and grappling stats sourced via FightMetric.