Date: Sunday 11th February, 3am (UK)

Location: Perth, Australia
Venue: Perth Arena
The first of many behemoths on the main card for Perth comes in the rotund shapes of light heavyweights Tyson Pedro and Saparbek Safarov.
They both head into UFC 221 on the back of their first loss and are desperate to make amends. Despite their setbacks, they have serious potential in the division and there has never been a better opportunity to climb up the rankings; the best way to do that is to garner the attention of the UFC brass with eye-catching finishes and that is exactly what they have done.
Finishing every single one of their victories, another at UFC 221 would put them on course for a top 10 opponent in their next fight. Tyson acquired four submissions and two knockouts before suffering a decision loss to Ilir Latifi in his third UFC fight.
Safarov, on the other hand, acquired six knockouts and two submissions before suffering a knockout of his own at the hands of Gian Villante. That particular fight was his UFC debut so the Russian has more to prove in search for his first UFC win and as they have both found out, the talent and pressure is a different level in the UFC which will provide an intense fight – for however long it lasts.
Even with the added pressure, they are fully expected to put on a show in search for another finish. As Safarov has only had one UFC fight, take his stats with a pinch of salt but the key stat highlighted is their form as whoever responds better after the first career loss will walk away with the victory and march up the rankings.
See below for the statistical breakdown: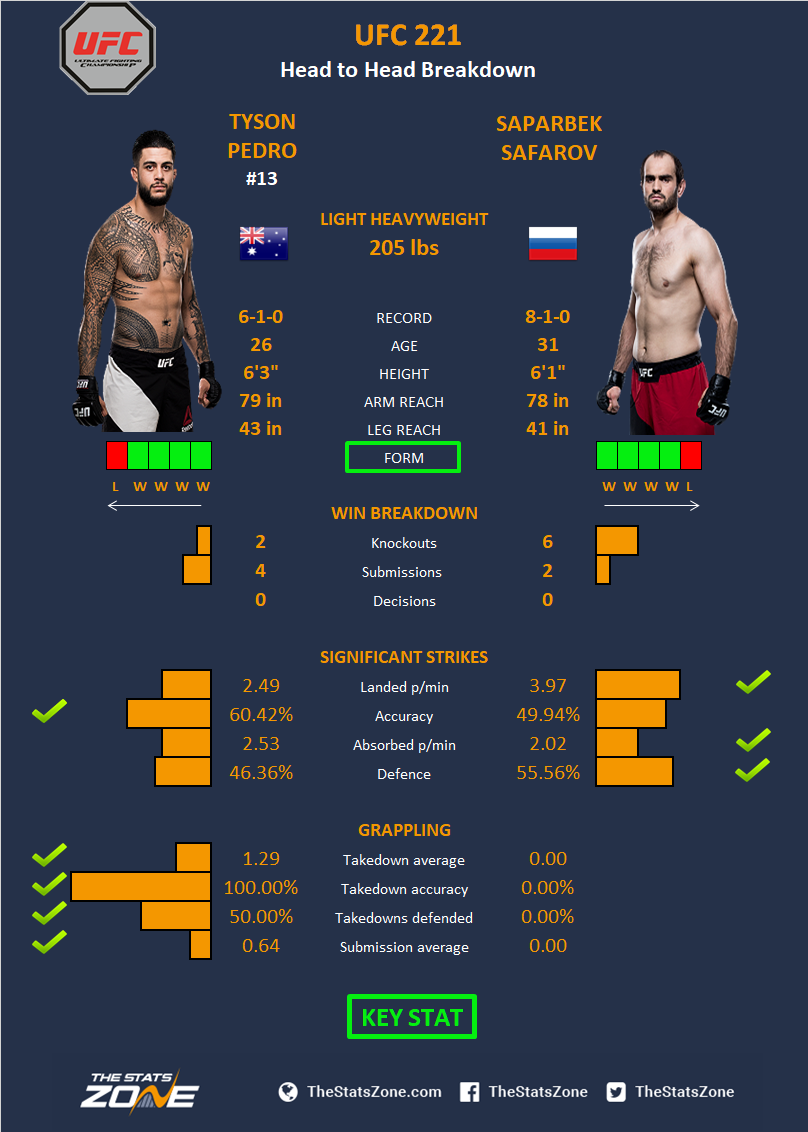 Striking and grappling stats sourced via FightMetric.