Date: Saturday 7th October
Location: Las Vegas, Nevada, US
Venue: T-Mobile Arena
Tony Ferguson vs Kevin Lee
These two arrogant, brash and incredibly talented lightweights grace the main event with another UFC interim belt on the line. This because the notorious Conor McGregor who currently holds the belt, has not-so discreetly been occupied in another sport with his return to the octagon to be determined.
Both men are riding lengthy win streaks to earn this interim title fight. Ferguson has won his last nine fights which is an incredible feat in the modern era of the UFC and as fellow top contender Khabib Nurmagomedov could not make weight for their fight, Ferguson is left desperate for an opponent to set up a shot at McGregor. Step up Kevin Lee who along with his own five-fight winning streak, his mouth has earned him a fight for the belt and official number one contender status.
Lee is very marketable and has looked impressive in his last five fights which has made him a worthy replacement for Nurmagomedov. The fight that guided him on the path to Ferguson was his last outing against Michael Chiesa. A lot of bad blood and bold statements from Lee amped up the fight and he went on to finish him via a rear-naked choke and will most likely be one of very few men who will ever take Chiesa's back and choke him. If Lee needed any more confidence, this win entitled him to call out and exchange numerous heated words with Ferguson.
So it is clear Lee is full to the brim with confidence as very few fighters wish to call out 'El Cucuy'. This is because Ferguson is in the form of his life and has evolved into a fighter with minimal, if any, weaknesses to his game. He has always had an impermeable will and an absurd gas tank but his unorthodox striking and grappling becomes more finely tuned in every fight, which not only makes him dangerous in every area but extremely unpredictable and hard to finish.
So what will Lee's game plan be for Ferguson? Lee has decent stand-up skills but his strengths undoubtedly lie in his wrestling and Jiu-Jitsu; he is a wizard on the mat but so is Ferguson. Ferguson equals Lee's eight submission wins and possesses a devastating D'Arce choke which is becoming almost as reliable as Ronda Rousey's armbar. The grappling fans will hope this fight goes to the floor to witness two masterminds in action.
Both fighters are incredible athletes with phenomenal skillsets and will input a rapid pace for as long as the fight lasts. Ferguson may edge the striking battle with his unconventional approach but Lee's explosive power and wrestling may enable him to take the fight to the ground, although Ferguson is just as tricky on the mat. Wherever the fight may go, they both have a chip on their shoulder and it promises to be one hell of a fight.
See below for a statistical breakdown. The key stat highlighted is their reach. Although they are nearly identical, Ferguson usually has the advantage over his lightweight opponents standing at 5'11" so his unconventional style will be crucial to regaining his stand up advantage.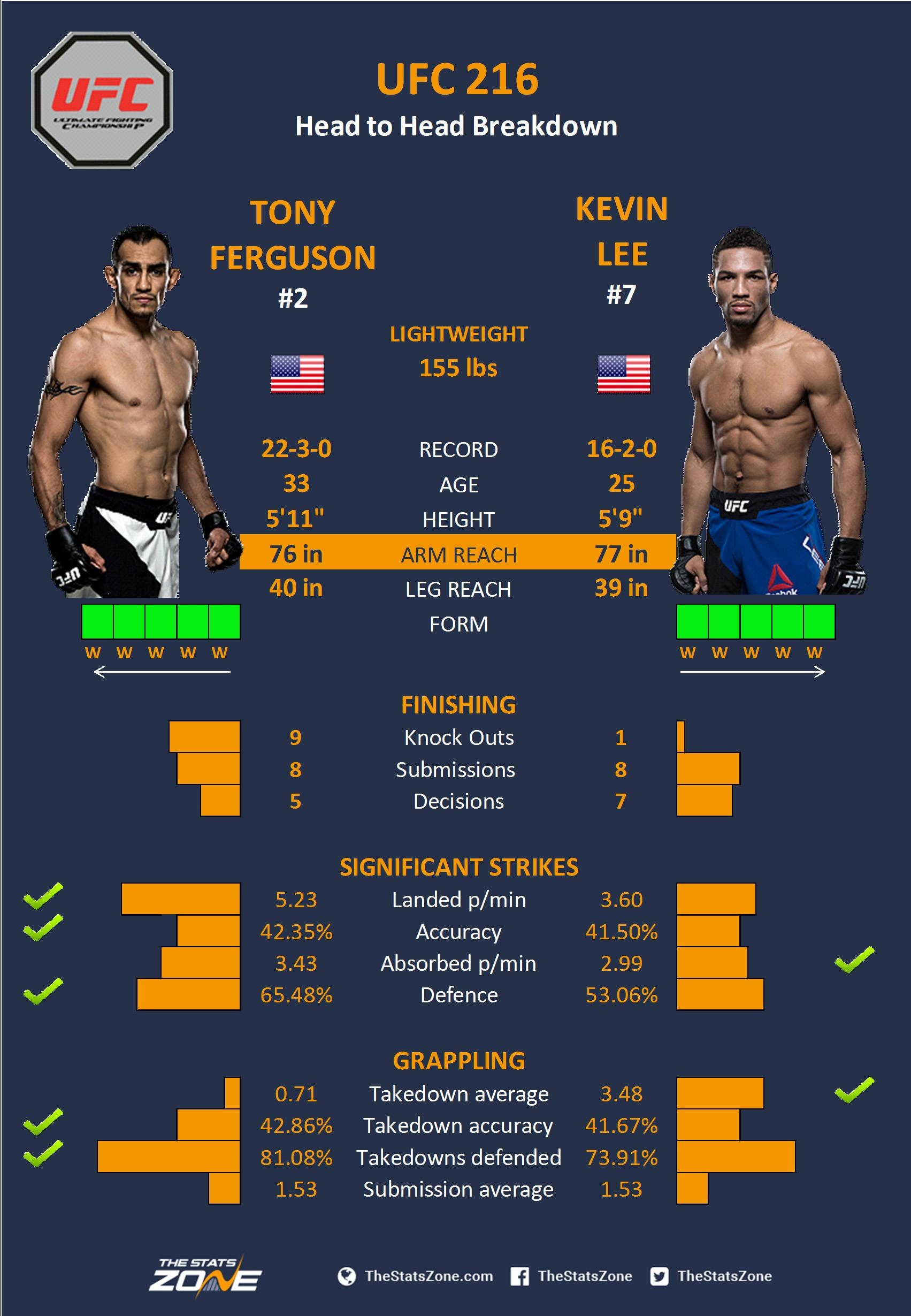 Striking and grappling sourced via FightMetric.