Date: Sunday 11th February, 3am (UK)

Location: Perth, Australia
Venue: Perth Arena
The first of two big heavyweight clashes grace the Perth card in the form of the native Tai Tuivasa and Frenchman, Cyril Asker.
In Tuivasa's short career we have already seen similarities with his allies and fellow powerhouses Mark Hunt and Tyson Pedro, who are also on the card. He has bulldozed his way to 6-0 with six knockouts. At only 26, he is another heavyweight who has the potential to cause any fighter severe problems.
With a seismic frame, Tuivasa is an incredible athlete who decided on a career in MMA instead of professional Rugby League. He has had a stuttering start due injuries but is now focused after joining the UFC and is set on knocking off opponent after opponent.
His next opponent hails from France and joined the UFC in 2016 as the EFC (Extreme Fighting Championship) heavyweight champion. Since, Asker has experienced the huge step-up in competition from the South African promotion with a UFC record of 2-2. Very familiar with travelling the world for fights, he is intent on becoming more familiar with winning in the UFC but has a large test on his biggest stage at UFC 221.
Asker is well-rounded but most comfortable up close and personal and is expected to enforce the clinch and takedowns which would be sensible as Tuivasa will be hunting the Frenchman like prey.
The Aussie throws all his weight into his strikes, throwing power right hands and following up with combinations. In his last fight, he finished Rashad Coulter spectacularly with a flying knee after overwhelming him with aggressive attacks and hopes to do exactly the same to Asker.
So, the significant strikes of Tuivasa and the takedown accuracy of Asker are highlighted in the statistical breakdown: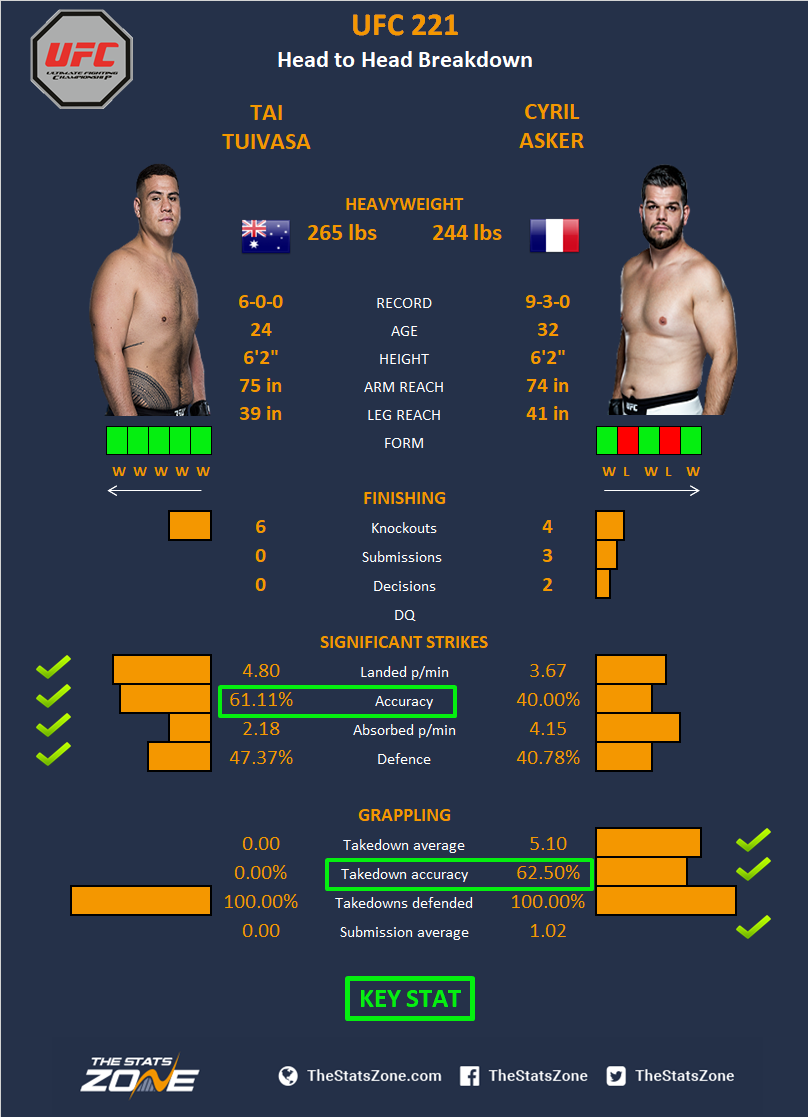 Striking and grappling stats sourced via FightMetric.