Date: Sunday 20th January, 3am (UK)

Location: Boston, Massachusetts
Venue: TD Garden
'That was the past man, we are talking about now and now is me. I am the present.' Francis Ngannou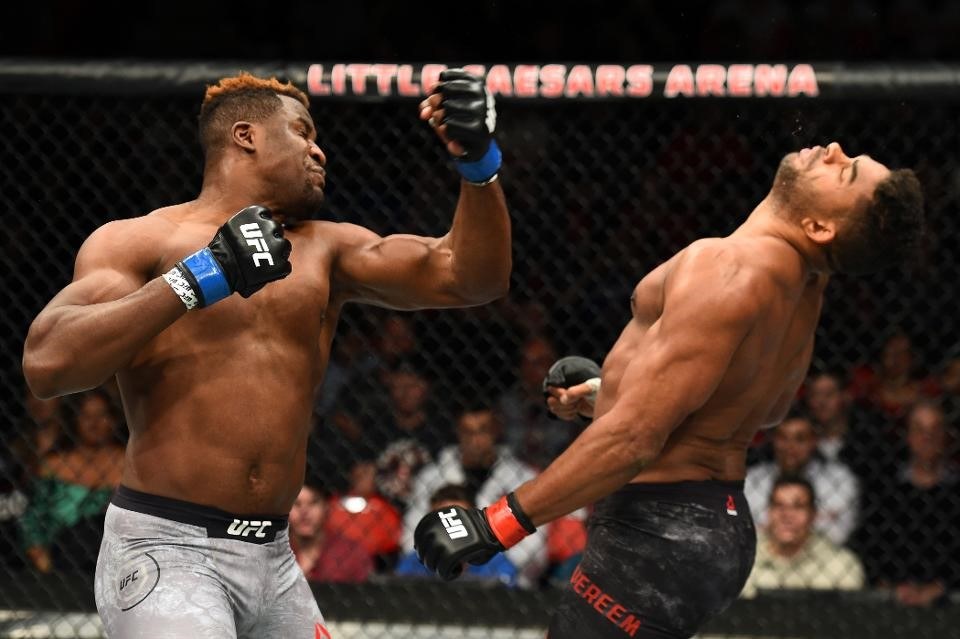 UFC 218 – 2017 knockout of the year, Ngannou (left) Overeem (right)

When questioned about his confidence going into the biggest fight of his career against the number one ranked and most experienced heavyweight in the UFC, Francis Ngannou simply shifted the focus on who is the 'present' - an eerie statement after delivering the knockout of the year which rendered the most decorated MMA striker of all time – Alistair Overeem – unconscious in a devastating and chilling fashion.
This unforgettable knockout has granted him a title shot against Stipe Miocic and a chance to fulfil his dream of becoming a UFC champion. What a remarkable story it is just to get this far; from collecting sand in the mines of Cameroon to walking in off the streets of France into a Boxing gym only five years ago, he is now in the UFC disposing elite-level fighters in a display of skill and peerless power.
This is a match-up the heavyweight division has been craving. Miocic has been humbly sitting at the top of the division since May 2016 and although it took him 11 UFC fights to get there, he has steadily improved his skills and is now a severe threat in any round and any area of the fight. He is thoroughly peaking with five knockout finishes on the bounce and a win over Ngannou will be a record UFC heavyweight title defence with three.
With 10 straight finishes of his own, what makes Ngannou more terrifying is that we don't know if he has peaked and in all likelihood, he hasn't. His striking can eliminate anyone and he has also shown glimpses of the same ruthless finishing in his grappling with four submissions.
The contest is unlikely to spill out into the second round and with a miniscule margin for error, they are fully aware that receiving one touch of leather may result in being awoken by the doctor's flashlight. Miocic is in the form of his life and proven his own power by finishing top contenders for fun, but he has no choice but to strategize against the murderous uppercuts and hooks of Ngannou. His wrestling may be his biggest ally but he cannot afford to test the striking waters of Ngannou.
On the other hand, Ngannou cannot be complacent with his power. Miocic was finished by Struve earlier in his career and was floored by Overeem but the champ has some of the best movement and footwork in the division and crucially has the composure and championship experience which will pose a new problem for Ngannou.
It would be fascinating to watch these juggernauts grapple but the accuracy of their striking is likely to dictate how short this fight will be. Also highlighted in the statistical breakdown is the reach advantage of Ngannou which will be crucial to landing his power strikes but Miocic will back his movement to defend and inflict his own. This fight will be incredibly tense for however long it lasts, and another spectacular finish is expected to discover who really is the 'present'.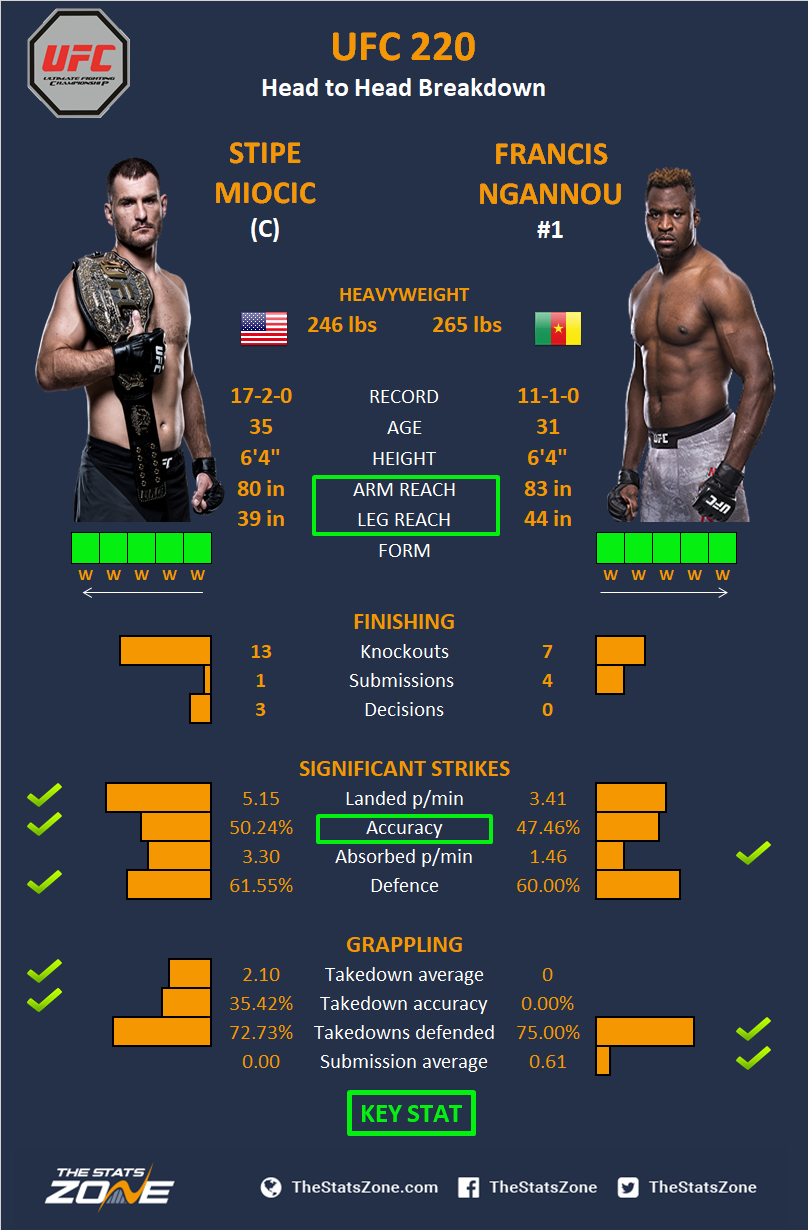 Striking and grappling stats sourced via FightMetric.