Date: Sunday 5th November, 2am (UK)
Location: New York City, New York
Venue: Madison Square Garden
What an incredible match-up, the perfect appetiser for the three title fights to follow. Stephen Thompson and Jorge Masvidal epitomize what fans love about MMA. Two impeccable, contrasting yet similar athletes. Masvidal - a born fighter, mean and rugged up against Thompson - a true artist and graceful master of his art, yet they both possess the same toughness and impermeable will to win.
Thompson is coming off his unsuccessful chapter with Tyron Woodley where he challenged for his title twice, drawing the first and narrowly losing the second. These were very close fights where the champion demonstrated the perfect tactics to nullify the striking expert.
Masvidal is also coming off a loss which was at the hands of Demian Maia. However, even in defeat, Masvidal showed his class in going toe-to-toe with the world class grappler, again, narrowly missing out via decision.
This fight promises to be a different exhibition. Masvidal is expected to go at the champion kickboxer in his usual aggressive manner, apply pressure and make him fight which Thompson will happily oblige, waiting for the smallest of opportunities to pounce. Thompson loves to force his opponents to engage in a chess game, almost like a puppeteer, setting traps and countering with laser-like precision, but Masvidal doesn't play any games inside the cage. If he wants to inflict damage on the feet or on the ground, he usually gets his way.
As the fight is only three rounds it will be fought at a high pace and it will be riveting to see how Masvidal copes with Thompson's exceptional range control. If he struggles to close the distance and is getting picked apart by Thompson's snake-like attacks he may call upon his wrestling. However, Thompson has proven just how difficult it is to be kept down and on the other hand, Masvidal has proven how adaptable he is, whether it's grappling with Maia or out-striking Donald Cerrone. Who's to say his seasoned boxing won't be enough to inflict damage of his own on the feet? What we do know is that they both have the toughness and durability to weather any storm and take the fight into deep waters.
See below for the statistical breakdown. The key stat highlighted is the reach and in particular, the leg reach. Thompson will rely on all four limbs combined with movement to control the distance but we will have to see whether that will be enough to stop the offence and aggression of Masvidal.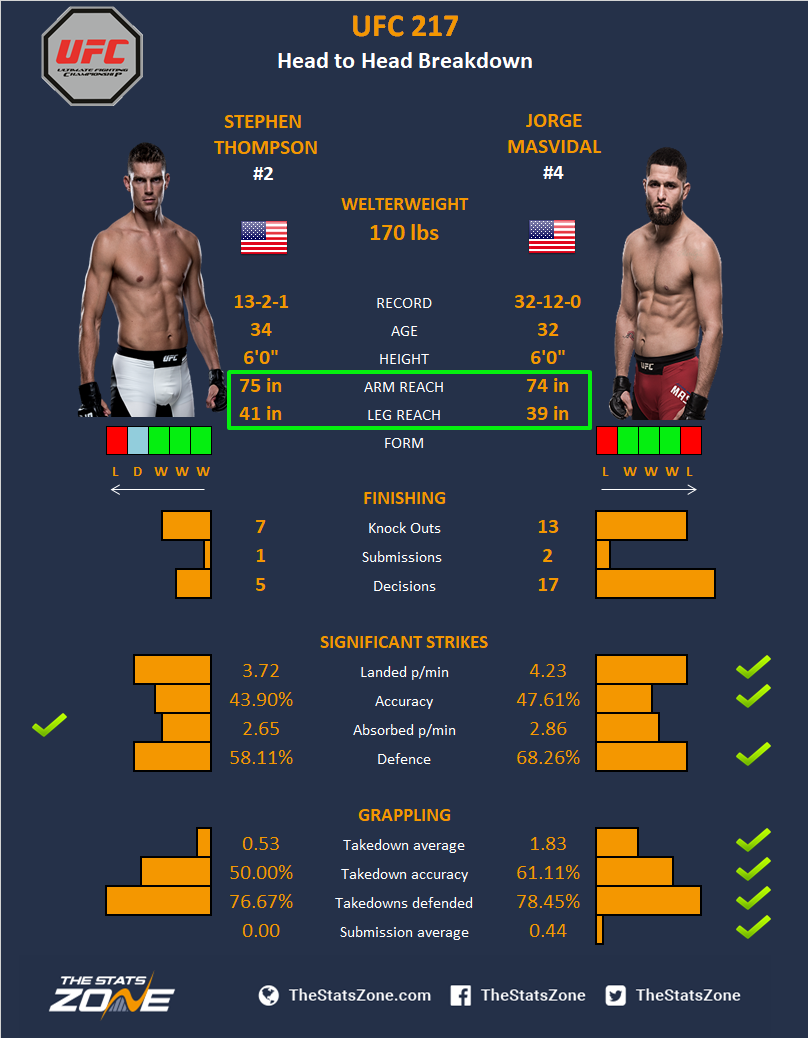 Striking and grappling stats sourced via FightMetric.