Date: Sunday 28th January, 1am (UK)

Location: Charlotte, North Carolina
Venue: Spectrum Center
Ronaldo 'Jacare' Souza will travel to the home state of the man he put to sleep over six years ago in a thrilling rematch serving as the main event for UFC on Fox 27. Derek Brunson has been gifted the chance of redemption on home soil after suffering his first career knockout at the hands of Jacare.
Their fight was under the Strikeforce banner and it didn't last long. The multiple time World Jiu-Jitsu champion was expected to counter the aggressive attacks of Brunson with takedowns. However, the Brazilian looked more like a world champion boxer, timing a beautiful counter straight right, clean on the jaw of the incoming Brunson. Following up with a couple more finishing blows, Jacare secured the surprise finish.
So, Brunson is hell-bent on delivering payback with a knockout of his own but Jacare will have other ideas as he is desperate to bounce back from his loss to Robert Whittaker and rebuild his title contender status. An impressive win for either men will push them to the front of the queue of monsters seeking the middleweight gold.
Both fighters have evolved considerably since their first meeting and their seasoned skills make a compelling rematch. Jacare's strengths are undeniable as one of the best practitioners of Jiu-Jitsu in MMA with his striking continuing to improve. Brunson will be wise to respect the striking of Jacare but will still look to keep the whole fight on the feet.
Brunson will have to use his reach advantage and exceptional wrestling to keep the distance and defend any takedowns. He will also utilize his speed and explosiveness to inflict damage as soon as possible but he can't be too reckless. He has earned success as the aggressor but Jacare is not somebody you want to rush towards. He counters like a predator with proven knockout ability and grappling that is on a different level, requiring only the slightest mistake to wrap up a submission.
These deadly finishers will provide a tense contest but Brunson will have to utilize his reach more effectively to earn a different result this time around.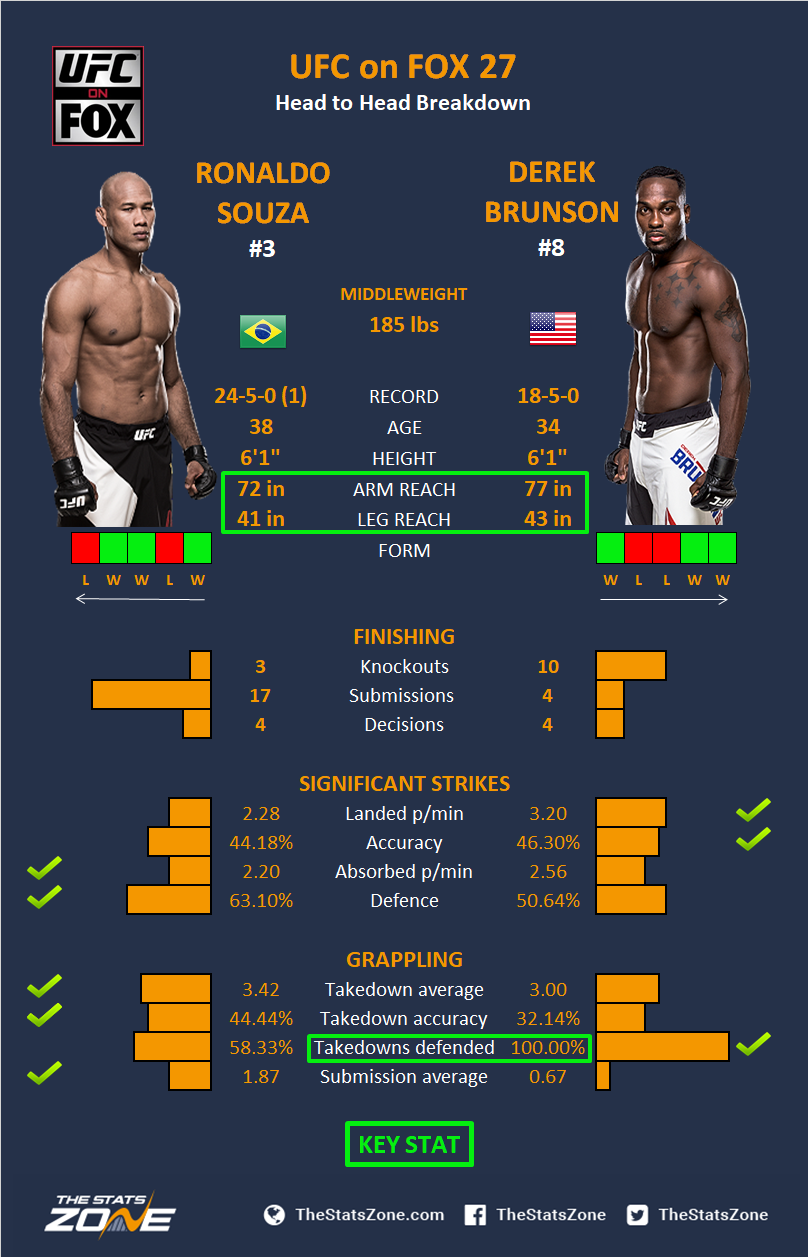 Striking and grappling stats sourced via FightMetric.