Date: Sunday 3rd February, 1am (UK)

Location: Belém, Brazil
Venue: Arena Guilherme Paraense
The next Brazilian hosting an American for UFC Fight Night 125 is Michel Prazeres, who is relishing the opportunity to fight on his home patch in Belém. Desmond Green travels to Brazil to spoil the party and is hoping to bounce back from a loss in his last fight against Rustam Khabilov.
This loss snapped a five-fight winning streak and was his second appearance in the UFC. His first UFC fight was a close but impressive win over Josh Emmett so he had a lot of expectation going into his fight with Khabilov. Unfortunately, he lost via a unanimous decision which Green was not happy with and he is looking to make amends and make Prazeres his third UFC victory.
However, this is not a possibility in the eyes of Prazeres. After losing to Kevin Lee back in 2015, the UFC veteran has won five on the bounce and is not prepared to have this winning streak broken in the first UFC event staged in his home town.
The skills of the Brazilian undeniably lie in his ground game, showcasing his 2nd degree black belt in Brazilian Jiu-Jitsu with 10 submissions. Green on the other hand is a powerful striker built on a foundation of NCAA Division 1 calibre Wrestling so the grappling exchange will be fascinating to see.
Green's wrestling will be tested, in particular his takedown defence as Prazeres's easiest route to victory will be getting the American to the ground but Green's significant size advantage will be key to his takedown defence and retaining enough distance to inflict his destructive striking.
See below for the statistical breakdown: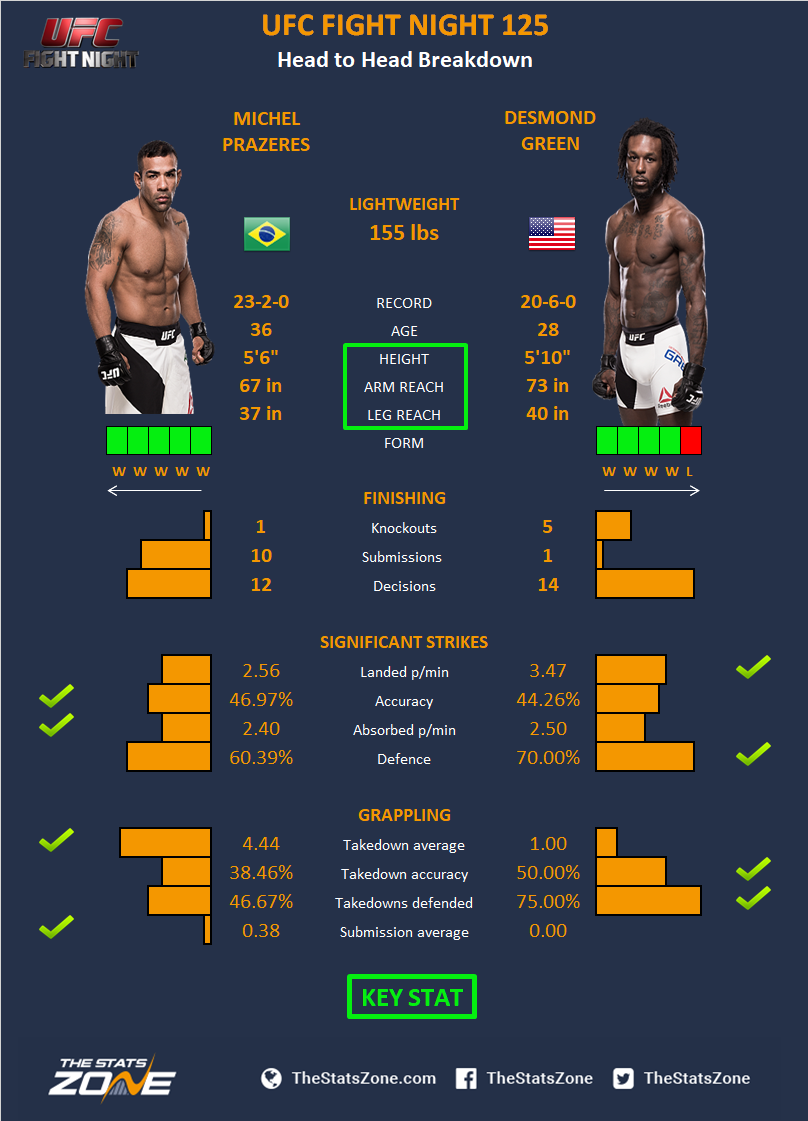 Striking and grappling stats sourced via FightMetric.