Date: Saturday 25th November, 12pm (UK)

Location: Shanghai, China
Venue: Mercedes Benz Arena
21 days from the biggest fight of his life, the biggest card of the year and a crushing defeat in which he lost his middleweight championship – Michael Bisping is preparing for another fight on the other side of the world against Kelvin Gastelum at UFC Fight Night 122.
The man is a true warrior and has stepped in as a replacement for Anderson Silva who got pulled from the card after being flagged for a potential doping violation. It is impossible to comprehend the emotional toll for Bisping after UFC 217 and to respond by starting another training camp deserves respect and takes courage, especially when taking on another legitimate middleweight contender.
Gastelum moved up to middleweight after struggling with the 170 lb limit at welterweight and although he is undersized for the division, he has displayed abilities that can trouble any opponent on his day. As a middleweight he beat the brakes off Tim Kennedy and Vitor Belfort but was submitted by Chris Weidman – one of the best wrestlers in the UFC who possesses the power of a light heavyweight, so that was really a mismatch.
This fight, however, should create fireworks. They are both phenomenal strikers with relentless outputs and that is why their 'significant strikes landed per minute' is highlighted as the key stat. The stand-up battle between Bisping's technical onslaught of attacks and Gastelum's hand speed and combinations will be absolutely fascinating. See below for the statistical breakdown: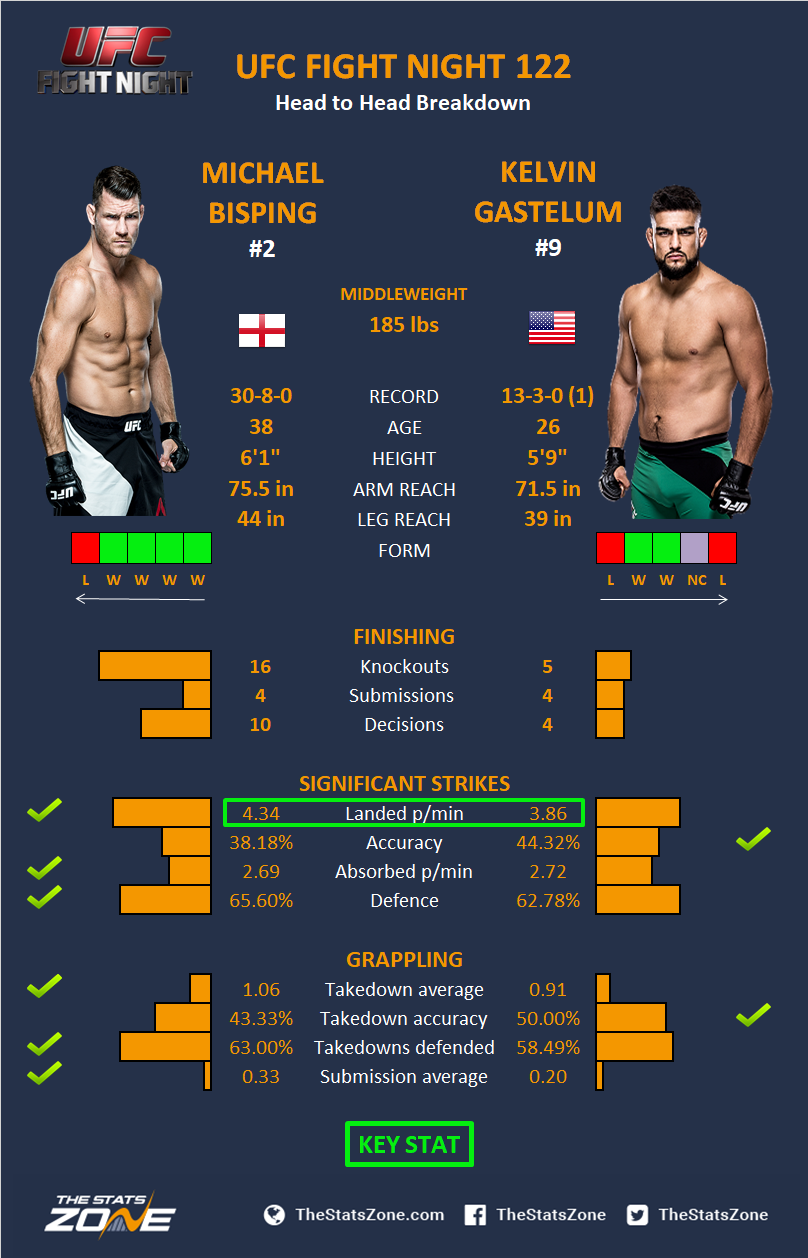 Striking and grappling stats sourced via FightMetric.