Date: Sunday 5th November, 2am (UK)
Location: New York City, New York
Venue: Madison Square Garden
Georges St-Pierre's long-awaited return comes in the form of a glittering main event for Michael Bisping's middleweight championship. St-Pierre (GSP) has been out of the game for four years but during his career he thoroughly earned his reputation as one of the best champions and fighters of all time. With the absence of Conor McGregor, the UFC are desperate for stars and have decided to push GSP to the front of the middleweight queue to headline one of the biggest cards of the year.
For a detailed breakdown of this fight, click here: https://www.thestatszone.com/michael-bisping-vs-georges-st-pierre-all-the-stats-you-need-to-know-for-the-superfight
There is a lot on the line for both fighters and this isn't just a money fight. GSP is a legend and is desperate to remind the fans of how dominant he was. Many feel he won't return the same after such a long time out but GSP has always remained in fighting shape, training tirelessly behind the scenes and in the build-up for this fight he has repeatedly stated that he is in the best shape of his life. This has given him the confidence to call out the current champion in the weight class above the division he gained all his success.
Taking offence to this call-out, Bisping believes GSP has hand-picked him for an easy fight. Never been more motivated in his career, Bisping is riding the wave of his superstardom, aware he hasn't got much time left at the top of the game. He wants this fight and this win badly and if he does come out on top, he has to be considered as one of the all-time greats of the UFC.
It will be fascinating to see how GSP tackles the heart and will of Bisping as well as the size, stepping up from welterweight. The key stat highlighted in the statistical breakdown is the takedown accuracy and the takedown defence. We have outlined how their attributes compare but the result of the fight could easily hinge on whether Bisping can either avoid or spring back up from the inevitable takedown attempts of GSP. The size of Bisping will aid him but the stamina of both men will also be crucial.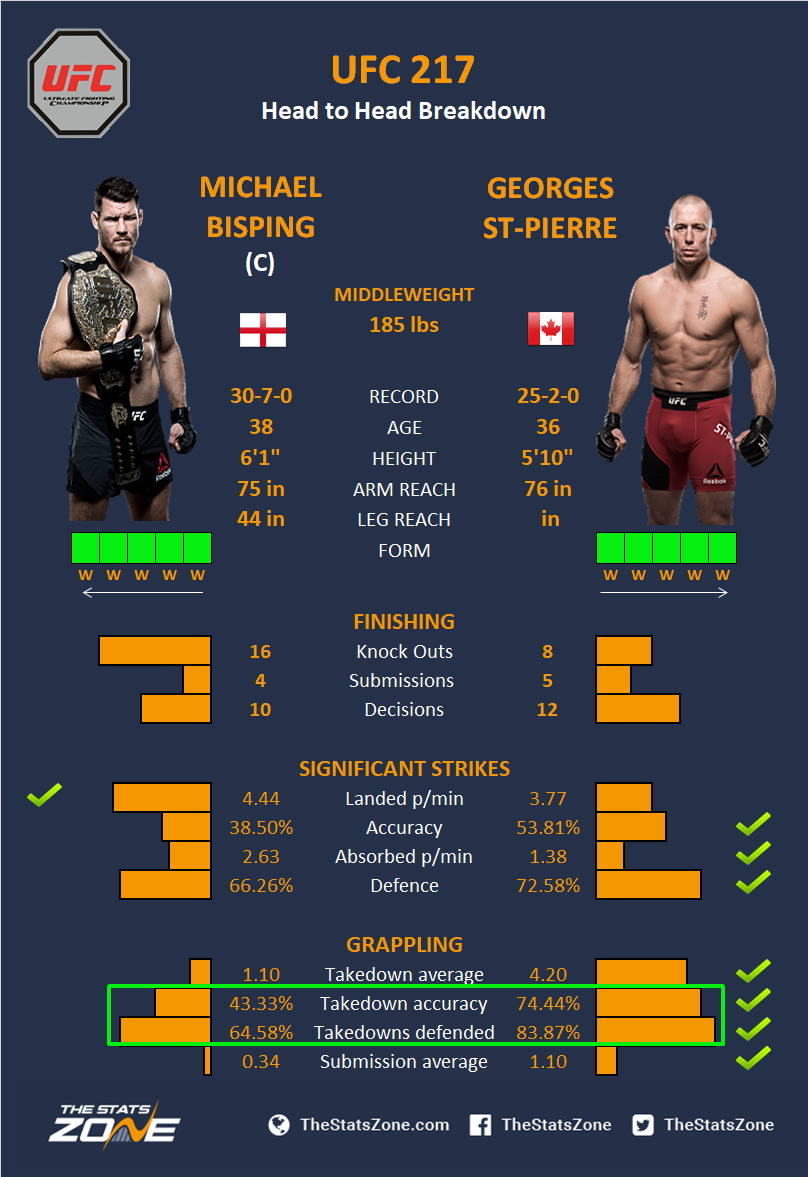 Striking and grappling stats sourced via FightMetric.