Date: Saturday 2nd December

Location: Detroit, Michigan
Venue: Little Caesars Arena
Arguably the best featherweight of all time was toppled by the young prodigy at UFC 212 earlier this year and the new king of the division, Max Holloway, was scheduled for his first title defence against Frankie Edgar. Unfortunately, the legend suffered an injury in training that will require surgery and in desperate need of an opponent, José Aldo has stepped up to the plate seeking vengeance over the man who took his throne.
Many have questioned the motivation of the Brazilian but slotting in late notice against a man that frankly dominated him six months ago puts those questions to rest. Aldo still believes he is the best in the world but he will have to adapt in this rematch. The first fight did not end quickly with one mistake as it did in his loss to Conor McGregor, but he was outclassed by the third round and beat down until the referee put an end to his suffering.
Aldo earned success in the first two rounds with his usual destructive striking but Holloway prepared for the early onslaught to figure out his patterns. It was a masterful game plan which required a ton of confidence up against proven knockout power but the Hawaiian looked like a veteran that night and added to his reputation of improving with every fight.
So we should fully expect Holloway to be an even further improved and finely tuned fighter with new skills come UFC 218, which is a dangerous prospect for Aldo. The former champion built a legacy of success based on impeccable reactions and timing with ferocious combinations but has not evolved like his foe so will have to arrive to the octagon with a new game plan to derail the new champion, who is creating a legacy of his own.
With ability to end the fight with one strike, Aldo's easiest route to victory will come in the form of a knockout but in their first meeting, Holloway looked as if he could end the fight however he decided and these are the stats highlighted in the statistical breakdown. He grew into the fight and eventually earned the respect of Aldo on the feet and that is likely to be where the fight is won and lost again in the rematch.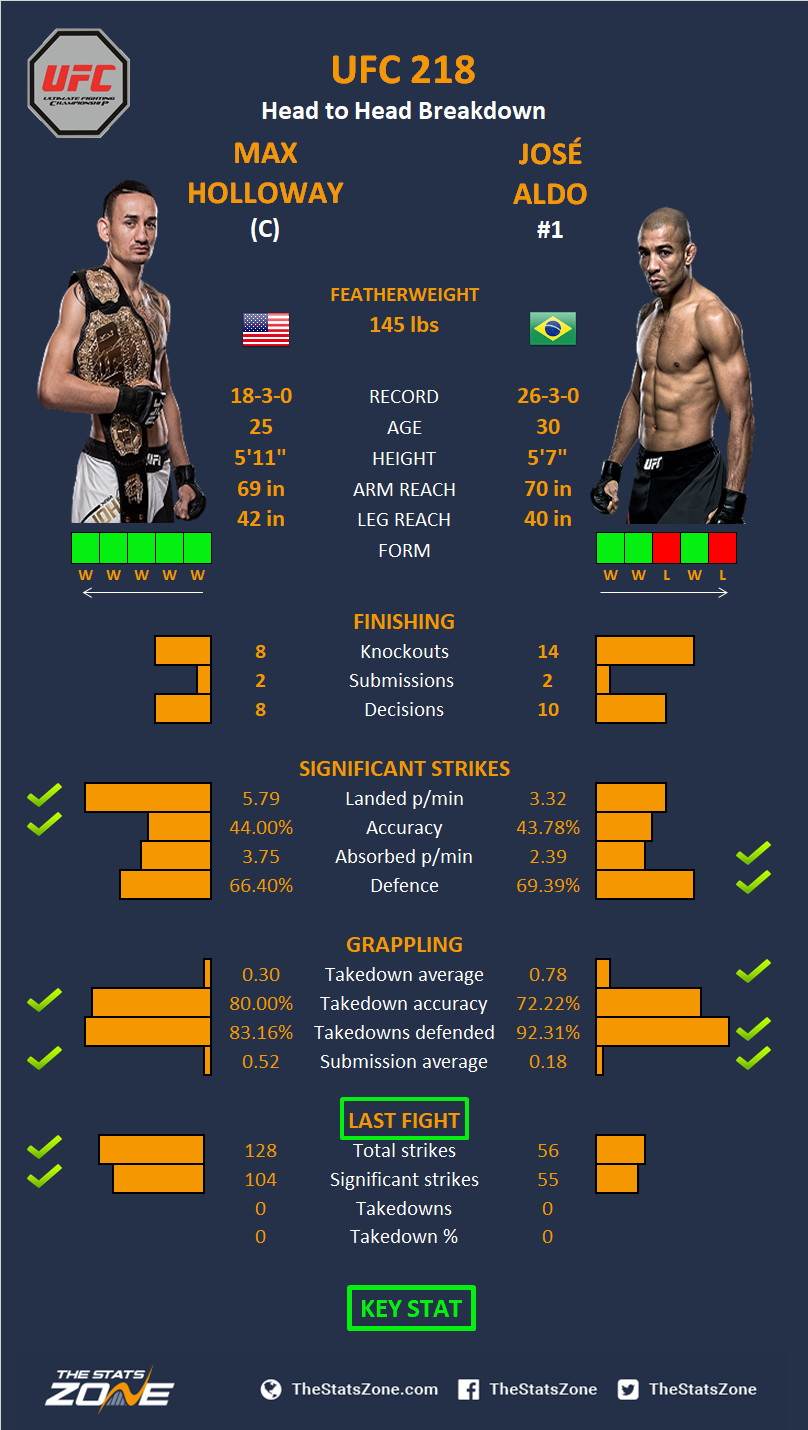 Striking and grappling stats sourced via FightMetric.